Lindsay * Founder & Editor-in-Chief
When Lindsay was growing up, her mom chuckled at how she couldn't seem to impart a story without at least one mention of food. Seeing no harm in that, this blog continues that tradition.
The Glutton's Digest was born in 2011 from Lindsay's disdain for emailing, as an alternative way to correspond with loved ones while serving in the Peace Corps. She was placed in Peru, a culturally rich country with extraordinary national dishes.  Sampling the country's cuisine and learning about its origins perpetuated Lindsay's infatuation with both food and travel.  Her writing became textured with not only meals she had feasted on along the way, but also people who had impressed upon her, recipes she collected, and cultural ideas and treats that had piqued her curiosity.
As she began to post more regularly, her readership grew, The Glutton's Digest team expanded, and Lindsay was able to leave her job in 2013 to become a full-time travel food blogger. She rarely spends less than a month in each place she visits, seeking out unique experiences that put her in close contact with the native culture. Since she is continuously on the road, her blog now includes a lodging section with the finest "homes away from home" that she's encountered. Also included are must-see attractions that you won't find in your travel guides, as well as volunteer opportunities that Lindsay wholeheartedly endorses. At its core, though, it is a blog written by someone who has been known to cross state and country borders for a meal (or even just a cupcake) that is rumored to be the best. Follow The Glutton's Digest as we take on the world one big bite at a time, and you may even find that we've inadvertently planned your next vacation for you.
Jill * PR Director
Jill, Editor & Collaborations Queen, or more traditionally labeled "PR Director", shares Lindsay's passion for culinary and cultural experiences. She's recently relocated abroad with Lindsay, and is excited to collaborate with our partners face-to-face as a more authentic way to address both their and our readers' needs. Please don't hesitate to contact Jill here if you're interested in partnering with us. It's something that we enthusiastically welcome!
Luis * Tech Director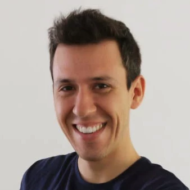 Luis is a systems engineer and fellow adventurer who has been with The Glutton's Digest since its inception. He is responsible for taking all of the wacky ideas in Lindsay's imaginarium and making them a technical reality on our site. Feel free to contact him here if something on the blog isn't functioning properly, or even if you have ideas on how to make The Glutton's Digest more user-friendly.  We're always open to suggestions!