To all of our beloved readers: with this post, allow us to invite you to one of the most cozy, chic, and comfortable hotels in Amsterdam – Pillows Anna van den Vondel. Pillows just opened in January 2017 after an 18-month renovation, and is located in a recently restored, and regal but understated 19th century building. We stayed in Amsterdam for a good chunk of time, but only at Pillows did we feel truly accommodated and at home. In entering the hotel, we immediately felt like we were walking into a local's house, while being welcomed with sheer warmth, humor, and hospitality.
Stepping into the hotel lobby is more like stepping into someone's living room than into a place of business. The decor is practical, elegant, and luxurious, without a pretentious air. The cozy atmosphere didn't stop in the lobby, but extended through the shared common spaces, all the way back to our bedroom. Read on to learn what we believe makes the place so special.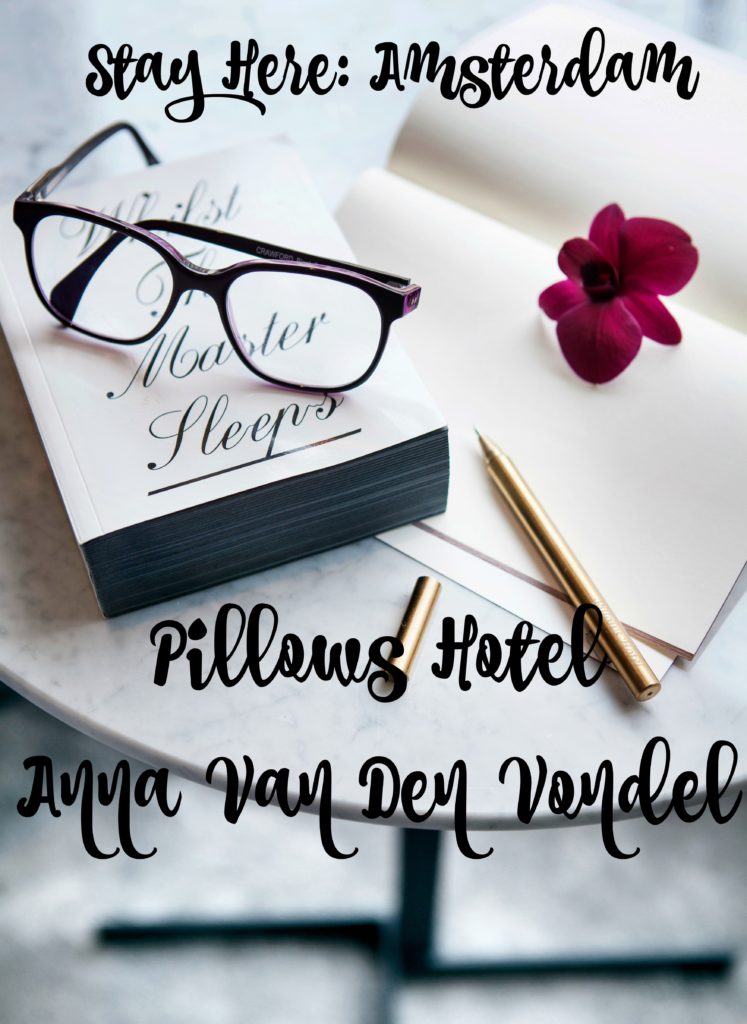 It's serene. The hotel has a beautiful, private, outdoor garden space, with lots of seating, greenery, and shade so you can enjoy the outdoors in Amsterdam's warmer weather. The garden is tucked behind the hotel and surrounded by private residences, making it a quiet, relaxing space to read, sip on a cappuccino, or get some work done. The dining area is adjacent to big windows overlooking this garden, so there's no shortage of warm sunlight streaming through the common spaces. Pillows is located on a quieter side street, so you will feel like you're away from the hustle and bustle of city living.
Pillows has an open-space floor plan, so the hotel lobby, dining room, kitchen, and living room all flow together to create a space that feels open and inviting. The beds and bedding at Pillows Hotel Anna van den Vondel are so plush and comfy that you might want to stay in bed all day long. Other room amenities we appreciated were a Nespresso machine, a walk-in shower, and a wireless sound system. The lighting in the room is also on a master plan, so that if you don't want to get out of bed to turn the lights off, you don't need to (wow, how spoiled do we sound now?!)! It's little luxuries like this that made our stay at Pillows so rejuvenating.
The hotel location is perfect, as well. As I mentioned earlier, it is situated on a quiet street which happens to be mere steps away from one of the city's largest and greenest parks, Vondelpark. It is about a 10-15 minute walk from Museumplein, the city's flower market (Bloemenmarkt), and the city's indoor food market, Foodhallen, and about a 20 minute walk from Amsterdam's largest outdoor market, Albert Cuyp Market.
With only 31 rooms, you'll never feel like you're just a number or an anonymous guest at Pillows. There is great attention to detail in everything at the hotel. We were greeted with a genuine interest about our experience exploring Amsterdam, and much to our delight, there are many foodies on Pillows' staff who instructed us on the culinary stops within the city that shouldn't be missed. The hotel staff not only offered us specialized and detailed help when it came to the best places to eat, but also museums, transport, and general information about Dutch culture. If you're feeling like staying in, which we certainly did when we saw our room and the common spaces at Pillows, the hotel offers 24 hour room service.
Explore and indulge in all Amsterdam has to offer, knowing that you'll enjoy a wonderful stay at Pillows Hotel during your time in the city. We are confident you'll love your time at Pillows Anna van den Vondel as much as we did! But if any reservations remain for you, scroll down to be further convinced: