First of all, why is this cartoon making me laugh so hard right now?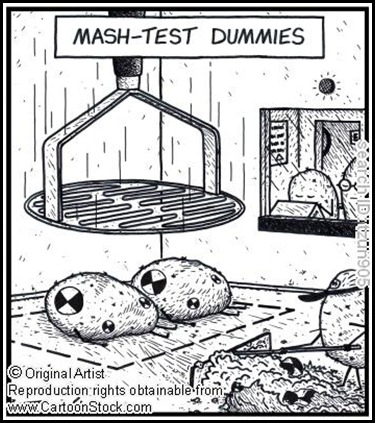 Second of all, as promised, here are some more winning Thanksgiving recipes.  Since mashed potatoes are a must this time of year, I figured I would be amiss if I didn't include them.  However, after being forced to eat potatoes EVERY day for two years of my life, I cringe at the thought of normal mashed potatoes.  For this reason, I am offering you variations of the regular mash.  Eating these will likely make you cringe at the thought of regular mashed potatoes as well.  Be a deviant and give 'em a try!

Mashed Potatoes with Rutabaga (serves 6-8)
3 pounds rutabaga, peeled and cut into 2-inch pieces (if your rutabagas are really big, follow the one rutabaga to two potatoes rule)
2-2 1/2 pounds potatoes (about 5 or 6), peeled and cut into 2-inch pieces
2 tablespoons butter
2/3 cup milk (I prefer buttermilk)
salt, to taste
1/4 teaspoon pepper
1/4 teaspoon nutmeg, or to taste
2 teaspoons chopped parsley, optional
Cook rutabaga and potatoes in salted water in separate pots.  Rutabaga will take about 30 minutes, whereas potatoes will take about 25 minutes.  When both are sufficiently tender, remove from heat and drain.
Mash rutabaga well, then mash the potatoes and combine the two.  Add butter, milk, salt, pepper, and nutmeg.  Mix well.  Taste and add more salt if necessary.  Garnish with chopped parsley, if desired.
Some people dislike rutabagas because they have a different taste which some consider bitter.  They add great texture and flavor to mashed potatoes, but if you still suspect they will be too bitter for you, I recommend adding some apple, like this:
Cook 4 bacon slices in a skillet.  Remove bacon and leave 3 tablespoons drippings in the skillet.  Chop three Golden Delicious apples and sauté in skillet for about 5 minutes (or until tender and light brown).  Add to mashed potato and rutabaga mix, and sprinkle with crumbled bacon.

Basic Cauliflower Mash (serves 6)
2 pounds cauliflower, trimmed
sea salt, to taste
1/4 cup whipping cream
4 tablespoons unsalted butter
1/4 cup freshly grated parmesan cheese
1/4 cup cream cheese
Cut the cauliflower, including the core, into 1-inch pieces.  Boil in lightly salted water for about 25 minutes (until tender).  Drain.  While cauliflower is still in the colander, press down with a plate to remove all water (this step is super important).  Toss cauliflower, and continue pressing out water.
Transfer cauliflower to food processer, add cream, and blend until smooth.  Mash by hand if you prefer a chunkier texture.
Return cauliflower to pot right before you are ready to serve it.  Add butter, parmesan cheese, and cream cheese and blend completely.  Season to taste with sea salt.  Serve immediately.