Hello to our loyal Pennsylvania readers! Recent unseasonably warm temperatures have tricked many of us into thinking that summer's not quite over, but unfortunately, those summer vacations that we looked forward to all last year are quickly fading in our rearview mirrors. Before we know it, the hectic holiday season will be upon us, and this year, we vow to greet those impending holidays from a self-nourished state of mind, body, and spirit. Autumn provides a perfect chunk of time for a pre-holiday staycation, and Bucks County, Pennsylvania has so much to offer in the going-away-without-actually-going-away department. Know what we mean? If not, or even if so, read on!
I spend a lot of time thinking about what my perfect day would look like, and then trying to incorporate elements of that perfect day into my every day life. I spend 95% of my time living abroad, in countries where living my ideal life (sipping on coffee or wine on a plaza surrounded by a local market, going for regular massages, reading a little bit each day, enjoying enriching conversations and cultivating authentic relationships, etc.) is much easier. The cultures in which I choose to live don't have such a focus on work and productivity and martyrdom and materialism as we seem to have here in the United States. When I come home once a year, I can't help but notice how so many of my conversations center around how busy people are, and how overworked and exhausted people are. It's almost as though we feel guilty taking vacations or self-caring in any form, as if it's a luxury we can't allow ourselves because maybe we'd seem lazy or overprivileged to others. I've always tried to view self-care as a basic need, as I know I'm a better person to my loved ones when I focus daily on self-care, even if just a little bit. This article, and the subsequent one, is ALL about self-care, and I want you to join me in NOT feeling guilty about indulging!
So…a staycation then? Maybe you can't afford to take a day/week off work in the middle of Fall. That's fine, we'll work with your weekends. One thing I love about Pennsylvania is how charming its little towns are, and how many there are. I'm always finding cute, new (to me) places to explore. Two of my all-time-faves are Doylestown and Peddler's Village. Over the last few months, we've been sampling spas for you all across the map here in Bucks and Montgomery counties (because what is a staycation without a trip to the spa, after all?). The next two posts feature our favorite places, which coincidentally ended up being in Doylestown and Peddler's Village. Both of these spas are impeccably-situated, so you could receive a treatment and spend the rest of the day leisurely lollygagging through the adjacent small streets, foliage-peeping, boutique-visiting, treating yourself to a meal, maybe even catching a foreign film at Doylestown's old-fashioned, independent theater. Or even better, you could spend ALL day long at the spa! The options are really endless. Isn't a relief to know that a staycation is right in your backyard so you don't have to travel far to rejuvenate?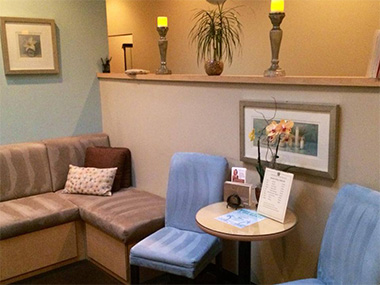 Let us begin in Doylestown. Essentials Salon and Spa is by no means new to the scene, and its longevity provides a hint to its quality service. I recently had the privilege of sitting down with Jackie McKay, one of the spa's owners, before receiving a spa treatment myself. Over chilled white wine, Jackie filled me in on her vision and the spa's trajectory. Jackie is warm, centered, and affable, and she exudes the idea that self-care is a necessity and that her spa is dedicated to your leaving the premise your best, most relaxed, and inspired self. She started the spa with her mentor, and together, after much hard work and dedication, they recently celebrated the spa's 20th anniversary. It's become a family-affair in the sense that both of Jackie's (adult) children are now part of the team, which makes the spa feel that much more welcoming. If a whole family stands behind a mission, I think it's a good sign.
Jackie describes the spa as a one-stop-shop for all things beauty and spa, and I'd agree. From facials and massages, to haircuts and color, to manis and pedis, there's really not much you can't find here. The salon and spa collaborate with Aveda, a line that they support for its sourcing and packaging sustainability, along with its ayurvedic and aromatherapeutic focus. Personally, I appreciate how gentle Aveda's products are for sensitive skin. Add that to how unpretentious and down-to-earth Essentials spa and its staff are, and you've got a winning equation. You'll walk in to a bright, open-floored salon where people are happily chatting and chopping hair, before heading down the hallway, past the nail spa, all the way back to the dimly-lit and tranquil spa area. While Essentials offers luxurious services, it became clear to me through chatting with Jackie that Essentials has humble beginnings and doesn't just cater to the elite. Everyone is welcome here.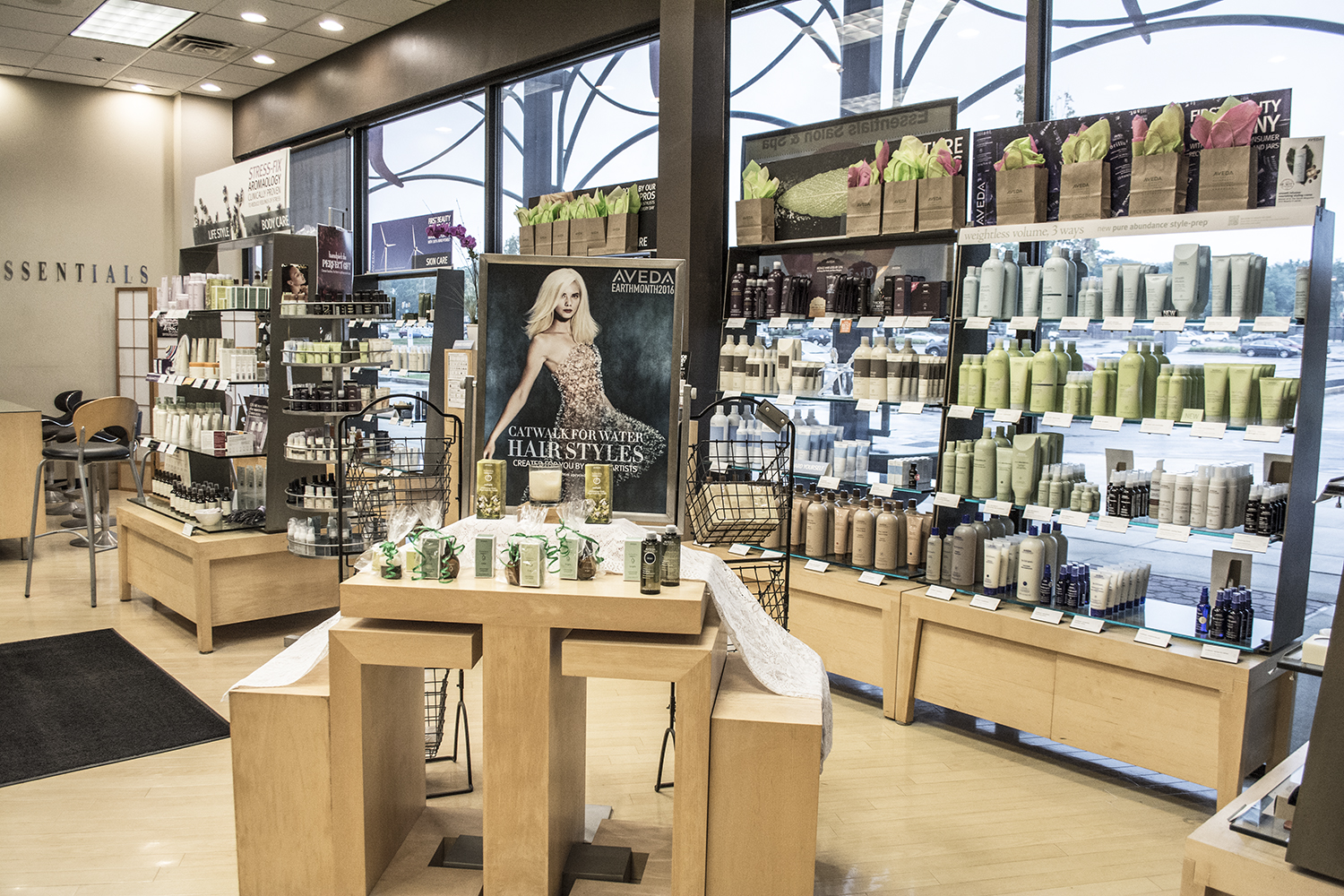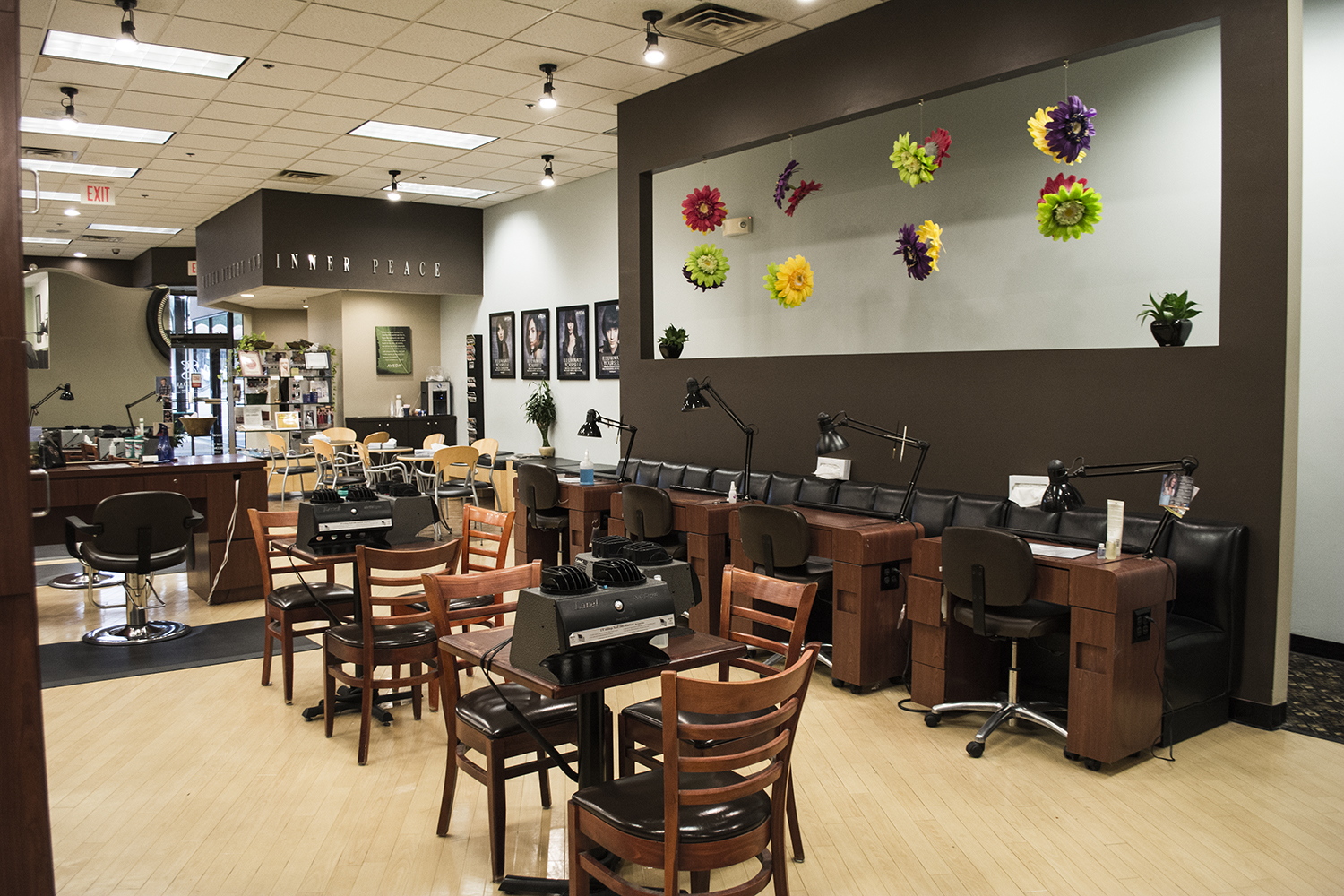 At Essentials, Jackie scheduled me for an Aveda Tulasara Dual Exfoliation facial, and a Beautifying Body Wrap. I happily sat in my plush bathrobe and slippers in the cozy nook of a waiting room, sipping my wine and perusing a magazine. I don't regularly subscribe to facials (I'm more of a massage gal, myself), but I think this is only because I was traumatized by my first facial. It was given to me as a gift for housesitting, and it was one of the more painful experiences I've had with all of its squeezing and scraping. The Tulasara facial healed my trauma and completely converted me! From traveling so much, my skin has become very sensitive to temperature and environmental changes, and I loved that the Tulasara facial wasn't just super relaxing, but also educational in the sense that Julieann identified my skin type and prescribed me appropriate products and methods. It's nearly impossible for me to relax with my overactive brain, and I think I fell asleep during the service, it was that peaceful and soothing. I was able to pick the scents of the oils that were used, and it felt like a service that was catered specifically to me (because it was!). I've been plotting my return since, and Julieann's service has made me want to commit to a facial per month. My skin was noticeably radiant and smooth following the service, and Julieann informed me that I'd feel the effects of the facial for weeks to come, which I absolutely did. There was nothing high-tech or painful about this facial. It uses the basics of aromatherapy, gentle oils and touch (Julieann's touch and energy are especially healing), and it works wonders because it subscribes to the idea that there's really no sense in reinventing the wheel if ancient ayurvedic techniques work so well. I couldn't more highly recommend this facial. Go now!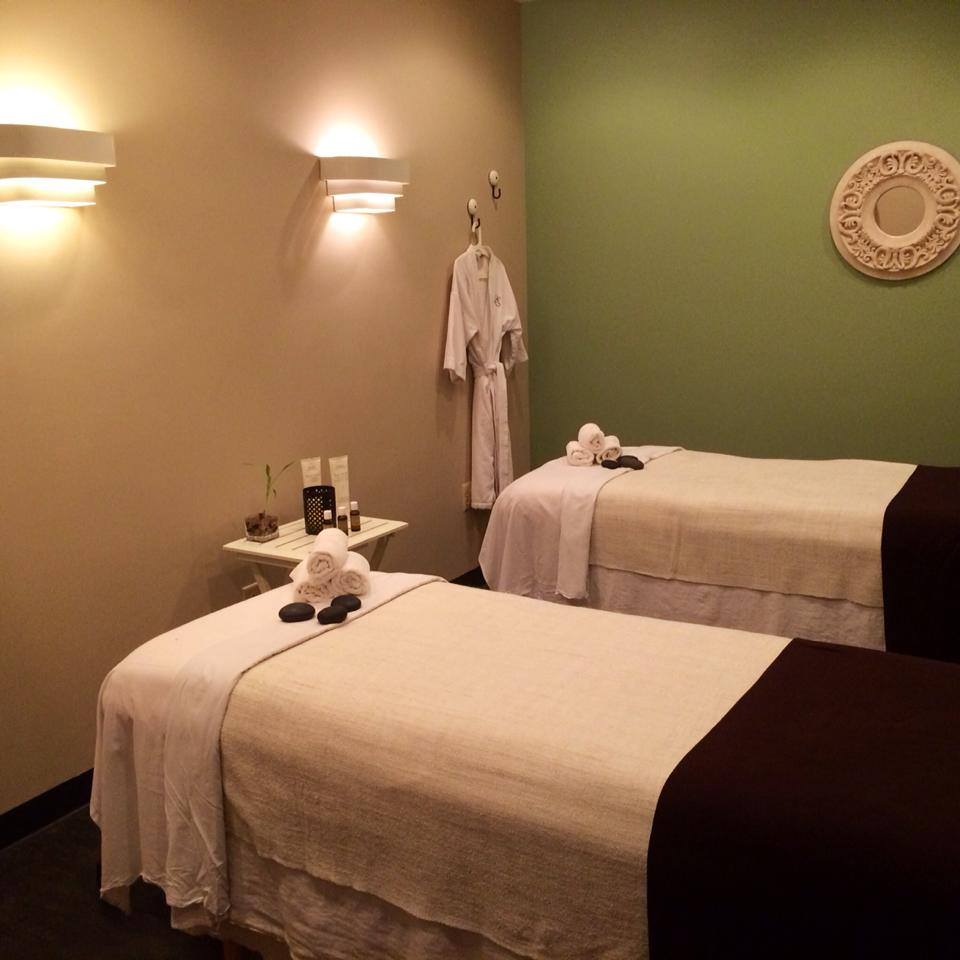 The beautifying body wrap with Shelbi (who is super sweet and calming), was also enjoyable, and different. I'd describe it as more of an experimental service for any purists out there. You're laying on a plastic sheath over a massage table while your body is exfoliated and covered in a seaweed masque before rinsing off in the adjacent shower before being rubbed down with fragrant lotions, and receiving a scalp, face, and foot massage (my favorite part. Again, I think I'm partial to massages!). I liked how thorough the service felt, almost like a Moroccan hammam that scrubs you down and then massages you with oils and lotions, all the way back to full hydration. Afterwards, my circulation felt restored, my muscles were noticeably less tense, and my skin felt fresh and had a noticeable glow. It was a unique service, and I'm glad I tried it. I think this would be good service to receive every other month, alternated with a full body massage.
I hope you'll visit Essentials (there's also a location in Warrington, if that's closer for you). If you need further convincing, look at the reviews online (most of which Jackie takes the time to personally respond to herself). So many clients have been returning to Essentials for years for its consistent service, friendly, welcoming, and knowledgeable staff, and un-ostentatious ambiance. After my first visit, I'm quite ready to add myself to that long list of return patrons! Thank you Jackie, Julieann, and Shelbi for a warm welcome to Essentials, and for your commitment to self-care and high-quality service. And congratulations on your recent win(s) in The Intelligencer for Best Day Spa, Best Hair Salon, Best Nail Salon, and Best Therapeutic Massage!
Stay tuned for our next feature, which will take us to a Peddler's Village spa, and in the meantime, be well and treat yourself kindly.
*All images courtesy of Essentials Salon and Spa