A couple of weeks ago in our first PA Staycation post, we promised a visit to the ever-so-charming Peddler's Village, and finally, here we write. Our hope is that you can squeeze in a self-pampering visit to the next salon/spa we're featuring before basting your turkey and mashing your taters, or even post-Thanksgiving, when the holiday rush kicks into higher gear. To us, autumn marks the perfect time for a post-summer, pre-holiday staycation. So join us, won't you?
As you may know, our staff has been traveling the globe for about a decade now reviewing restaurants, hotels, and multifarious experiences you can have while on the road or even at home. A couple years ago, you, our loyal Pennsylvania fanbase, started requesting recommendations for things to do on your own home turf, but since we weren't home, it was challenging for us to guide you all. After being home for a couple of months, a staycation post became plausible and the first thing that popped into our heads when we considered taking a staycation was heading s-t-RAIGHT to the spa. Are you with us? If not, you will be after you hear (or read, rather) about David J. Witchell's Salon and Spa.
An unfortunate by-product of our job is that we can't really go anywhere without conceptualizing changes we'd make to the businesses we visit. We often have to dole ourselves out little reminders like, "just because you aren't a fan of the color scheme in here, doesn't mean it's not a wonderful place in which to stay/eat/visit." The only reason I mention this is because David J. Witchell (along with his business partner, Galina Witchell) possesses such intentionality and impeccability in his choices that I could not find one single thing upon which to improve when I visited his Peddler's Village location. I was wondrously stupefied by this, and hopefully upon this post's elaborations, you will be inspired to follow in my footsteps and book your very own appointment.
Now, David J. Witchell isn't a new name to the scene by any means. I've known of him for decades, since his other location is right down the street from my boarding school in Newtown, PA. After overhearing whispers of his magical services from day students' mothers in the late 90's, I scrounged together my allowance to have my hair styled there for my junior prom. Despite showing up in Adidas track pants, my high school 'uniform', his staff treated me like royalty, and I'd have become a regular there if I hadn't left the state for college, and left the country post-college. Now that I'm back for a bit, featuring David and his staff on our blog was an obvious choice, especially since he has a newer location for us to try out.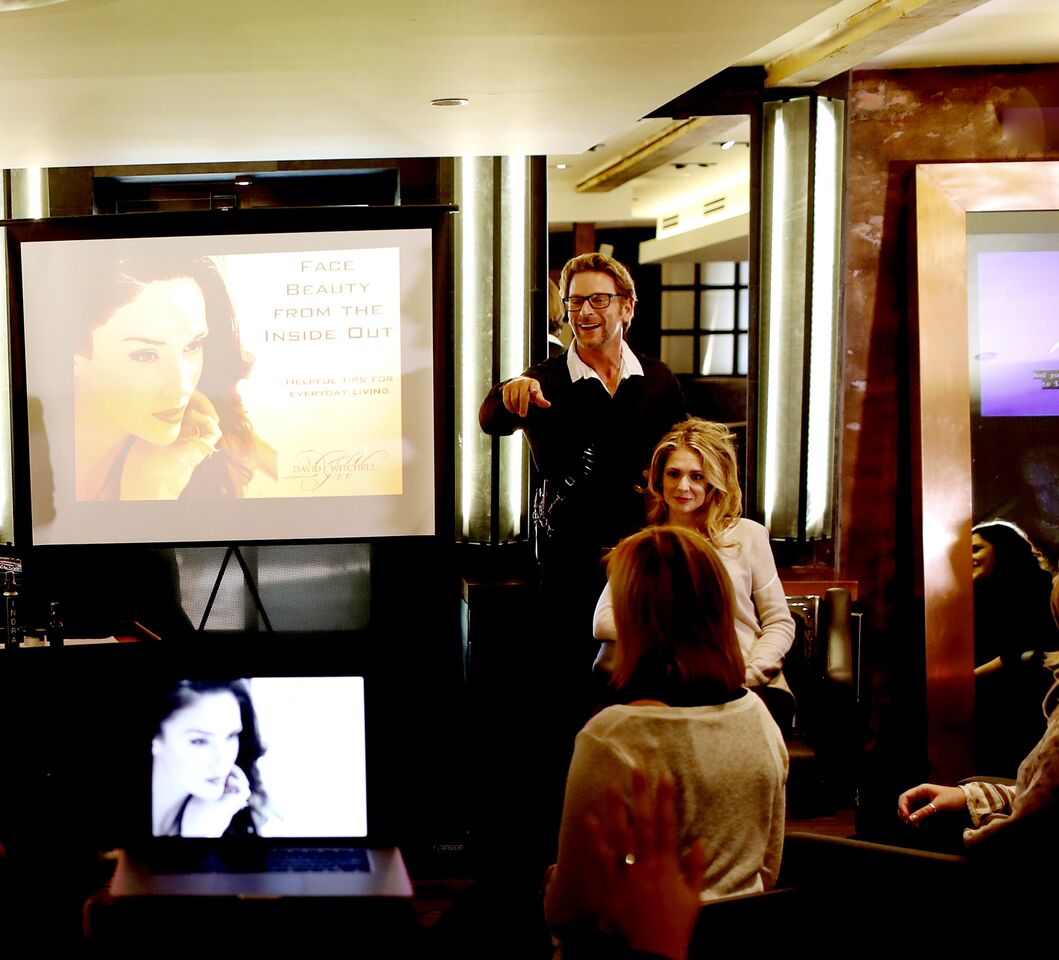 David is an innovator in every sense of the word, and his life seems to be driven by making his dreams come to fruition while continuing to learn, teach, and make those around him feel good. His is open, humble, and kind, and his personality and story make it easy to not just respect him, but really like him, too. If his name seems familiar to you, you may have seen him on popular programs like The Dr. Oz Show, or The View. It didn't surprise me at all when I learned that one of his clients lauded him for saving her life after he encouraged her to go to the doctor when he noticed a strange spot on her scalp (which ended up being a life-threatening tumor). While it's clear from observing his businesses in action that he's a tirelessly hard worker and an artistic and savvy entrepreneur, the thing that keeps me personally engaged and wanting more from him is his authentic kindness. I wasn't able to personally meet David's partner, Galina, but David has such wonderful things to say about her and their partnership, and credits much of the salon and spa's success to her running the ship behind the scenes. While his name is the one on the salon and spa, he and Galina enjoy a completely equal partnership.
So, shall I take you on a virtual tour of David and Galina's Peddler's Village salon and spa? To your left as you head to the salon's entrance, you'll see the make-up area that's well-lit and spacious, with views of the surrounding boutiques and their leafy adjacent areas. Upon walking in, if you're anything like me, the first thing you'll notice is the natural light streaming through windows that generously frame the salon. At the make-up bar, you'll witness guests enjoying celebrity-treatment by make-up artists who are knowledgeably introducing them to products that David has personally handcrafted (my favorites are his all-natural sunscreen, and his hydrating Indra travel mist). I'm also rather obsessed with the map turned make-up display table that David designed, since many of his color palettes are inspired by ideas and memories of far-off places.
I sat on a cozy bench between the make-up area and the salon, sunlight warming my back. While awaiting my treatments, I witnessed David affably interacting with a woman as he made her over, along with generously engaging his staff about how their days were going. I sipped on a green tea, taking it all in, feeling grateful to be in such a welcoming ambiance. David soon greeted me with an ear-to-ear grin, seeming genuinely excited about getting to know me and spending the day making me feel like his most valued guest (I'm positive he makes everyone feel this way, but he's not faking it, people, this is his passion!). Erica, David's Spa Manager, kindly took some time to give me a tour of the entire locale. I couldn't help but be positively overstimulated, as every area has such a great view and is so expertly and artfully laid out. The salon is open and airy without subtracting from its coziness. The decor is minimalist and natural, mixing wood, stone, and glass in a way that is chic and clean without being pretentious or cold. My favorite room downstairs is the haircutting area, surrounded by tall windows and almost a 360 degree view (don't quote me on this measurement, as math's never been my strong suit, but suffice it to say that the room is scenic!) of an area that David was transforming into a tranquil garden space at the time of my visit. With all there is to look at and absorb, you'll be sad when your haircut is over.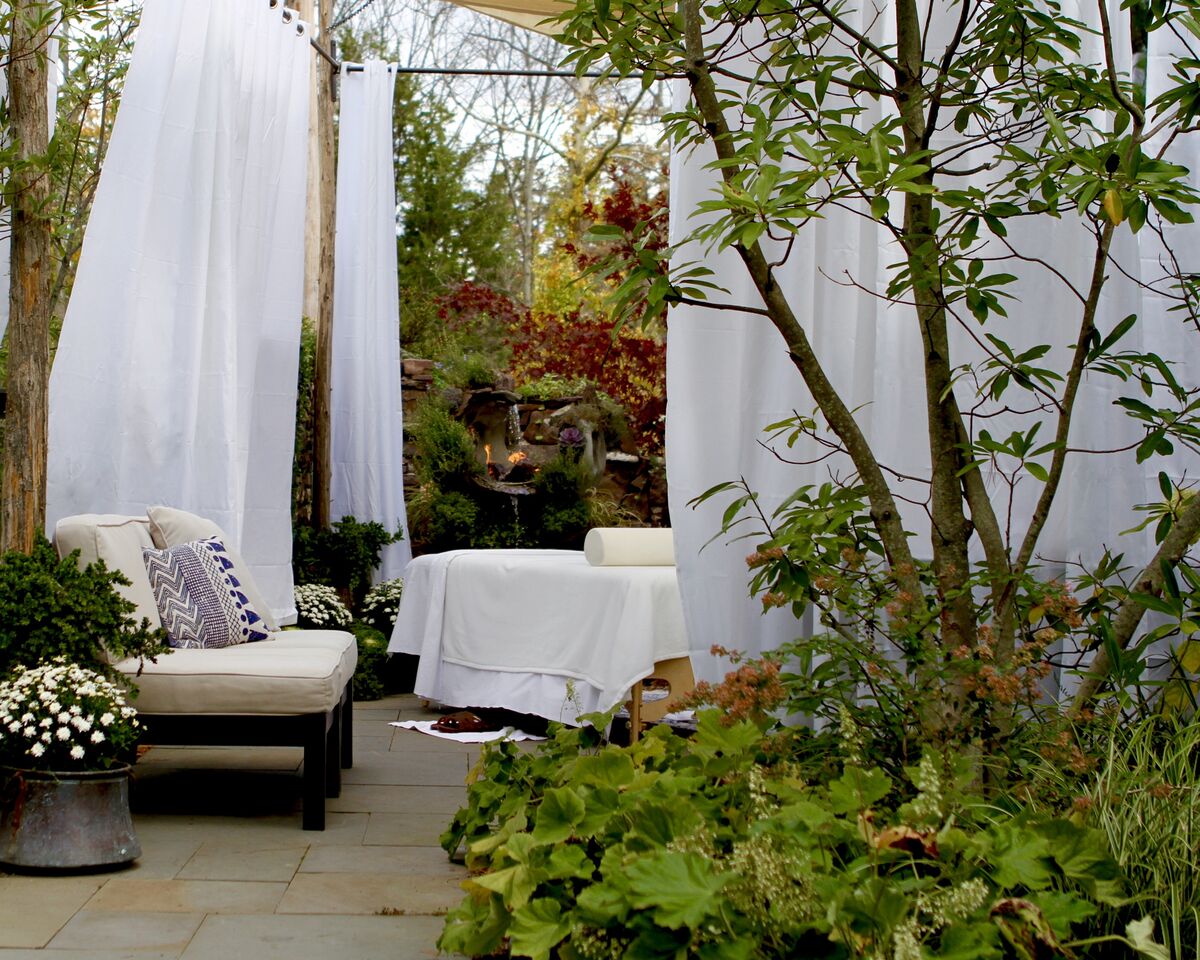 Erica then took me upstairs to the spa, where I felt like I was being transported back to my favorite days in Morocco, when I would laze around in dimly-lit, amber-toned hammams, air infused with exotic oils, ambiance begging me to surrender to pure relaxation. David has a way of designing things that bring the best of nature indoors to warmer, cozier spaces. You'll feel like you're right where you belong, and believe me, it'll be difficult to leave!
The first treatment that David scheduled for me was an ear candling, which believe it or not has been on my bucketlist for years. Apparently, doing laps around the world is feasible to me, but scheduling an ear candling has completely evaded me. This is no ordinary ear candling, though. For about an hour, a spa specialist will gently and safely burn 2 candles in each ear, relieving congestion and toxins from within the ear canal. The super curious can even have the candle cut open to reveal what's been suctioned out of your ear. I loved this treatment with Victoria, who has the calmest, sweetest energy. Laying on a massage table with only the ear candle lighting the room, with a soft crackling in my ear, I felt uncharacteristically at peace. I almost fell asleep the treatment was so warm and soothingly repetitive.
To stick with our head & face focus of the day, I received a mini Micro-Dermabrasion Skin Restoration Treatment with Nini next. This particular treatment is known to remove damaged and dead skin cells, and stimulate collagen to improve skin tone and texture. As I mentioned in our last post, I'm not accustomed to regular facials, but I've been told by my friends who are that facials generally fall into two categories: ones that are very gentle, and others that are a little less comfortable (no pain, no gain, after all, right?!). My friends all subscribe to the latter category, as they see more noticeable results when their faces are worked a little more rigorously. I would say that this micro-dermabrasion treatment challenged my face in the best of ways. The suction of the micro-dermabrasion wand was a different sensation for sure, especially since its tip has the texture of a cat's tongue. I can't say that I really understand how this works, but my skin looked refreshed for weeks after, so I'm not questioning it!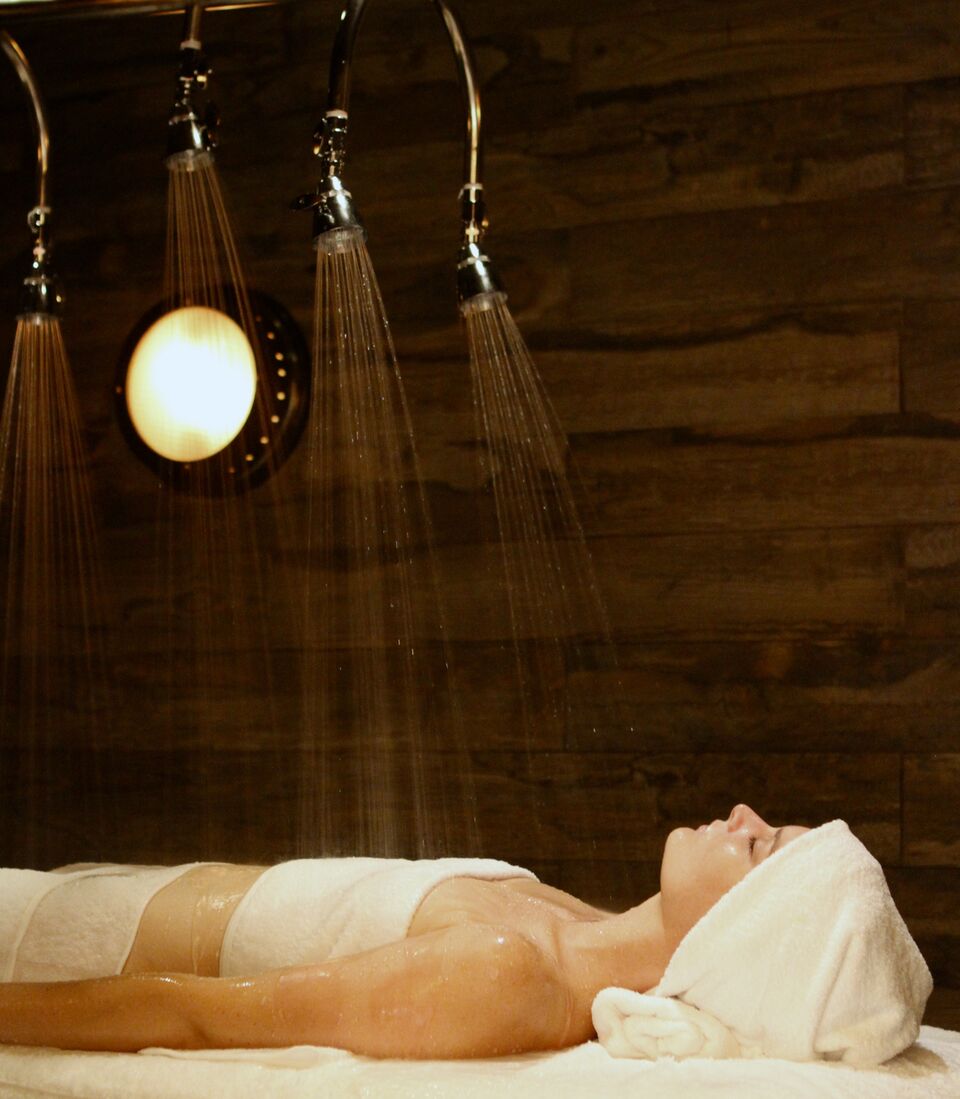 I left the spa feeling like a renewed woman, wondering why I don't take time out more often to treat myself gingerly, and thinking that I MUST bring my best friends back here. The spa even has a private area that you can request for couples or groups that resembles your (or at least, my) dream loft apartment. You won't even have to leave the spa to eat, as farm-to-table food can be delivered to guests from a local restaurant. Note to self: I'll be back, but next time, with my whole posse!
Next stop: back downstairs to the salon, where I'd work with David on a cut, and Alyssa, one of David's color masters, on a color. Both of them are so lovely to be around that I'm actually missing them as I write this post. David has developed his own method for interacting with clients, and Alyssa is actually the first student to graduate from his apprenticeship program. David talked to me extensively about not just what I wanted done, but also the type of lifestyle that I lead so he could best cater the cut and color to my regular daily habits. Then we spent a very pleasant couple of hours talking about life, travels, and personal philosophies. David serendipitously got his start in the salon and spa industry when he was a receptionist for a modeling agency and their make-up artist called out sick. He had to fill in at the last moment, knowing very little about what he was doing, but he enjoyed himself so thoroughly that the rest is history!
I should point out that I don't exactly fall into David's typical demographic, especially in regards to what I wanted done with my hair (half of my head shaved, with a linear design etched into the side). While he's not against being experimental, this isn't something that his customers generally request. David was very honest about this being a little outside of his comfort zone but I could sense that he was excited about the prospect, and he even teased me that if I wanted an owl design or something more elaborate that I'd have to give him some more time to practice next time. It's so rare for me to find a hair dresser that I like, because I feel self-conscious that my ideas might burden them, and if ever they make a mistake (like dyeing my hair orange instead of blonde), I have found that it's rare for people to take ownership without having an attitude about having to fix something. David is not like this. He is transparent, down-to-earth, and really wants you to be pleased when you leave his salon, even if that means he has to make a few tweaks.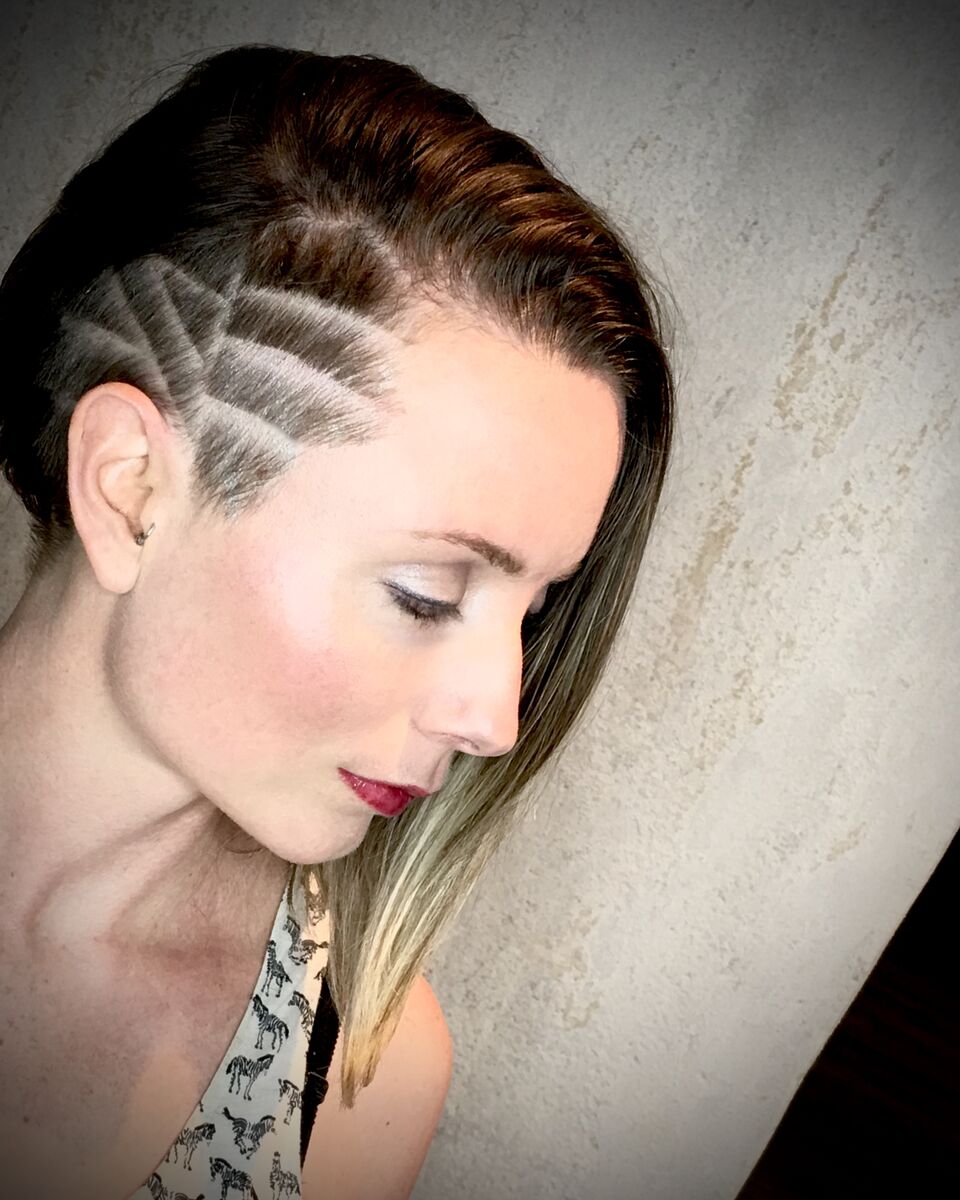 My last stop in the salon was in Alyssa's seat, where we considered color options. I'd been hearing rave reviews about the salon's balayage coloring system, but after Alyssa and I chatted a bit, we decided that peppering my hair with some blonde foils would most align with my lifestyle and schedule. I thoroughly enjoyed the process and Alyssa's company. On top of being sweet as pie, she's impassioned by her job and all that she's learning under David's tutelage. That kind of energy and zeal is contagious, and it'd be impossible to hang out in the salon and spa without a little of that zest rubbing off on you, too.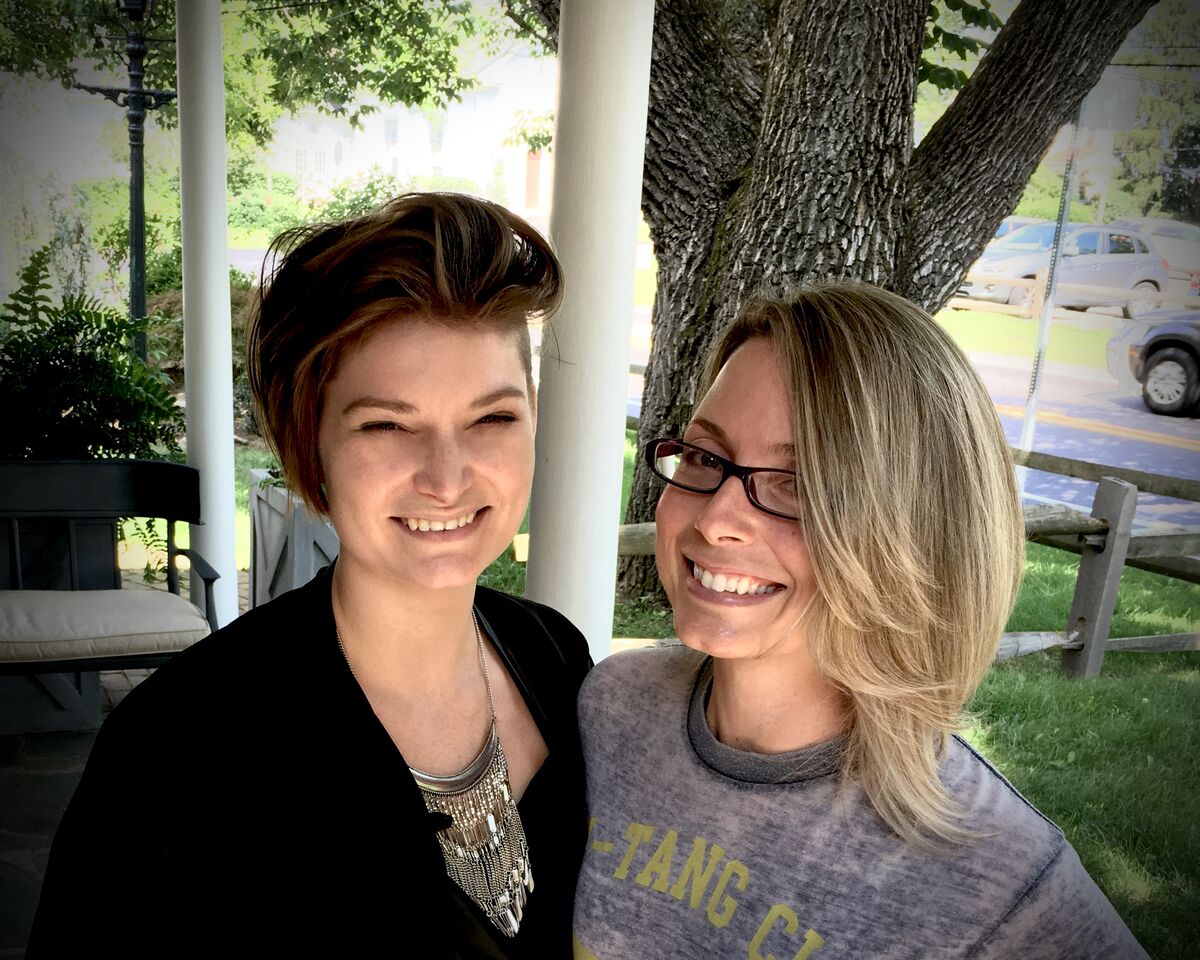 So, what are you waiting for? There really isn't a treatment that you won't find at David J. Witchell's. Check out the salon and spa's services in the links above, and schedule yourself a well-deserved staycation. There's no better time to self-indulge than now; please do let us know how you enjoy it! Happy early Thanksgiving from us to you, and many thanks to the multi-talented and lovely staff at David J. Witchell's for a truly marvelous visit!
*All photos courtesy of David J. Witchell Salon and Spa