The idyllic town of Oaxaca (about a 6 hour drive from Mexico City) is a popular destination all times of the year, but especially over the Christmas and New Year holiday. In fact, it's the busiest week for tourists to be there. We didn't know it until we arrived, but we were happy to find the streets draped in Christmas lights and filled with artisans selling locally-made goods, like rugs, traditional garb, painted wooden figurines, and much more.
Lindsay and I spent 12 days in Oaxaca exploring the historic city center, shopping at the holiday markets, eating Oaxacan cuisine and sipping mezcal cocktails. Mezcal is an alcohol distilled from the agave plant, and in the regions of Mexico we've visited, it seems more popular than tequila. To us, it tastes like a fiery, smokier tequila, but there are so many different varieties that I'm sure each of them has its distinct flavor. People sip mezcal slowly from shot glasses (we were given specific instructions to never throw it back quickly like a shot), and chase it with sal de gusanos (a salt mixed with toasted agave worms and chile) and orange slices. That way was a little strong for us, but we did enjoy the mezcal cocktails that we tried, which we'll detail later in this post.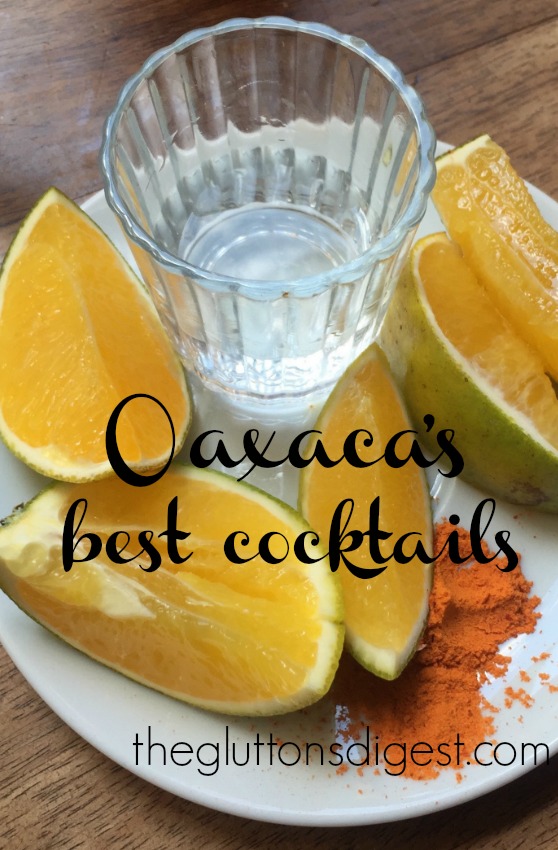 Other highlights of Oaxaca were admiring the Templo de Santo Domingo de Guzman as it changed colors depending on the sunlight to which it was exposed, exploring Hierve el Agua, and visiting the world's thickest tree, Árbol del Tule. If you plan to do those last two things, we recommend hiring your own transport (200 pesos/$10 USD per hour) to beat the crowds and have a more relaxing visit.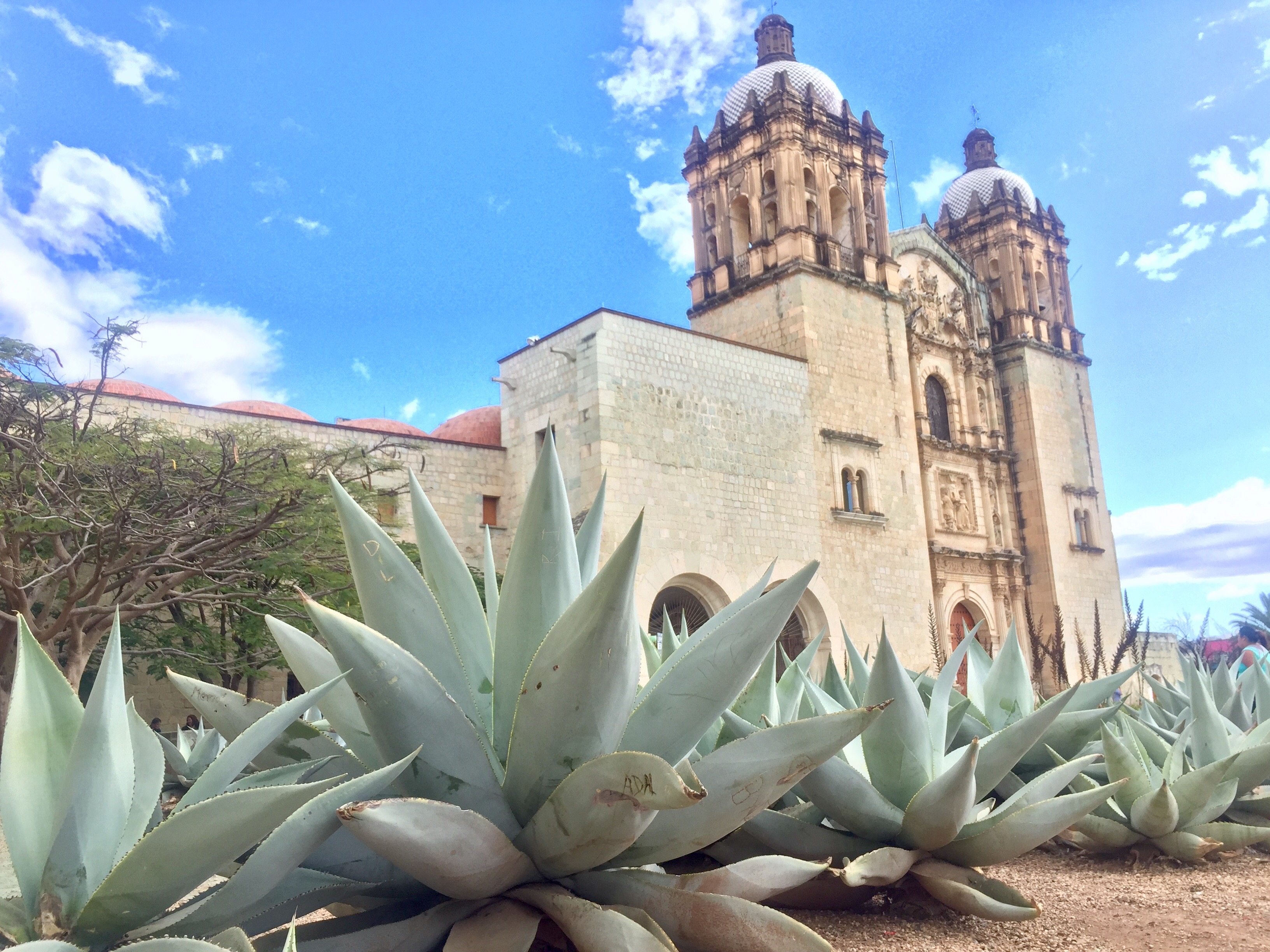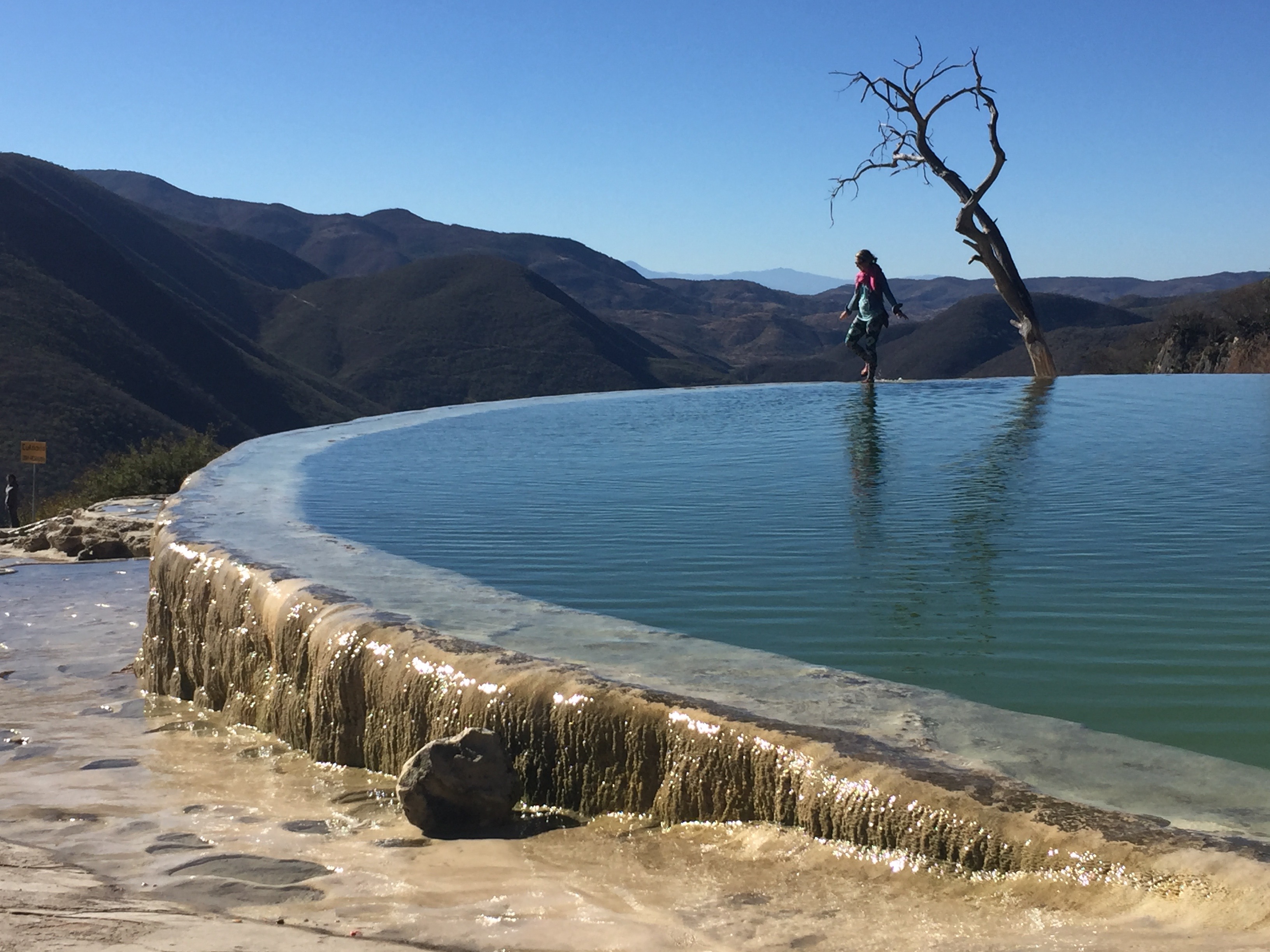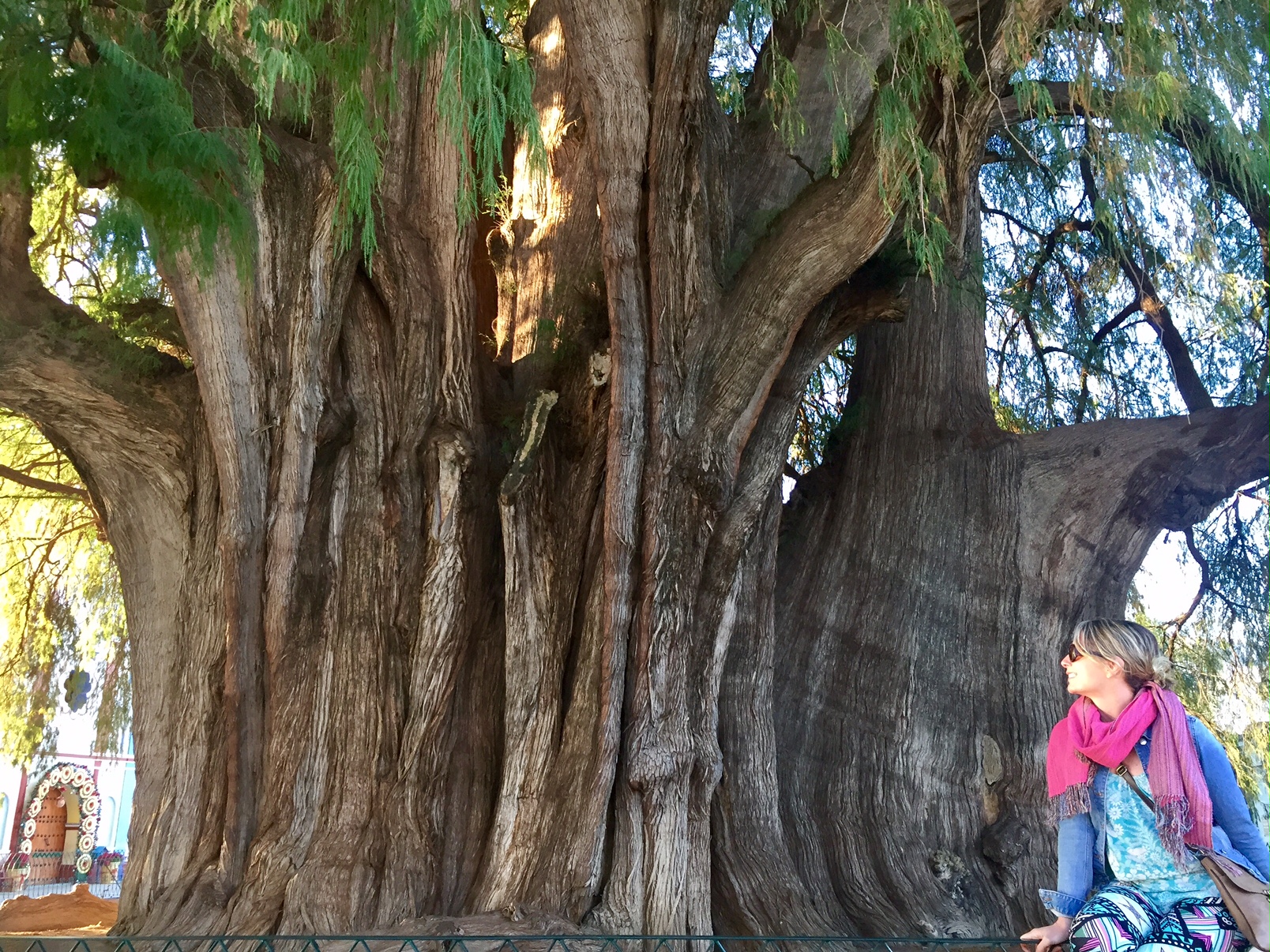 In terms of food, we consulted the locals, and also some expats we met, for recommendations on the best places to eat. But before getting to that, shall we start with a cocktail or five? As we mentioned earlier, mezcal is a popular alcohol used here, and these are our favorite Oaxacan mezcal-based cocktails:
Los Danzantes– We can't remember the name of these cocktails (probably because we drank too much mezcal), but one was made with mezcal, rosemary, and hibiscus, and the other was made with mezcal, cucumber, and mint. Simple, but really refreshing and nice.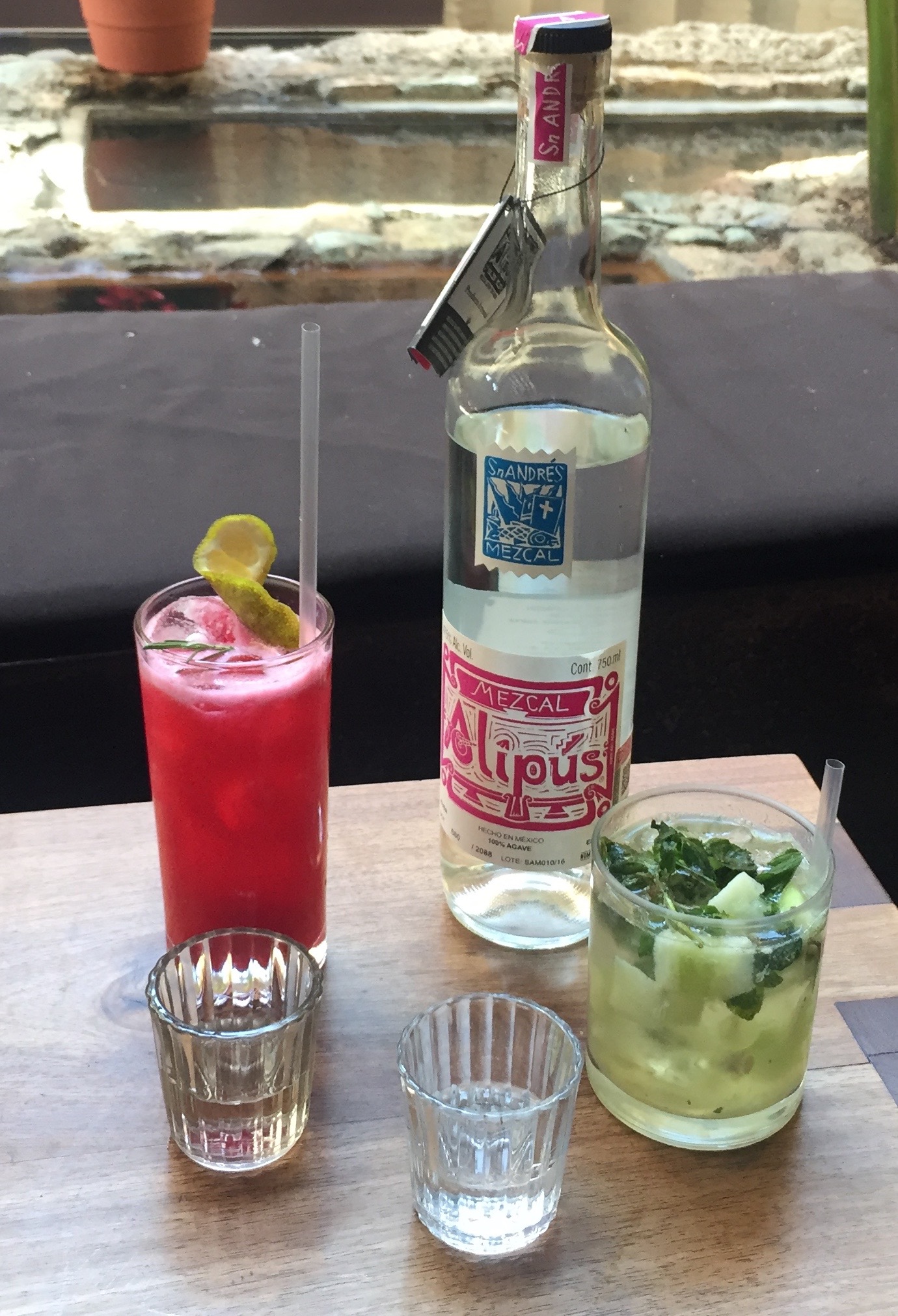 We're so lucky Los Danzantes was open on Christmas Day, because not many places are. We didn't have reservations, but we scored a couch in the lounge and enjoyed the festive mezcal cocktails pictured above, along with some delicious appetizers and pasta dishes. We would recommend the restaurant for food and drinks, preferably consumed on the lounge couches. We think these are the best seats in the house for enjoying the view of the restaurant's art and tranquil waterway.
Be sure to check out the original Los Danzantes in Mexico City, which we covered in our DF food post.
Zandunga's Margarita (mezcal, lime, agave honey, and sal de gusano) and Llorona (mezcal, ginger, hibiscus, and pineapple)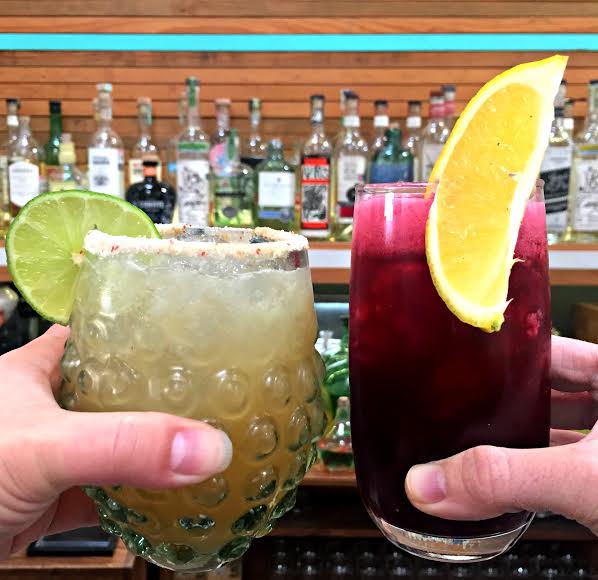 Our new friend Lily Pilly (yes, that's awesomely her legal name!) recommended that we head to Zandunga for drinks, and we're so happy we did. The Zandunga Margarita was the best margarita I've ever had the pleasure of sipping! It wasn't too sweet, but was perfectly smoky, and the sal de gusano added a nice texture and spice. The salt they use is extremely fine, so it wasn't an overpowering saltiness each time you took a sip. Lindsay and I tried four of the five cocktails on the menu, and loved them all!
La Olla's Watermelon and Guava Mezcalritas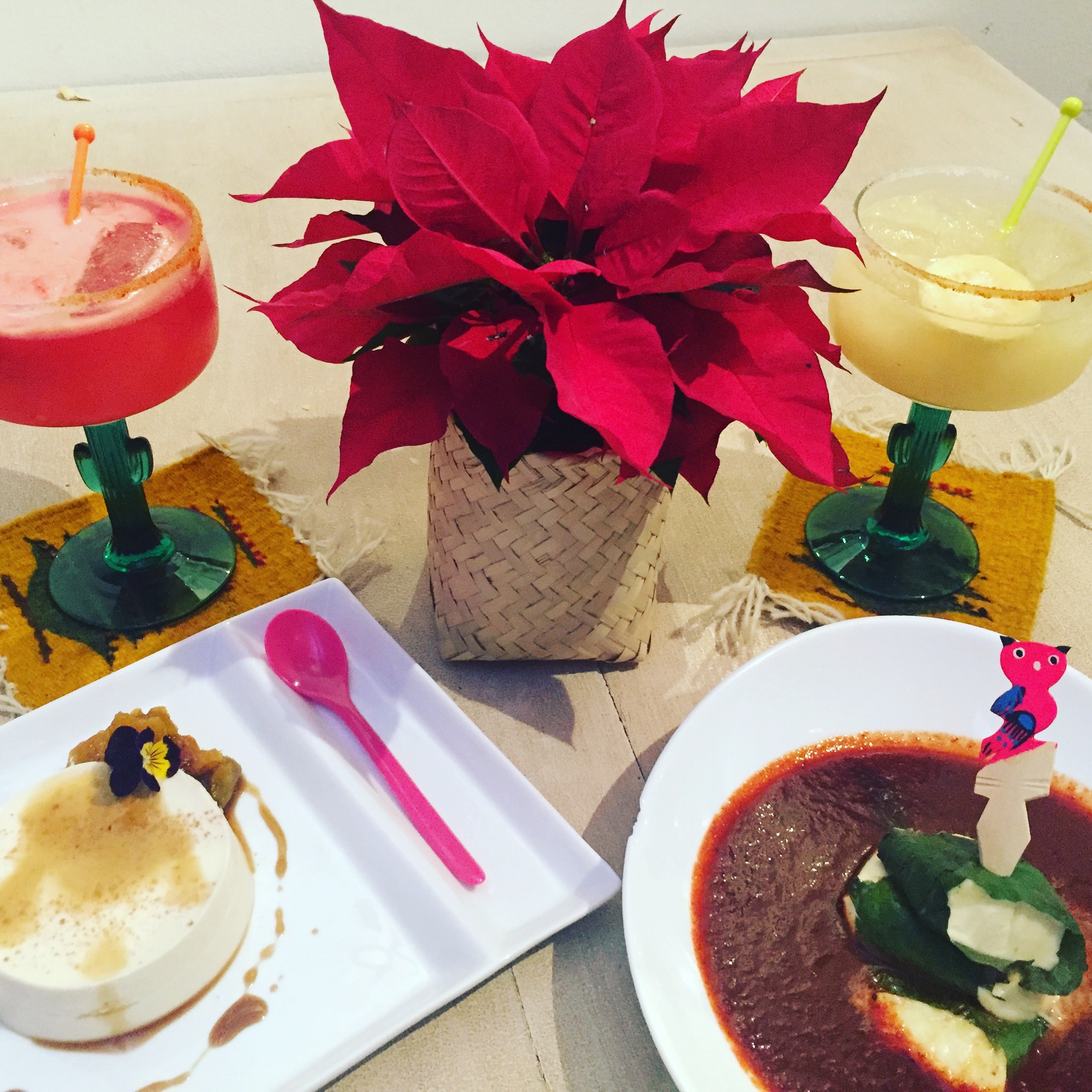 La Olla has a variety of mezcalrita (a margarita made from mezcal) flavors. Lindsay tried the watermelon, and I tried the guava. Both were true to flavor without being cloying. The cocktails were made with fresh fruit juice, mezcal and salt. Be careful! They go down way too easily!
Sabina Sabe's Pequeño Gigante (mezcal with hierba santa, Sabina Sabe's housemade ginger beer, cucumber, and cardamom)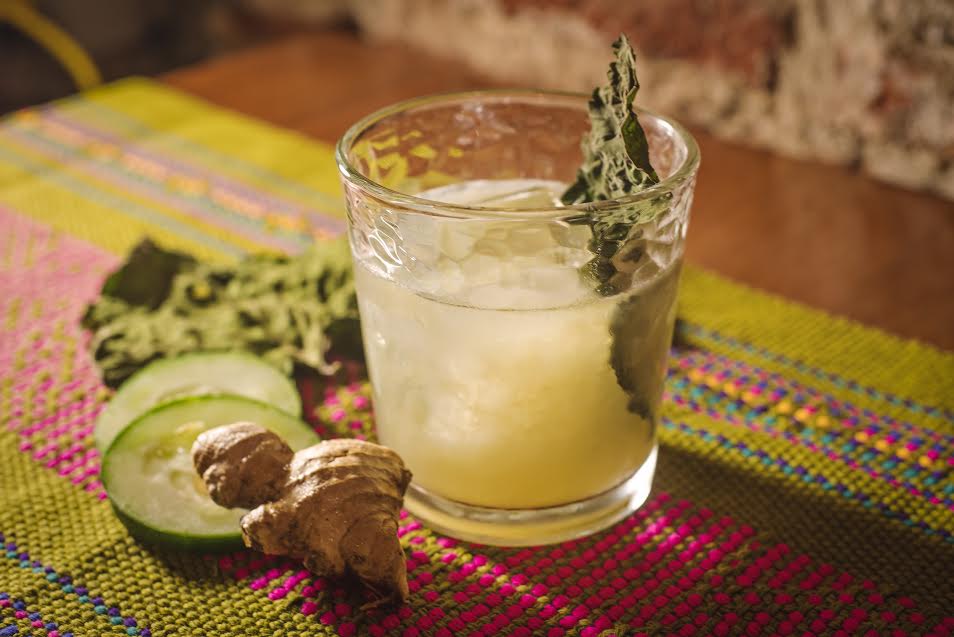 There are a lot of places in Oaxaca that serve a drink that's similar, but this one is the most flavorful and well-rounded, thanks to the added cardamom. Thank you to our friend, Sam, who has lived in Oaxaca for six years and recommended the restaurant to us!
Casa Oaxaca's Tamarintini with Sal de Gusano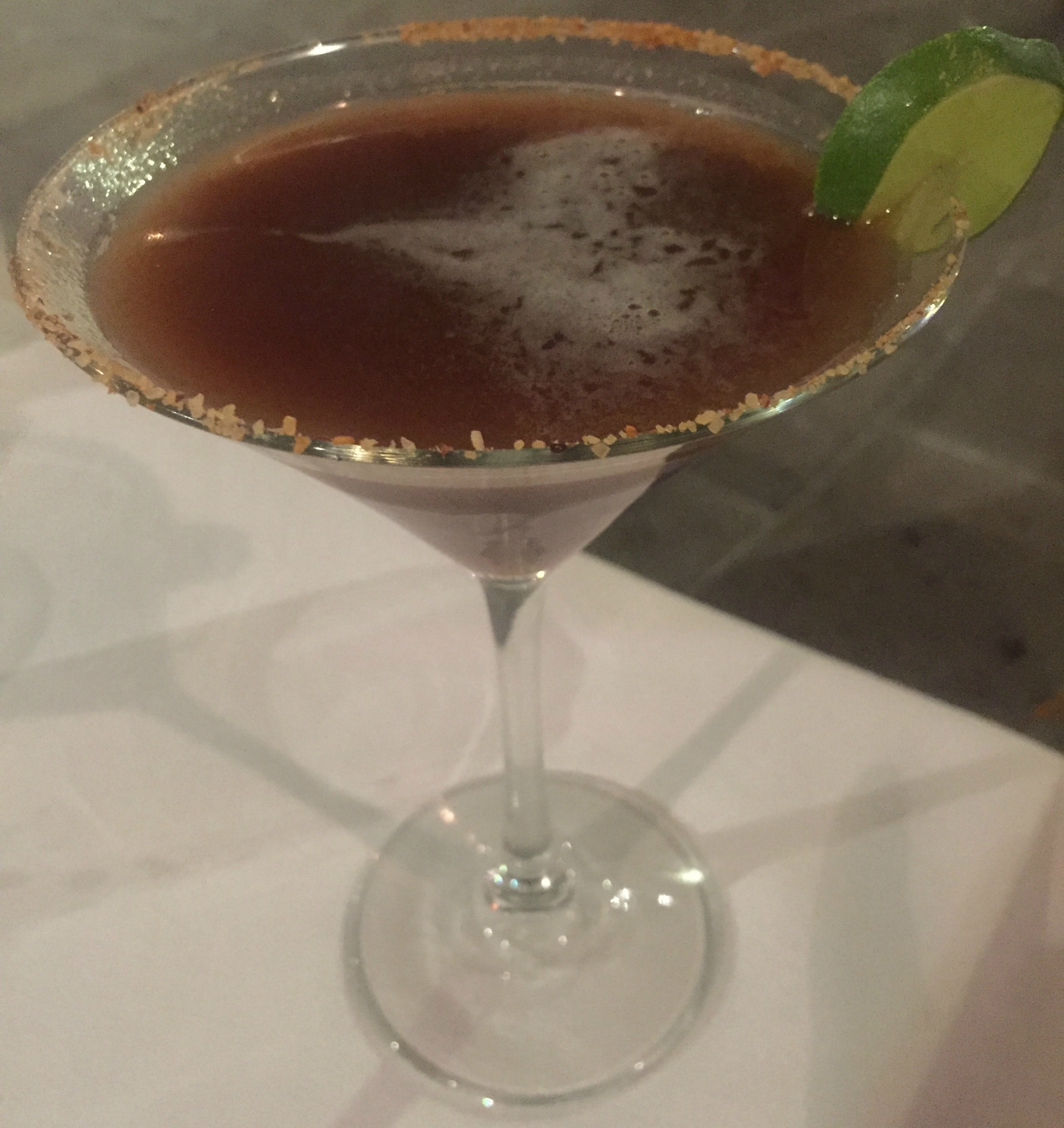 Don't let the fact that this drink looks like muddy water fool you. Sweet, sour, salty, and strong, this cocktail was perfectly balanced and makes for a nice compliment to any Oaxacan meal. I don't typically enjoy tamarind, but I really enjoyed this drink, and it was Lindsay's favorite in all of the cocktails we've tried during our two months in Mexico. We are not sure if this drink is served at both Casa Oaxaca restaurants, as we ordered it at the hotel location on Calle Garcia Virgil.
Speaking of Casa Oaxaca, in addition to the aforementioned food recs, we heard from everyone across the board that we MUST eat at Casa Oaxaca. Lindsay and I were fortunate enough to be hosted by Casa Oaxaca, the restaurant inside Hotel Casa Oaxaca. As we mentioned earlier, this location is on Garcia Vigil, and is a much smaller and more quaint location than the larger restaurant on Constitucion. You can sit outside in a romantically-lit courtyard that will make you feel like you're dining at someone's posh residence. Every single thing we tried here was phenomenal, and we can't imagine finding a more satisfying meal in Oaxaca. Rafa, the head chef, is incredibly skilled at combining textures and flavors in an impeccable way. Here are some of the things we enjoyed there:
Oaxaca string cheese topped with grasshoppers, with tomato and onion and a green chile sauce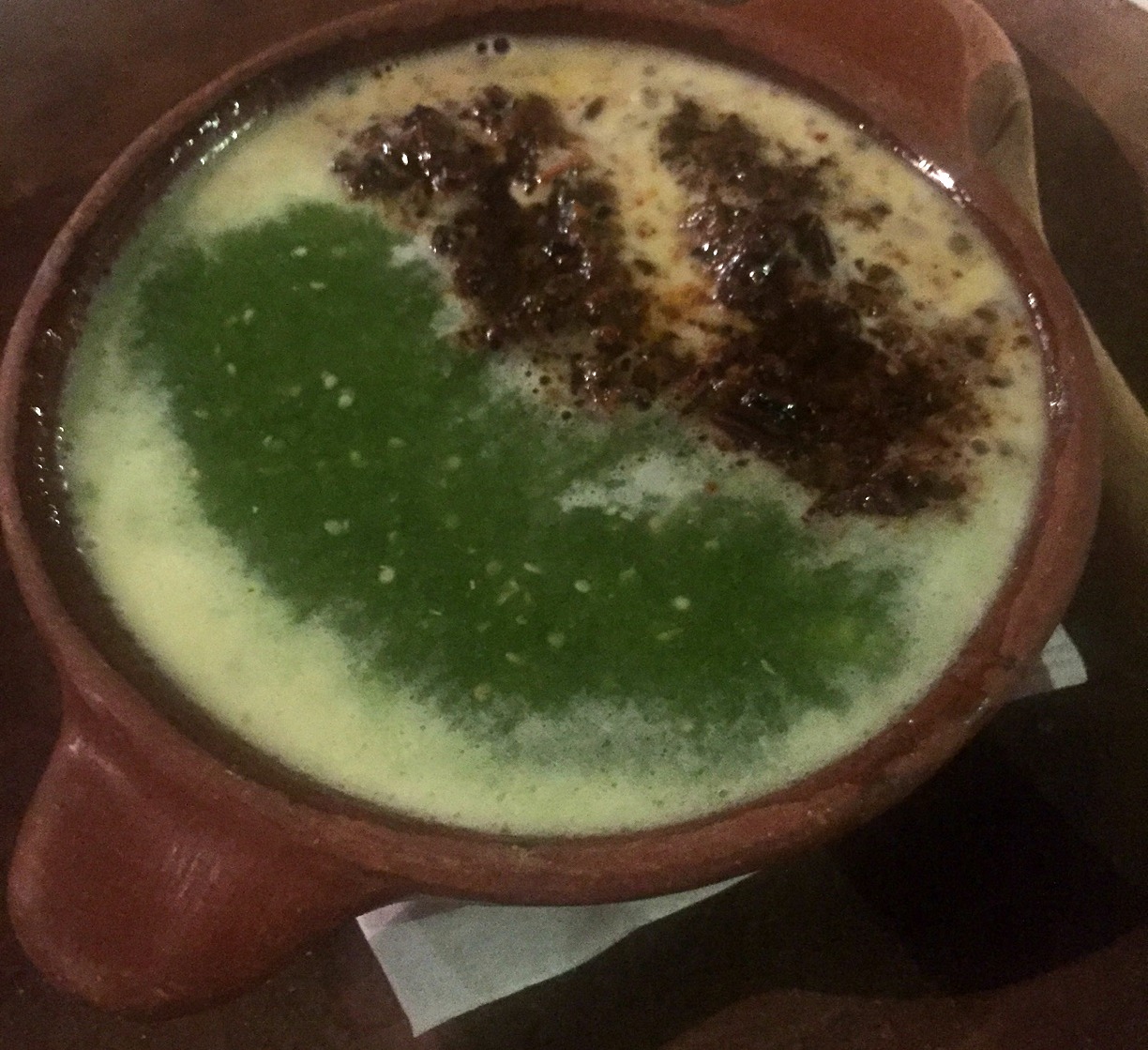 I'm deathly afraid of seeing insects, let alone eating them. Casa Oaxaca changed that for me. This dish was too delicious to resist. The 'hoppers offer an earthy crunch, with a flavor that Lindsay compared to a crunchier artichoke dip (I agree!). I enjoyed every bite, and have been dreaming about this appetizer since. Not much to look at (it's basically a blob of cheese), but worth ordering for sure!
Local Red Bean Soup (the soup was poured over what's pictured here) with Oaxacan Sausage Dust, Corn Croquettes, and Hoja Santa, an aromatic herb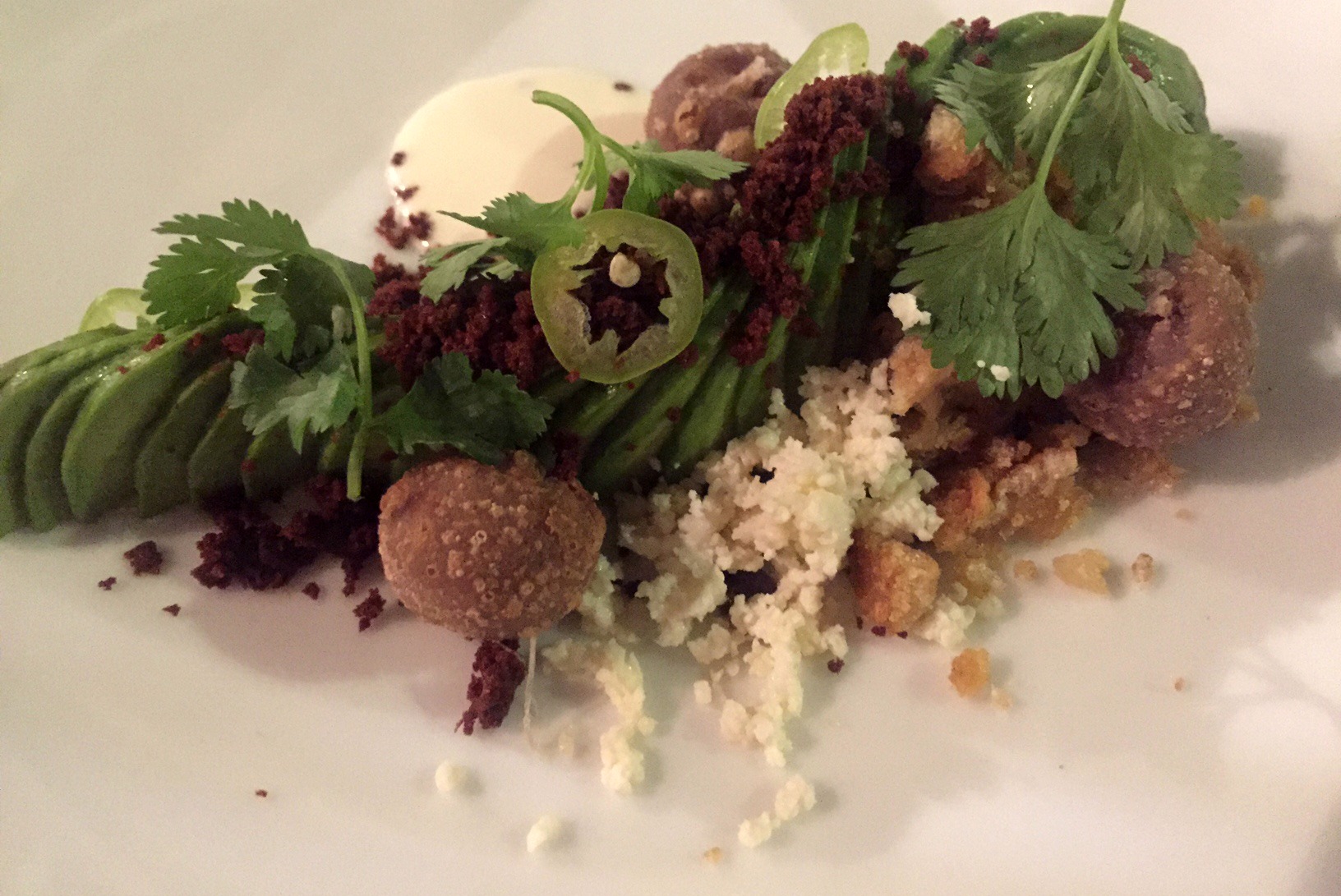 This soup had the most amazing mix of textures and flavors. From the milky bean soup, to the smooth cheese and avocado, and the crunchy jalapeno and cilantro, this soup was the most textured and innovative I've ever had.
The showstopping dish at Casa Oaxaca (in our opinion, at least), was the catch of the day served over corn fungus emulsion with sweet potato and hawthorn puree on the side. The menu at Casa Oaxaca is seasonal, so we can't promise you'll be able to try this exact dish when you visit, but we assure you that you'll be happy with anything you eat here, just like we were. We were especially impressed by the interactive dishes, like when the waiter brought a mortar and pestle to the table and made us a delicious spicy roasted tomato salsa right there in front of us, or when he poured out the progressively-made soup that we mentioned earlier. Every component of this meal, from the ambiance, to the service, to the food and drink was extraordinary, and there's not a restaurant in Oaxaca that we more highly recommend. Since the lighting was a little dim for photos, here are some food pics courtesy of Casa Oaxaca: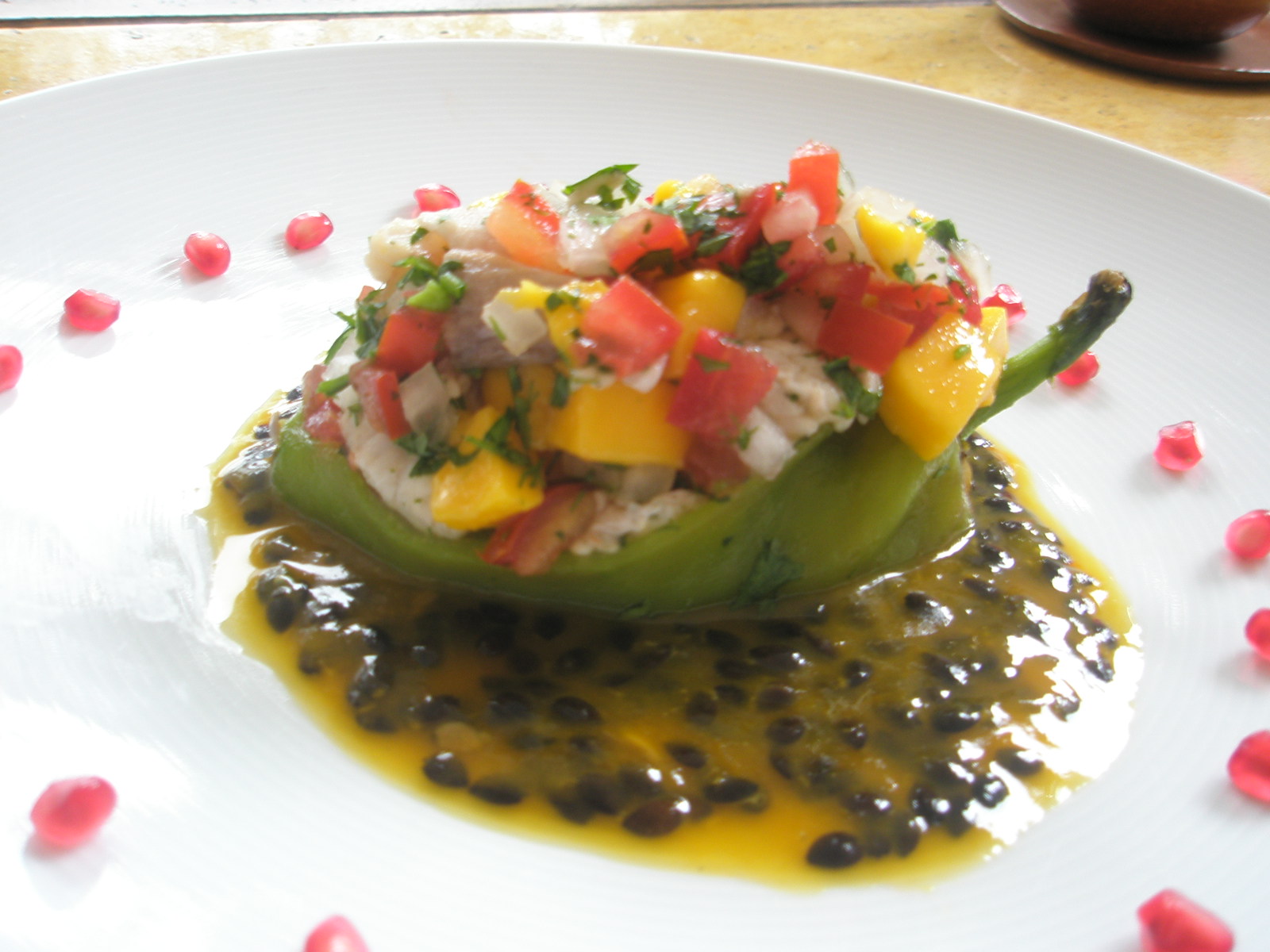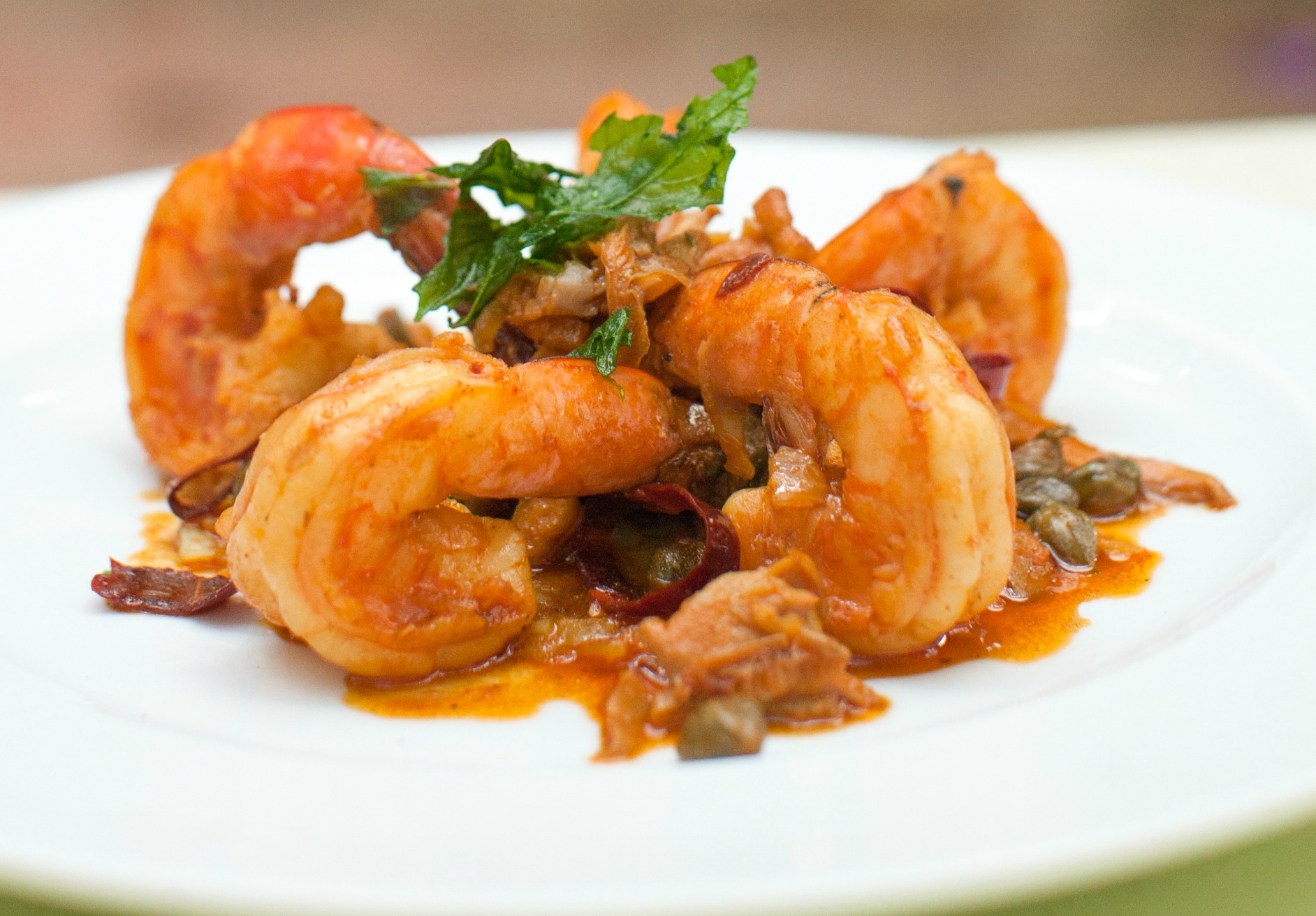 Before we close this article, it'd be remiss of us not to mention our favorite cafes for you coffee fiends out there! A.M. Cafe quickly became our go-to spot for getting work done while munching on house specialties like banana bread and Mexican eggs benedict, and sipping on great coffee, as well. It's a little outside the city center, but completely walkable and worth it!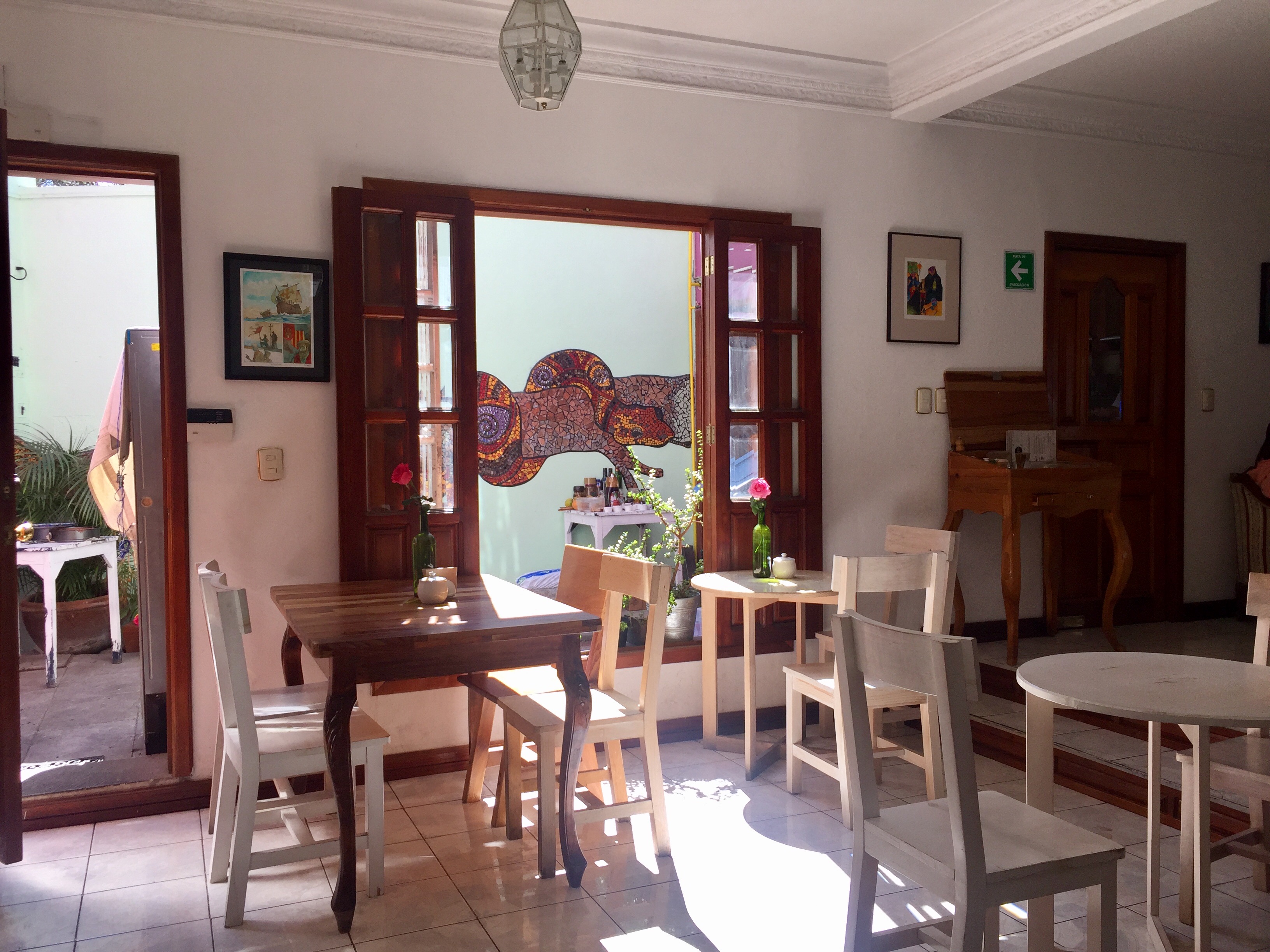 Also, the very best bread and pastries in all of Oaxaca, as well as homemade pizzas (served on weekends) can be found at Boulenc bakery. As in, don't go anywhere else for breakfast, and try EVERY SINGLE PASTRY THERE, even the ones that don't look that impressive because THEY. ARE. ALL. DIVINE!!
Have fun exploring Oaxaca, and let us know what your favorite spots end up being!
*Header photo courtesy of Sabina Sabe