Mexico is known for its exquisite food, so needless to say, Lindsay and I were over the moon to head to its capital to search for what we think are the best restaurants in Mexico City. There's everything from delectable street tacos available for 7 pesos (about .45 cents), to high-end, haute cuisine created by the country's most renowned and internationally-acclaimed chefs.
Mexico City is a huge metropolis of about 9 million people. That's more populated than NYC! In our estimation, you could spend years here without repeating restaurants. For clarity's sake, we've listed the best restaurants by neighborhood, so you can easily locate great eats wherever you happen to find yourself in the city.
NOTE: Most restaurants offer free wi-fi, so we recommend using Uber to get around the city. We didn't transfer our cell phones to the local service plan, so we used wi-fi to request our Uber to and from wherever we wanted to go. It made transportation around the city incredibly easy, and also inexpensive. Our trips ranged from $1.50 to $10 (USD), and the $10 trip was for a ride that took about 45 minutes. Taxis you hail off the street can cost double to four times the price of Uber rides.
Now that that's out of the way, let's talk grub!
San Rafael
Cochinita Power came recommended to us by our hotel in Colonia San Rafael, El Patio 77. This small, casual restaurant specializes in pork dishes and offers classics like tacos, tortas (the Mexican name for a sandwich), quesadillas, and chilaquiles, shown below. I'd never heard of chilaquiles, but they're much like nachos, except better…much better. The dish is pretty simple. It includes corn tortillas cut in quarters and lightly fried, with red salsa, pulled pork, sour cream, queso fresco, and pickled onions on top. At Cochinita Power, the tables all have lime wedges, pickled onions, and green hot sauce to accompany your food. I added extra pickled onions because I love the flavor and bite they added to the chilaquiles. Cochinita Power's chilaquiles were crunchy and flavorful. All the ingredients came together to make a great dish. For a mere 40 pesos, or about $2 USD, they can be yours too!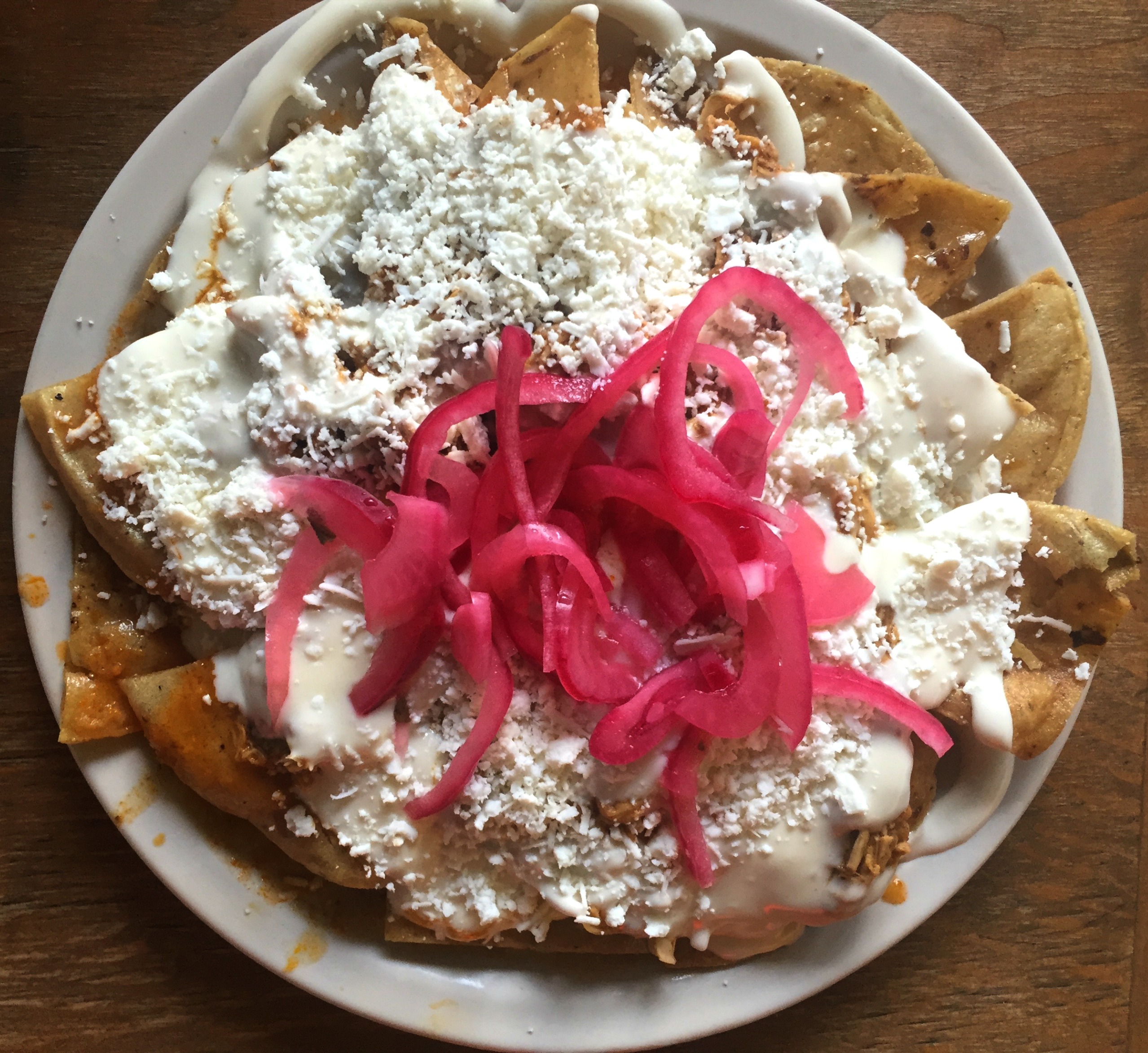 La Polar has been around since the 30s, and is known for its goat meat tacos. Tacos are obviously plentiful in Mexico City, meaning that you can find them on just about every street corner. La Polar is a corner restaurant with indoor and outdoor seating that serves just about every Mexican dish imaginable, all made with succulent goat meat. The tacos there are quite simple. They are made with corn tortillas, goat meat, light tomato sauce, and onion. We topped ours with lime juice, too. La Polar doesn't skimp on the meat, so each bite of taco has a balanced mix of tortilla and goat.
While this picture isn't much to look at, I'd say that these are some of the best tacos Lindsay and I ate in all of Mexico City. The goat meat was the most juicy and tender I'd ever eaten.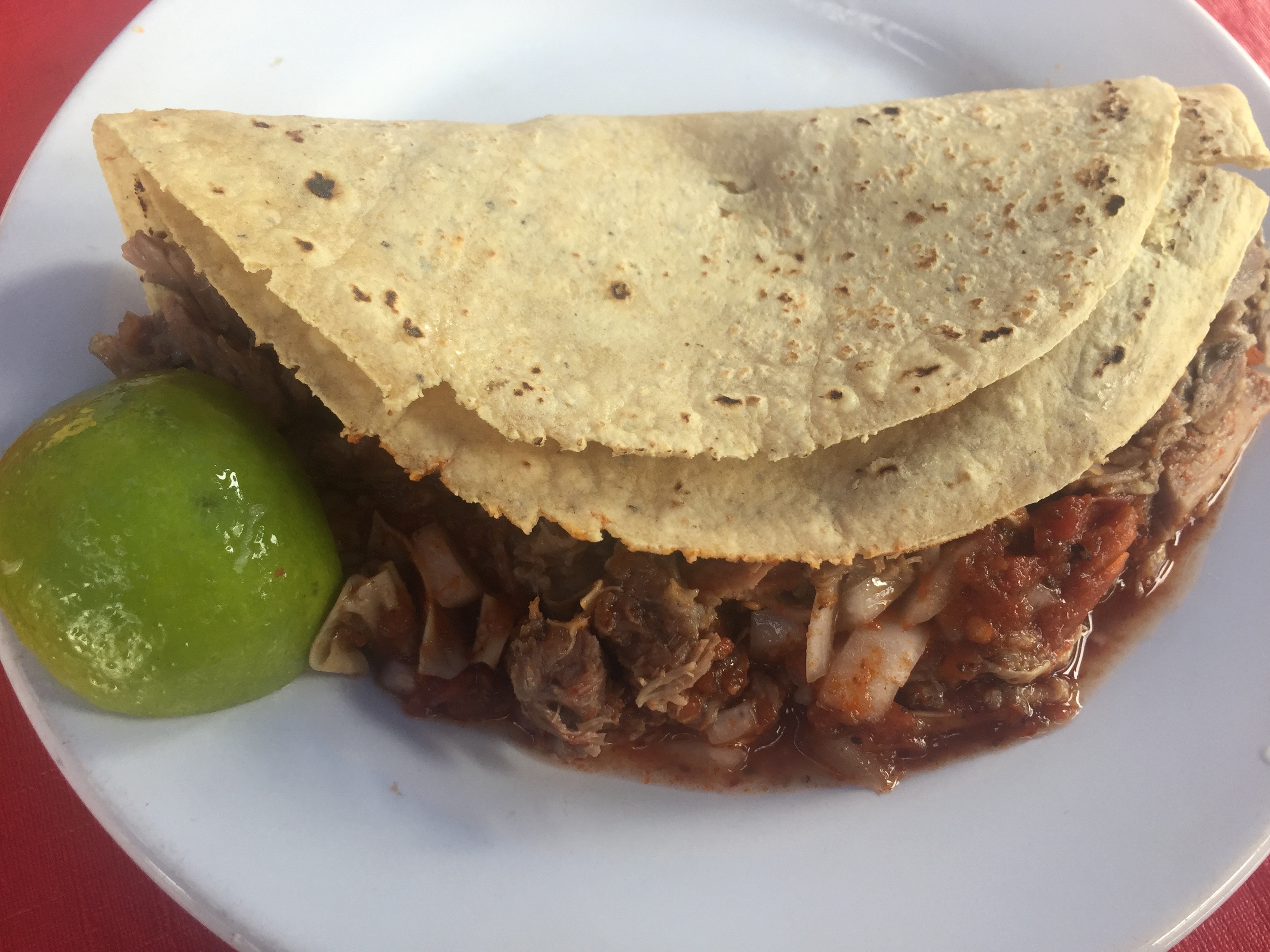 La Michoacana is an ice cream and paleta (popsicle) shop that can be found all over Mexico. In San Rafael I think there were about three of them within a five minute walking distance from our hotel. It's hard to pick just one flavor to try, so we didn't! Lindsay loved the Strawberry Cheesecake paleta best, and I loved the guava-lime, or guayaba one best. For 15 pesos, grab more than one and see which flavor you prefer! Also worth trying is the rice pudding here.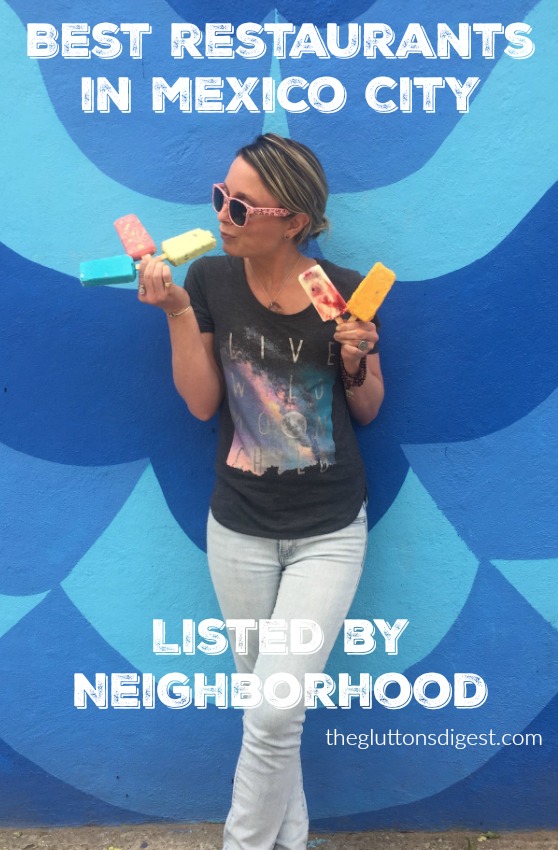 Polanco
Público was created with three things in mind: product, price, and your palate. The restaurant was founded by chef Pablo Salas, a faithful promoter of Mexican cuisine. The restaurant greets you with fresh air, sunlit tables, and communal seating. You might think you were in Brooklyn from the ambiance, actually. The menu offers simple Mexican cuisine, while showcasing the countries rich and diverse ingredients. Lindsay and I enjoyed the Kale Salad (kale with citrus dressing, tomato, and queso fresco), Chicken Torta (a chicken, bean, avocado, and cheese sandwich, accompanied with pickled vegetables), Huarache estilo Estado de México (a big blue corn chip topped with black beans, chorizo, cactus, and diced potato), and coconut iced lattes. The huarache was my personal favorite – it reminded me of a Mexican-style breakfast hash. We drink lattes every day while we are working, so we've tried quite a few coffees in Mexico City. The coconut iced lattes at Publico were out of this world and kept us coming back to the restaurant. The mint panna cotta with passion fruit sauce for dessert was also pretty stand-out.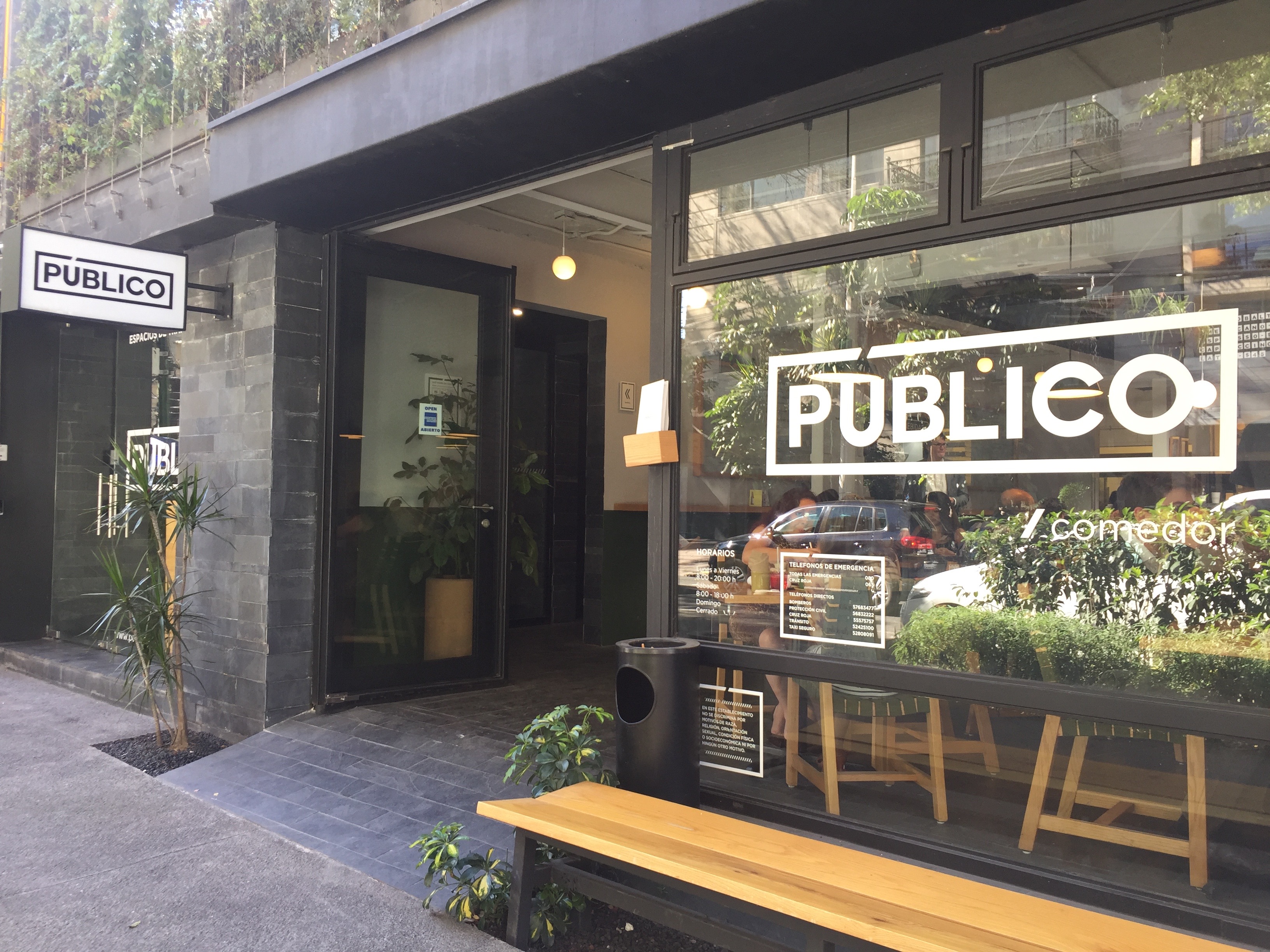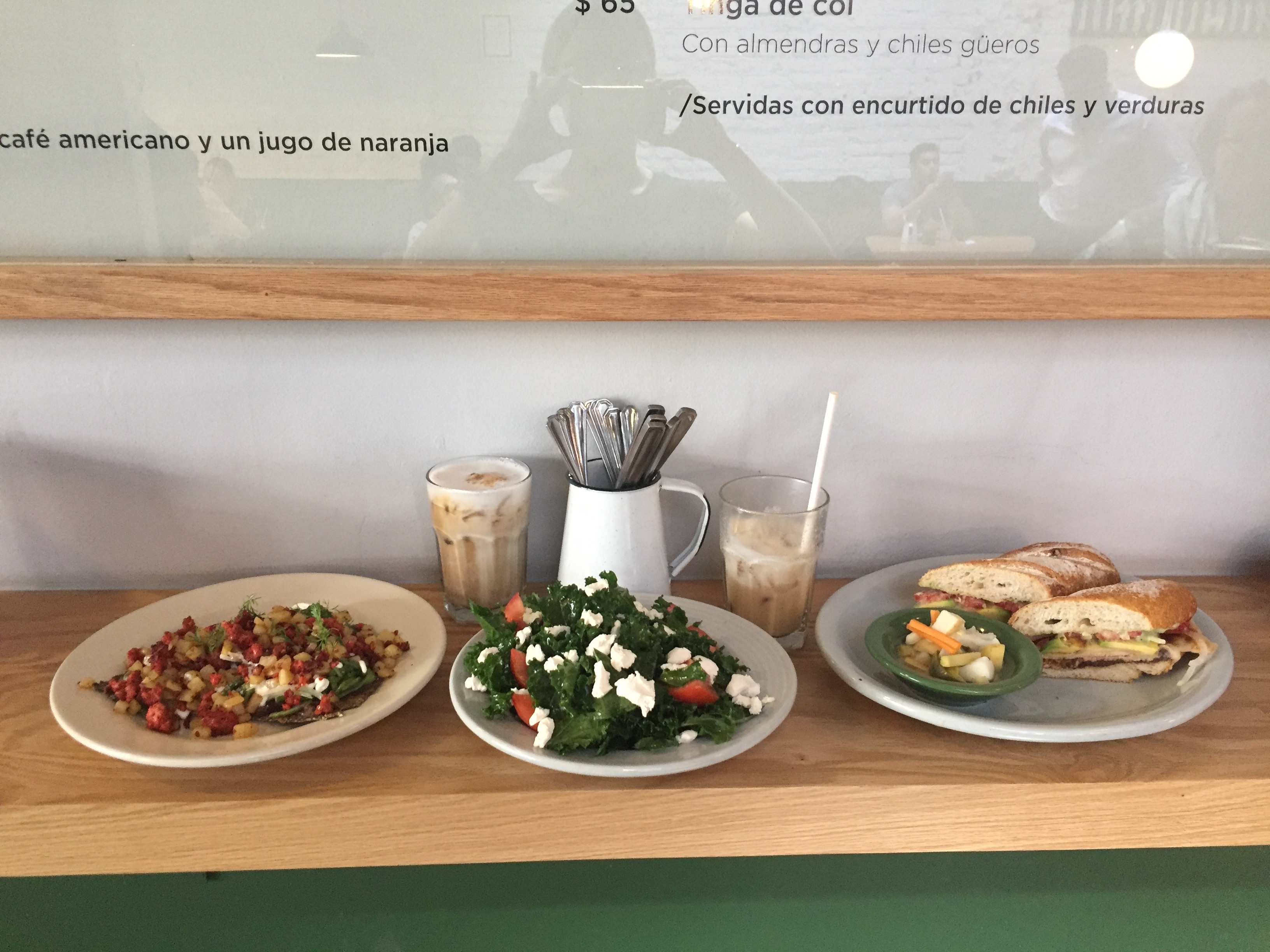 Image Credit: Alejandra Carbajal
Nobu has numerous restaurant locations across the globe. We've tried a bunch of those locations, but think Mexico City's Polanco location is quite unique in its offerings. In fact, the restaurant offers 150 menu items that can only be found in Mexico City. The restaurant is inside a colonial-style mansion that was built in 1953, and offers three-floors of indoor and outdoor dining space. There are many exquisite items on the menu like the Kampachi sashimi topped with dried miso, apples, Pecorino, chives, and microgreens, but Lindsay and my favorite menu item was the Gyoza Kobe. I'm not sure you'll find a more perfect bite of food in or out of Mexico City. The gyoza are filled with the most decadent meat products on the planet – Kobe beef and foie gras. The dumplings are pan-seared until crispy on the outside, then laid on top of a sweet potato and beet mash, and topped with a fig and teriyaki sauce. All the flavors came together so well. First, you'll experience the tender beef and foie gras, followed by the crispy wonton wrapping, and finished with smooth, sugary sweet potato and fig sauce. It's divine.
El Bajio was on Condé Nast Traveler's list of 207 of the Greatest Restaurants in the World, and since our hotel was a mere 7 minute walk from the restaurant, we had to try it. We'd tried another restaurant on the list during our time in La Paz, and loved it, so we were hopeful we'd like El Bajio too. We ordered a few small plates, including the cactus salad with grilled panela cheese, the roasted quesadilla with mushrooms, zucchini blossoms, and tender cheese, and the octopus with garlic, topped with cilantro. We enjoyed all the dishes, but the roasted quesadilla with mushrooms, zucchini blossoms, and tender cheese with the most unique and stand-out dish of the three. It made our (mental) list of Best Tacos and Enchiladas in Mexico City.
Image Credit: El Bajio Restaurant
Condesa
From the looks of La Capital, it seemed unlikely that we would have enjoyed it as much as we did. While classy-looking, the restaurant doesn't really stand out amidst all of the other restaurants in Condesa. It seems like one of those places that could be all hype, without any substance. The Duck Enchiladas con Mole proved us very wrong, and we couldn't have been more happy about it. The restaurant opened in 2009 and has been a favorite amongst Mexico City locals ever since. The restaurant's executive chef, Oscar Sanchez, offers unpretentious and simple meals made with quality ingredients. I've never been a huge mole fan, but this mole sauce is by far the best mole I've had the pleasure of experiencing. The enchiladas were packed with just the right amount of tender duck meat, and the mole was bursting with flavor, without being bitter or overpowering. It's a must-try if you're in Mexico City.
Image credit: La Capital
Great food, great cocktails, and an unpretentious, friendly atmosphere make for a great restaurant, and that's why Temporal Restaurante made our list. Temporal's head chef, Diego Perez Turner, uses the season's best ingredients to make perfectly simple and mouthwatering combinations. The seasonal menu is what caught my eye in the first place. I love when restaurant menus are seasonal, and celebrate what Mother Earth bares each season. Lindsay and I enjoyed the Octopus Salad with steamed potato, avocado, and truffle oil, the Marinated Salmon Tostadas with a chili, basil, and pistachio dressing, and the Beef Stew made with pulque (an alcoholic Mexican drink brewed from the juice of the agave plant), served over mashed potatoes with a mushroom sauce.
The Marinated Salmon Tostadas were really tasty. The dressing gave the dish a refreshing citrusy, spicy, and nutty taste to accompany the naturally oily fish, while the flavor of the masa de maíz came through to round out the dish.
The Octopus Salad was incredibly simple, and that's exactly why I loved it. The tender octopus coupled with the soft potato, flavorful avocado and truffle oil made the dish one where each ingredient could be appreciated separately, as well as all together.
The Beef Stew was tender and soft, while the flavors of the mushrooms and pulque added earthy flavors to the rich meat. The mashed potatoes were done just right – creamy and smooth. It was great to enjoy a comfort food like this one in Mexico City. This dish wins the award for best beef that we've enjoyed in all of Mexico!
Image credit: Temporal Restaurante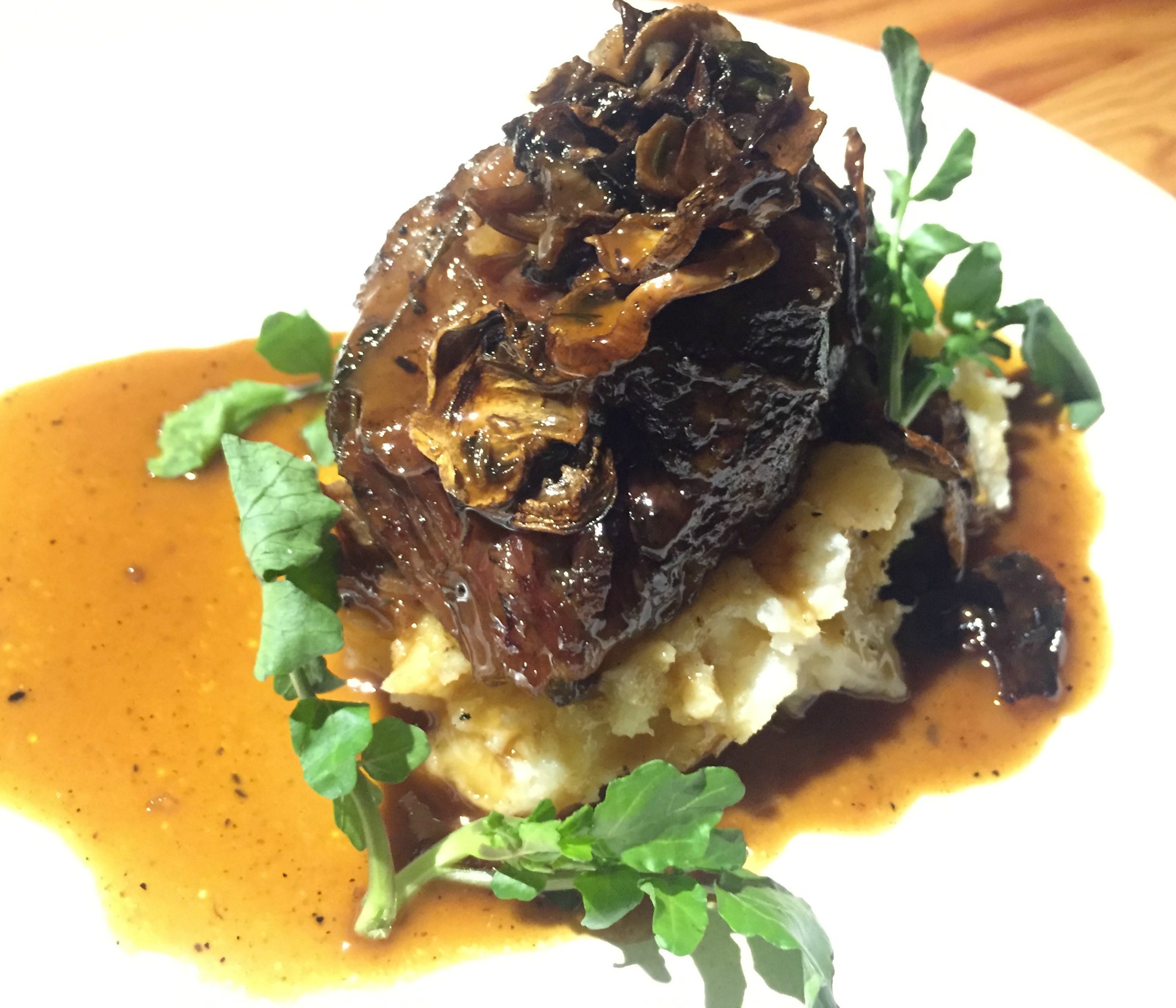 El Pescadito Taqueria's tacos made our list of the best tacos we ate in Mexico City. Lindsay and I both ordered the Que-Sotote tacos filled with chile relleno, cheese, and fried shrimp, and the Tacochango tacos filled with flaky marlin fish, topped with fried shrimp. The restaurant has an extensive toppings bar that we took advantage of by topping our tacos with mounds of cole slaw, pickled onions, and lime juice. The tacos were flavorful and well-balanced, and the tortillas were soft and fresh. We liked them both, but enjoyed the Que-Sotote taco more. How can you go wrong with abundantly adding melted cheese to your taco, right?!
Image credit: El Pescadito
Roma
Rosetta, an Italian restaurant in the upscale Roma neighborhood, came highly recommended to us and we're so glad we made our way there. On more than one occasion. We are now in Oaxaca, and not a night passes when we don't reminisce about the meals we had at Rosetta, wishing we could go back. One thing I love about the more expensive restaurants in Mexico City is that you can always find dishes that cost about $5-7 USD. Where else can you experience gourmet dining at a city's best restaurants without breaking the bank?
Lindsay and I both spent about $15 for a dinner salad and pasta dish at Rosetta. All four dishes were incredible.
The most unique of the four dishes was the Carrot Ravioli topped with yogurt, lovage (a sweet herb), sorrel, and fennel flower. The pasta was al dente, which in my opinion, is the only way pasta should be cooked and consumed. The dish offered a mix between Italian and Middle Eastern flavors, making it an innovative and delectable treat.
Image credit: Rosetta
We also loved the Roasted Beet Salad. While the dish might seem simple and straightforward, it was anything but. The salad included smoked pink and red beets, mint, mesclun lettuces, goat cheese, and beet ice cream (that was a first for us, and it was PERFECT!). The flavors and textures are what made this dish stand out. The cold, smooth ice cream coupled with crunchy beets and lettuce made for a real mouth "fiesta"!
Image credit: Rosetta
We could go on for ages about Rosetta, but just let us say this and then we will leave you with some more pictures. If we had only one meal to eat in Mexico City (instead of the 500 we actually ate;), we'd choose Rosetta. Rosetta also has a bakery down the street, which serves the BEST PASTRY WE ATE IN ALL OF MEXICO, the pan de guayaba (guava bread). Make sure you get there early enough that the guava bread isn't sold out.
Here are some of the other dishes we happily devoured during our second and third visits to Rosetta Restaurant (if you know us, you know that we rarely visit restaurants twice when we are traveling. Further proof of Rosetta's perfection):
Grapefruit Burrata Salad
Quail, Farro, Pumpkin Puree and Duck Broth
Pappardelle with Chicken Liver and Sage. If you think you won't enjoy this because you don't like liver, think again!
Mamey over Mamey Sorbet, with Pixtle foam (made from mamey seeds) and a taxcalate crumble (made from a traditional chocolate corn drink)
All finished with a nice cup of cappuccino
Okay, we'll move on now! Mercado Roma is a space filled with upscale, but not too pricy food vendors serving a wide range of offerings, from Mexican tacos and aguas frescas and churros, to Vietnamese street food and French Dip sandwiches, like the one Lindsay and I shared and quickly devoured with delight. I love a great sandwich as you might already know from my list of Best Sandwiches on the East Coast. Mexico had me missing American-style sandwiches, so when we found the French Dip sandwich at Mercado Roma, we were elated. I didn't necessarily have high hopes for this sandwich, but it happened to be better than I could have expected in many ways. The bread was soft and chewy; the meat was tender and juicy; and the au jus was bursting with flavor. It was a really great sandwich. We plan to go back to Mercado Roma to try more eats because there were so many options. Don't forget to order your sandwich with truffle fries!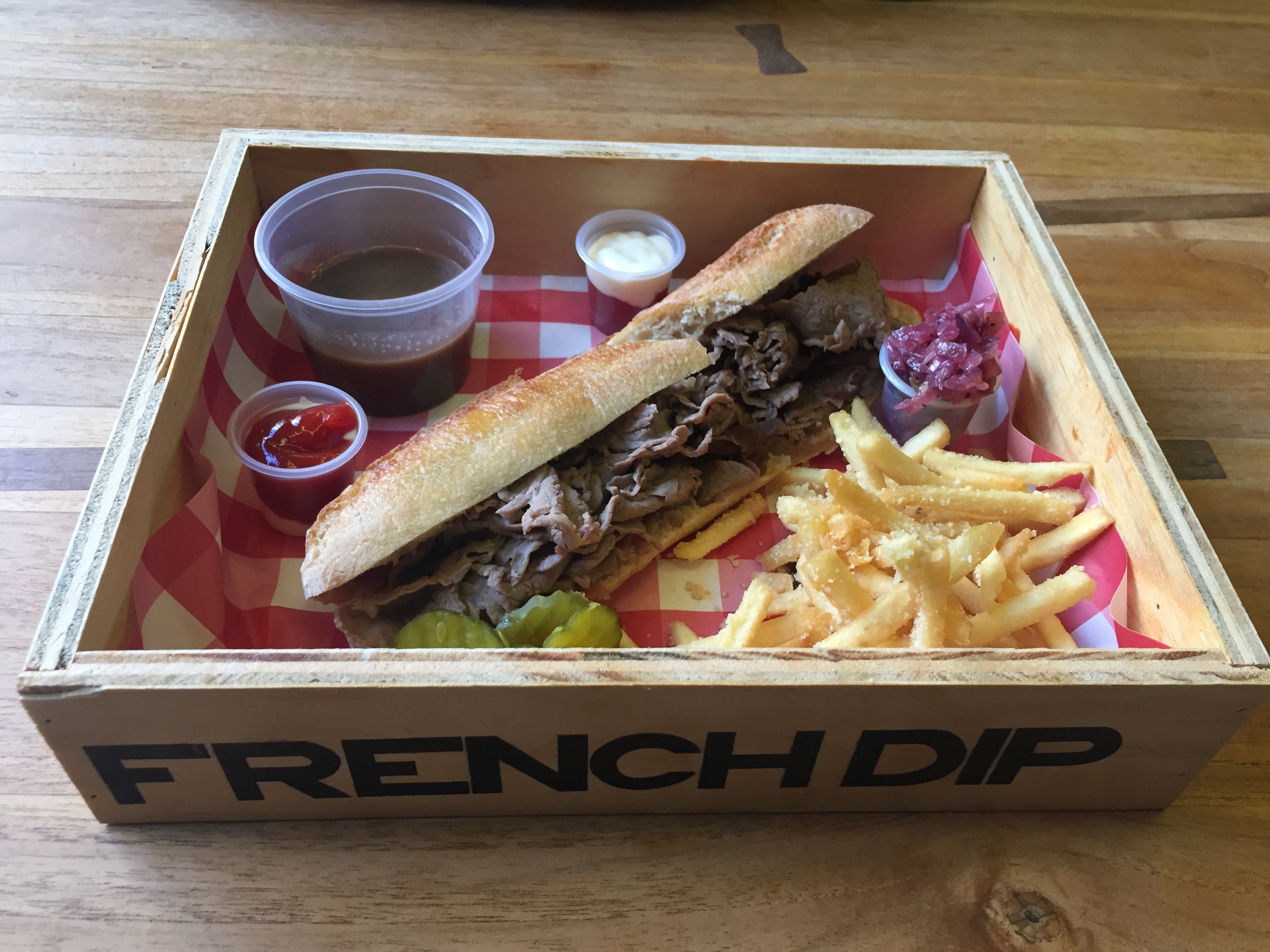 Special mention: We didn't spend much time in Coyoacan, but you'll likely go there because it's a really quaint part of the city to walk around, with lots of cultural stuff to see like the Frida Kahlo museum. If you've read our Oaxaca restaurant post, you'll remember how we raved about Los Danzantes. We even ate there two times in one day that's how positive of an experience it was. Well, when we wrote this Mexico post, we weren't aware that Los Danzantes started in Mexico City. The Oaxaca restaurant is actually run by the identical twin of the awesome guy who runs the Mexico City restaurant. Anyway, right before hopping on a plane to leave Mexico City (way after we compiled this Mexico City restaurant list), we were invited to experience Los Danzantes' Mexico City location. It didn't disappoint. Astrid Sanchez, Los Danzantes' PR Director, led us through a tasting menu and talked to us about the history of the restaurant. It was probably the most enthralling and impassioned conversation that we had in all of our two months in Mexico. Of particular interest was a convo about the trajectory of mezcal in Mexico. Essentially, mezcal used to be viewed as a low-brow drink option, but because of Los Danzantes, mezcal is now seen as a cultural gem and well-sought-after uniting force in Mexico. Los Danzantes distills their own mezcal, and we highly recommend a visit to the restaurant for its food, mezcal, art, and incredibly knowledgeable and passionate staff. Be sure to ask about how mezcal is made, as it's a delicate, nuanced, and interesting process.
What do you consider the best restaurants in Mexico City? Did we miss any? Let us know in the comments section!
*Header photo courtesy of Rosetta Restaurant