Right before leaving for Bolivia, I was sitting in my friend's apartment and noticed a Condé Nast Traveler magazine laying amidst the perfectly-aligned magazines on her end table. I flipped through, hoping to find something related to South America, where I was heading soon. Condé Nast had just come out with its list of 207 of the greatest restaurants around the globe. I was excited to see that Bolivia had one restaurant on the list, which is quite a feat considering that Bolivia isn't yet known for its gastronomy, especially compared to its neighboring country, Peru. Gustu was named one of Condé Nast Traveler's Best Restaurants in the World in September 2016, after only being open since April 2013. I knew I had to try it while I was there.
Image Credit: Gustu Restaurant
After being to Peru twice, and loving Peruvian food just as much as Lindsay, I'd assumed that an adjacent country like Bolivia would offer similarly amazing culinary treasures. I was mistaken, unfortunately. Unlike Peru, Bolivia doesn't have a proud restaurant mogul like Gaston Acurio at its helm to propel it into the realm of world-renowned gastronomy. We are optimistic that Gustu will help Bolivia establish its place among respected culinary destinations around the world by showcasing Bolivia's unique ingredients that come from all of its diverse landscapes, from the Andes to the Amazon jungle.
Image Credit: Gustu Restaurant
It wouldn't be honest to write this article without acknowledging some of the more unfavorable things we've heard about Gusto from Bolivian friends who have visited the restaurant, and weren't fond of some of Gusto's owner's commentary on Bolivia (some of which you can read in this New Yorker article). While I only dined there once, and didn't meet the Danish owner, both Lindsay and I were overwhelmingly impressed by our entire experience. To me, Gustu is an outlet for Bolivia's ingredients to be highlighted in a way that's unique and new; it's a way to showcase Bolivian people's hard work, ingenuity, and perseverance; and it's paved the way for more innovative gastronomy to gain traction in the country, which might otherwise not have occurred.
In regards to its cuisine, some might say that it's outlandish or not representative of Bolivia. One Bolivian in the aforementioned New Yorker article said, "This is not food," perhaps referring to the smaller portions, or the fact that the dishes veer away from traditional Bolivian dishes like freeze-dried potatoes and kidney. I take quite a different perspective on this, in that Bolivia's ingredients, which are like none other in the world, are able to be experienced by tourists and natives alike at Gustu, in a way that they wouldn't otherwise enjoy. I don't feel like it's a crime to take Bolivian ingredients and do something that's never been done before, and furthermore, I got the sense from being there that running the restaurant is a community affair involving a lot of good, passionate people. Because infrastructure in Bolivia is poor, moving ingredients from one place to another is typically difficult. Gustu and its employees, most of whom are Bolivian, are able to use their personal networks to seek out and move ingredients in an informal way from different parts of the country to Gustu (for example, one of our appetizers included blue lettuce from an organic garden down the street, planted by a woman who is a friend of the restaurant staff).
Bolivians are extremely hard workers, and while the country might be poor, Bolivians are rich in ingenuity and perseverance. They're a country and a people that fights for its rights, along with what they consider to be right. Many of Gustu's workers are coming from across the city to work at the restaurant, making their daily commute 90 minutes or more. They're doing this on top of the grueling work required to make it in the restaurant industry. I found Gustu's employees not only to be friendly and knowledgeable, but also, to be incredibly passionate about their work. It's clearly an art form and we feel they are impeccably expressing their creativity and craft through the food and drink offered at Gustu. There wasn't a bite (or sip) we didn't thoroughly enjoy!
While the prices at Gustu are higher than the majority of the country's population can afford, Gustu's culinary school, which has six hundred students, offers lunch to the public for 2 dollars. I have never eaten the lunch, so I can't comment on it, but I appreciate that the restaurant group has initiated a variety of projects which have made it possible to bring food and culinary training to thousands of people with limited funds within Bolivia. You can learn more about their socially innovative programs here.
Without further ado, here's what Lindsay and I ate when we were invited to dine at Gustu:
This is a cocktail made with Singani, llajua-infused water, lime syrup, and quirquiña leaves. Singani is a Bolivian brandy, which actually tastes most like vodka to me. Llajua is a spicy sauce served as a condiment on all tables in Bolivia, and is made of a hot pepper called locoto. Quirquiña is an herb that's a bit like cilantro and often used in making llajua. The cocktail itself was balanced with tangy, spicy, and sweet notes that all came together for a light and refreshing drink. 
We also enjoyed a craft cocktail made with La Republica Andina Gin that is distilled at 4K meters above La Paz in El Alto (all of Gustu's ingredients are Bolivian, spirits included). Our bartender made this next drink by burning rosemary in a closed mason jar to smoke the ice. The gin and some cucumber juice were then added to make a slightly smoky and herbaceous cucumber cocktail that was so light and flavorful that I could have drank six of them!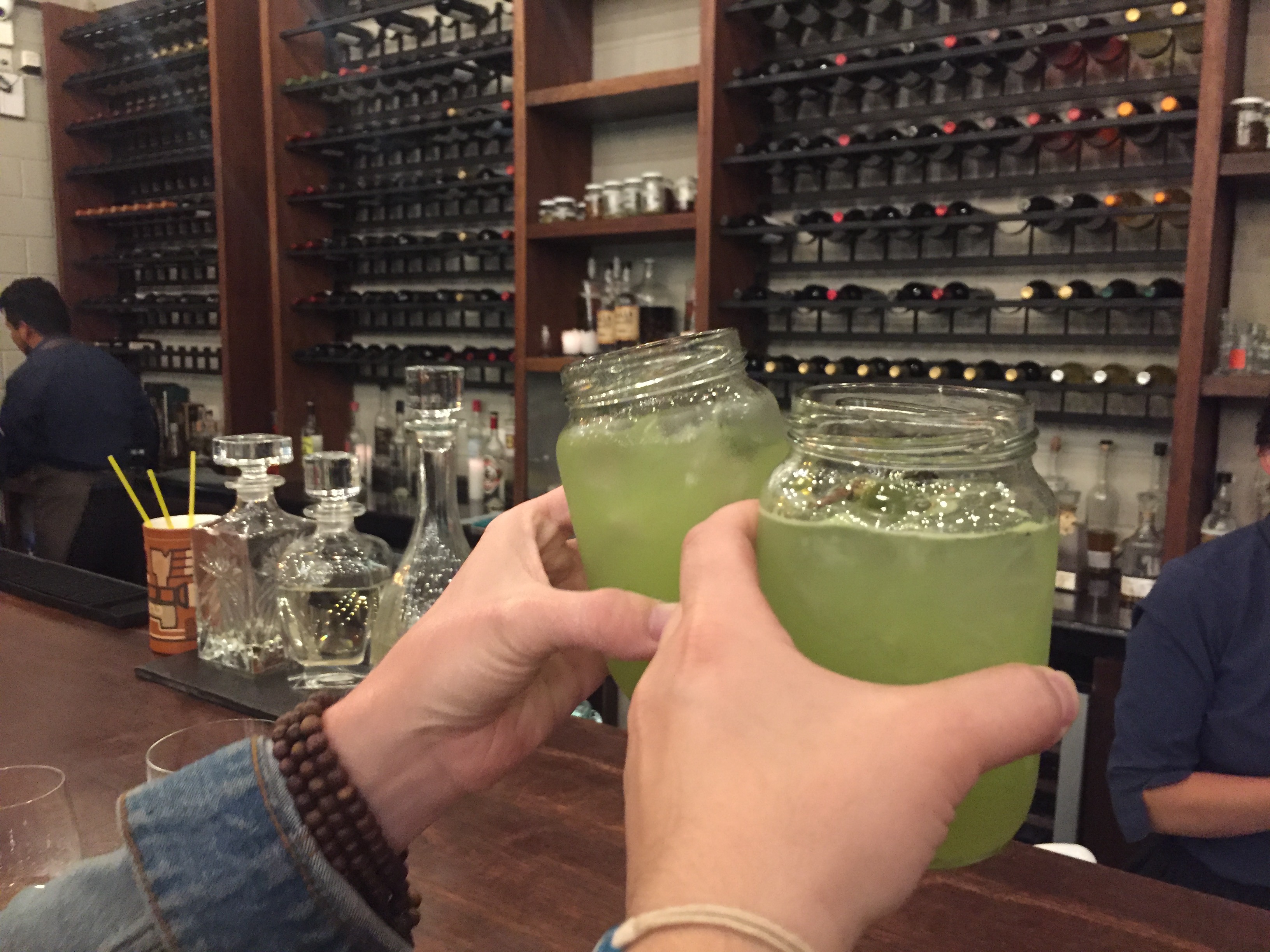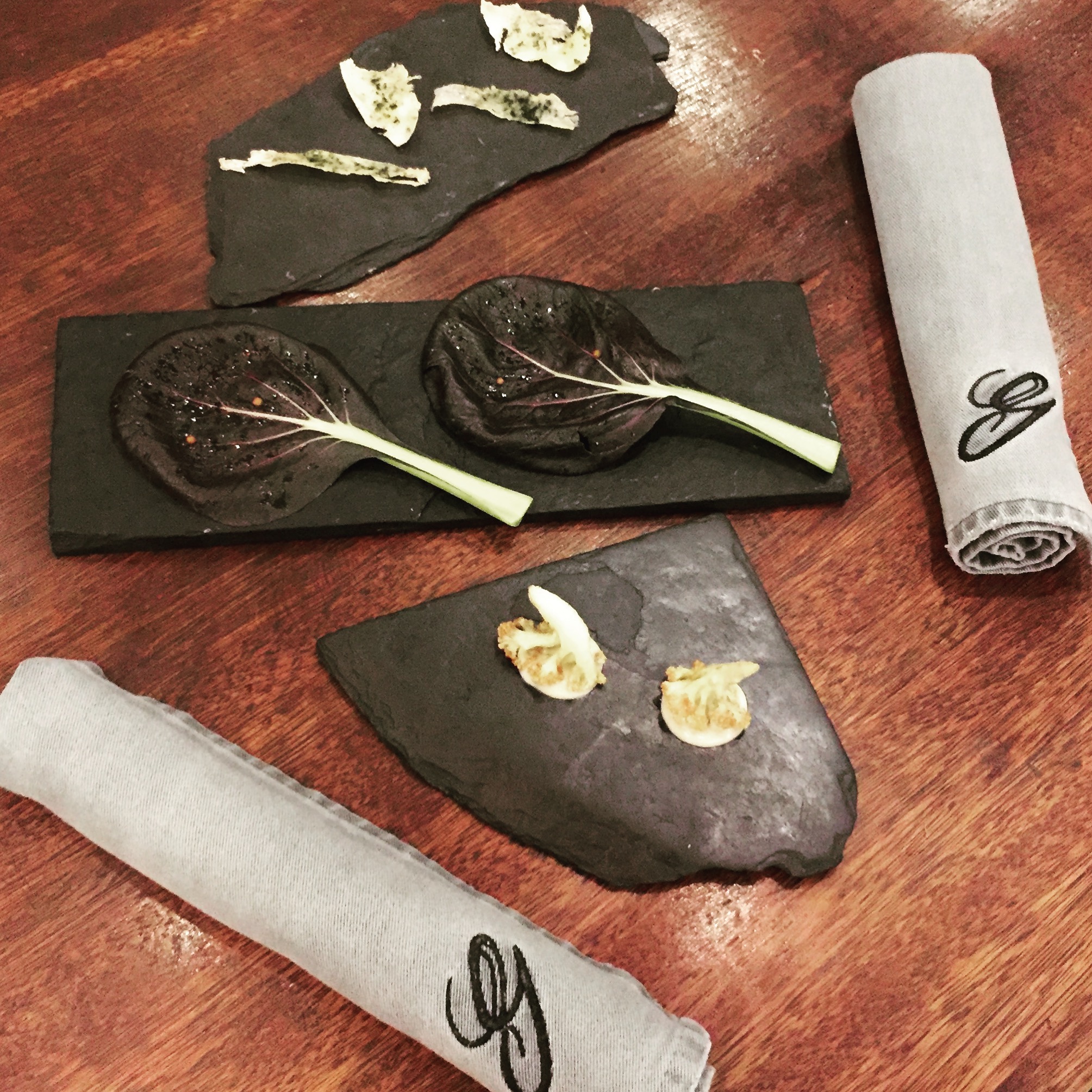 From top to bottom: Alligator brushed with brown butter and huacatay. Blue Lettuce brushed with 2-year-aged lime and salt juice topped with coriander seeds. Fried cauliflower topped with jungle pepper. The alligator was pleasantly piquant, and had a texture similar to jerky. The blue lettuce was incredibly tender and earthy, with a slight bite from the aged lime and salt juice, while the coriander seeds added the perfect pop of flavor. The fried cauliflower was soft, decadent, and rich in flavor.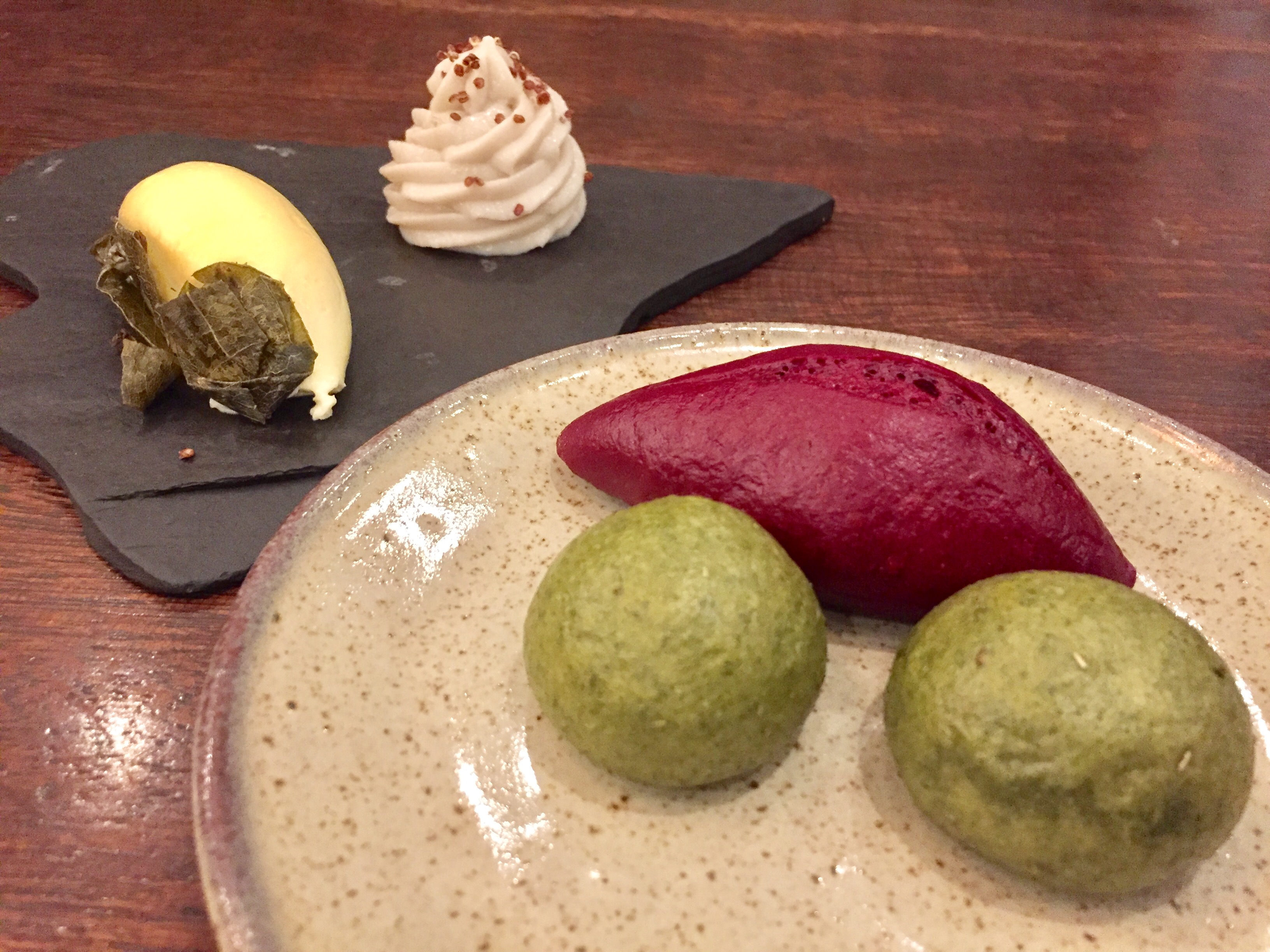 Beet baguette and coca bread, with a quinoa tofu spread and coca butter. This bread was likely some of the best I've ever had, and this was Lindsay's favorite of all the foods we were served at Gustu. The coca bread with the coca butter was so true to coca flavor, and so rich and creamy. Similarly, the quinoa tofu had the richest quinoa flavor of any quinoa product I've tried within Bolivia. It was the softest and fluffiest way I've consumed quinoa, and it's hard to imagine enjoying quinoa served any other way now.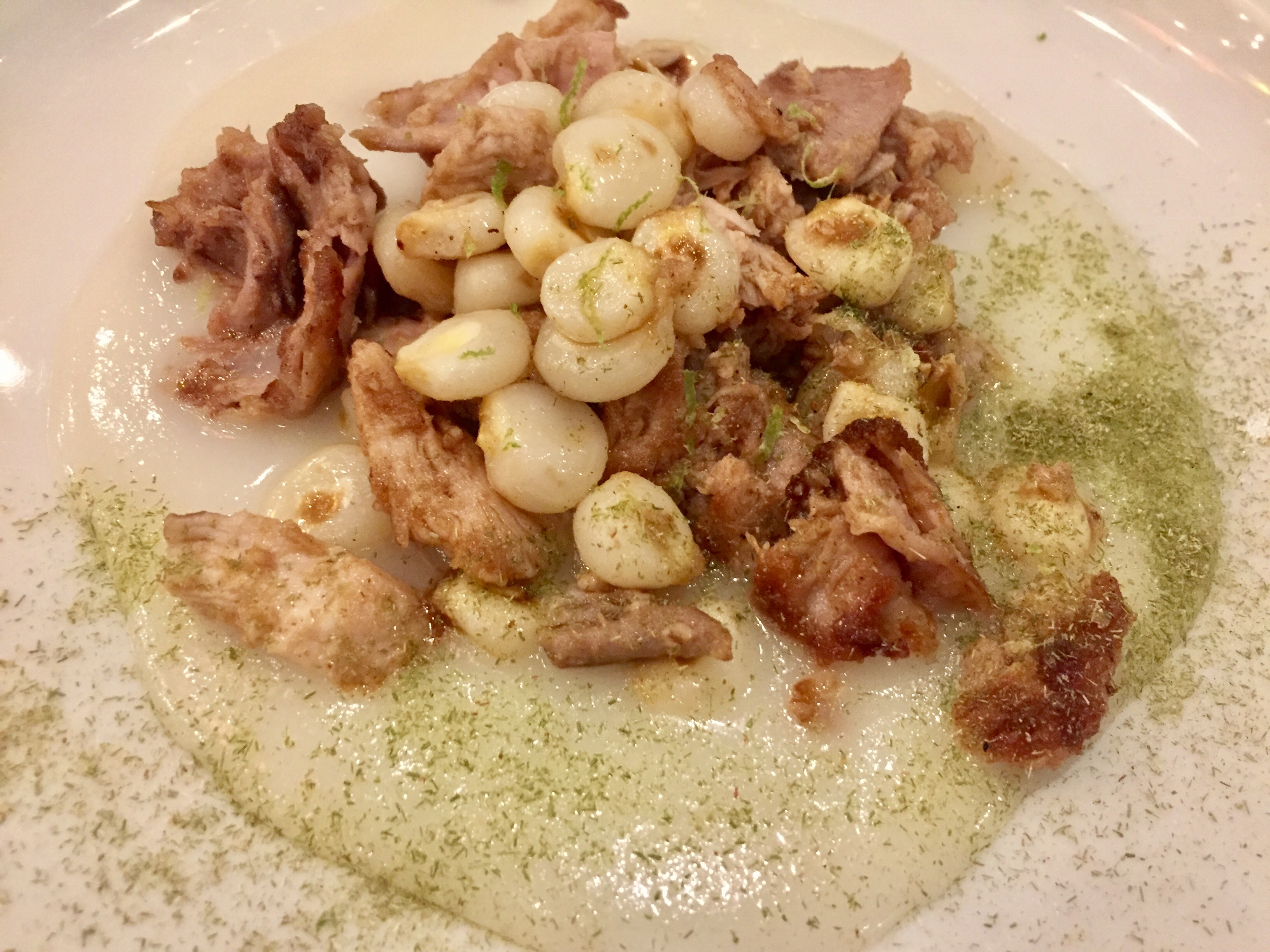 Caramelized rabbit, hazelnut butter, corn cream, and hierba luisa (verbena). I come from a line of northern Italians, so you can't tell my family that this was the best rabbit I've ever had. Creamy, tender, and rich, this dish was the perfect set of textures and flavors. The caramelization on the rabbit gave it the perfect crispiness to the overall tenderness of the meat. 
We couldn't more highly recommend Gustu. We've spent a total of five whole months in Bolivia, and can confidently label this restaurant as the best that Bolivia currently has to offer. Book your table now, and let us know what your most enjoyable dishes end up being.