I liken myself to a modern day Chas Dickens.  Just kidding, I don't.  It is, however, rather difficult to ignore our two very striking similarities, which are:
1. Our unruly hair (I'm the one on the right).
And, 2. Our affinity for Christmas.  Dickens wrote, "I will honor Christmas in my heart, and try to keep it all the year."  I have been known to make some equally poignant and feel-good statements regarding Christmas, such as "Christmas is my favorite," "I'm like a little Christmas elf," and "Do you mind if I eat your last ten Christmas cookies?"  I once contemplated relocating to Texas upon discovering its year-round Christmas music station.  Add Texas BBQ to that fact, and I get all weak in the knees with elation.  I listen to my Christmas mix at least once a week all year long because I refuse to accept that the most convivial holiday of the year is relegated to a mere 24 hours.  If Charles and I believe in perpetually celebrating Christmas, there is nothing you can do to stop us.
Since I'd listen to Christmas tunes 24/7 if I had my way, I have become somewhat of an informal expert on the topic.  If my dad and I were to combine our Christmas music collections (GREAT idea!  Why haven't we done this yet, dad?), we might even own every single holiday-themed song ever recorded (To squelch your skepticism I'll tell you right now that yes, we DO have "Christmas in Jail."  Don't be jealous).  As a personal challenge, I decided to whittle down our overflowing playlist to ten Christmas songs that are my current faves.  It was a painstaking process, but there's not much I wouldn't do in the name of Christmas.  I have created my own categories for the songs, which you may or may not agree with.
Christmas songs that are all about me:
1. Perry Como's "There's No Place Like Home for the Holidays."  In this classic, Como recalls meeting someone from Tennessee who is heading to Pennsylvania for some homemade pumpkin pie.  How interesting.  My family is from Tennessee, we live in Pennsylvania, and we eat homemade pumpkin pie, so this MUST be about us.  It's always been a belief of mine that we are a unique set of characters, but it's nice to have a swoon-worthy crooner reinforce my opinion with a Christmas song written specifically about us.
Christmas songs that make you want to drape yourself in Christmas lights, fill your mouth with Christmas cookies, and dance around the room in stockinged feet (aka an ordinary Tuesday night for me):
2. Billy Squier's "Christmas is the Time to Say I Love You."  It really doesn't get much better than this, folks.  Watch Squier's video from the '80s and marvel at how much cooler MTV used to be.  While I vacillate almost daily in picking my favorite Christmas songs, Billy Squier and his teased bird's nest of a hairdo have never ceased to steal my heart.
3. Elton John's "Step into Christmas."  I would love to step into Christmas with you, Elton John.  Every.  Single.  Day.
4. Tom Petty's "It's Christmas All Over Again."  Tom Petty happens to resemble one of my uncles, and because of this, I think it's safe to assume that he is an upstanding individual.  I consider it an added bonus that he makes good music.  This song is no exception, and it makes me wanna shimmy.  Bigtime.
Christmas songs for when you are feeling a little emo.  These songs are so emotive, in fact, that you feel the singers have stepped into your living room and are singing directly to you.  Because of this, these songs could probably fall into category 1 as well, of songs that are all about me. 
5. The Eagles "Please Come Home for Christmas." The slow, steady tempo of this song mixed with Don Henley's beseeching tone REALLY make me hope that he's not spending Christmas alone this year.  Bon Jovi's version of this song isn't half-bad, either.
6. The Pretenders "Have Yourself a Merry Little Christmas."  Chrissie Hynde sings this in a way that is both chilling and tender, which makes me want to curl up by a fire with her so she can teach me how to be as badass as she is.  Our second lesson would involve her explaining "Brass in Pocket" to me, as my confusion has gone on for long enough.  Jackson 5 also rocks "Have Yourself a Merry Little Christmas," and I adore the uplifting version of "We Wish you a Merry Christmas" that they added to the end of their rendition.
Christmas songs that entertain the five-year-old in me by incorporating made-up words or amusing sounds into their lyrics:
7. Elvis Presley's "Blue Christmas."  While I may not be able to imitate the depth of Presley's sultry voice, I can rather impeccably mimic the songbirds that are cooing "Ooh, woo, ooh, woo wooooo" in the background.
8. The Ronettes "Sleigh Ride."  In addition to the horse that neighs in the beginning and end of their song, someone is singing "ring aling aling a ding a-ling" all throughout the verses.  Both of these sound effects are entirely pleasant.
9. The Drifters "A White Christmas."  Ay Ay Ay am dreaming…of a white…Christmas.  Need I say more?
10. Frank Sinatra's "Jingle Bells."  If I'm not mistaken, I hear some cute little "boops" in there, and when his backup singers chant "J-I-N-G-L-E B-E-double-L-S", it excites me because by sounding it out, I can tell that they are spelling Jingle Bells.
I was very tempted to include some songs from Michael Buble's new Christmas album on this list, as it's pretty dope (and I rarely say that about new xmas songs).  The reason I decided against it is because I am a little freaked out by his remake of "Santa Baby" into a seemingly sensual "Santa Buddy."  There are some songs that just shouldn't be messed with, and I think Santa Baby is one of them.  Now you know, Buble.  Now you know.
Okay, now that you've been schooled in that supremely intellectual subject, let's talk Christmas cookies.  As I mentioned in my last post, my dad and I try to make cookies together every year (that we are on the same continent), and these particular recipes are keepers that we have been making for years.  While I somehow don't have any pictures of the two of us baking cookies, I do have this old Christmas photo of us.  It happens to be one of my most cherished photos.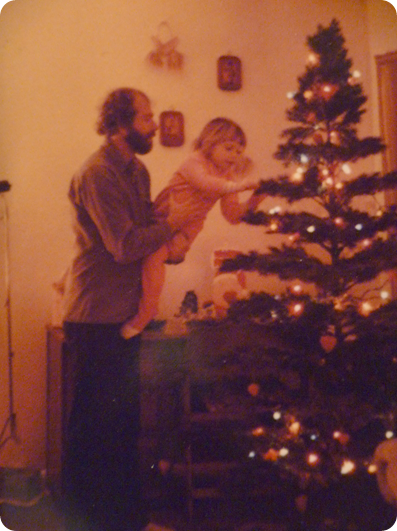 Raspberry Dessert Empanadas with Orange Drizzle
Recipe makes about 2 1/2 dozen cookies
Cookie dough:
1 cup all-purpose flour
1/2 cup butter, softened
1 teaspoon finely grated orange peel
1/8 teaspoon salt
1 package (3 ounces) cream cheese, softened
1/4 cup raspberry preserves
Orange glaze for drizzling:
1 cup powdered sugar
1 teaspoon finely grated orange peel
2 tablespoons orange juice
1. Thoroughly mix flour, butter, orange peel, salt, and cream cheese.  Cover dough and refrigerate for an hour.
2. Heat oven to 375 degrees.  Roll dough 1/8th of an inch thick on a floured surface.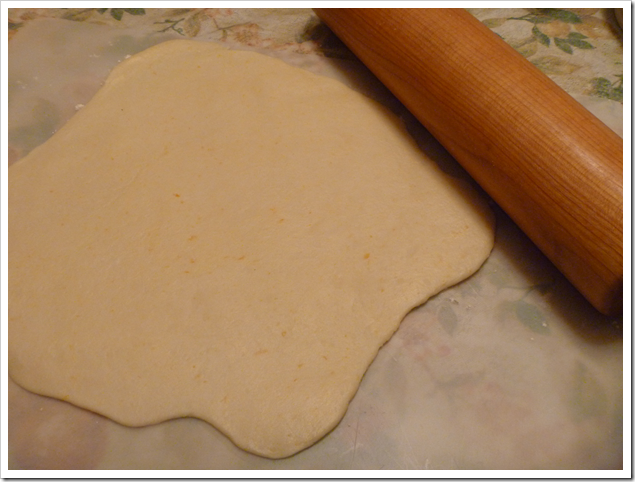 3. Cut dough into 2 1/2 inch circles.  Spoon 1/2 teaspoon raspberry preserves onto each circle.  Wet the edge of each circle and fold dough in half over the preserves.  Seal edges with a fork.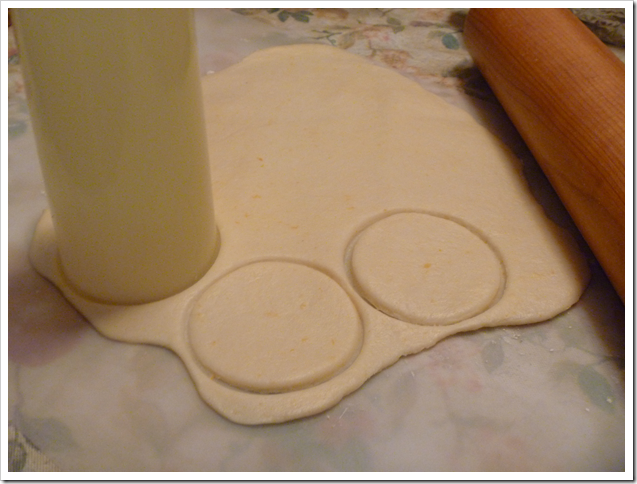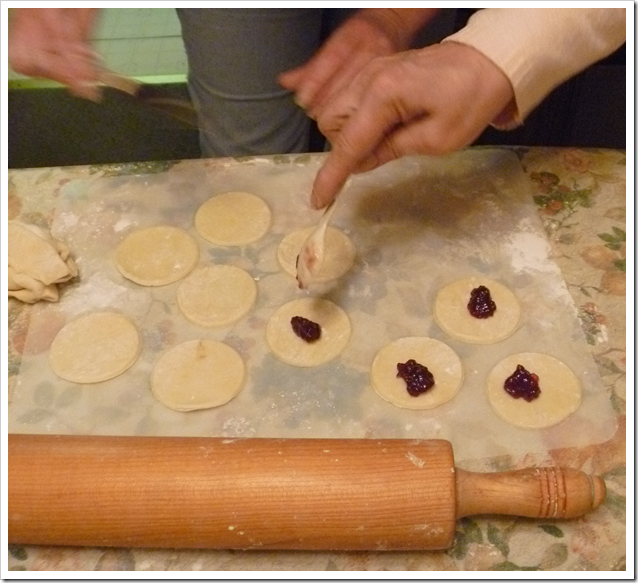 4. Place cookies one inch apart on a greased cookie sheet.  Bake 8-10 minutes or until edges turn light brown.  Remove from cookie sheet immediately and let cool completely.
5. Mix orange glaze ingredients and pour into Ziploc bag.  Cut a small hole in one corner of bag and drizzle glaze over cookies.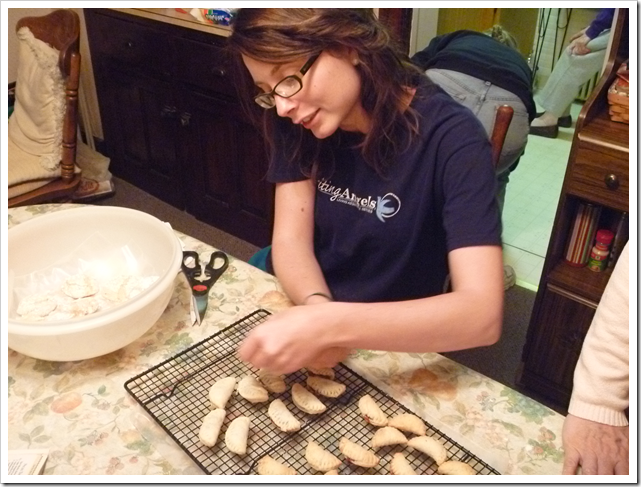 This picture makes me chuckle because you can see my aunt in the background (or her rear-end, at least) cleaning up the flood that I detailed in my last entry.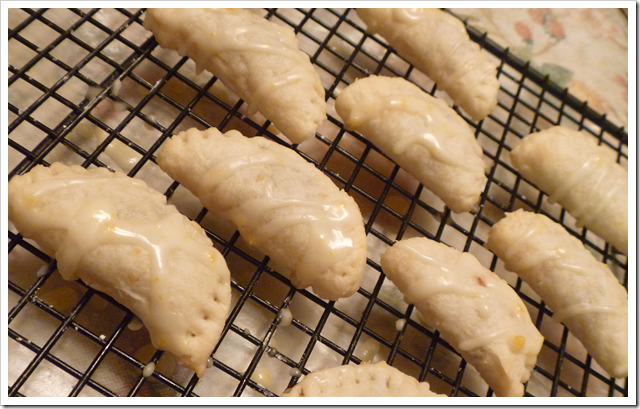 Fudgy Rolo Cookies
Recipe makes about 4 dozen cookies
1 cup sugar
1 cup firmly packed brown sugar
1 cup butter, softened
2 teaspoons vanilla
2 eggs
2 1/2 cups all-purpose flour
3/4 cup unsweetened cocoa
1 teaspoon baking soda
1 cup chopped pecans
48 milk chocolate Rolo caramels, unwrapped
1 tablespoon sugar
4 oz. vanilla-flavored candy coating (optional)
In large bowl, combine 1 cup sugar, brown sugar, and butter.  Beat until light and fluffy.  Add vanilla and eggs and mix well.
Lightly spoon flour into measuring cup and level off.  In small bowl, combine flour, cocoa, and baking soda.  Mix well.  Add to sugar mixture and blend well.  Stir in 1/2 cup pecans.  Cover dough with plastic wrap and refrigerate for 30 minutes.
Heat oven to 375 degrees.  With floured hands, shape about 1 tablespoon cookie dough around one Rolo, covering completely.  In small bowl, combine remaining pecans and 1 tablespoon sugar.  Roll one side of each cookie ball into pecan mixture.  Place cookies nutside up, 2 inches apart, on ungreased cookie sheet.
Bake for 7-10 minutes or until cookies are set and slightly cracked.  Cool 2 minutes before removing from cookie sheet.  Cool  completely.
In small sauce pan, melt candy coating over low heat, stirring constantly.  When completely melted and smooth, drizzle over cookies.
Tip: These cookies are best served warm, but don't burn yourself on the caramel!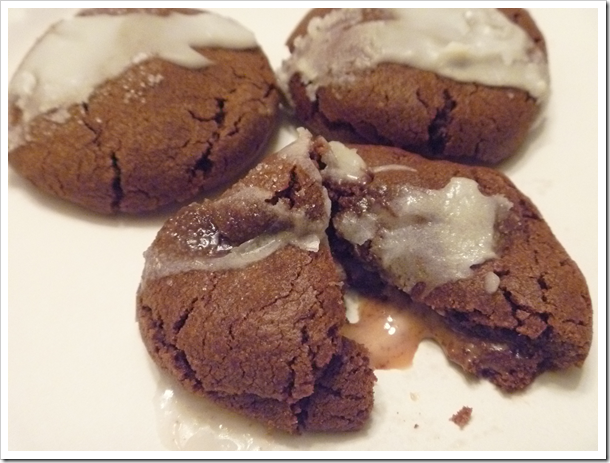 I hope you all have a simply magical Christmas!
Love,
your friend lindsay