As promised in my last entry, here is my favorite cupcake recipe.

Mexican Hot Cocoa Cupcakes with Peanut Butter Icing
This recipe makes about 24 cupcakes.  The sour cream keeps them moist and the chili powder adds an unexpected but delicious kick to the cake.  I made them again last week and in the spirit of being more computer savvy, here is a pie chart of what happened: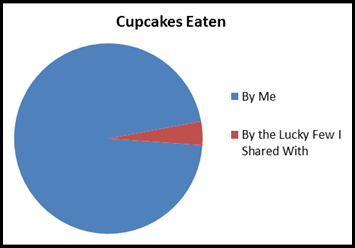 I had full intentions of sharing the cupcakes with my coworkers, but as the adage goes, the road to hell is paved with good intentions.  I am currently in a country that doesn't value peanut butter as much as the U.S. does, so here is an example of the dialogue that transpired:
Me: I brought in these cupcakes, but they have peanut butter icing.  You don't like peanut butter, do you?
Coworker:  Yeah, I actually do.
Me: That's okay, I guess I'll eat your cupcake for you.
Coworker: Wait, I said I DO like peanut butter.
Unfortunately, I wasn't privy to this last comment, because I had already sprinted to the kitchen to consume his/her cupcake.
If my visual aid and anecdote don't illustrate how good these cupcakes are, I don't know what will!
Cake:
150 g unsweetened chocolate, finely chopped
1/4 cup unsweetened cocoa powder
1 cup boiling water
1/4 cup warm milk
1-3/4 cup all-purpose flour
1 teaspoon baking soda
1/4 teaspoon salt
1 teaspoon chili powder
2 sticks butter (200 g)
1 1/2 cups dark brown sugar
3 large eggs
1/2 cup sour cream
1 teaspoon vanilla extract
Icing:
1 cup confectioners' sugar
1 cup creamy peanut butter
3 tablespoons unsalted butter, at room temperature
3/4 teaspoon vanilla extract
1/4 teaspoon kosher salt
1/3 cup heavy cream (the fresh kind, double cream, its thick and creamy)
1/2 cup chopped peanuts
Preheat oven to 350°F.
Combine chopped chocolate and cocoa powder in a medium sized bowl.  Pour in boiling water and warm milk, and whisk until smooth.  Set aside.
Sift flour (sifting is super important), baking soda, and salt into a bowl.  Mix in the chili, and set aside.
In another bowl, cream butter with a fork.  Add the brown sugar and mix until fluffy.  Crack eggs in one at a time, and blend well.  Add sour cream and vanilla and beat until combined.
Mix about a third of the flour mixture into the butter mixture.  Add about half of the chocolate mixture, and mix until completely blended.  Repeat, alternating part flour, chocolate, then flour mixtures until all ingredients are combined.
Fill cupcake papers about 3/4 full.  Bake for 22 minutes or until fork comes out clean.
For the icing, cream the butter with the peanut butter.  Once it's smooth, add the rest of the ingredients (minus the peanuts) and mix well.  Wait until cupcakes are cool to ice them and sprinkle the peanuts on top.  If you find a way to refrain from eating all of these in one sitting, let me know.
Suggestions: I like to ice the cupcakes individually right before I eat them.  They taste fresher that way, and the peanuts don't get soggy.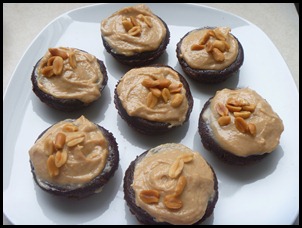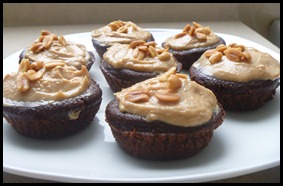 To close this post, here are a couple of my lucky cupcake consumers.  It's not my fault they look this ridiculous.