This is dedicated to my beautiful friends Erin and Jill, who perpetually ignore their diets, budgets, and bedtimes to consume as many baked goods as humanly possible with me.  Life wouldn't be nearly as sweet without you two!
I happen to speak the language of "cupcake" fluently, which is fortunate considering I have not yet mastered any other languages (including my native tongue).  I recently spent five years abroad, and when I returned to the U.S., I was inundated with cupcakeries that had sprouted up in my absence.  While unemployed and in the throes of reacculturation, I was befuddled as to what I was supposed to be doing with myself.  Like anyone would do in my situation, I sought signs and guidance from  my surroundings.  The message I received was clear:  Sit down, take a load off, and eat a cupcake.  Or twelve.  So I did just that…for six months.
When I put my mind to something, I do it well, particularly when it involves sugar.  I couldn't just visit a few cupcakeries.  I had to stop at each one I encountered, and oftentimes I traveled long distances to taste cupcakes that were rumored to be the best.  Sometimes this meant eating cupcakes for every meal, but it was a sacrifice I had to make as a self-proclaimed cupcake connoisseur/critic.  It was an arduous and exacting responsibility, but someone had to do it, so I tried not to complain too much along the way;).  In case you doubt the commitment I had to the task at hand, I will show you my uniform.  It's no secret that serious people wear uniforms.
Before I report back to you with my findings, I'd like to take some time to pay homage to my little friend, the cupcake.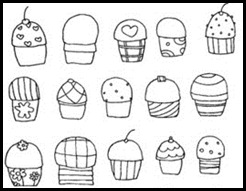 First of all, let us all take a moment to appreciate the word itself.  Have you ever heard a more endearing term than "cupcake"?  It is succinct without being terse, and its built-in alliteration makes it fun to pronounce.  In form, it is nothing more than a simple combo of icing and cake, yet for such a small canvas, it holds so many possibilities.  For all you naysayers who chatter about cupcakes being passé, this entry is meant to challenge you.  I doubt you've ever had a truly terrific cupcake, because it is impossible for something undeniably delicious to be labeled as outmoded.  I don't necessarily blame you for your accusation, as finding the perfect cupcake is no simple assignment.  If you insist on calling cupcakes unfashionable though, please label only those that are mediocre (which I'll admit, are most of them).  What makes a cupcake mediocre?  Many cupcakeries focus on their icing and embellishments more than on the quality of their cake, which is a sacrilege if you ask me.  If your one job is to make a mean cupcake, you really should strive to perfect the entire package.  To me, this signifies making a moist, dense cake with a light and creamy topping, neither of which should be over-the-top in its sweetness.  Once you've accomplished that, there's really no need to spruce your work up with sprinkles and other such adornments.  Just let it be, and it will speak for itself.  Now you know.
In case that tirade put you to sleep, the data from my extremely erudite investigation should give you a contact sugar-high, which will undoubtedly wake you up.  Why not start in our nation's capital?
Washington D.C., and its surrounding areas:
There seems to be a rivalry between these two cupcakeries, both of which have quite the cult following.  Here are my thoughts on Baked and Wired and Georgetown Cupcake:
Baked and Wired: I really wanted to like this place, because I appreciate the ingenuity of its name and the bohemian feel it brings to the otherwise conventional Georgetown.  However, my first two experiences were negative.  The cake itself tasted stale and the icing was crunchy.  Ick.  My friend Katie entreated me to give it another chance, this time to try the Strawberry cupcake.  I caved in, and it was a success.  The cake was splendidly moist with real chunks of strawberries in the batter, and the icing was whipped to perfection and not too sweet that it took away from the cake.  Go to Baked and Wired for the cozy atmosphere, the eccentric company, and the good coffee, but when it comes to cupcakes, stick to the strawberry one.  Remember, looks can be deceiving.  While the other varieties might tempt you, they're bound to be an expensive disappointment.  I can't emphasize this enough: strawberry all the way.  Grade: B+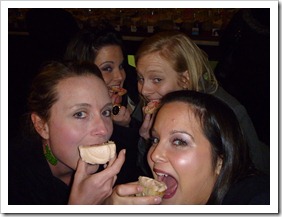 Georgetown Cupcake: Maybe this place was good before it made a name for itself, but I honestly don't understand how it is supporting its reputation at this point, or why thousands of out-of-state customers (including celebrities) pay to have these cupcakes shipped to them.  The cake is dry and crumbly, and I don't like how I can sometimes taste the sugar granules in the icing.  The locations are cute and clean, but in my opinion, they are a bit sterile and square.  In my book, this place wins the award for "Most Overrated."  Grade: C-
Sprinkles: This famous CA chain recently made its way to D.C., where it is all the rage, so I thought it might give Baked and Wired and Georgetown Cupcake a run for their money.  It didn't.  Here is what I will say about it: It has IMPECCABLE service.  I think I ended up buying more cupcakes solely because the person behind the counter kept complimenting me.  If I am ever having a bad day, I might go back here just for the self-esteem boost, but the six cupcakes of theirs I tried left a lot to be desired.  First of all, I don't think they have an alluring look to them.  They are too cookie-cutter in their perfection, and I feel like the way they are iced makes them appear a bit plastic.  I prefer cupcakes that look like they are hand-iced, each one demonstrating their slight imperfections and individuality.  Also, I don't mean to be crass, but Sprinkles' signature decoration really looks like a nipple, and I don't like feeling like I am biting into a boob.  Their cake was moist, but its flavor was a bit muted, and the icing was too sugary.  Grade: C+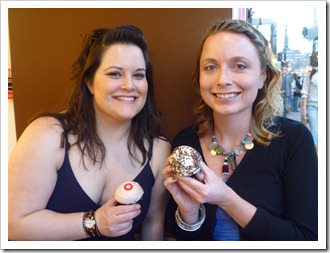 Moving onto some less-known cupcakeries, which tend to be infinitely more delish…
Alexandria Cupcake:  I didn't really love going here as service was…weird (the woman helping us seemed to be heavily sedated) and the cupcakes are inconsistent, but their Rosewater cupcake is one of my favorites out of the myriad cupcakes I have eaten over the last six months.  Both the cake and the icing are infused with rosewater, yet the flavor is not overbearing.  It has a pound cake consistency with a taste that is faintly reminiscent  of a Turkish delight candy.  While I am sure it is not terribly healthy, it at least tastes wholesome and light, and it is even topped with a fresh raspberry.  Grade: B
Crumbs Bake Shop:  I needed you, Crumbs, and you didn't pull through for me!  While suffering from a late-night cupcake craving, I was happy to learn that your hours surpassed those of other cupcakeries.  However, your cupcakes are entirely too big (I wanted a cupcake, not an entire cake) and not moist to boot.  I was inspired by your decadent flavors like Blackbottom Cheesecake Brownie and Cookie Dough, but I found that both your batter and icing contain entirely too much sugar.  Despite the unpleasant sugar coma you aroused, I want to thank you for your wonderful service and the free cupcake you gave us.  That was really sweet of you (no pun intended).  Grade: B-
Cupcakes Actually: The locale itself looks like just another gourmet cupcakery, but its cupcakes are many notches above that.  Some of the names, like Margaritaville and It's a Bug's Life elicit a chuckle, and each of the cupcakes we ordered was consistent in its moistness and flavor.  I loved the OMG cupcake, which was a banana cake infused with caramel, iced with peanut butter cream and dipped in chocolate ganache.  Yeah, you should go get that right now.  The best though was the Caribbean Queen, a piña colada cupcake with coconut, pineapple and rum in the batter, topped with a coconut rum frosting.  It doesn't get much better than that.  Grade: A-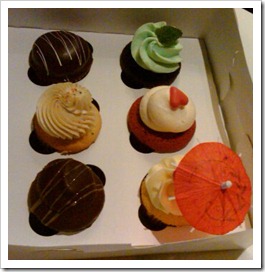 Fluffy Thoughts: I am not sure how I feel about this place's name, or the fact that it was difficult to locate.  The staff is helpful, but the store is not that welcoming, as it seems a little disorganized and lacks a place to sit down.  In terms of cupcakes, it is a bit hit or miss.  A plus is that they have really interesting specialty flavors like Apple Bacon, Cherry Blossom, and Cannoli.  Of the ones I was able to try, I loved the Tres Leches, which tastes EXACTLY like a rich piece of tres leches cake, and the Spring Day, which is full of lemon curd (YUM!!!) and topped with raspberry buttercream icing.  I'd definitely go back here, even though all of the cupcakes we ordered didn't knock my socks off.  Grade: B+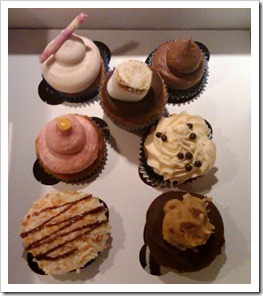 Lavender Moon (I don't think they have a website):  If I had to pick a cupcakery to move into, this would be it.  The place is spacious and artsy, and the service is affable and personalized.  The interior is colorful and unpretentious, which provides a nice break from other ritzy stores in this area.  There are giant playful cupcakes hanging from the ceiling and lining the walls, and the owner is happy to tell you where she acquired each piece, all of which fits in so well with her quirky décor.  While she patiently gave us recommendations and FREE cupcakes, her children played quietly at a table behind us.  The ambiance felt so warm that while the two of us ordered eight cupcakes to go, we ended up staying and eating them all (GASP!).  Try the Mexican chocolate pudding, the vanilla lemon curd, and the flourless chocolate with sea salt cupcakes.  Scratch that, try them all and keep going back, as the owner is constantly inventing new flavors.  Grade: A+
Red Velvet:  I threw out most of the cupcakes I bought here.  They looked delicious, and the packaging is elegant, but the cupcakes were over-baked and flavorless.  Take my word for it and don't even bother going here!  Grade: F
When Jill, Erin, and I felt as though we had exhausted D.C. cupcakeries, we headed to Baltimore to partake in a Charm City Cupcake experience, which ended up being a cupcake catastrophe.  With two GPS systems, and three brains amongst us, we still couldn't locate Charm City Cupcakes.  It ends up that their stores aren't very well marked, and when we finally arrived, they were sold out.  Since we are incapable of living a day without cupcakes, we researched another option, and three hours after our journey began, we ended up at…
Midnite Confection's Cupcakery: I was not very optimistic when we finally found this place, because we were exhausted from the trip, and the store is tiny and not much to look at.  Additionally, their variety didn't seem as creative as that which we had encountered at other cupcakeries.  Regardless, we ordered half a dozen of the recommended cupcakes and called it a night.  I wish I had a picture of the cupcakes we ordered, or that I could at least remember their names, but the reality is, they were so surprisingly scrumptious that we devoured them all between the storefront and the car.  Forget Charm City and head to Midnite Confection's, where they ice the cupcakes AFTER you order them to ensure optimal freshness.  Order anything.  You won't be disappointed.  Grade: A+
Off to the Big Apple!
New York City: While I planned to take a cupcake hiatus for a week while I visited New York, I stumbled upon Magnolia, which I have been hearing about for years.  Since my "job" rests on a "say yes to cupcakes" fulcrum, I waited in the 20 minute line for my turn in a cramped Magnolia Bakery.  I ordered a Red Velvet cupcake that tasted like it would have been perfect if eaten yesterday, and another unmemorable cupcake that I wish I hadn't waited 20 minutes for.  I won't be going back to Magnolia, and I am not sure what all the hype is about.  Grade: B-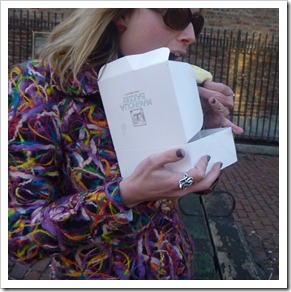 While I wish I knew more cupcakeries in NYC, as I am sure there are some phenomenal ones, I was too overwhelmed by the subway system so I gave up and headed home to Philadelphia where my cupcake crawl continued.
The Flying Monkey:  This place holds a special place in my heart because it is located within one of my favorite places in the world- The Reading Terminal Market.  It is tucked so deep in the back that it took me a few years to stumble upon it, but once I did, I was ever-so-pleasantly surprised.  I tried the peanut butter and jelly cupcake, which is pretty self-explanatory, and the champagne cupcake which is filled with strawberry and topped with champagne buttercream icing.  I love the concept of their many cocktail cupcakes.  Go there and order whatever, but order it to go and eat it later (if you can wait, which I NEVER can).  Their cupcakes are refrigerated and taste MUCH better when you wait for them to come down to room temperature.  Grade: A
Philly Cupcake: I had such high hopes for this place, because it is super cute and really innovative in the way it is arranged.  From outside, you can watch the workers baking the cupcakes everyday in a kitchen that looks fit for Strawberry Shortcake.  The inside is small and warm and is decorated in pastel cupcake paraphernalia.  The cupcakes are neatly aligned in antique jewelry cases, and each detail seems as though it was meticulously considered.  Imagine my sadness when the cupcakes tasted like dry muffins with not nearly enough icing on top of them!  Stay away!  Don't let the smiley salespeople or intoxicating color scheme fool you!  Grade: C
While this list is by no means comprehensive, particularly since it only addresses a limited area of the east coast, I hope it will guide you in your own cupcake quest.  Feel free to let me know of the places you have tried and enjoyed as well, wherever in the world they may be!  Since this entry has gotten so long, I will post my recipe for this week (my favorite cupcake recipe, obviously) in a couple of days.  Until then, enjoy your meals and all the moments in between!