After a good chunk of time in Bolivia, Jill and I were seeking somewhere warm, peaceful, and green in which to decompress and slowly catch up on work. As a parting gift from her family, Jill received a Bolivia guide book and did some solo research on the country before arriving in La Paz. She noted that a small town named Samaipata (she spelled it "semi-pita," but I knew what she meant) seemed tranquil, but the descriptions weren't super enticing. It wasn't until every single Bolivian we talked to recommended heading there that we took the place seriously. We heard rumors of it being a magical oasis churning out the best organic food that the country has to offer. Fresh, organic salad in the land of potatoes and rice? We were sold. We got on an overnight bus from Cochabamba to Santa Cruz (10 hours, 4.5 dollars) and started excitedly plotting our arrival to Samaipata.
This post will highlight our vote for the best place to stay in Samaipata, Bolivia.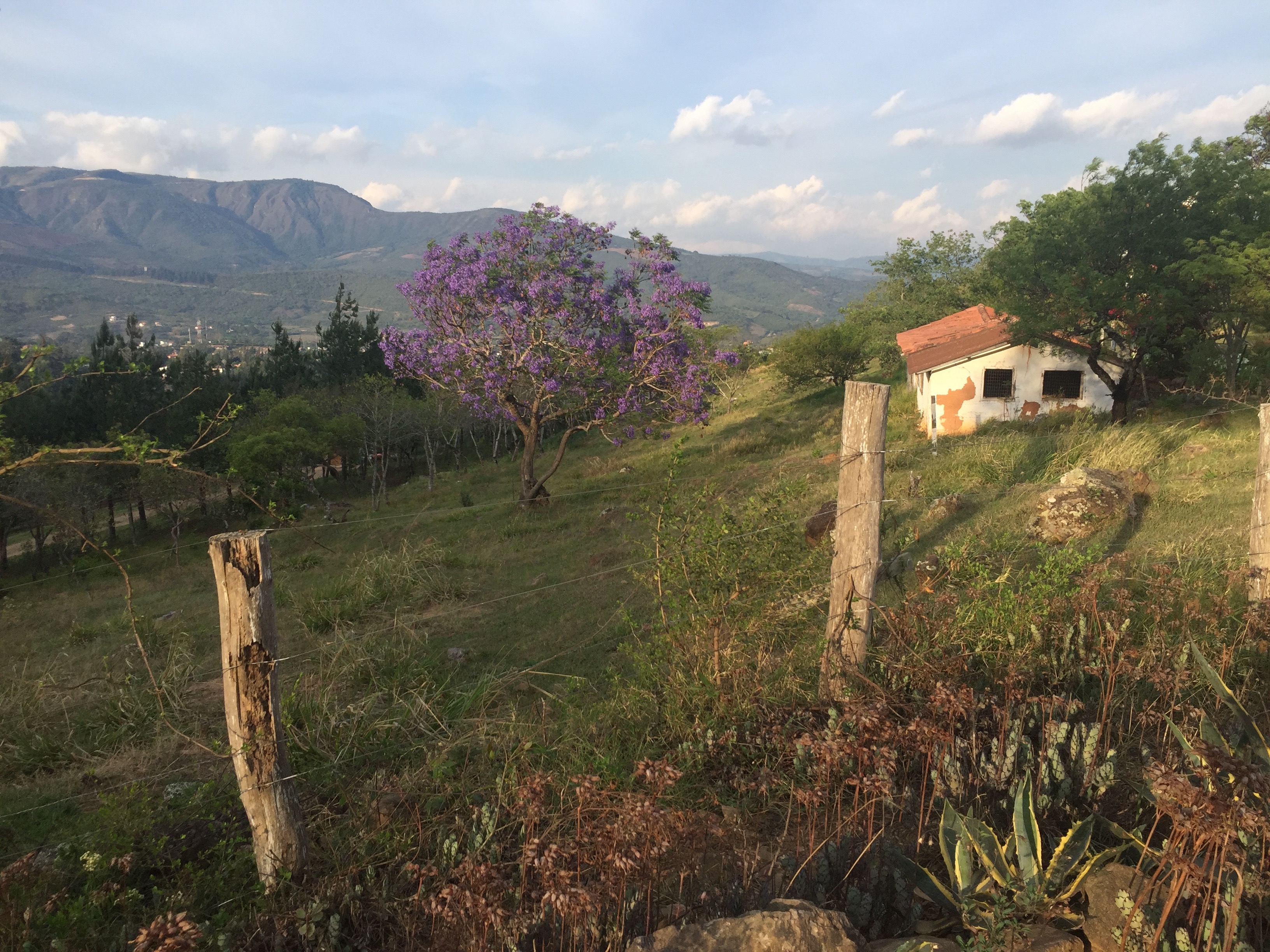 But before we launch into that, let us highlight a few things. If you're not good at entertaining yourself, Samaipata probably isn't the place for you. It is a small village with one bar (it's a good one, but it's only one), a few restaurants, and not a lot of options for diversion, especially if you are not a fan of the outdoors. If you are, however, looking for a paradisaical get-away in a place that resembles Tuscany, Italy from very many of its angles, Samaipata just might be the place for you. History buffs will appreciate the nearby El Fuerte ruins and nature fans will go gaga over the waterfalls, caves, and the adjacent Amboro National Park (brace yourselves to be blown away, ornithologists!). If this is all sounding good to you, pack a few books that have been collecting dust on your nightstand, and join us in Samaipata.
Most importantly, where are you going to curl up with those books? Let's talk lodging. We toured many hotels in Samaipata, and stayed at a few as well. El Pueblito Resort is what we consider to be the best place to stay in Samaipata, Bolivia.
El Pueblito Resort
We wouldn't recommend staying in Santa Cruz for any amount of time before heading out to Samaipata. As a city, in our opinion, it's hot, dangerous, and non-descript. To get to Samaipata, there are shared cabs for $4.25 leaving regularly from Avenida Grigota (ask any local how to get there). It'll take about 2.5 hours to arrive and as you inch closer to the small village, you will appreciate the cleaner air and cooler temps. For 2 dollars more, our cab driver passed by the town's plaza, and drove us up the hill to our first home, El Pueblito Resort. We were immediately struck by how verdant the land was, and how European the small cottages and vineyards made the landscape seem. We were greeted by the resorts owner, Karen, and her two white Akita dogs, Snow and Yoshi. Karen refers to the dogs as her wingless angels, and we couldn't agree more. Those dogs, and their owner, brought us so much happiness during our stay. We couldn't recommend this place more.
Image Credit: El Deber Suplemento
Image Credit: El Pueblito Resort
Image Credit: El Pueblito Resort
There's a panoramic view of the resort on its website, but it doesn't do the locale justice. Let's see what we can do with words. Pueblito means 'small town' in Spanish, and that's precisely what the hotel is. All of its cottages are situated around a cobblestoned plaza, equipped with a koi pond, gazebo, fire pit, barbecue area, songbird cage, and multiple seating areas. Friendly peacocks and peacock doves (yes, they REALLY exist and aren't just a fictional animal from wedding invitations) roam the property freely, and it would be a real challenge to find a better view of Samaipata than the one visible from El Pueblito. Sandra Serrate, a local artist, along with her husband Giovanni, founded and poured their hearts and souls into this place. Each of the cottages has a theme that fits into the little colonial town they created (such as bakery, florist, clock-shop, and bookstore, and there's even a tiny church apart from the rooms that is perfect for meditation/worship). Sandra artistically honored the cottages' themes by hand-painting almost every adornment and piece of furniture she included in the rooms- you have to see it to believe it!). The hotel is home to 7 small cottages and 4 little houses for larger parties/families. We toured all of the rooms, and our favorite was the Florist.

Image Credit: El Pueblito Resort
Image Credit: El Pueblito Resort
Now the hotel is owned by Karen Reimers de Antelo and her son, Julio. When talking to Karen it is clear that she is right where she belongs. If you stay here, do yourself a solid and talk to her about how she arrived at owning this hotel. It'll make you believe in the synchronous universe giving you exactly what you need, exactly when you need it. She is an elegant, kind woman who exudes positivity and light, who strongly believes in the powerful energy of the land her hotel inhabits, as well as spending quality time with the people who come to her hotel (but only if they want to, as she completely understands that people come here to unwind). The hotel has a restaurant that is open for every meal (convenient since the hotel is a bit removed from the main town of Samaipata) and Karen even plans to open a massage spa there within the next two years. There's already a well-kept pool on the property, overlooking the quaint town of Samaipata below. She and Julio can also help you plan absolutely any tour that you'd want to do in the region. I can honestly say that El Pueblito is the most unique hotel in which I have ever stayed, and Karen is hands-down the sweetest, most genuine owner I have encountered during my travels. Karen told us that locals affectionately refer to Samaipata as Samai'trampa'. Trampa means trap in Spanish, and locals changed the name because so many foreigners get "trapped" here by Samaipata's wiles. Karen's company at El Pueblito was enough to make us want to stay here forever, and we definitely would rank El Pueblito Resort as the best place to stay in Samaipata, Bolivia.
Trust us and check the place out for yourself, and be sure to give Snow and Yoshi scratches behind the ears from us!
Stay tuned for more lodging, dining, and diversion options in Samaipata!