As most of you know by now, I recently joined Lindsay in Bolivia for our adventure around the world. As an Italian, I was surprised to find that some parts of the Bolivian countryside remind me of Tuscany's landscape. Samaipata has an inspiring, breathtaking, and tranquil landscape complete with rolling hills, mountains, and vineyards. As Lindsay mentioned in her last post, we had heard great things about the food in Samaipata, and those things were what fueled our visit there. While dining options weren't as boundless as we had hoped, we found two places that served us well during our five day stay. Here are our restaurant recommendations for the best places to eat in Samaipata, Bolivia. We recommend that you check them out as well!
Finca La Vispera
Remember how Lindsay wrote that we had heard rumors about Samaipata being an organic food oasis? Well, Finca La Vispera was the only place that we found that truly fits that description.
The dusty, rocky, and windy path that takes you to Finca La Vispera is quite different than what awaits you beyond the property's gate. The air is still and clean. The sun-kissed mountains humble you as you stand beneath them on the farm. As you walk up to the reception and main hotel area, you're greeted by gardens to your left that bear green cruciferous vegetables, fruit, fragrant herbs, and edible flowers. Cafe Jardin awaits you above these terraced gardens. The cafe is a beautiful and breezy open-air space surrounded by lush greenery. The only noise in the area comes from the friendly dogs that bark to greet you with enthusiasm.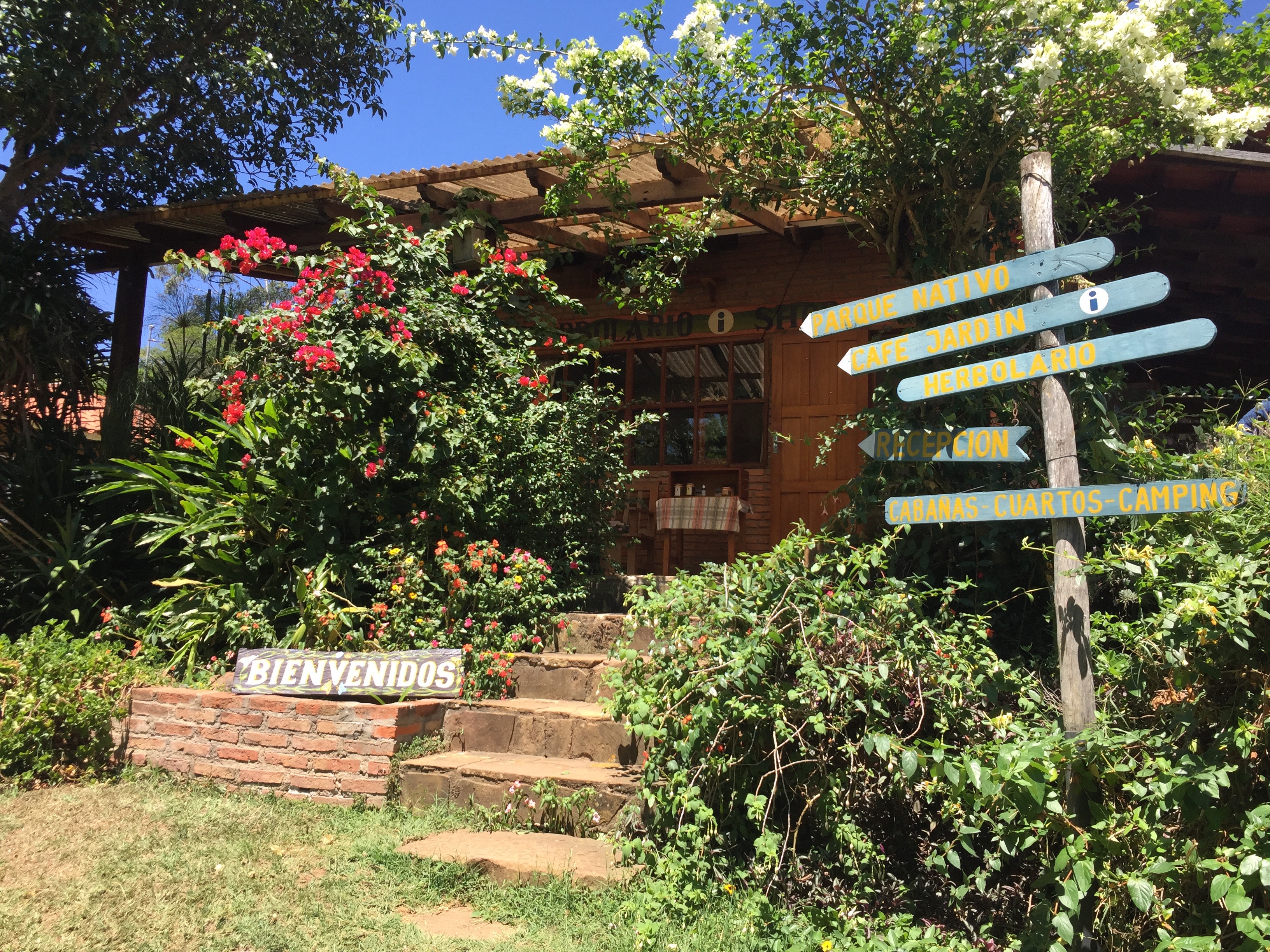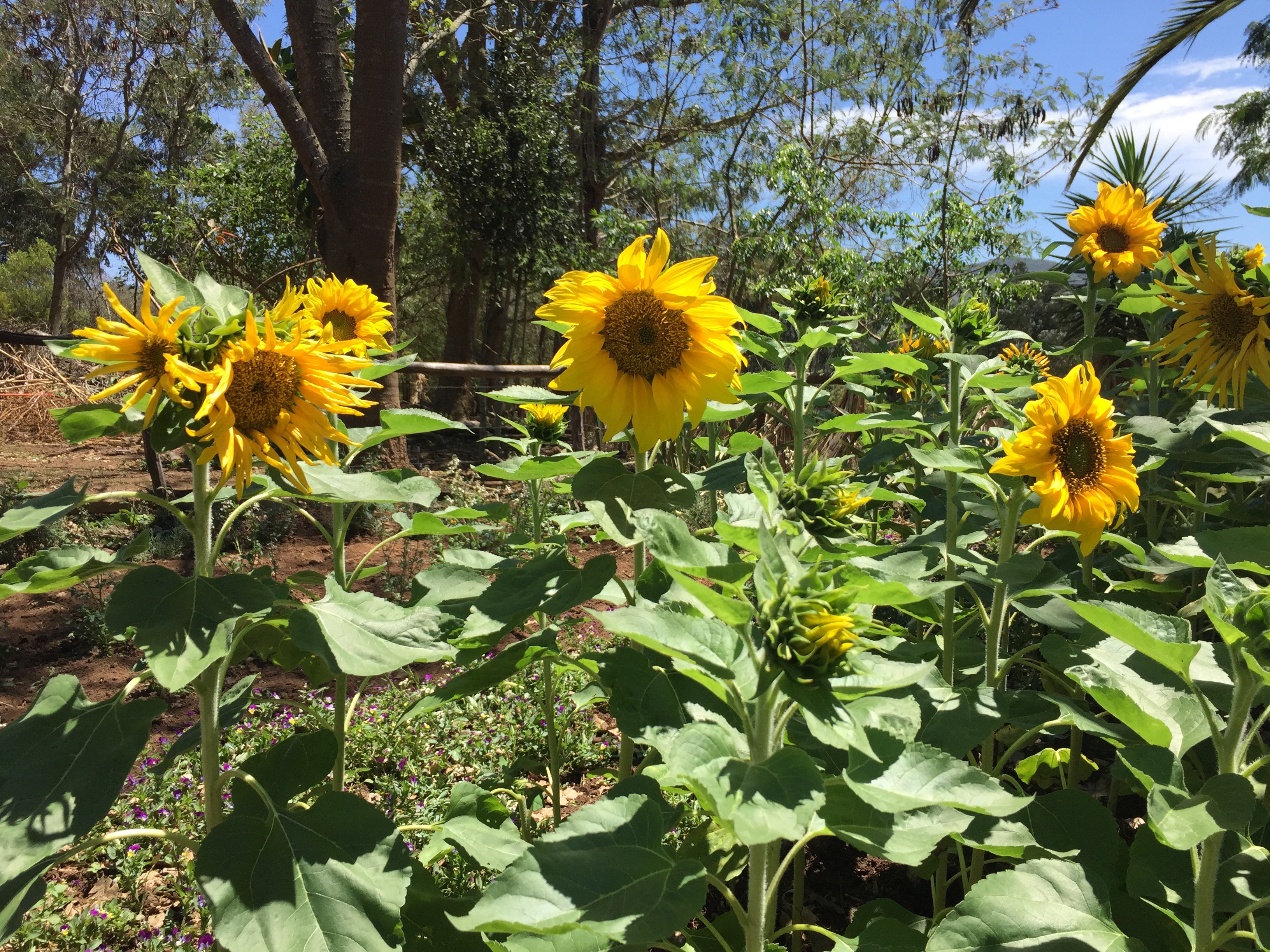 Finca La Vispera hosted us for a day and we were lucky enough to sit down with Marga (one of the farm's/hotel's co-founders), Eliana (the farm's current owner), and Marife (the farm's manager), all of whom are lovely and passionate about the locale. Marga told us that she and her husband started the farm and hotel in the 80's after falling in love with Samaipata and wanting to find a way to merge all of the good things about her own culture and Bolivian culture (Marga is Dutch, and started the farm with her life partner, Pieter, both of whom were practicing Clinical Psychologists before their arrival in Bolivia). She calls the farm a "life project" and recounts many beautiful stories of learning about the local land from Bolivians, and teaching them about new crops that could thrive on their own land. The land covers 5.5 hectares and houses a massive organic garden, 5 separate houses with 23 beds in total, the cafe, and an herb shop. The hotel rooms are simple, well-lit, and clean, but the real showstopper in our opinion is the surrounding farm and cafe, which we think has the most innovative menu in all of Samaipata. We recommend that you at least visit for a meal or a cup of tea (all tea blends are made from the herbs grown on the farm), and definitely luxuriate in a stroll around the gardens. Also, take note: La Vispera was the only place in all of Samaipata that didn't serve us instant coffee. The cappuccino alone is worth the 15 minute walk from Samaipata's plaza to the farm.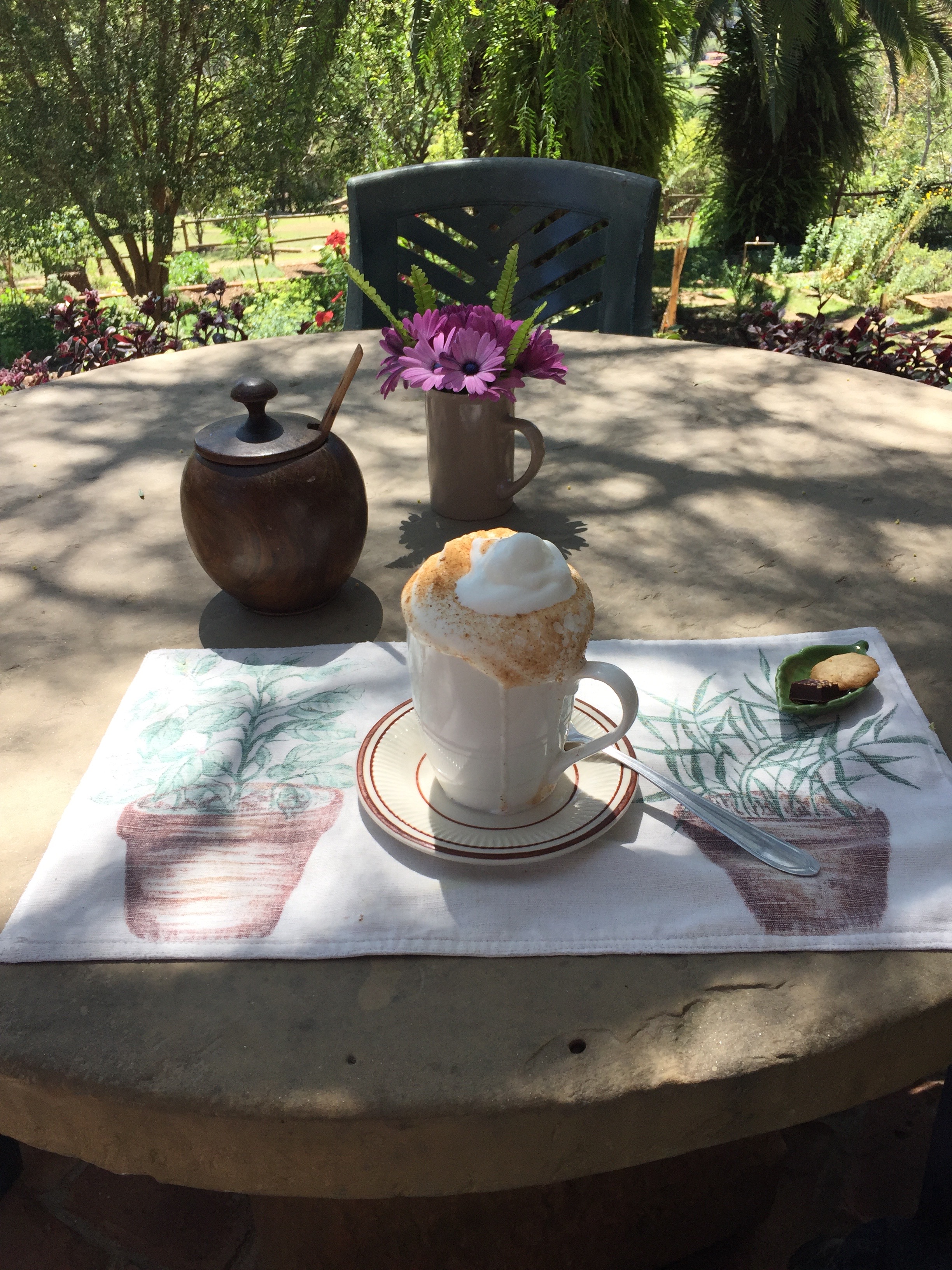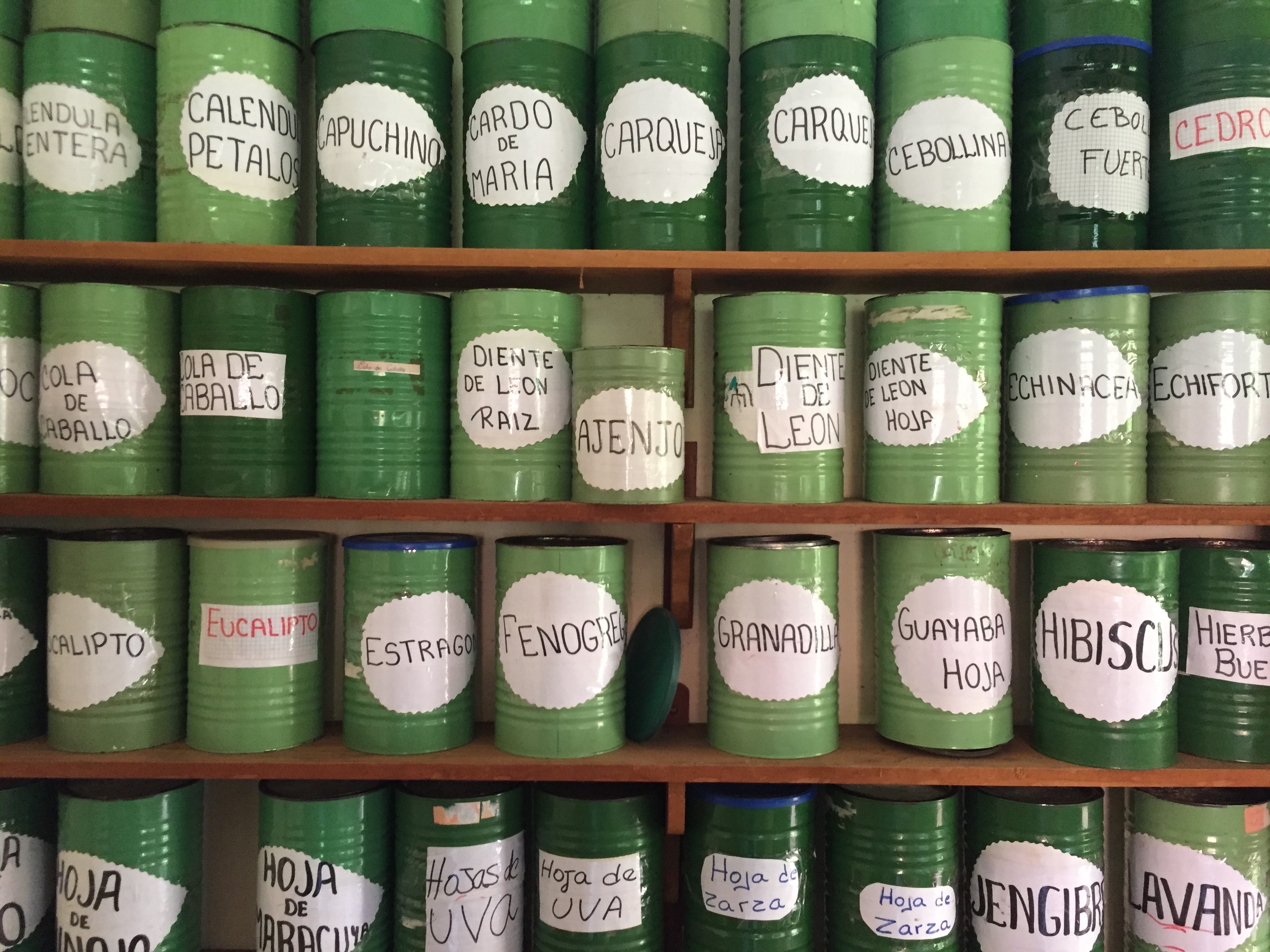 At La Vispera, we shared the Mega Vegetable Omelet with Artisanal Bread. The omelet was soft and fluffy, while being hearty at the same time. It was made with eggs, Gouda cheese, bean sprouts, onions, tomatoes, zucchini, herbs, ham, and served a side of mango chutney. While it was a bit bean sprout-heavy, the mix of vegetables and creamy cheese made for a satisfyingly good breakfast or brunch. While I'm not a huge mango chutney fan, this chutney wasn't overly spiced, and therefore accented the omelet well. The artisanal wheat rolls are made daily, and come to the table warm and crusty. They make for a great vehicle to deliver your omelet directly into your mouth.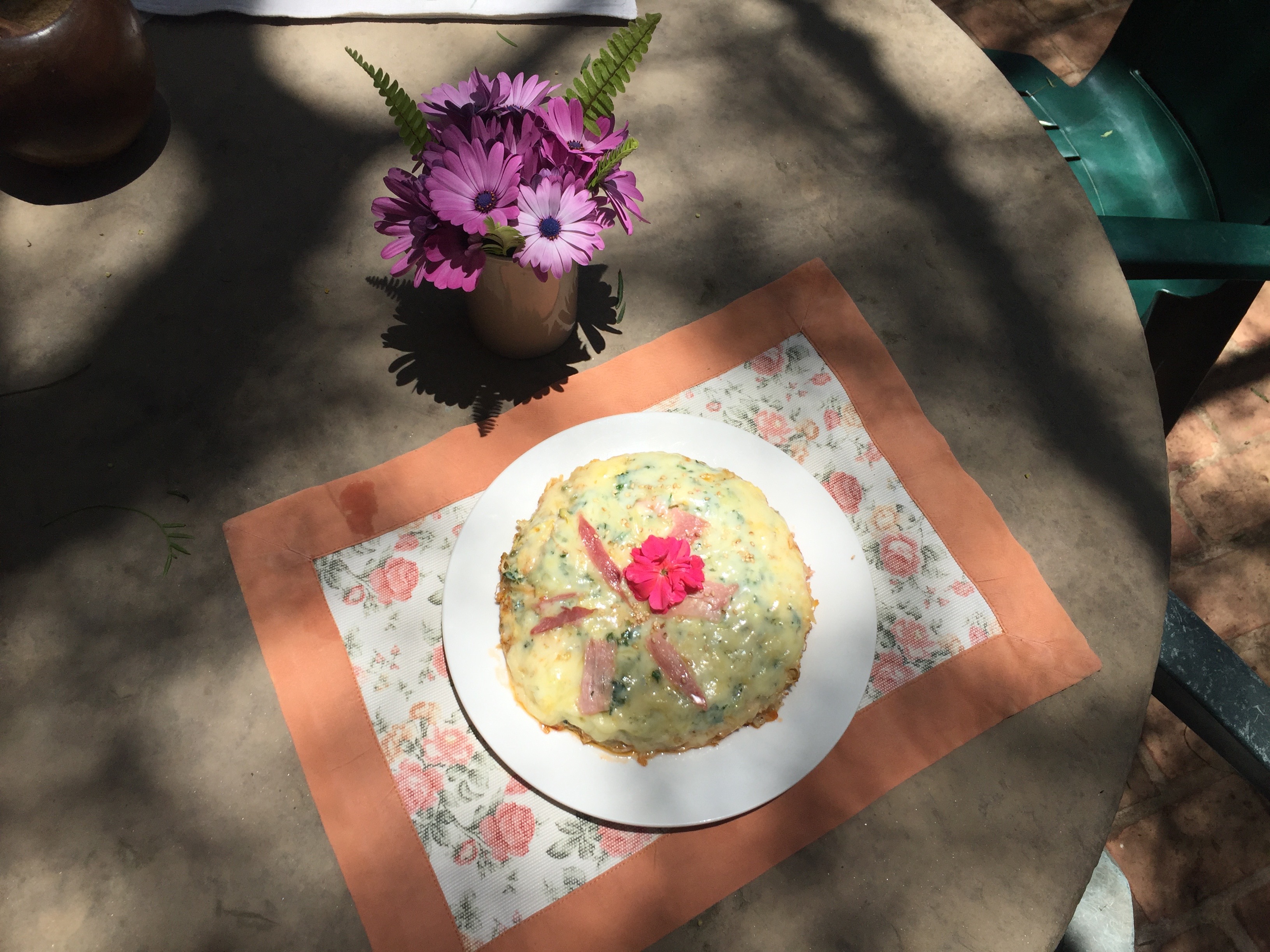 We also ordered the Ensalada Italiana and Ensalada Jardinera. The former is made with butter and romaine lettuces, chewy dried tomatoes, delicate chives, and crisp, juicy cucumbers, that had all been grown steps from where we were sitting and hand-picked by the friendly staff at La Finca. The salad was presented with a side of vinegary balsamic, parsley and garlic dressing. The latter salad is made with spinach, green veggies, and edible flowers of every color. It is served with a creamy, herb dressing. Both salads were the best that we've had in all of Bolivia (in the five whole months we've spent here). So, without hesitation, we strongly encourage you to go get your roughage on at La Vispera!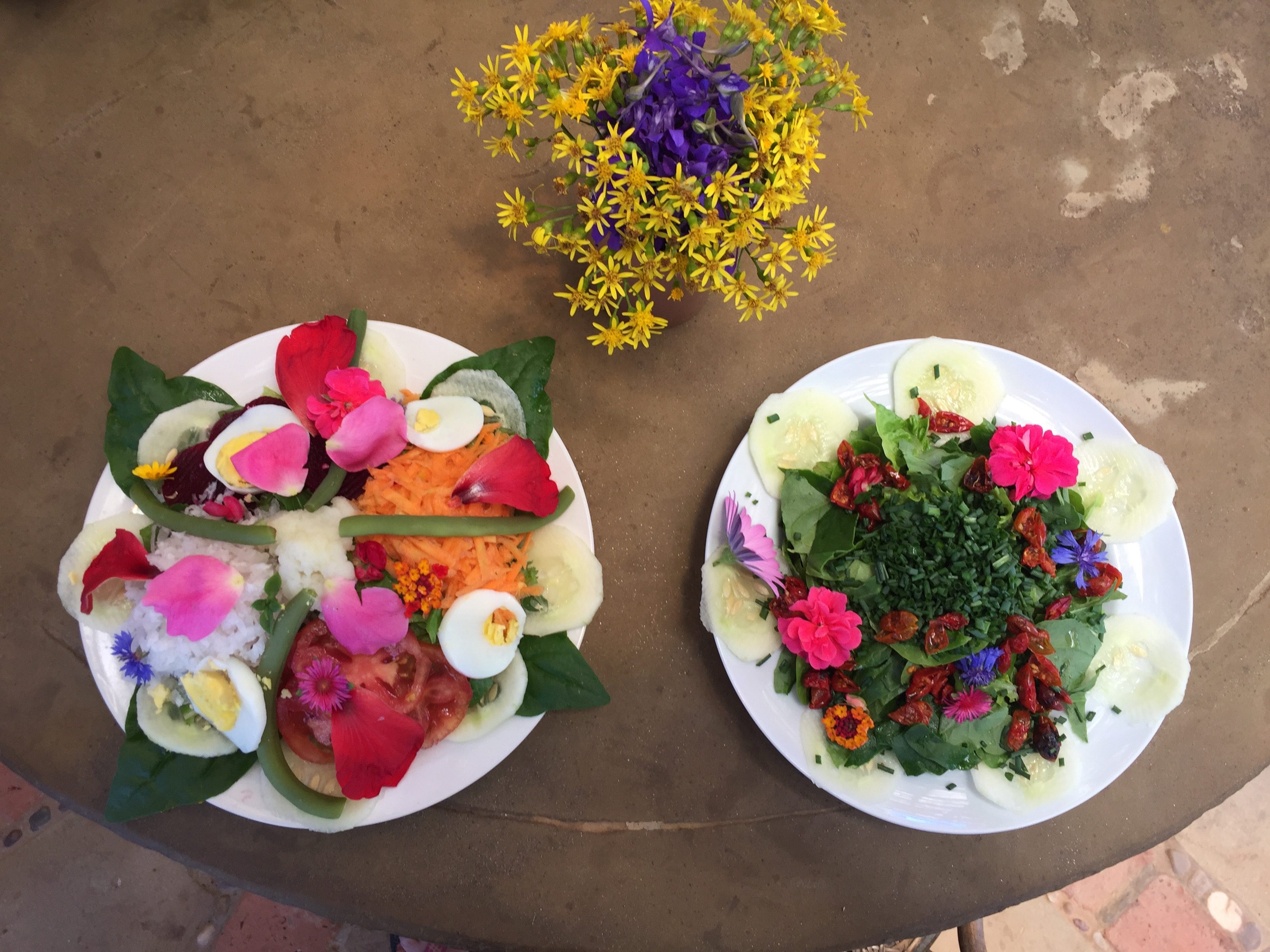 A charming Turkish man, Serdar, found his way to Samaipata four years ago and we're very glad he decided to stay. We ate out for every meal in Samaipata, and we found his food to be the most consistently delicious. An added bonus is that he is incredibly amicable, engaging, and humble company. From his quaint, but hip restaurant right off the plaza, Serdar offers his take on traditional Turkish street food, with menu items like Falafel, Kofte, and Shawarma. You already know I love Shawarma, and La Cocina's shawarma sandwich is no exception. Whereas most restaurants serve shawarma off of a spit, Serdar's recipe mixes shredded chicken and spices on a flat-top grill, which makes for a tender and not at all dry sandwich. This sandwich was definitely our favorite for how flavorful and satiating it was, but if you're not in the mood for Turkish fare, Serdar also serves what are rumored to be the best burgers in all of Samaipata. Wow factors of this place are that while its menu consists mostly of "fast food," it is all served atop artisanal buns that are baked fresh daily, and the herbed fries are some of the best we've had in Bolivia (this is a high compliment since french fried potatoes are so ubiquitous here). The service at La Cocina is quick and friendly, as well. Serdar's also partnered with a bar across the way called La Boheme. For happy hour, you can sip a cocktail in La Boheme while awaiting tasty bites from La Cocina. If you're lucky, Serder will hand deliver the food himself so your only job is to eat, drink, and be merry!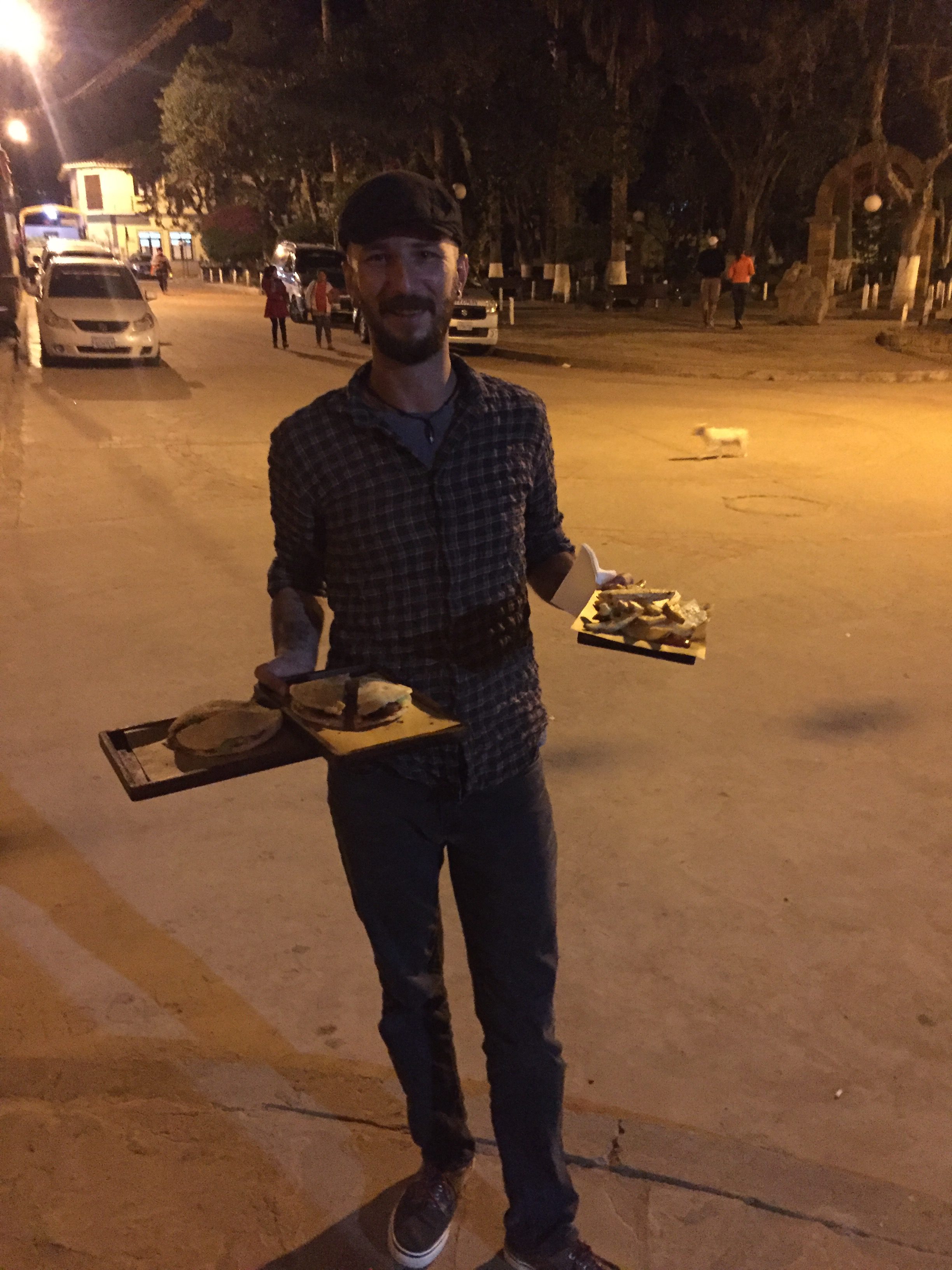 Image Credit: Facebook, La Cocina
While this is a sponsored feature, it represents our true opinions as we recount only experiences that we 100% love.