In the frenzied and crowded city of La Paz, Ali Pacha offers a surprising reprieve from the city's hustle and bustle. The restaurant is located in the city's old-town area, a few blocks from Plaza Murillo. As you step down into the restaurant from the street, the farmhouse chic decor invites you in, as if you were a guest in someone's home. You'll be greeted by the small, yet dedicated and skilled Ali Pacha team with Sebastian Quiroga, the restaurant's founder and head chef, at its helm. If you're looking for the best, most innovative, and haute vegan and vegetarian eats in La Paz, Bolivia, head to Ali Pacha. We guarantee that you won't be disappointed. The team at Gustu, who worked closely with Sebastian in the past, raved about Ali Pacha, saying that never before have people been so satisfied, full, and happy upon leaving a vegan restaurant. After enjoying an evening there, we see exactly what they meant by that comment.
Sebastian, and his brainchild restaurant, Ali Pacha, represent the pinnacle of Bolivian gastronomy. Ali Pacha gets my vote for the most innovate restaurant in La Paz, and perhaps in all of Bolivia. While I may not be vegan or vegetarian, Ali Pacha has proven itself a favorite that I'd recommend to vegans and carnivores alike.
Sebastian is doing more than making unique, exquisite vegan and vegetarian eats in La Paz; he's aiming to change and challenge the taste buds of his fellow countrymen and women by offering plant-based foods using ingredients that can be found within Bolivia, or at least within the continent.  The restaurant's name, Ali Pacha, means Universe of Plants in the Aymara language. Keeping true to Bolivian gastronomy, Sebastian uses traditional Bolivian ingredients and pairs them with modern culinary techniques to make vegan dishes that I am confident will blow you away.
Ali Pacha offers a set three course menu for lunch and a five or seven course menu for dinner. Lindsay and I enjoyed the seven course menu, which included five savory dishes, and two desserts.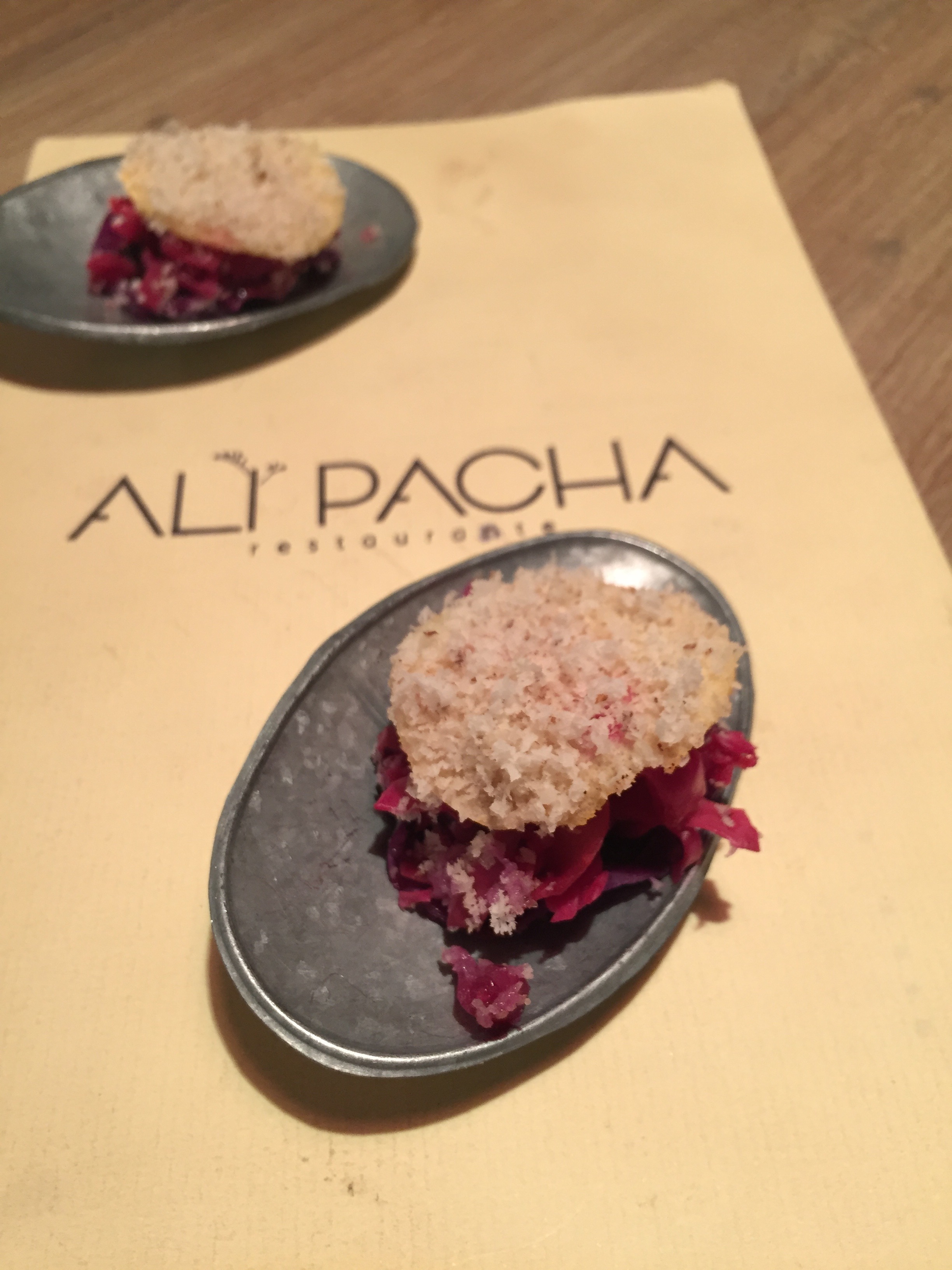 Pickled red cabbage marinated in tumbo juice, adorned with beet emulsion and topped with palm heart and almond crumble
This bite-sized dish served as an invitation to experience all the flavors, complexities, and ingredients of the seven course meal to come.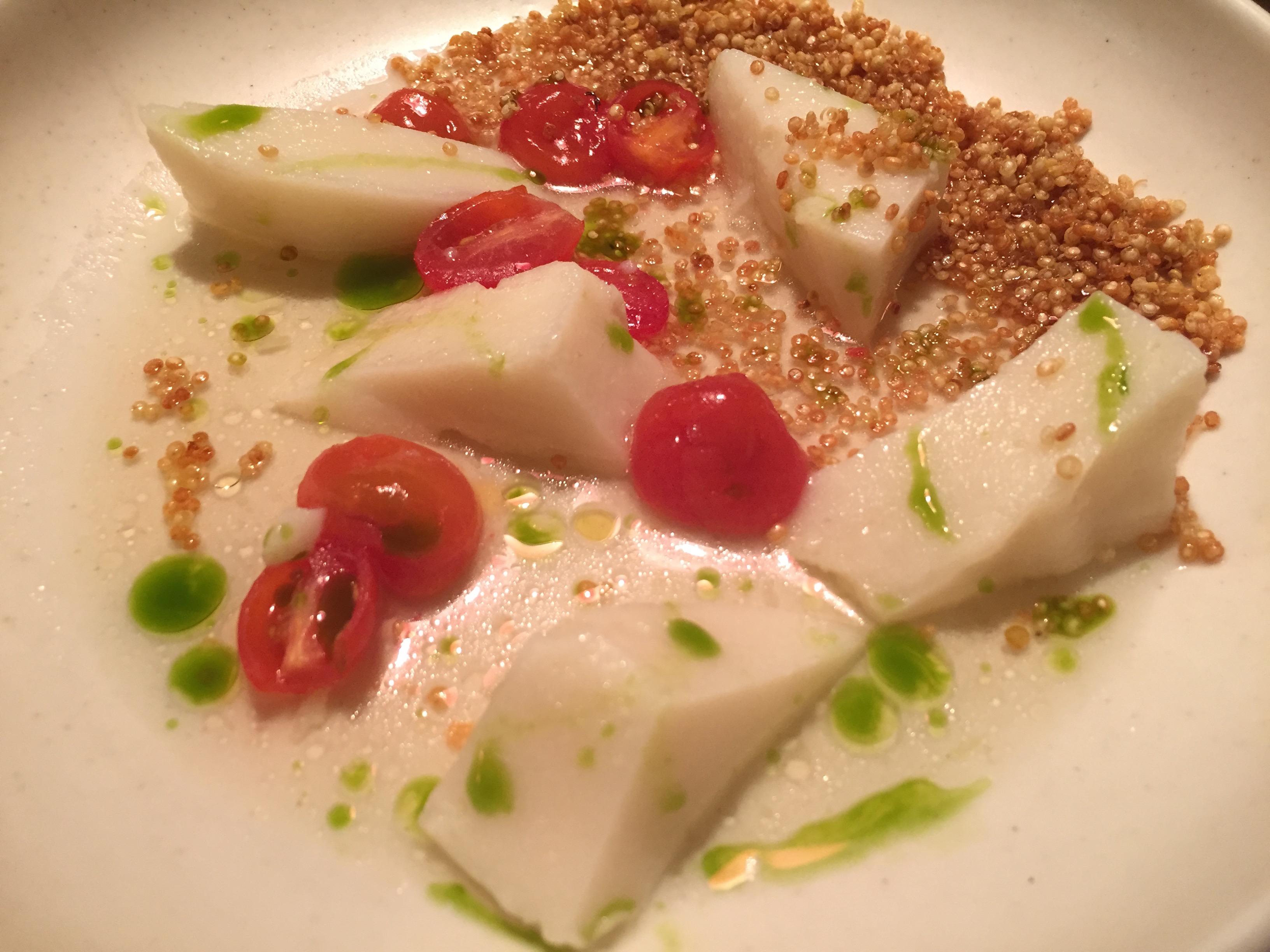 Crunchy quinoa, tapioca starch, charred tomatoes, tomato clarified water, quinoa milk and cilantro oil
I would compare this to a vegan version of a Caprese salad. The crunchy, gelatinous, and liquid textures all complemented each other to create a real mouth party. The tomato coupled with the cilantro oil added refreshing and fresh elements to this dish, tying everything together nicely.

Papaya tiradito topped with sautéed white choclo, sliced red onion, and cilantro, marinated in leche de tigre sauce and white wine, accompanied with sweet potato dust
A twist on the traditional fish-based tiradito, Sebastian proves that using plant-based ingredients can be just as satisfying and flavorful. The thick-cut papaya was the perfect substitution for fish. The leche de tigre made this dish, and the choclo offered a chewy complement to the hearty papaya.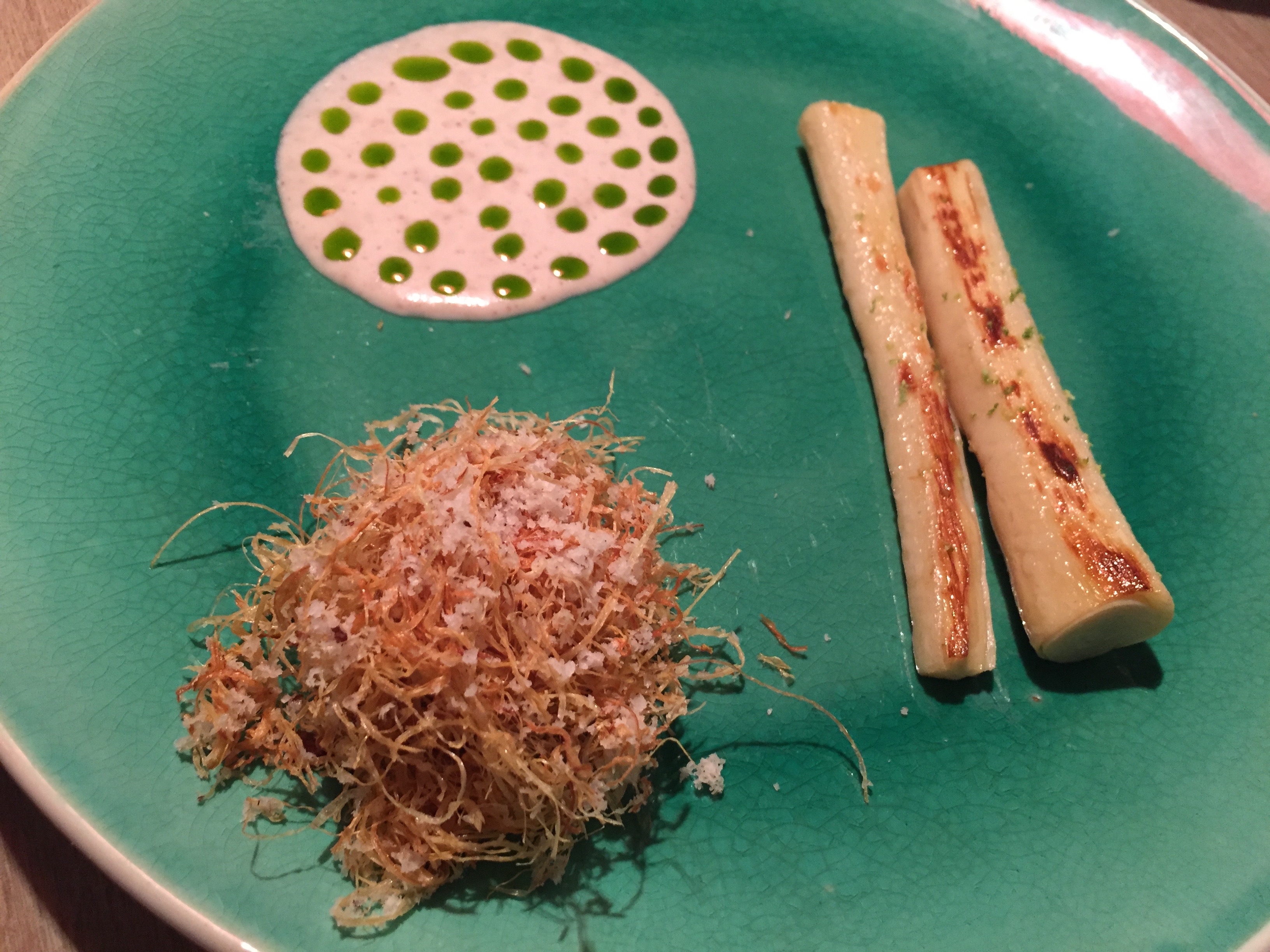 Palm Heart Confit seared on the grill, with a side of sautéed shredded palm heart, topped with almond dust and served with a side of cream of almond and huacatay sauce
The crispy grilled palm hearts, creamy almond sauce, and crunchy shredded palm heart together offered the perfect mouth-feel. I've never seen palm hearts cooked in such a unique way, and I enjoyed experiencing this understated ingredient presented in two different ways.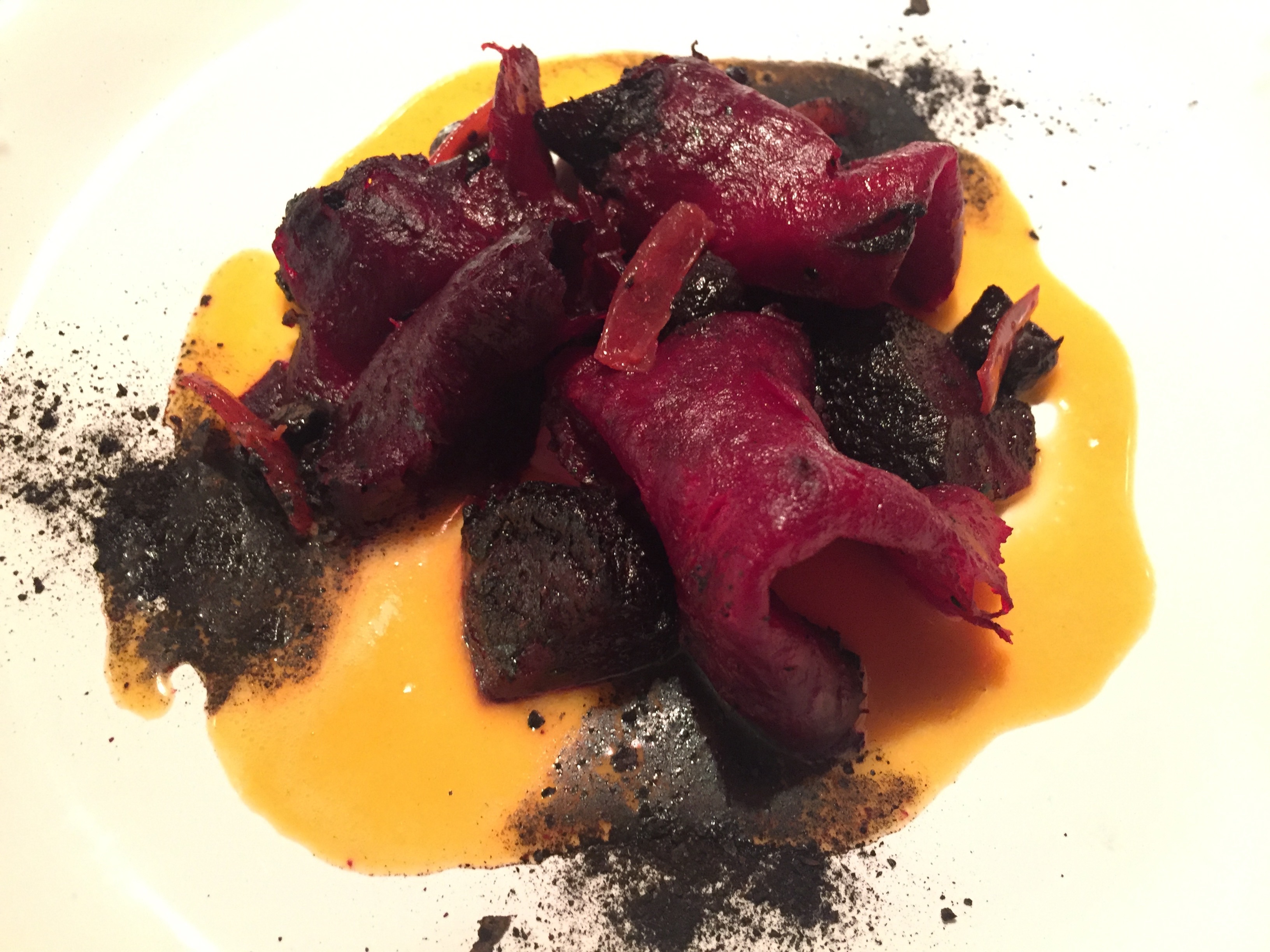 Warm burned beets and cold sliced beets with tumbo sauce and picked onions, accented with ash
I would say this was one of the most different dishes on the menu. Admittedly I was hesitant about the ashes, but the ash flavor wasn't overpowering at all. The different cuts and temperatures of the beets offered an exciting culinary experience, while the ash added a complexity to the dish unlike anything I've experienced before. The tumbo sauce and pickled onions tied together within the dish its savory and tangy flavors, respectively.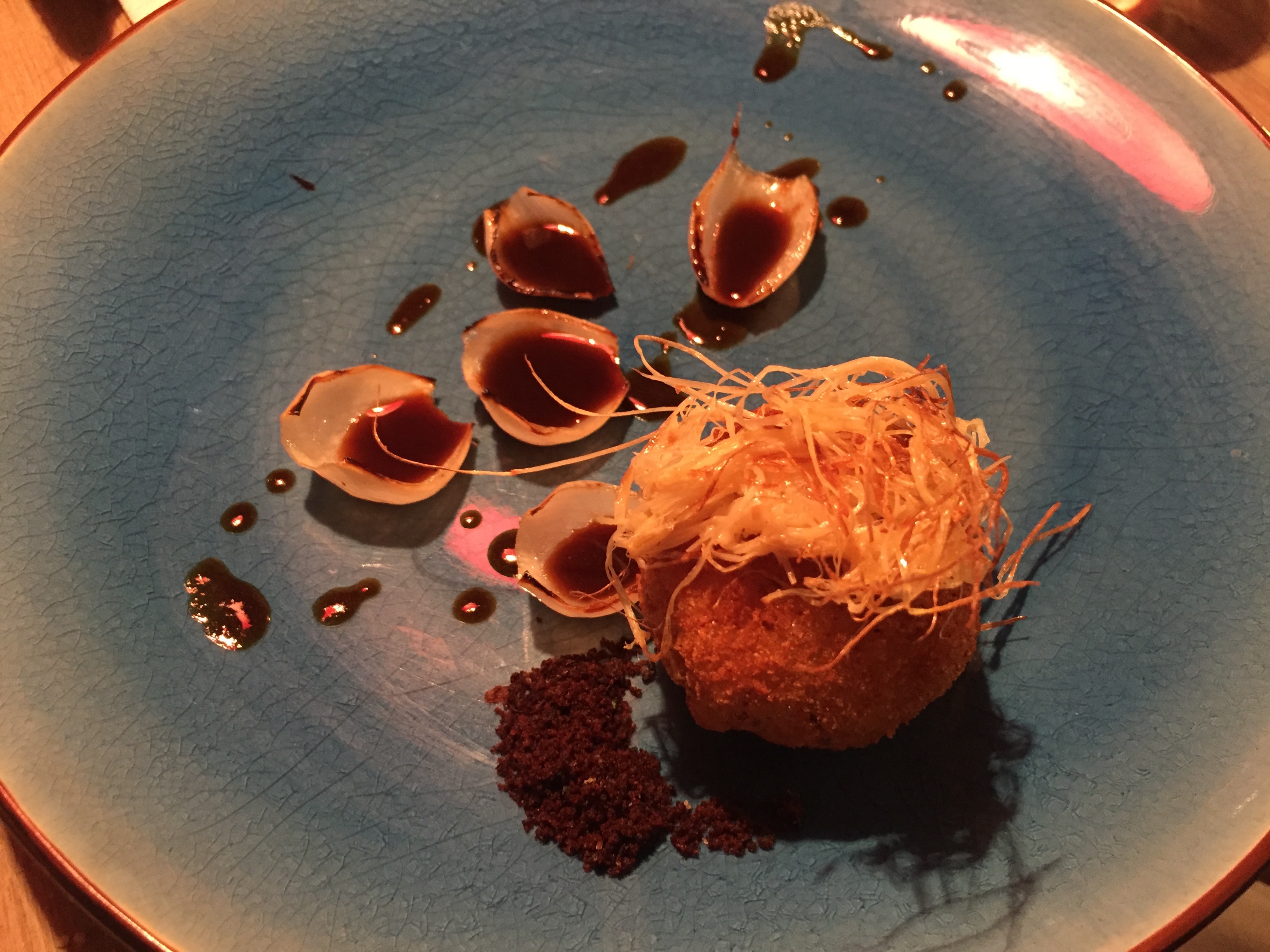 Potatoes Three Ways: Crunchy mashed potato, grilled onions topped with potato reduction, and a side of potato crumble, topped with sautéed palm heart
Soft, creamy, crunchy and crispy, this dish offered all the myriad ways we love to enjoy potatoes. The meal wouldn't have been complete without showcasing one of Bolivia's greatest and most ubiquitous ingredients, the potato.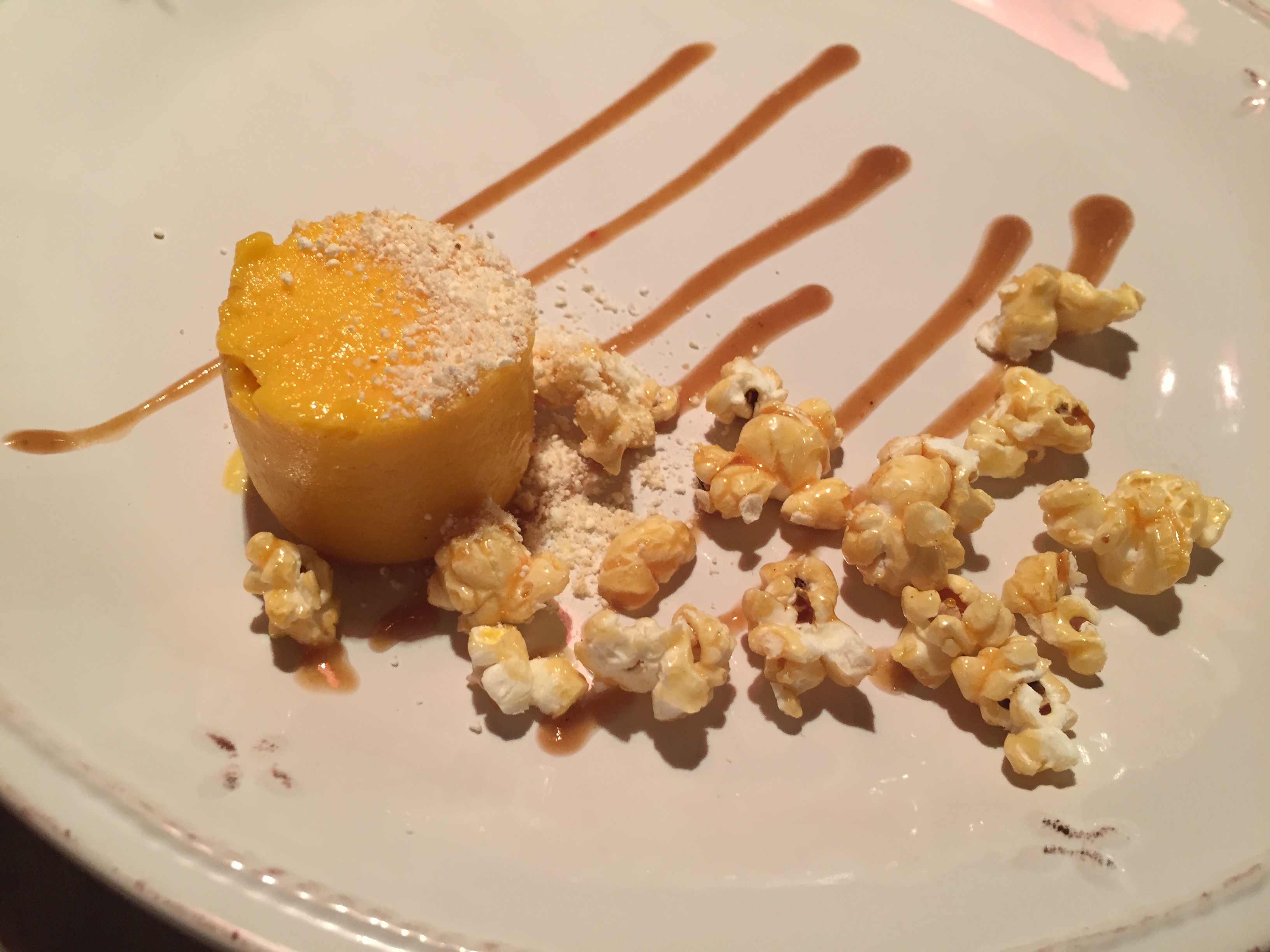 Pineapple eucalyptus sorbet with tamarind sauce, caramelized popcorn and crushed eucalyptus under a locoto pepper sauce
Sebastian really knows how to use textures to his advantage. The crunchy, salty popcorn perfectly complemented the cold, soft, silky "ice cream". The eucalyptus flavor was refreshing, while the tamarind sauce offered a slight tang, and the locoto pepper sauce a slight heat, all without overpowering the dish.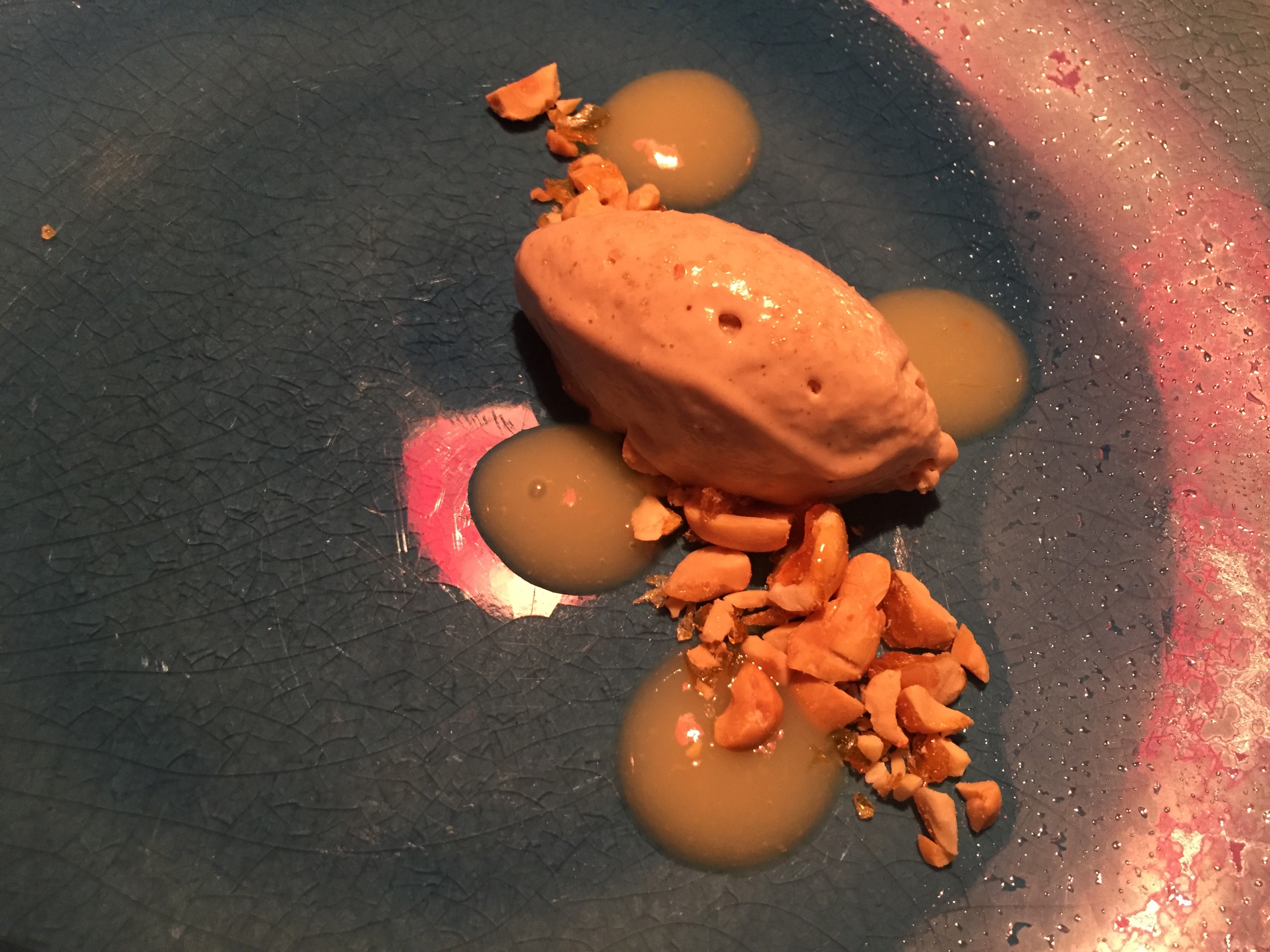 Peanut Butter "ice cream" with caramelized peanuts and copoazu (an Amazonian superfruit)
The caramelized peanuts complemented the rich, and creamy peanut butter "ice cream" nicely, offering the perfect nuttiness (with a touch of sweet, fruitiness) to the dish. A great and not too heavy end to the meal. 
If you're looking to experience the best of La Paz's gastronomy scence, Ali Pacha is a must. You'll enjoy your meal from start to finish, we promise. Enjoy, and say hi to Sebastian for us!
Header image credit: Alipacha.com