Today, I'm excited to share a guest entry written by our prized PR Director, Jill.  The thing I appreciate most about Jill (aside from her making my life easier, of course) is that she is always looking to be a better person, both in the way she treats others and the way she cares for herself.  She recently watched a few documentaries that address the health benefits of a plant-based diet.  Two in particular (Hungry for Change and Food Matters) inspired her to eliminate processed foods from her meals.  This lifestyle change coincided with a surprise package from Two Moms in the Raw, which thankfully supported Jill in her quest to stick to a healthy, unprocessed diet.  Raw foods are an important staple in a truly healthy diet, but what exactly makes raw foods special?  When food is cooked at temperatures above 118*F, enzymes necessary for our bodies' chemical processes are damaged.  Two Moms in the Raw boasts products that are not only raw, but contain 100% organic and vegan components, which are free of wheat, dairy, soy, refined sugars, and gluten.  The company was started by a mother-daughter team who wanted more control over what they were putting into their bodies after the daughter (Shari) was diagnosed with Multiple Sclerosis.  Their products are packed with antioxidants, which protect your cells and give your immune system an overall boost.  Who wouldn't want that for themselves?
Perhaps you've stumbled upon the company's granola bars at Starbucks?  Below, Jill will show you that Two Moms in the Raw is much more than their Starbucks offerings, and also, that raw food doesn't have to be synonymous with rabbit food.  Two Moms in the Raw taught Jill that "raw" and "decadent" can go hand-in-hand, and that all cravings can be satiated by eating raw foods if you pick the right ones.  Without further ado, here is Jill's review of four of her favorite Two Moms in the Raw products.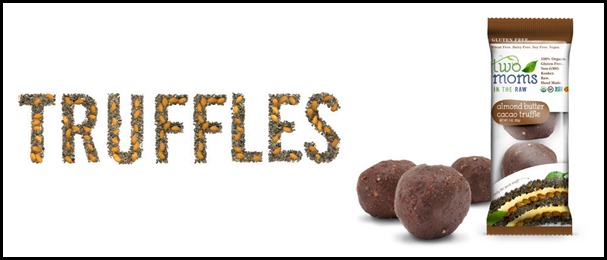 Clearly we're starting with the important stuff!  If you're a chocolate lover like me, Two Moms in the Raw Almond Butter Cacao Truffles are the perfect indulgence.  With how rich and complex the truffles' flavor is, it's hard to believe that there are only four ingredients in them (organic almonds, organic agave, organic cacao, and salt).  I highly recommend them when you are craving a guilt-free sweet.  These are the founders' favorite products, and it's not hard to see why once you've tasted them!  I guarantee that if you served them up at a dinner party, your guests wouldn't believe that they were consuming a healthful dessert.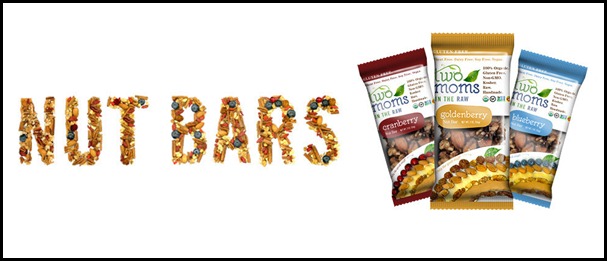 I was surprised by how much I enjoyed the Goldenberry Nut Bar.  I'm not a huge fan of nuts, but the blend of pecans, almonds, and walnuts was perfect.  The sweetness of the pecans balanced the creaminess of the walnuts, and the crunch of the almonds gave the nut bar extra texture.  You're maybe wondering what a goldenberry is?  I was too!  In its dry form, it has the consistency of a dried fig, without being as sweet.  Its tangy flavor is a nice contrast to some of the sweeter nuts and agave.  I find these bars perfect for roadtrips or breakfasts on-the-go.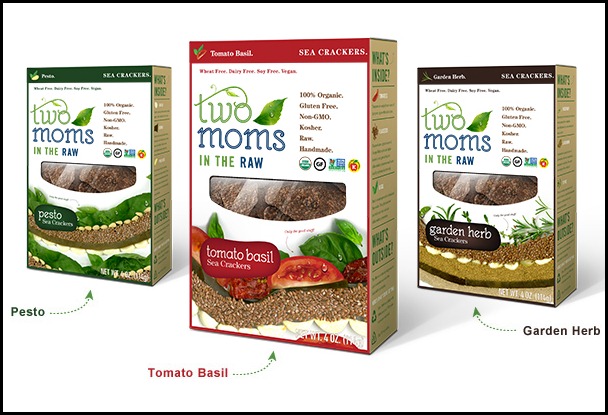 Being Italian, the Tomato Basil Sea Crackers reminded me of biting into a fresh Caprese salad.  Food is so linked with our memory, and these crackers taste exactly like summer to me.  I really enjoyed them, and recommend accompanying the crackers with some hummus.  They can also be used as a crouton-substitute in salads.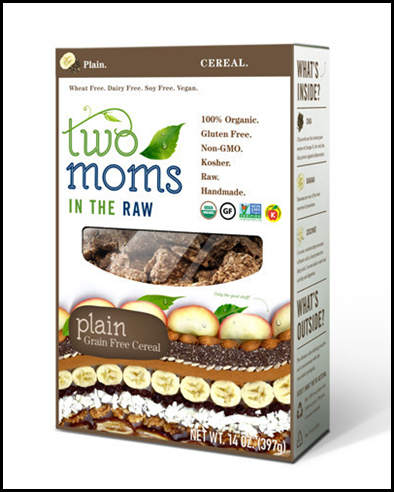 I also tried Two Moms in the Raw Grain Free Cereal.  One of its main ingredients is organic sunflower seeds, which I don't particularly like.  Upon my first taste of the cereal, I thought that I could take it or leave it.  As I tried more though, I began to recognize the other flavors like banana, coconut, and cinnamon.  As those flavors became more prominent, I began to like the cereal more.  It's common knowledge that breakfast is the most important meal of the day, but it's not enough just to eat it.  You have to make sure your choices contain the right balance of protein, fiber, and carbohydrates.  With Two Moms in the Raw Grain Free Cereal, you know you're eating something nutritious that will keep you satisfied for hours.  Popular cereals, like Cinnamon Toast Crunch, have 1g protein, 1g fiber, and 10g sugar.  Two Moms in the Raw Grain Free Cereal has 6g protein, 6g fiber and only 6g sugar.  To me, the difference is clear, and eating sugary cereals defeats the purpose of starting your day off right.
While you may consider their prices a bit high, a little bit of the company's food goes a long way.  It makes you feel full (while eating less), and at the same time, its complex flavors satiate your taste buds.  Be sure to check your local Whole Foods Market for its Two Moms in the Raw selection, or shop the brand on Amazon.  If you'd like to take Two Moms in the Raw for a test drive, I suggest picking up one of their granola bars while waiting in line at Starbucks.  I think you'll find that they're a much better investment than Starbucks baked goods!
Let us know which Two Moms in the Raw product is your favorite!