When I was younger, I had a peanut butter problem.  In this case, "younger" means approximately two years ago and "problem" means that I could easily house half a jar of peanut butter per day (we don't call this blog "The Glutton's Digest" for nuthin'!).  If I wasn't spooning it directly from jar to mouth, I was plopping heaping spoonfuls in my cereal and milk, or shrouding my Reese's Klondike bar in it (overkill, I know), which I would then eat with a knife and fork because clearly I'm a lady.  I read somewhere that for those with addictive personalities, nuts and anything containing nuts are risky given that people become hooked to the endorphins released when certain nuts are consumed.  Yep, that sounds about right.
I was relieved when I woke up one morning and no longer craved peanut butter.  It literally happened overnight.  In the following weeks, I felt a lot healthier considering I wasn't consuming my weight and then some in a fatty paste.
But then I saw this on the shelf: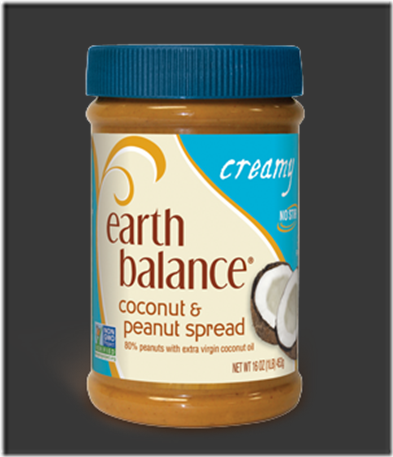 Everyone knows that coconut is the bacon of the fruit department, in that EVERYTHING tastes better when combined with this candy-like fruit.  If everyone also knew me, they'd know that I can't resist anything that's laced with coconut.  Earth Balance's coconut & peanut spread is all-natural and sweetened with agave syrup and organic coconut oil.  It's not overly-sweet, and its faint taste of coconut adds another dimension to the product.  Because it's more exotic than the average peanut butter, I also find it easier to use sparingly.  And even in the event that "sparingly" turns into "half a jar per day," it wouldn't matter as much since it is 100% plant-based with 0g of trans fat.  In other words, it looks like this girl's got a new go-to peanut butter!
                    Header photo from happymomblogger.wordpress.com