My favorite part of working at The Glutton's Digest (aside from eating 6-10 times a day) is encountering people who love their jobs as much as I love mine.  When these people are directing their passion towards making food, you can taste the difference in their products.  If you are happy with what you are doing, you don't cut corners.  You want people to enjoy your creations as much as you enjoy the act of creating them.  In other words, food tastes better when it's infused with love (which I'm sure your grandma taught you with her mad culinary skillz).
Enter, stage left: The Jam Stand.
This New York-based company is the genesis of two best friends who value happiness, staying true to themselves, and whipping up jam that would undoubtedly make all of our Grammies proud.  They offer inspired flavors like wine-onion and peach-sriracha, with spirited names like "You're My Boy BLUE-berry Bourbon Jam," proving that you don't have to abandon your goofy side to run a successful business.  While their flavor combinations are pleasingly complex, their business ethos and packaging offer a purity that can seldom be found outside of Amish country these days.
So how does their jam taste?  Let's put it this way- I've never purchased a jar of jam in my life.  I've been spoiled by my grandma's annual apple jelly, and I'm proficient at rationing it until her next batch.  When you're accustomed to something so fresh, made with such care, anything store-bought falls short.  When The Jam Stand surprised us with a sweet shipment, I was tickled by their creative labels and old-fashioned jars, but I was skeptical that I'd enjoy their jam.
It took just one spoonful to convert me to a Jam Stand believer.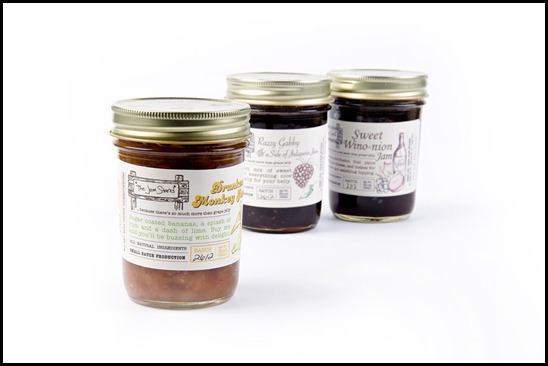 Their devotion to fresh fruit from local farms makes each of their jams taste homemade, like something you'd expect to pick up from a summer roadside farm stand (making their name quite fitting).  We sampled their "You're My Boy BLUE-berry Bourbon Jam" and "Sweet WINO-nion Jam."  Both were jam-packed (pun intended) with fruit and flavor, and the included booze added a welcome punch.  We loved the different layers of each jam, most particularly the hint of vanilla in the blueberry jam.  We can't wait to get our grubby paws on their other flavors!  The Jam Stand's website recommends items with which their jams can be pleasantly paired, but the truth is, whether with cheese or on a cracker, bread, or burger, a product this good can't be improperly paired (AKA I'mma go spoon it directly into my mouth).
Jessica and Sabrina, your jams' entrance into my life was impeccably-timed.  My grandma passed away last year and I thought that all jellies I subsequently tried would pale in comparison to hers.  Thanks for proving me wrong.  I can't wait to spread your jam on everything I eat, all the while spreading the word about your wonderfully wholesome products!  I encourage the rest of you to give these jams a try, so we can unite (with our mouths full) in shouting…"THIS is my jam!"
Too many music references?  Don't care!