Once upon a time I journeyed to Cape Town for a two week jaunt and willingly got stuck there for a month and a half.  What does that mean, aside from the fact that I set really poor personal boundaries?  Well, most obviously, it's symbolic of Cape Town's being a bona fide tourist's delight. More specifically, it means that I have become an unofficial expert on the best beds in which to rest your head in this South African metropolis.  With so many areas worthy of exploration, we moved around quite a bit and would encourage others to do the same in order to comprehensively experience the city.  As always, we aimed to find accommodations for all budgets and personality types, and from hostels to bed-and-breakfasts to boutique hotels, this list includes only our top picks.  Each hotel we feature is not in competition with the rest, for all are in distinct parts of the city and cater to different demographics.  If you only have a short time in Cape Town, select the lodging that best speaks to your travel style and personal preferences, but if you're not pressed for time, please do check out as many of these locales as possible.  As not to overwhelm you with information, we are breaking our list into a few posts which will include three places each, because as they say, all good things come in threes.  The hotels are listed sequentially based on the order of our visits, and you can click on their names to view higher quality photos (that don't include my goofy face), along with additional information that may appeal to you.
Let's get this hotel party started!  (Not including an R. Kelly quote here is KILLING me!).
In a nutshell- Charming home in a residential area (very close to main attractions) with stunning views and attentive hosts.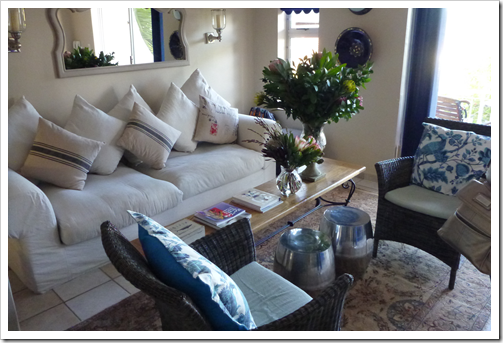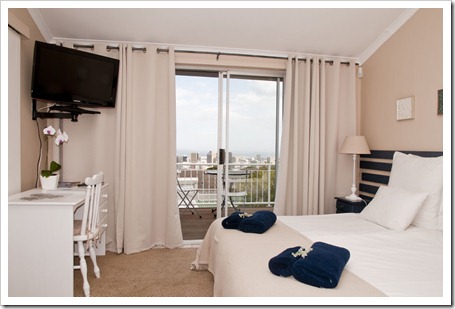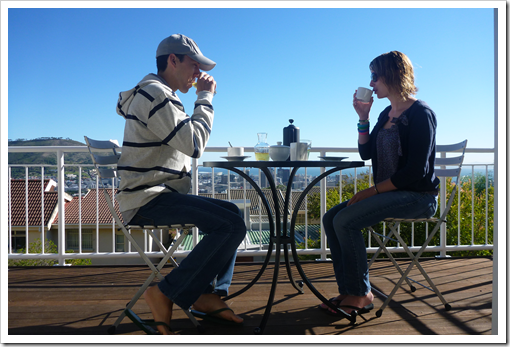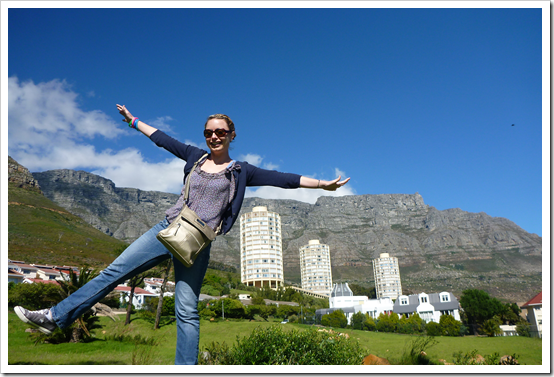 The full scoop- Tafelberg Inn is located in Vredehoek, which in Afrikaans means "corner of peace."  Both the neighborhood and the bed-and-breakfast live up to that description.  With Table Mountain behind you and the city and sea below you, the views from your bedroom balcony couldn't be more picturesque.  The suburban neighborhood offers ample parking and is very safe, and for added measure the Inn is equipped with sturdy bedroom door and window locks and an alarm system protecting the whole house. The peaceful, green ambiance of the surroundings make you feel as though you're in the countryside, while you're actually a mere 10 minute drive from the center of Cape Town.  A young couple (Hannah and Raymond) run Tafelberg Inn, alongside Laureen, the Inn's engaging and accommodating hostess.  If I had been told that Martha Stewart herself had decorated the home, I would have believed it.  It is full of wood accents, sunlight, and live plants, with décor that is clean, crisp, and welcoming.  There is an impeccably landscaped garden out back that surrounds a pool where you can take breakfast, or spend hours relaxing.  While the Inn is on the small side (with just 3 rooms), its layout promotes privacy and in no way feels cramped.  Raymond and Hannah are foodies that will enthusiastically share restaurant recommendations with you, while Laureen whips up fresh, healthy breakfasts daily with French-pressed coffee that's best enjoyed on your private balcony.  While strolling the streets of Vredehoek and taking in its cafes and urban gardens, I couldn't help but feel like a resident instead of the tourist I am.  Tafelberg Inn feels like the home that you've always wanted for yourself, so be prepared to be a bit heart-heavy upon departing (though completely rested and rejuvenated from your stay!).
WOW factors-
This was my absolute favorite neighborhood in all of Cape Town, and you can even walk to Table Mountain from here.
Raymond, after learning how directionally-challenged I am, called us occasionally to make sure we hadn't gotten lost or attacked by baboons (joking).  As not to make me feel bad, he would balance these calls with more restaurant recommendations tailored specifically to our taste.
In a nutshell- An artsy enclave in one of Cape Town's most historic and accessible neighborhoods, run by a knowledgeable, amicable couple.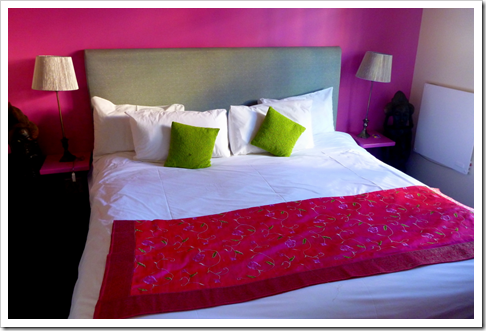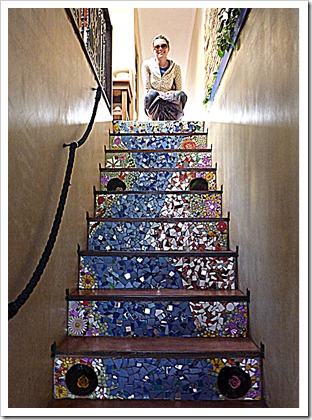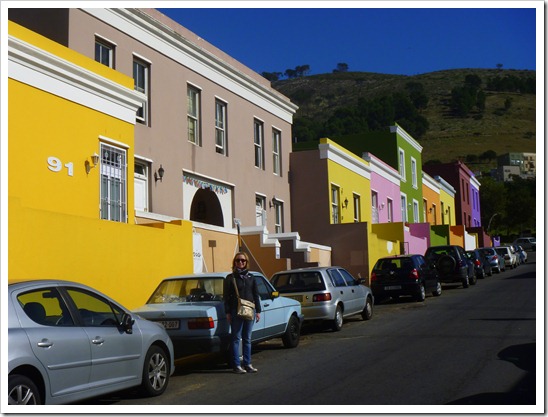 The full scoop- Being the color junky I am, this B&B and the neighborhood it's nestled in (Bo-Kaap) were very visually appealing to me.  History buffs would be equally pleased, given Bo-Kaap's rich and multicultural past.  Originally settled by freed slaves of the Dutch, Bo-Kaap is now an interesting mix of Cape Malay people and foreigners who have purchased historic edifices in the area.  Many of the buildings are painted in vibrant shades, making Bo-Kaap one of Cape Town's most photogenic locales. Yoann (owner of La Rose B&B), knows a lot about the area's history, and successfully dabbles in creative projects like mosaics and vertical gardens, all of which make for an intellectually and artistically-stimulating environment.  Yoann and his South African wife Adheera have collaborated in renovating two adjacent buildings (with eight rooms in total), and guests are given proximity keys to travel freely between both buildings.  Each room has a different theme, and is tastefully decorated with quirky paintings and sculptures.  We stayed in the Crimson Suite, and I was delighted by how many comfortable seating areas there were in the room, especially since we had a bunch of work to catch up on during our stay.  Yoann traveled a lot in his previous profession, which informed the decisions he made for his own B&B.  He aimed to create a casual, social setting (like those found in backpackers hostels) accompanied by five-star comfort, which results in a place that appeals to all age groups and traveler types.  Rooms open onto an interior courtyard reminiscent of a Moroccan riad, where guests enjoy breakfast at one large table. La Rose's breakfasts are buffet-style and offer something for everyone, including some of the best barley potato bread I've ever had. (Yoann, along with being French, is a trained baker so he's a bit of a carb connoisseur). Yoann is also a great resource for restaurant recommendations both in the city and in nearby wine country.
WOW factors-
La Rose has the fastest internet we encountered in all of Africa, and each room is equipped with American plugs.
You're within walking distance of Long Street, Bree Street, and the V&A Waterfront, which means you can easily reach most of the city's best restaurants on foot.
In a nutshell- A historical landmark in a coastal suburb of Cape Town that's been revitalized into a luxurious 5-star hotel with its own restaurant and spa. The manor is perfect for accommodations in Cape Town, if you're looking for something outside the city.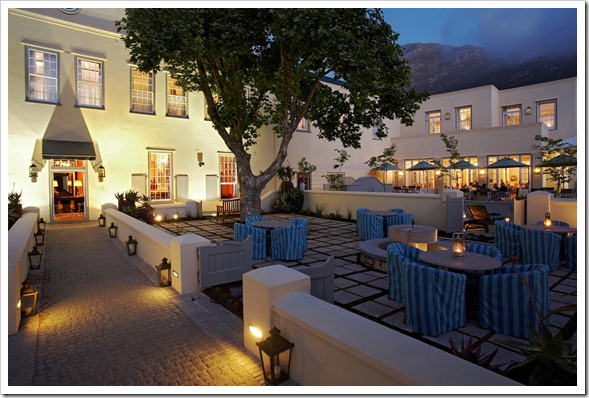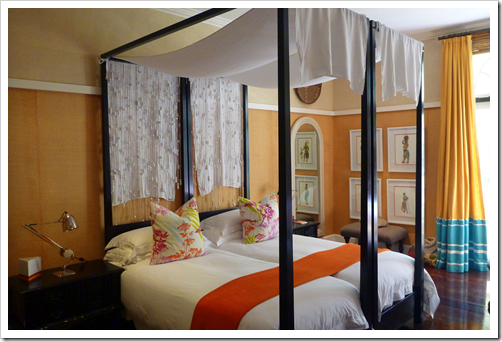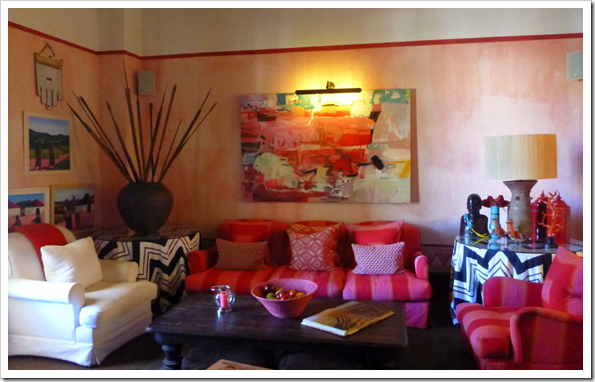 The full scoop- While set away from Cape Town's main tourist attractions, the seaside drive to Hout Bay Manor is nothing short of breathtaking. Once you're there, you'll have everything you'll need within the hotel's confines to sustain yourself.  Pure, the hotel's restaurant, offers inspired gourmet dining daily, along with themed events like women's teas, Alice in Wonderland parties, and wine and dine evenings where the lead chef's dishes are paired with exceptional South African wines (more about this restaurant in a future post). Cecile and Boyd's are responsible for the hotel's interior, which can be described as African chic with the perfect mix of whimsy and class, peppered with unique ethnic pieces.  The animal lover will appreciate that taxidermied animals are replaced with paper mache busts of Africa's Big 5. The child in you will be tickled by rubber duckies for your bath, candy jars throughout the entire hotel, and playful pieces like this gargantuan lamp: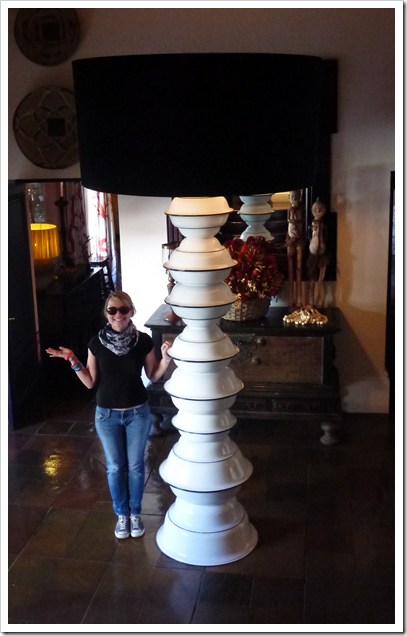 Luis was quite literally caught with his hand in the cookie jar, on more than one occasion.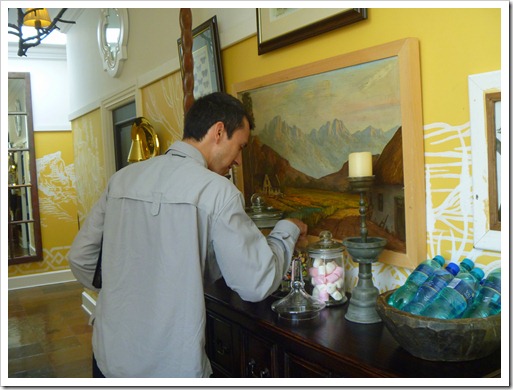 I don't know about you, but when I'm abroad, I don't like staying in hotels that feel as though they could be in any other city.  I also don't like ostentatious places, particularly when I'm traveling in impoverished areas.  Nothing about Hout Bay Manor is generic or pretentious.  While definitely larger than a bed-and-breakfast, its size (19 rooms) still ensures that guests receive personalized attention.  Breakfast is included in your stay and consists of an ample buffet, plus a menu of hot made-to-order items (the eggs benedict is worth ordering.  EVERYDAY).  While we stayed at multiple 5-star hotels throughout South Africa, this was definitely the most unique.
WOW factors-
Along with turning down your covers before bed, you'll be graced with decadent truffles and South Africa-themed bedtime stories.
Each room includes heated bathroom floors, plush bathrobes, and slippers.  Delicious!
Lucia (General Manager) and Letishia (Sales & Marketing Manager) are uber-professional, fun women who excel at their jobs, and are wonderful to converse with as well.
Stay tuned for our next entry on accommodations in Cape Town, and feel free to contact us with any questions in the meantime!