The past few years have essentially consisted of my two best friends and I following each other around the world, which I am NOT complaining about.  This time, our adventures coalesced in Maputo, Mozambique, where one of my lovelies is toiling in a public health internship for her Master's program.  Her undercover mission is to pin down the country's finest food, and I don't doubt her capacity to do so.  She will be in Mozambique for seven months, and has already offered to write a guest entry about her experiences when all is said and done.  This post is meant to whet your appetite for Mozambican cuisine until she's done "investigating."
Before we get down to business, I'll give you a taste of what we did around Maputo when we weren't gormandizing, which was frolicking hand-in-hand, smothering each other with hugs, and laughing to our hearts' desire.
Isn't Mozambique a beauty?  Isn't my best friend, too?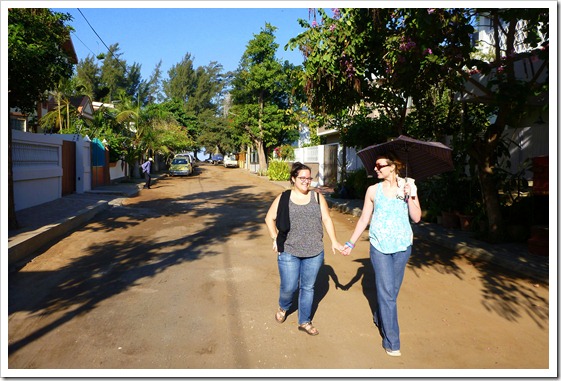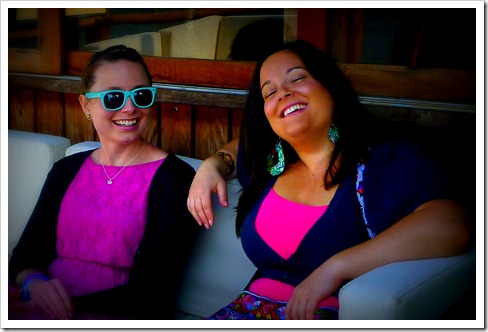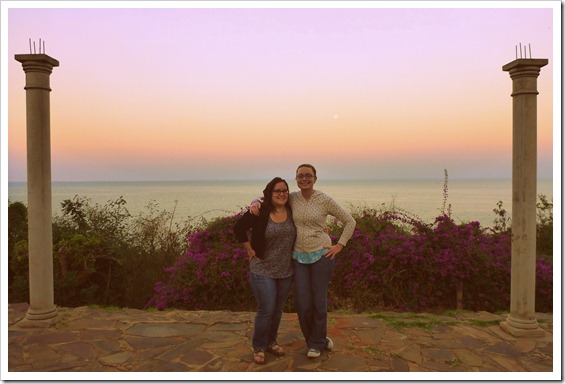 There are a few things you might like to know before visiting Mozambique.  While it is one of the world's poorest countries, you shouldn't expect to find many cheap eats here.  In fact, you should anticipate paying a pretty penny for almost everything.  We spoke to many foreigners who now reside in Maputo, and all agreed that the cost of living in Mozambique surpasses that of the United States.  This, of course, is quite astonishing given that the quality of your purchases rarely aligns with the prices you pay.  To relocate here seems like a curious choice considering that most expats I meet leave their countries to live in more economical places.  There are so many foreign investors in Maputo, in fact, that the majority of Mozambicans can't afford to live within their capital's center, and are being pushed to the outskirts of the city by inflated property costs.  Many of them even travel to South Africa to do their grocery shopping.  Americans, can you imagine having to drive to Canada to find more affordable food?
While foreign investment within the capital city may be booming, the restaurant culture is noticeably underdeveloped.  I suspect that the best food in the country can be found within peoples' homes in the aforementioned outskirts.  It might behoove a savvy businessperson to capitalize on this fact with some grassroots (and hopefully, non-voyeuristic) food tours in the more marginalized parts of town.
Until then, you can stick to the following recommendations.  And don't let the prices dissuade you from visiting the country (unless you are a backpacker on a strict shoestring budget).  Mozambique is a safe place full of happy, relaxed people who are quick to smile and lend a helping hand to confused tourists.  According to my best friend and other travelers who have traversed more of the country than just Maputo, Mozambique is abounding with gorgeous beaches and countrysides, and the added bonus is that these places aren't overrun with tourists.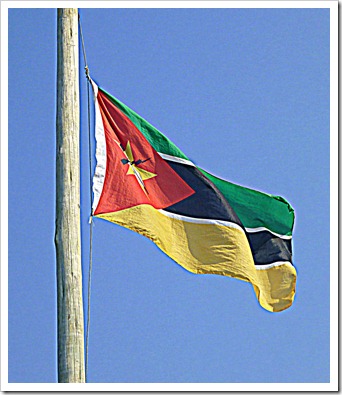 As far as Mozambican food is concerned, carbohydrate addicts beware.  The fresh bread in Maputo's bakeries is pretty ridiculous- so fluffy and flavorful that I literally wanted to bury myself in it.  Our favorite bakery for regular bread is on Avenida Julius Nyerere next to Nautilus.  It is a small, non-descript room with no-nonsense employees doling out piping hot bread from behind a counter.  Your best bet is asking them when their next batch will be out of the oven, and then basing your entire schedule around that…which we did, multiple times.  For baked desserts, you should head up the same road to 956 Julius Nyerere, where you'll find La Tartine.  This is a French-style bakery that specializes in pastries.  Their cookies are a sweet tooth's dream, and their apple tart is decadently delightful with the most perfectly supple, buttery crust.  It's flavor is reminiscent of an apple dumpling, but with a more proportionate apple-to-crust ratio.  It doesn't look like anything special (see item on right in below pic), but you'll most definitely want to order it (and this is coming from someone who considers apple desserts the duds of the dessert world).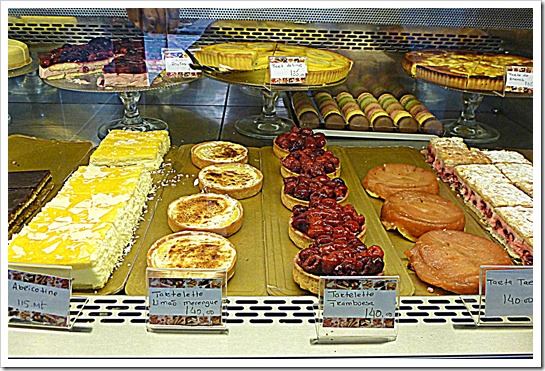 It's typical of me to start with dessert, but perhaps you'd like to gnaw on something more substantial.  If you talk to other Africans about Mozambique, they'll urge you to try the prawns there.  Since Maputo is right on the water, finding seafood isn't difficult.  What is a challenge, however, is finding seafood that's not overcooked to rubberdom (if rubberdom isn't a word, it should be).
A good place for appetizers is Miramar on Avenida Marginal 4272.  This is a happening, casual place where you can sit with your feet in the sand and people watch while reveling in the ocean's breeze.  While I've definitely had better seafood, the ambiance at this place is fun, and these fried calamari heads were crispy and fresh.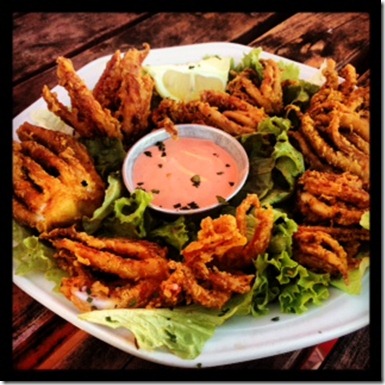 The best seafood that we had in Maputo was at Zambi (Avenida 10 de Novembro 8), which is actually rated Maputo's #1 restaurant.  If you do a lot of food travel, you won't be overly impressed by this place.  In comparison to other restaurants in Maputo, though, it stands out as different in both its chic décor and its food preparation.
The most extraordinary dish we tried at Zambi was the steamed langoustine tails, which were cooked to perfection in a garlic lime sauce.  If I could go back and order again, I would have three plates of this and call it a night.  I think everyone's quality of life would be a lot higher in Maputo if Zambi were to teach local chefs how not to overcook their shrimp.  There.  I just solved all of the country's problems in one fell swoop.
Syke, I totally didn't.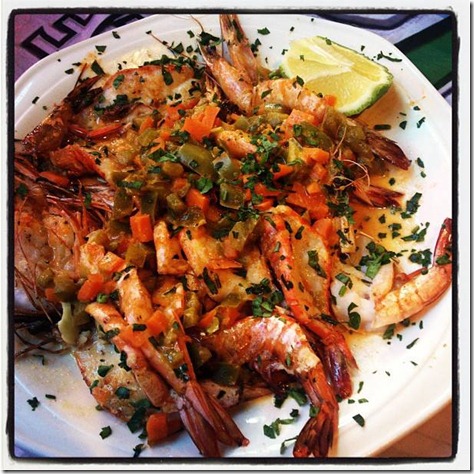 If you are against ordering the above dish three times in one night, the butterflied catch of the day was good as well, albeit its flavor was a bit simple.
If seafood with a view appeals to you, you could take a short boat ride over to the Catembe Gallery Hotel, where you can enjoy cocktails and tapas at the associated Marisol Baia, or a heartier meal up the hill at Marisol Restaurant.  Catembe can be accessed from the jetty of Maputo, and transport to and from the hotel via boat can be arranged with Koenraad, the hotel's Belgian owner.  He lives on the premises with his family, and their euphoria about their surroundings is contagious.  The hotel often hosts events like yoga retreats and bliss dances, because Koenraad's family really likes to share the space they've created with other like-minded visitors.  Koenraad is a conversable and creative person who treats his hotel and restaurants as works-in-progress that he's always aiming to improve for his guests.  He invited us out for lunch one day, and we were blown away by the beauty of the place.  The hotel sits right on a beach that isn't overly inhabited, with luxurious, en-suite rooms and penthouse apartments overlooking the ocean and an infinity pool.  He's even recently built private beachside chalets that I wish I knew about before I had booked my hotel!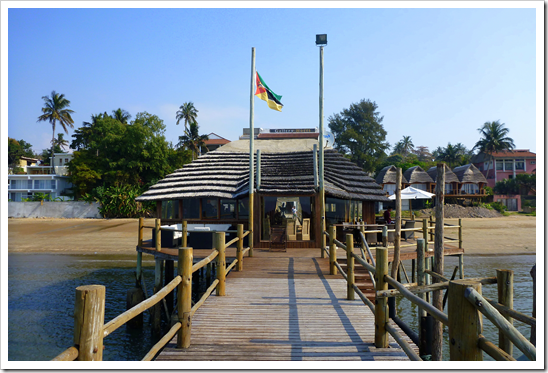 At Marisol Baia, our favorite dish was the calamari romana, which is grilled calamari in a creamy garlic sauce.  At Marisol Restaurant, we liked the prawn and french fry plate.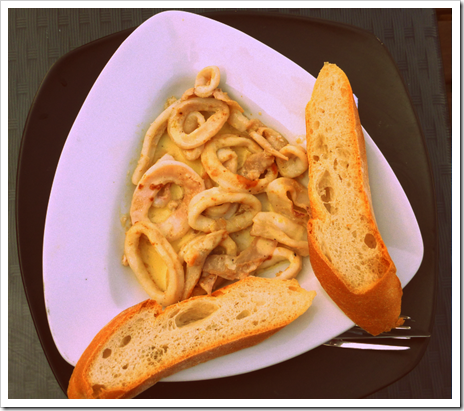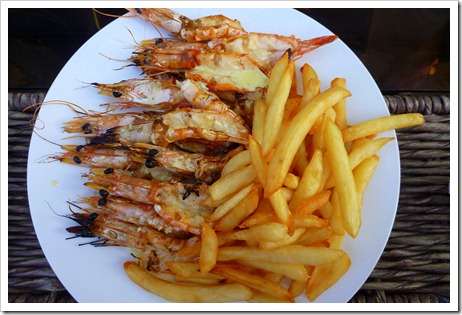 This Catembe gem is a great place to spend a leisurely afternoon while learning a bit of Maputo's history.  Koenraad's family organized a museum within Marisol Restaurant where you can find interesting tidbits about the hotel, restaurant, and surrounding areas.  For instance, the Catembe (a very popular Mozambican cocktail made with wine and Coke) was invented in Marisol's bar many moons ago.
If you have a shellfish allergy, or simply don't like seafood, no worries.  There's meat to be had in the city, as well.
For steak, we headed to Kalu's Esplanada (on Rua Alfredo Keil Baixa, off of Avenida 24 de Julho).  You'll feel like a local here, picking your meat from a butcher's case and watching it cook over the spitfire grill while people drink, eat, and play pool under this restaurant's pavilion.  Your meal comes with a salad you can create, French fries (which Mozambicans have mastered), and xima (corn meal porridge, which tastes like plain grits).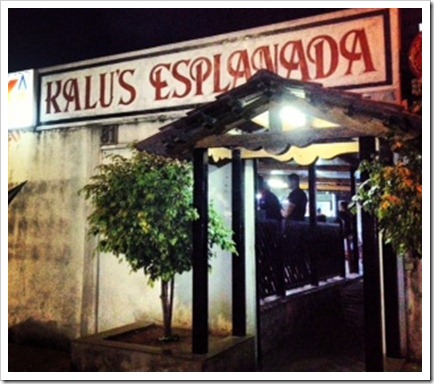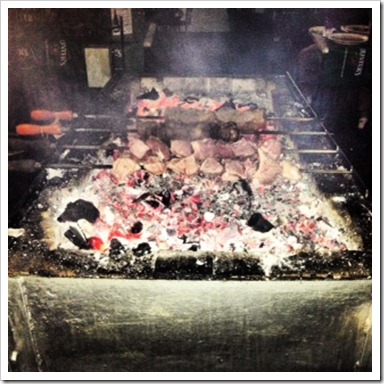 I'll leave you with the most fantastic meal we had in Maputo, and lucky for all of our wallets, it was the cheapest.  On Maputo's beach, there are rows of huts that serve frango com xima, which is a heaping plate of chicken, corn porridge, slaw, and French fries.  They'll preface your meal by coming to your table with a soda bottle full of soapy water with which to wash your hands, as this place is utensil-free.  You'll spend the next 20 minutes watching children play in the sea while shoveling the tastiest chicken you've ever had into your mouth.  I cannot accurately emphasize how good it is.  I don't know what they marinate the chicken in, but each bite is as packed with flavor as the last.  Before visiting Mozambique, Peruvian rotisseried chicken had my heart, but I chicken cheated on Peru and I'm never going back.  Some of us (Luis) are still in denial about Mozambican chicken blowing Peru's out of the water, but the rest of us (Erin and I, hence our smiles) know the truth.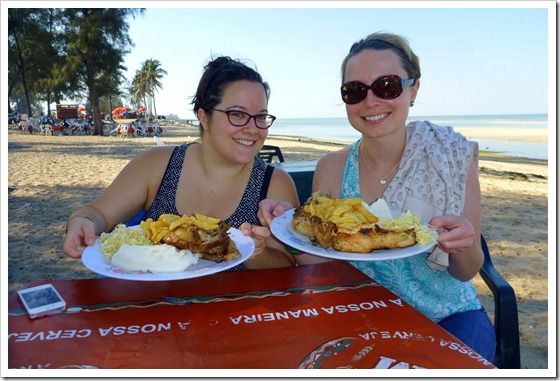 That's all for now. I hope you enjoyed our jaunt to Mozambique.  Next time, we'll discuss hotel options.  You'll probably want to sleep on the beach, awaiting chicken scraps, but I'm not sure that's your safest bet

.