It's only natural that we would consort the best places to eat in Pittsburgh with the best place to sleep, because what goes hand-in-hand if not feasting and snoozing?  I'm no stranger to hotels given my perpetual on-the-roadness, which oftentimes results in one nice hotel blending into the next.  Just when I think I'm impervious to surprise and intrigue in the realm of lodging options, I'm introduced to a place like…
In a nutshell- A celebrated building from the early 1900s that's been transformed into a boutique hotel in the heart of Pittsburgh's Golden Triangle.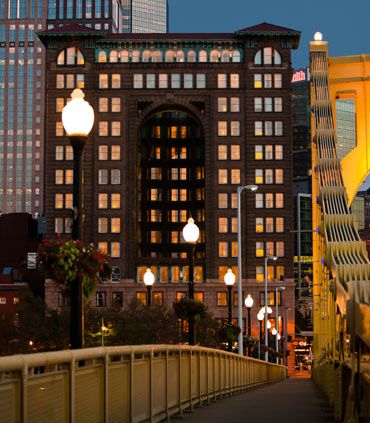 The full scoop- Pittsburgh business owners have a knack for revamping the historic into the hip, while still preserving the integrity of the foundations with which they start.  The Renaissance is no exception to this rule.  While it feels like this building was specifically constructed to be a hotel, it has a much broader story to tell.  Before adopting its current purpose in 2001, it was home to both a WWII Veterans Hospital and later, a nightclub.  A 30-foot wide copper-covered dome besets the lobby's lofty ceiling, which was seemingly designed to sit beneath and admire.  The double Palladian staircase augments the stately atmosphere, and all elements converge in the invitation to look skyward and soak up your surroundings in awe.  While you'll half expect to see a maiden peacockishly descending the staircase, contemporary touches in decor (like the textured artwork below) update the lobby in a subtle way as to refrain from clashing with its architecture.  Soft lighting and cozy seating increase the space's appeal, making it worthy of a visit even if you aren't a hotel guest.  At the time of our stay, vintage bicycles from Bicycle Heaven were suspended from the walls, molding the lobby into a makeshift museum, because who says you need to leave your hotel to explore?  To further entice out-of-towners, the lobby leads to a bar that's reminiscent of an upscale diner, as well as Braddock's Pittsburgh Brasserie, which easily made it into our previous post featuring the city's best dining.  While Braddock's menu is predominantly American, you'll see unique additions that reflect the diversity in Pittsburgh's population.  Essentially, you're not going to want to stray far from the Renaissance, so it's probably best that you just check in.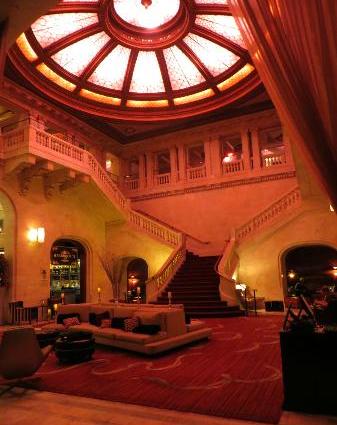 You'll find the hotel's staff just as pleasing as its ambiance.  Both conversive and attentive, the Renaissance team offers personalized assistance that you rarely encounter in hotels of this size. Our room was spacious, clean, and very well-lit, with a nicely-stocked coffee station, a modern work space, a bathroom with a view, and multiple sitting areas in which to relax/work.  The bedding was plush, and the mattress ample and comfortable.  For those of you who share my pet peeve of luxury hotels stocking not-so-luxurious toiletries, you'll only find Aveda products here. We couldn't conjure one complaint about this place if we tried (and this is coming from someone who is admittedly persnickety).
WOW factors-
Its choice location offers much within walking distance, along with superb views of the skyline, Pirates stadium, and the great Allegheny River.
Just as I was starting to feel a little peckish, we were graced with a welcome snack of homemade candy bars, which were honestly the very best dessert we had in all of Pittsburgh. We were told they include chocolate, toffee, caramel, and a secret ingredient, with homemade whipped cream divinely topping that combo.  What. A. Treat!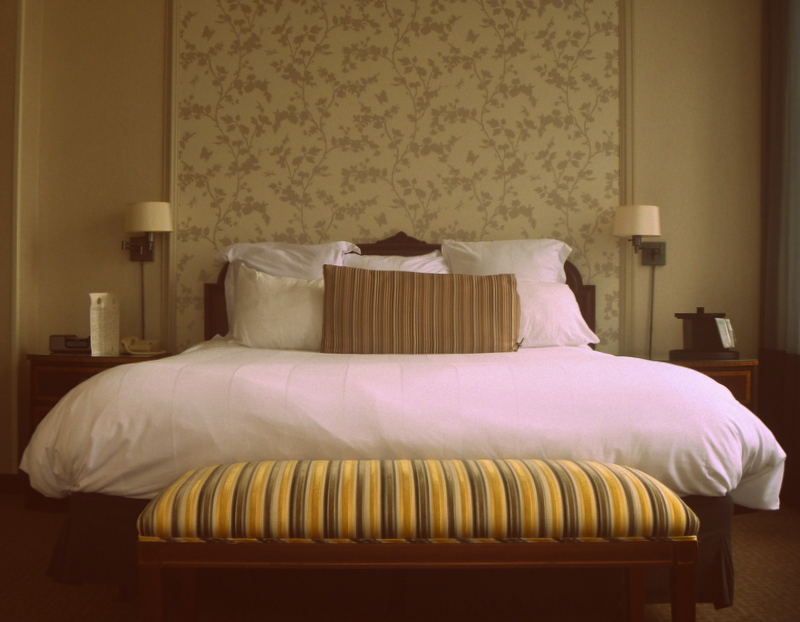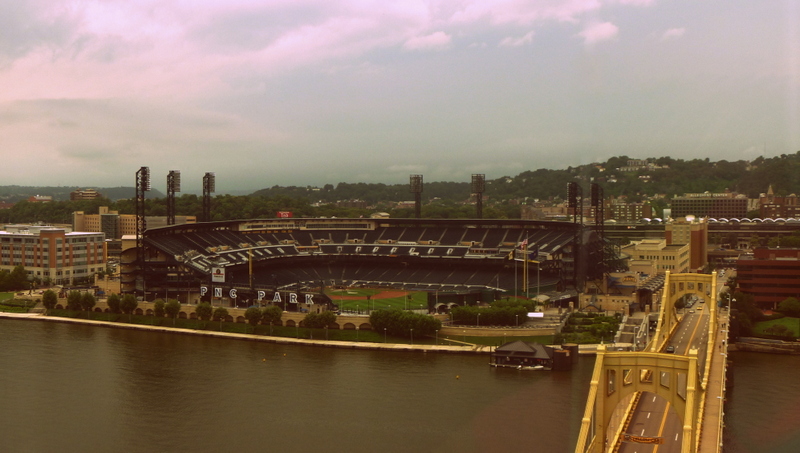 For your next trip to Pittsburgh, look no further for accommodation.  We're confident you'll enjoy Renaissance Pittsburgh Hotel as much as we did (and perhaps even more, the longer you stay)!
Safe and happy travels, foodie friends!