Do you ever look at something mundane and wonder, why don't I know where this came from/how it was made?  Lately our travels have revolved around solving such mysteries, all of which could easily be elucidated by Google, of course.  The masochist in me, however, would much rather slapdashedly pack a bag and venture into the unknown for some answers.  Our most recent mindboggler: rice.  Since suffering from a rice overdose in 2008, I've abstained from eating the stuff, but for some curious reason I recently became intent on learning everything I could about it.  This very well may indicate that I have too much time on my hands, but I chose to interpret it as a sign that I 'needed' to go to Indonesia for an education, and so off we went.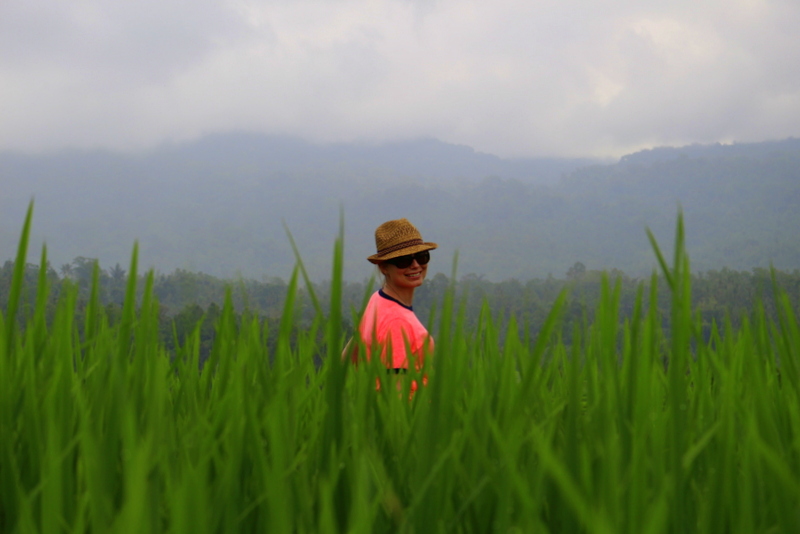 Our first stop was Bali, whose resplendence greatly distracted me from my mission.  The island exudes vitality, creativity, and healthfulness.  If you ask Luis what this meant to him, he'll relay exaggerated visions of my having thrown our money out the window the entire trip, which he felt this Bali graffiti nicely depicted: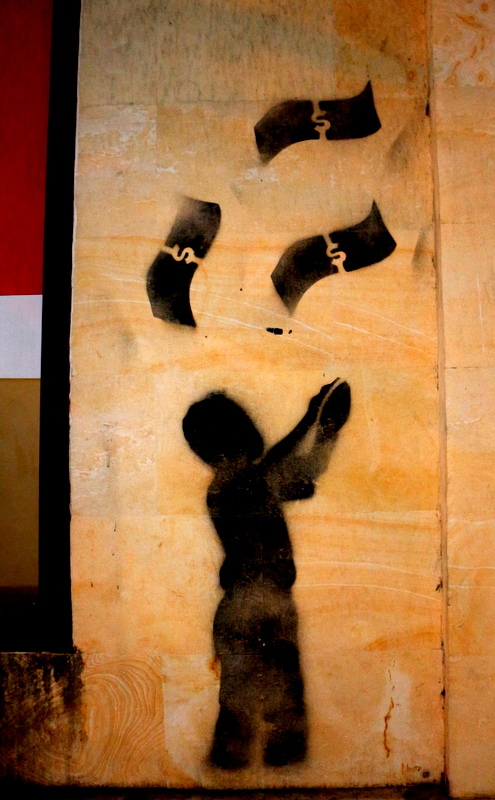 To me, that's more reminiscent of the dance I do at casinos after winning copious sums of money ($12), but I suppose it's all a matter of perspective.
Ubud, Bali is a real feast for the soul.  Its terrain brings new meaning to the color green, and its locals are kindhearted, relaxed, and good-humored.  For having such a small downtown area, Ubud is home to a wide array of arts and culture.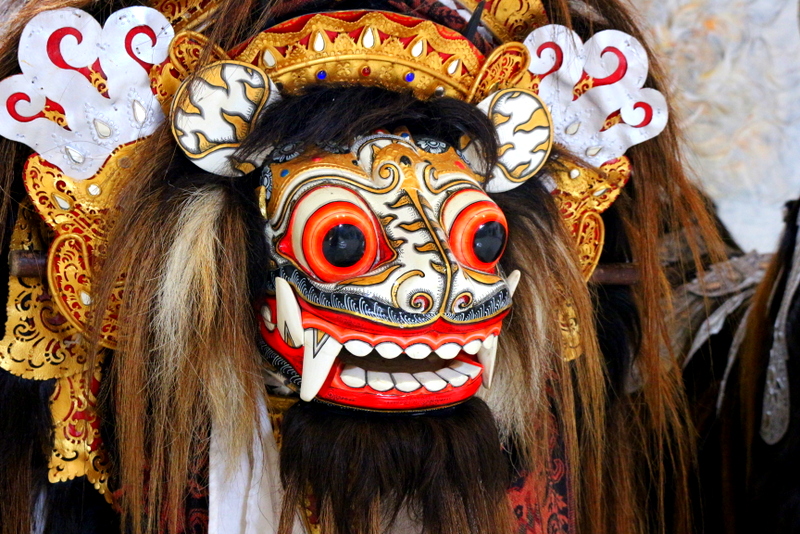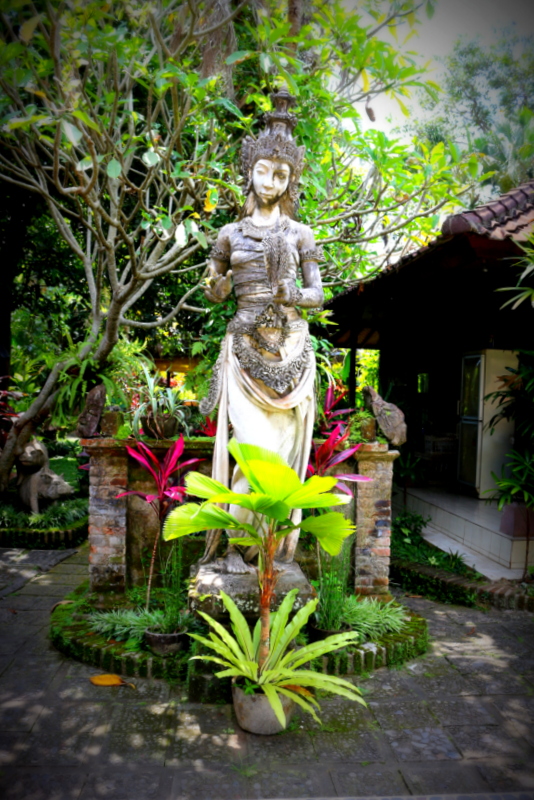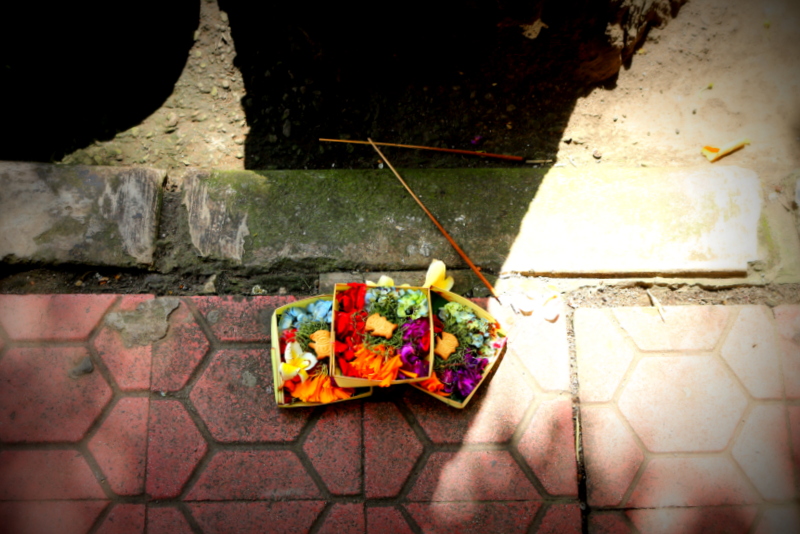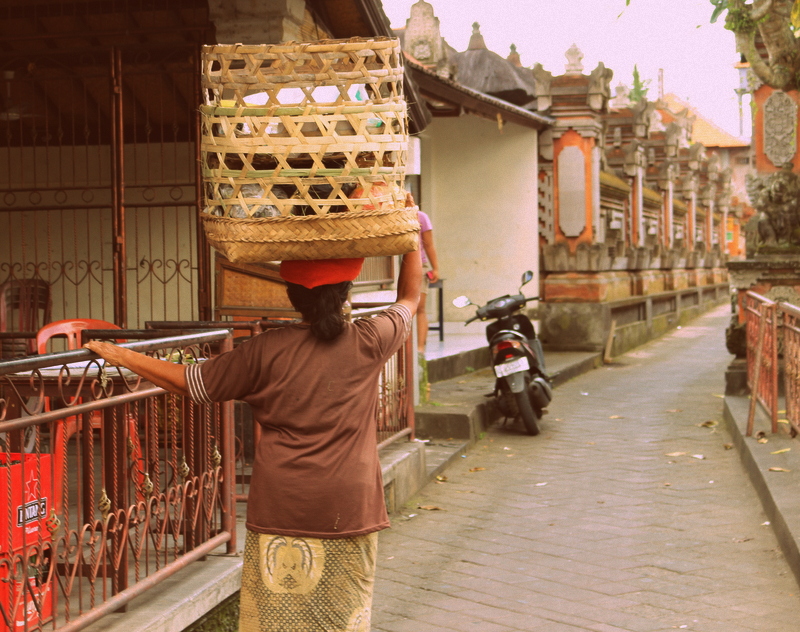 Food-wise, Ubud offers a balanced mix of Indonesian delicacies and fresh, organic meals.  When surrounded by such lush vegetation, I really couldn't help but crave juices and salads, both abundant in this region of Bali.  Our favorite juice spot was Juice Ja, where we enjoyed mulberry juice and jamu juice, which is a traditional Indonesian concoction made with turmeric (a natural detoxifier), lemon, and honey.  Juice Ja also has a great food menu, with many ingredients sourced from their organic garden, and the rest supplied by local farmers whenever possible.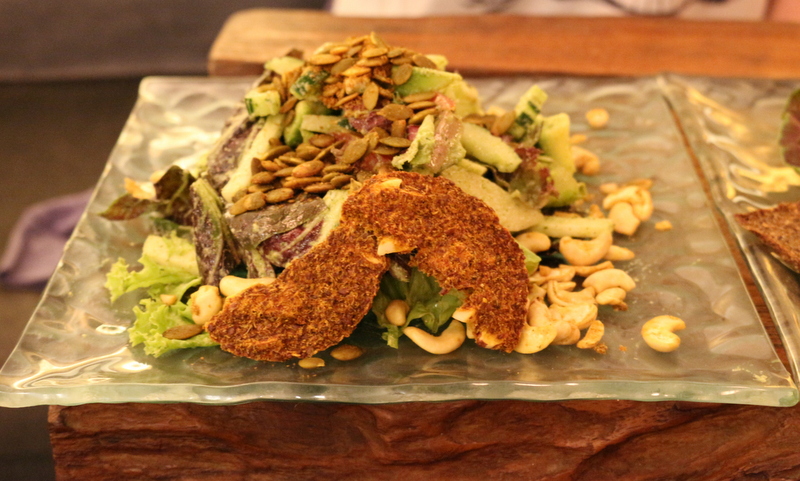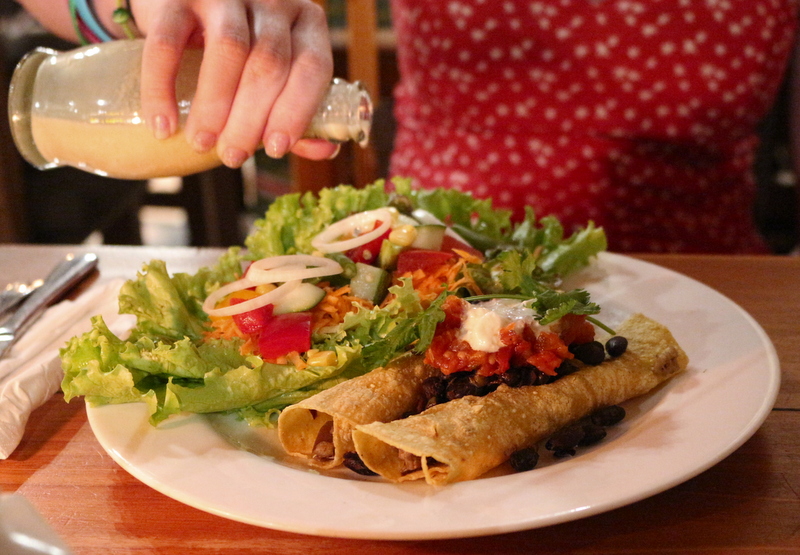 Clear Cafe is one of Ubud's more famous restaurants, and is a veritable paradise for health food junkies.  The drink menu alone, which includes juices, shakes, teas, tonics, elixirs, and kombuchas, could probably keep me entertained for a year, and their food menu is just as extensively enticing. I ordered the above Super Salad with cucumber, tomato, jicama, avocado, Thai cashews, curried pumpkin seeds, and a cashew lemon dill dressing.  I washed my salad down with a Green Hornet Cooler – a frothy blend of raw cacao, cashew milk, coconut, spirulina, and mint.  I felt nourished and satisfied, and the restaurant's angular architecture, high ceilings, and warm lighting added to my contentment.  Word on the street is that Clear Cafe makes a kick-ass chocolate avocado cake, which unfortunately wasn't on the menu during our visit.  Even more reason to return to Indonesia!
Bali Buda also impressed us with its treehouse-like ambiance and organic, fruit & veggie-heavy menu.  Their chicken salad is the best I've ever had, and their eggplant almond enchiladas (pictured above) offer a unique twist on a Mexican favorite.  I recommend their beetroot carrot juice, which you can mix with anything you'd like (I chose ginger).  You'll want to visit Clear Cafe and Bali Buda more than once, and you shouldn't be too hard on yourself for not branching out as both places are really special.
Another nutritious option is Melting Wok Warung, where a limited changing menu is printed on a small chalkboard that's brought to your table for contemplation.  Their coconut tempeh curry was so herb-packed that it tasted like a combination of a Thai curry and Vietnamese veggie spring rolls. While adjustments were made to make this a lighter curry, not one ounce of flavor was sacrificed.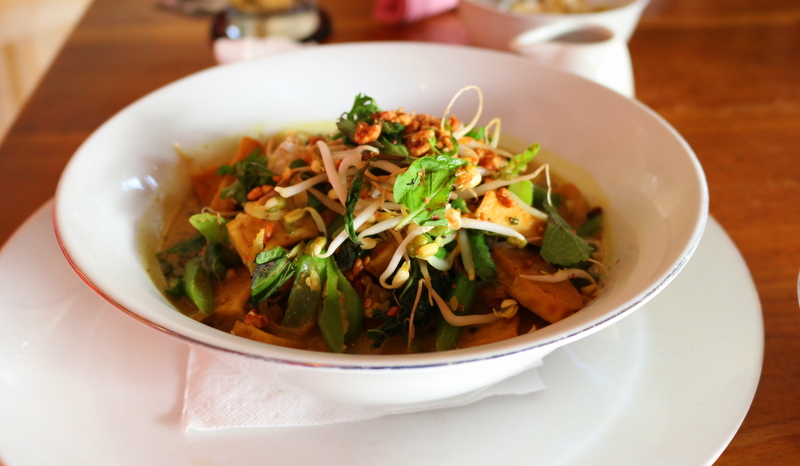 A vegetarian restaurant that we cannot recommend is Down To Earth Cafe, which served us drinks and meals that tasted neither fresh nor inspired, and had dismal service to boot.
Before we move onto classic Indonesian dishes, we'd be negligent to exclude coffee from this post, especially considering how competitive Indonesia is in this realm.  Our top picks were Anomali Coffee, F.R.E.A.K. Coffee, and Seniman Coffee Studio.  The quality of the coffee and attention to detail at each place was top-notch, but we particularly enjoyed the contemporary vibe of Anomali, the desserts and Kopi Luwak (civet poo coffee) at F.R.E.A.K., and the educational aspect of Seniman. Another small cafe we liked for its freshly plucked coconuts, chai tea, and sweets was Tukies Cafe on Jalan Raya Ubud, diagonal from Anomali.  Two cafes we were not fond of were Localista, which had stale baked goods, and Coffee &, which had watered-down, overpriced beverages.
Now that that's settled, let's move onto Indonesian specialties.  If Luis had his way, we would have eaten mie goreng for every meal, which is a popular fried noodle dish that I found cloyingly sweet.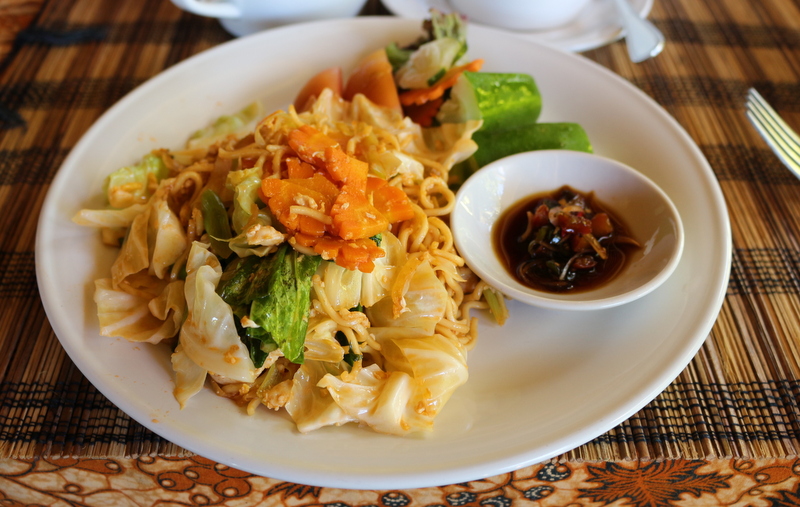 For other Indonesian dishes, people will encourage you to visit Bebek Bengil for the crispy duck, Ibu Oka for the babi guling (roasted suckling pig), and Naughty Nuri's for ribs.  Unless you like tough meat, you should ignore them.  If I had to pick just one restaurant to eat at in Indonesia, it would be Bebek Tepi Sawah Restaurant for any of their duck dishes.  We had the slow-roasted duck, which we accompanied with their basil orange juice.  They should package and sell whatever spice blend they marinate the duck in, because it's indescribably phenomenal.  In our own private hut overlooking Bebek Sawah's rice terraces and lotus ponds, we had the distinct feeling that we'd be hard-pressed to find a better dining experience in Indonesia.  This picture is not the greatest, but it should give you a sense of how spice-coated the duck was.  Or maybe not, but trust me, you'll want to eat there!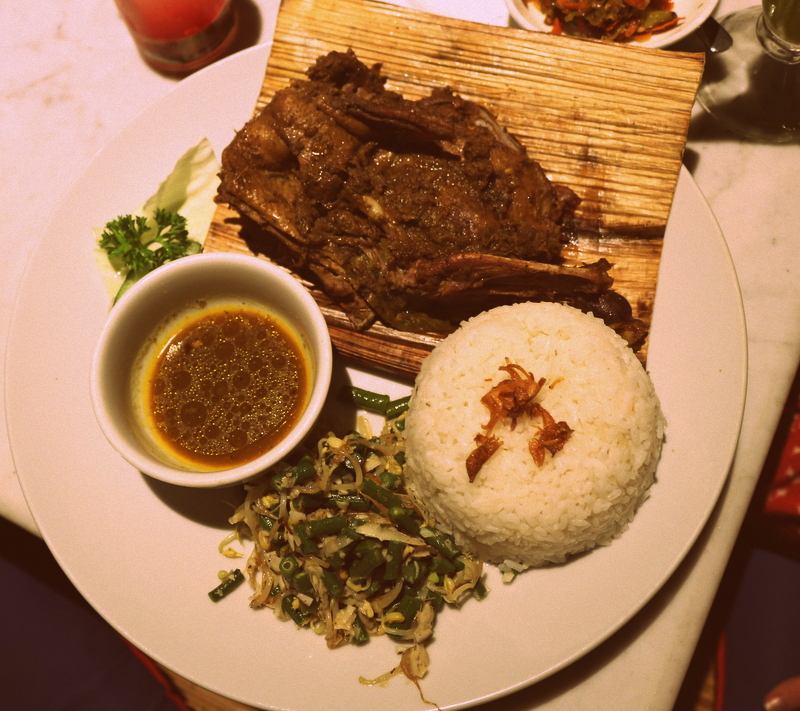 So did we accomplish anything noteworthy in between meals?  You betcha.
We strolled through the Sacred Monkey Forest Sanctuary, which is undeniably majestic if you can overlook the hundreds of seemingly homicidal monkeys milling about.  I'm sort of kidding, but not really.  One pounced on my back before stealing a stuffed animal from a toddler, ripping its eyes out (the stuffed animal's, not the child's), and eating them.  Such docile creatures!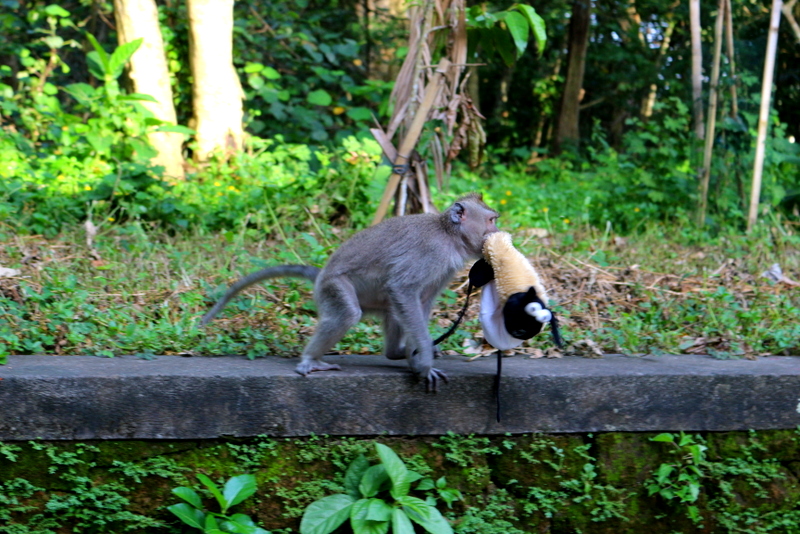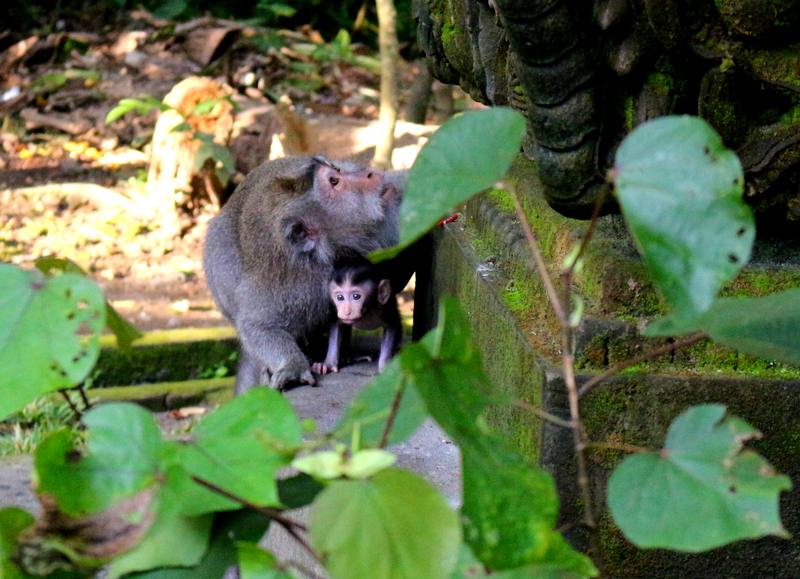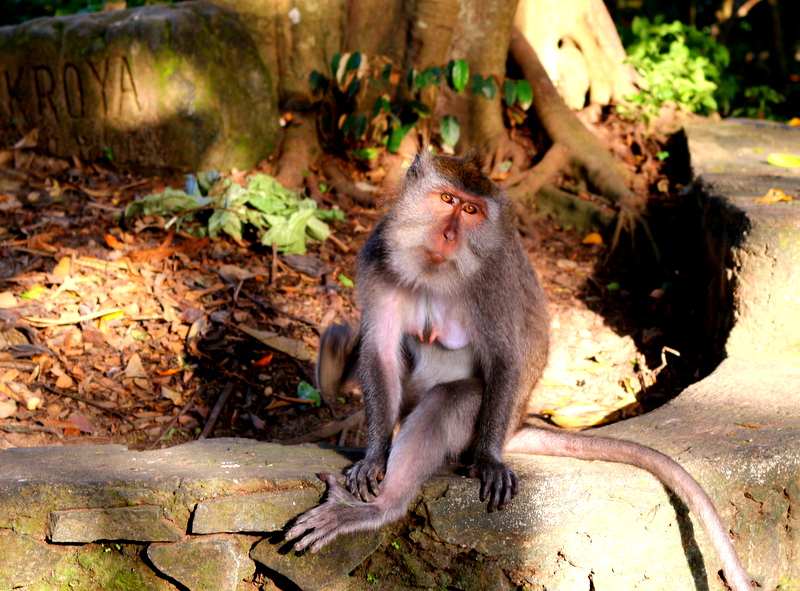 We also headed to Teba Sari Bali Agrotourism to cultivate our coffee, tea, and civet knowledge.  If you've always wished that taste-testing was your profession, this is the place for you.  We couldn't get enough of the mangosteen tea, the saffron and tamarind tea, and the ginger coffee.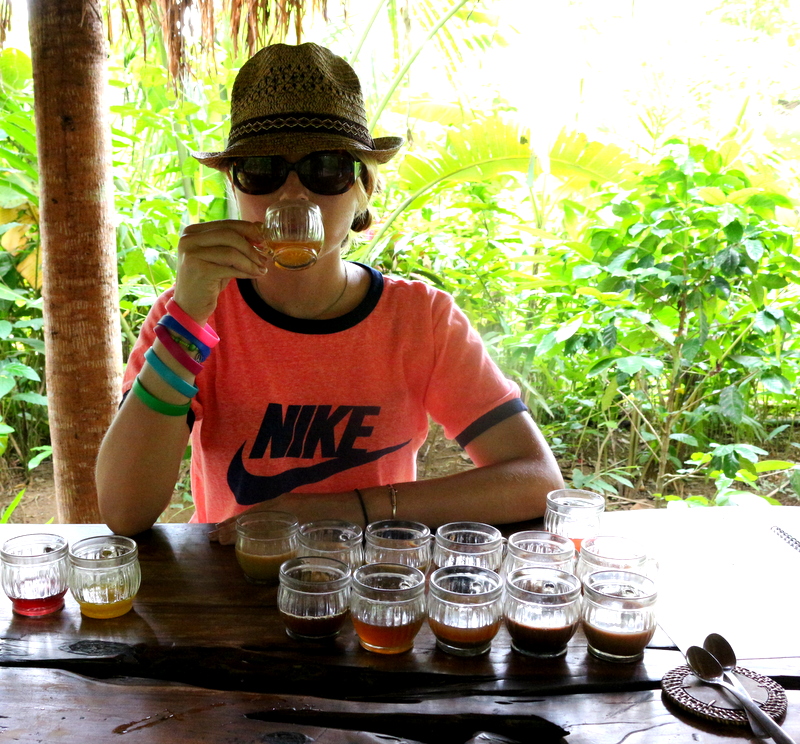 As far as my personal rice edification goes, I learned this: Rice fields are slippery when wet (so…always), and are capable of swallowing your shoe if you fall into one while attempting to make an "artsy" video of your travel companion.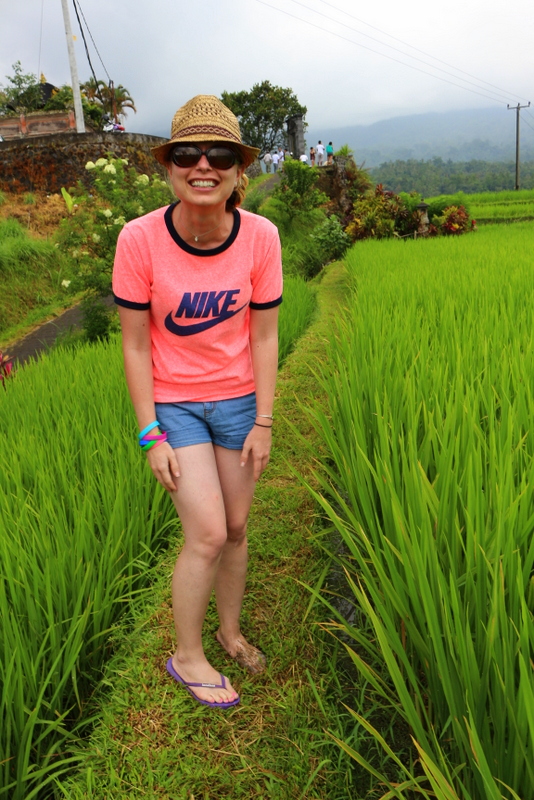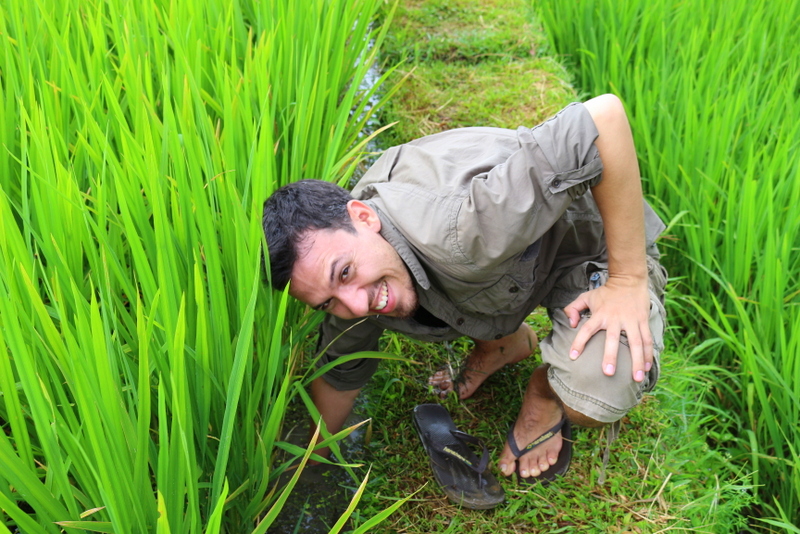 We learned that rice is grown in so much water to deter weed growth and vermin.  Indonesia ranks third in the world for rice production, and in Bali, the complex irrigation system is built around water temples that are managed by village cooperatives called subak.  This system is over 1,000 years old and dictates how over 150 rivers and streams are channeled to Indonesia's thousands of hectares of rice terraces.  I was envious of how intimately intertwined Indonesians seem to be with their land.
While rice production is labor-intensive, I can't imagine a more beautiful occupational setting.  We rented a motorcycle and rode to Tegalalang, and then arranged private transport to Jatiluwih through Three Brothers Tour Company on Monkey Temple Road in Ubud.  Tegalalang is a short trip if you just want a quick glance at a nice rice paddy terrace.  Jetiluwih is a bit farther from Ubud, and is less touristy and more suited for exploring on foot.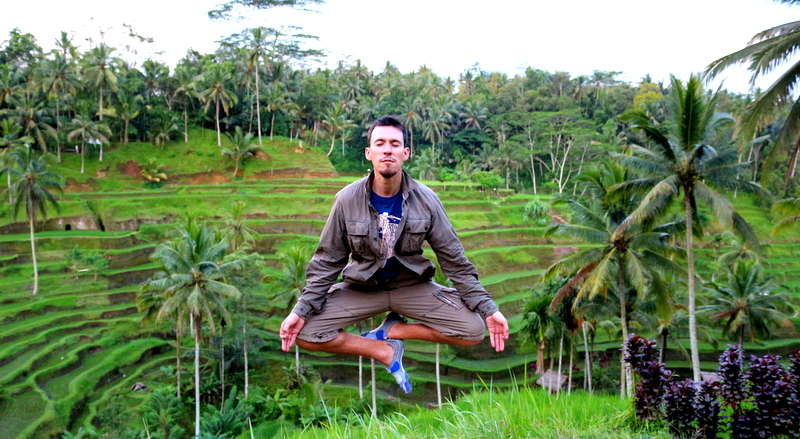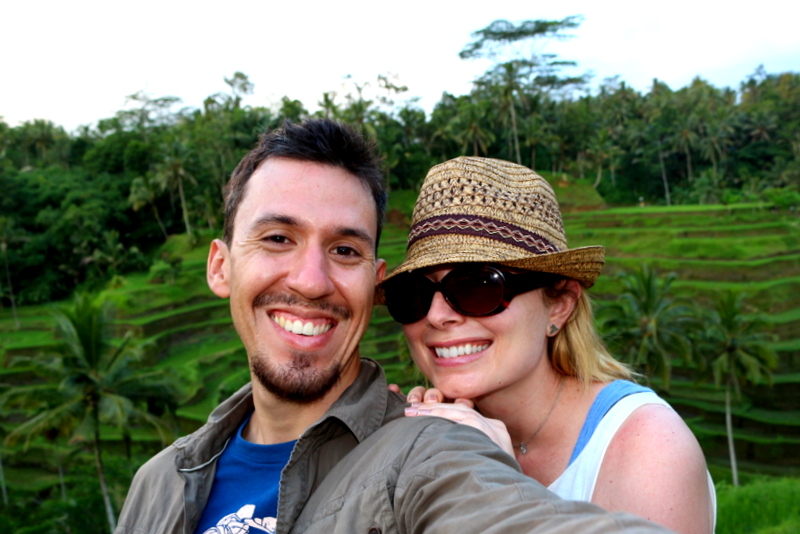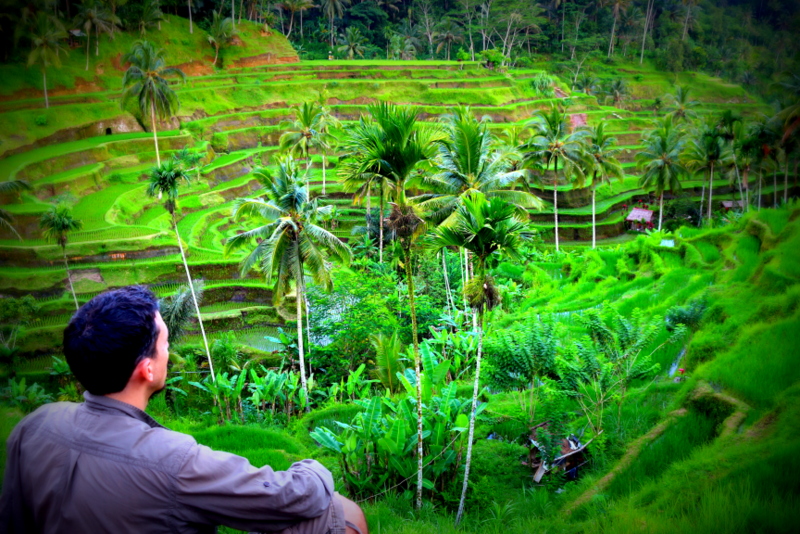 We found Three Brothers Tour Company to be trustworthy and affordable, with friendly, knowledgeable employees.  We also used them to organize our transport to the beach.  Indonesia has no shortage of beaches, but we'd recommend doing your research to find one that suits you. We wanted a white-sand beach with not many tourists.  We chose Gili Meno, the least inhabited of the Gili islands with a population of only 400.  You can circumnavigate this entire island on foot in an hour and a half, and in many parts, it feels deserted.  We were happy to spend a few days collecting coral and hermit crabs, exploring an abandoned resort, and eating fresh fish by the sea. Don't expect to find an ATM here, or reliable internet, or much entertainment past watching the waves lap in.  To us, a true beach vacation meant disconnecting and losing ourselves in the teal-watered tranquility.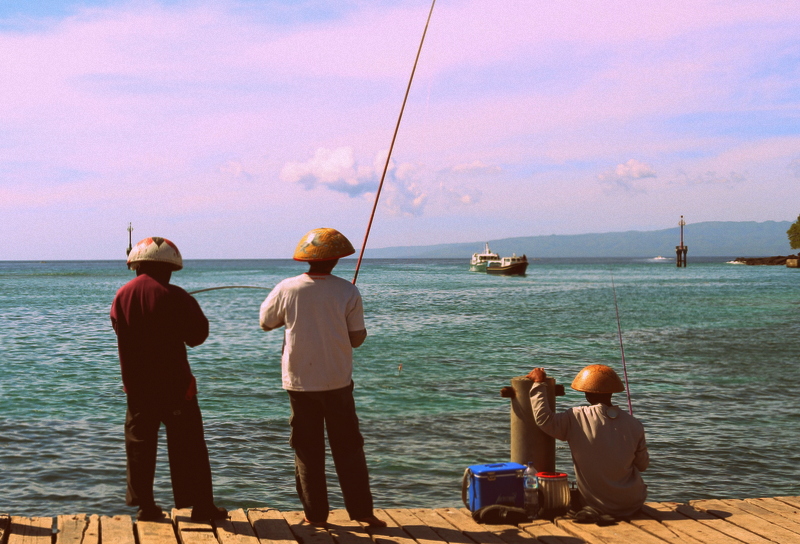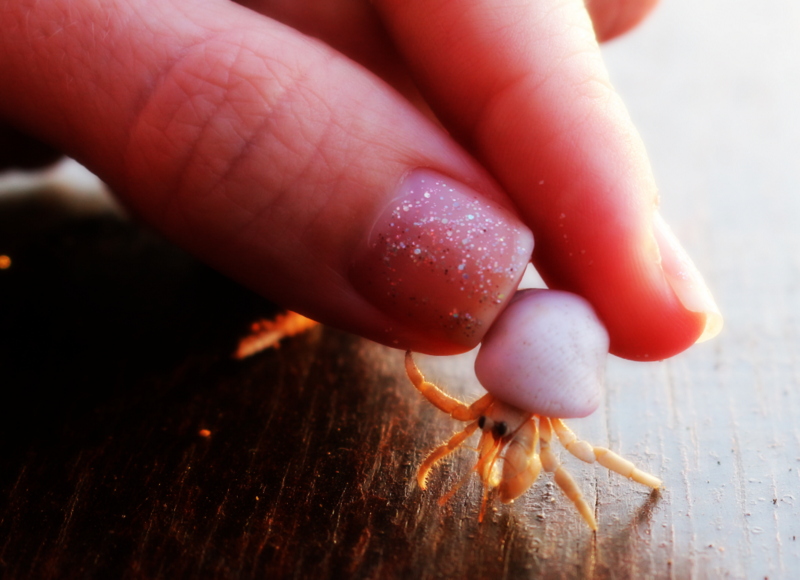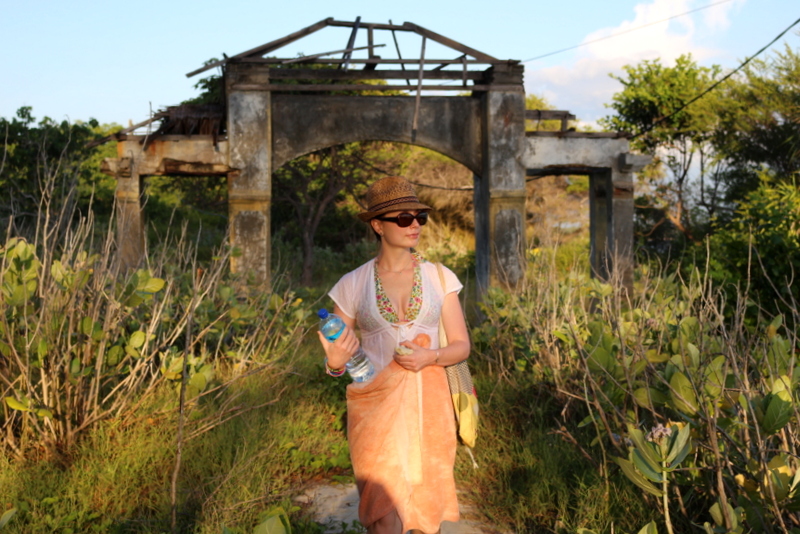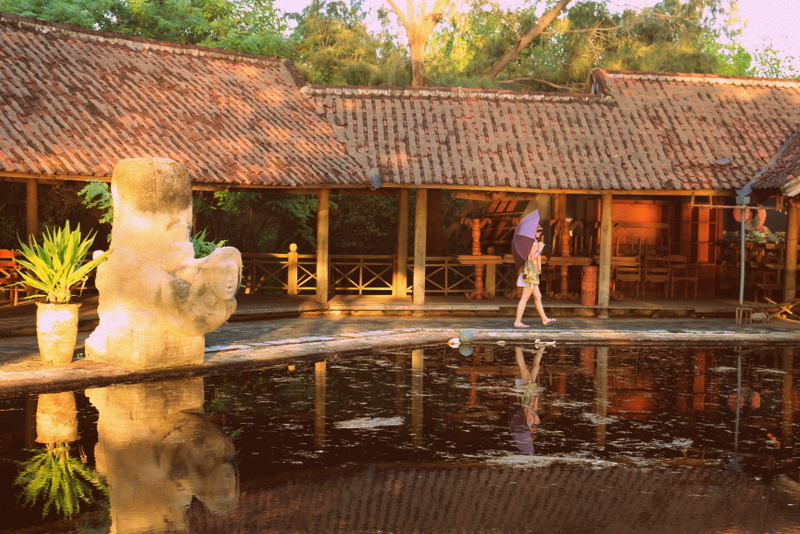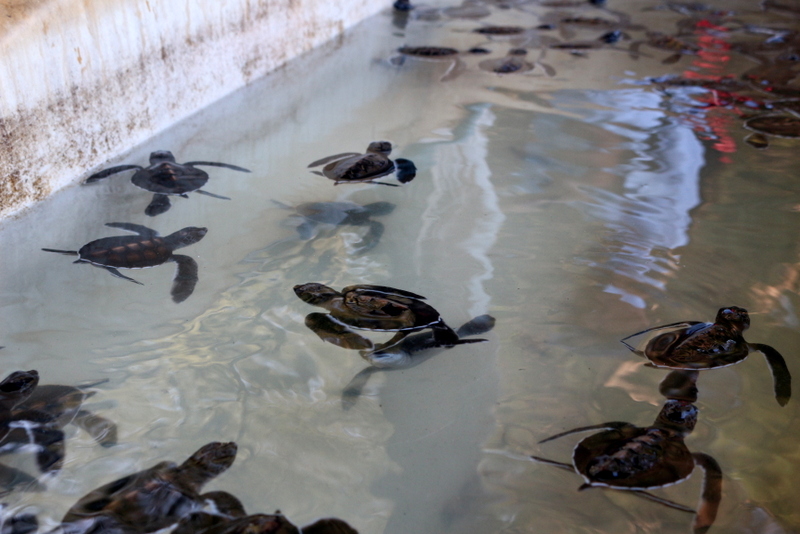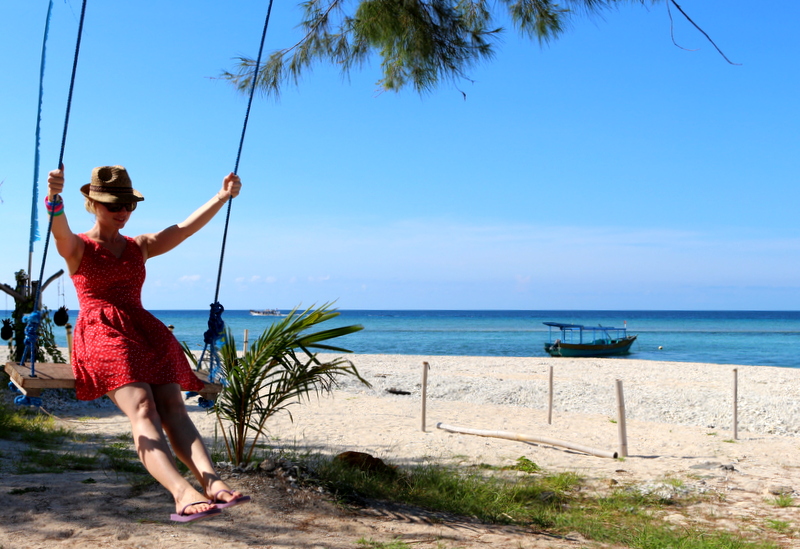 I used to think that all sunsets were equally beautiful, until I met a Gili Meno sunset.  Rays of every color imaginable were extending from the horizon as the sun descended, which our pictures barely do justice.  It was an incomparable Skittle-like skyscape.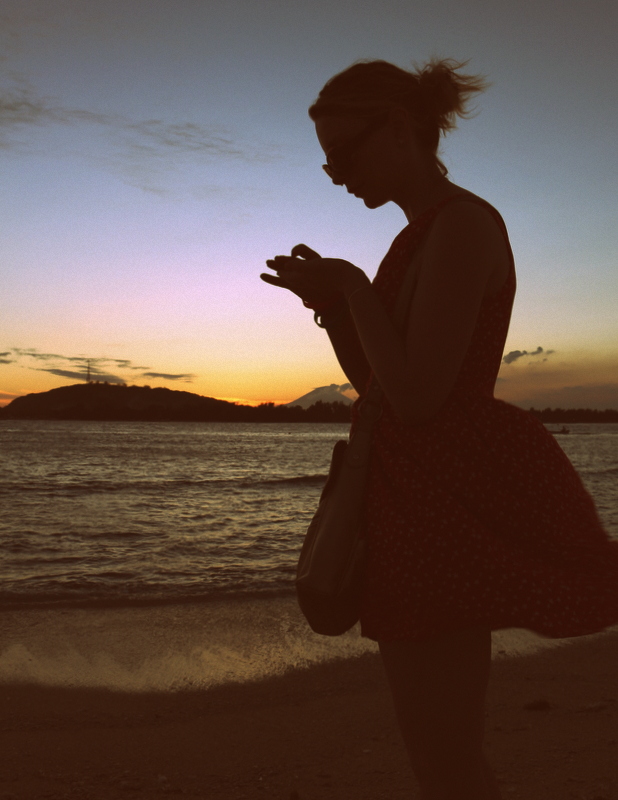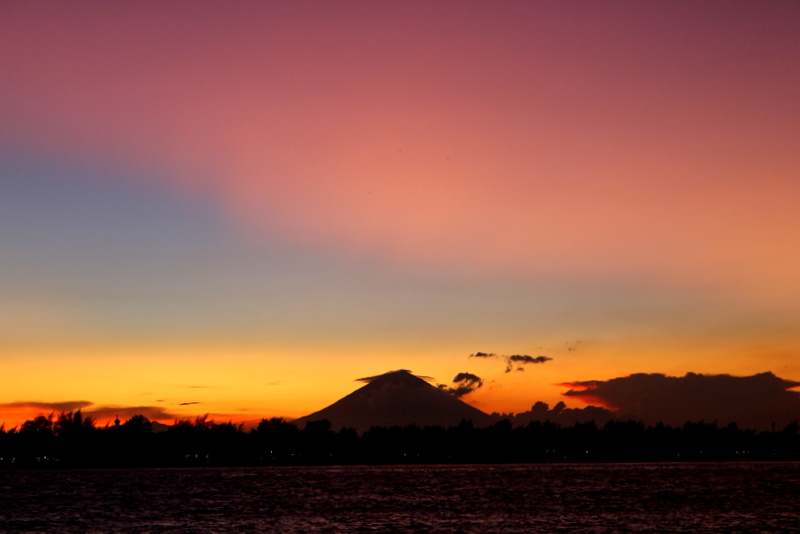 Well, what more can I say?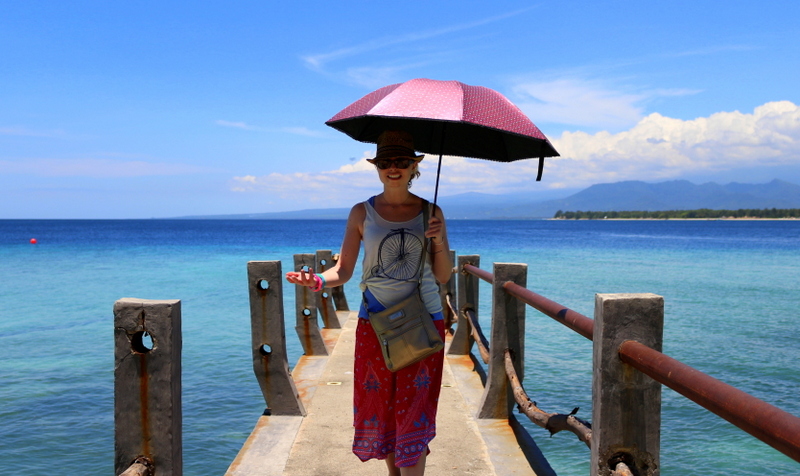 Do yourself a favor and go to Indonesia, where even the stones will welcome you with smiles.