Spring has finally sprung, and what better way to honor the warmth in the air than to pack your car trunk, roll down your windows, and cruise across the U.S.?  With that long, bleak winter in our rear view mirrors, we're looking forward to reviving our Wheelin' and Mealin' U.S.A. Road Trip Series.  We do hope you'll join us – heck, we may even be headed your way!
After consuming our own weight in food in Pittsburgh, and nursing our food comas at the ever-so-stately Renaissance Pittsburgh Hotel, we set our sights on Cleveland, Ohio.  While time constraints made it so we only had one night there, we feel confident in our ability to guide you in matters of dinner, dessert, and lodging.
Cleveland may not be everyone's idea of a prime tourist destination, but believe me when I say that The Rock and Roll Hall of Fame + Museum is enough of a reason to pay the city a visit.  I attended an exhibit there 15 years ago, and to this day, it's the only museum that I can vividly remember.  It's interactive and hip, and sort of resembles the Louvre, so you'll feel cultured just by looking at it;).

Cleveland is also making a name for itself in the food scene.  Our first stop was Bar Cento, a restaurant that recently won Zagat's and The Food Network's vote for Ohio's best pizza.  We sat down with Sam McNulty, the restaurant's founder, for a delightful chat accompanied by an equally pleasing dinner.  Bar Cento is located in Ohio City, one of Cleveland's oldest neighborhoods.  Sam has played an integral role in revitalizing West 25th Street, which is currently one of Ohio City's most happening areas.  Bar Cento is just one of his many businesses, all of which have been inspired by his world travels.  In India, he met a Polish man who had worked in a Belgian bar in Australia, which fueled Sam's desire to open McNulty's Bier Markt, where over 100 craft Belgian and American beers are served.  Bar Cento shares a space with Bier Markt, and both are housed in an old department store from the 1800s, which has been reinforced with pieces of wood from an Amish barn from the same era.  The way that Bar Cento's mature foundation mingles with its modern menu and its casual but modish ambiance makes for an indelible dining experience.  If we lived in Cleveland, we'd be regulars at this place.  And by regulars, I mean we'd be there for lunch and dinner every day, eating our leftovers for breakfast the following morning.
Despite his worldliness, Sam grew up in Cleveland, and even attended college there.  He is committed to preserving the area's old-school charm, and collaborating with the community as much as possible.  Most of the ingredients used in Bar Cento's kitchen are sourced from nearby farms and purveyors, and the restaurant's team even cures their own meats in the basement.  I mean, does it really get more legit than this?
After touring the curing facilities, meat was on the mind.  We started with the charcuterie board, which puts all other charcuteries to shame.  I'm about to give you the most juvenile description of one of the board's contents, because I'm not entirely sure what it was, but you best trust that it was phenomenal.  See that oval-shaped blob to the lower left of the stack of breads and crackers?  If you were to blend the best barbecued pulled pork into a pâté-like paste, it might taste something like this, and you might have trouble concentrating on conversation for fear that your friends might eat more of it than you.  It was such an unexpected and interesting inclusion on the board, that we've been talking about it ever since.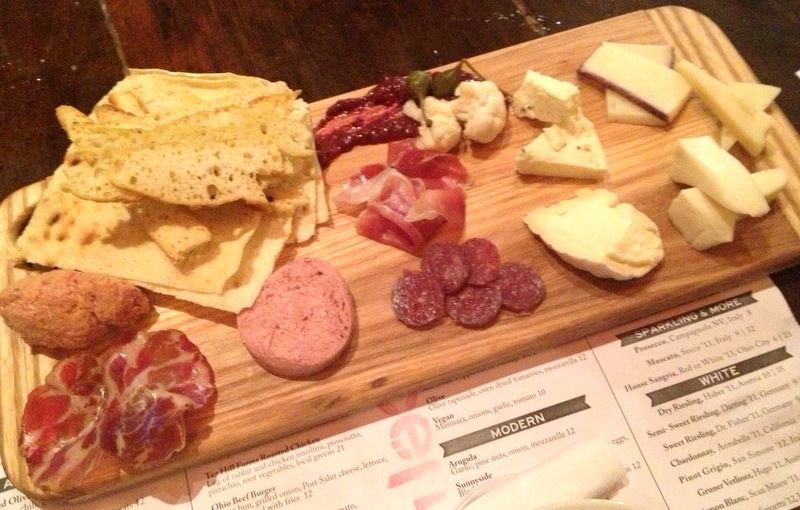 For dinner, we chose the Sunnyside pizza, which won the restaurant its aforementioned accolades. This pizza is topped with provolone, housemade pancetta, eggs from a local farm, and black pepper.  Typically, I shy away from gourmet pizzas and opt for a greasy NY-style slice.  I find pizza crusts at most nicer restaurants to be flimsy and dry.  So how can I adequately express how I felt about the Sunnyside?  It was so good that I hid the leftovers beneath my car seat when we parked to go explore.  It tastes like a leisurely Sunday morning breakfast, and who can resist how cute the pancetta looks cradling the eggs like that?  Perfectly seasoned, with a crust of expert doughiness.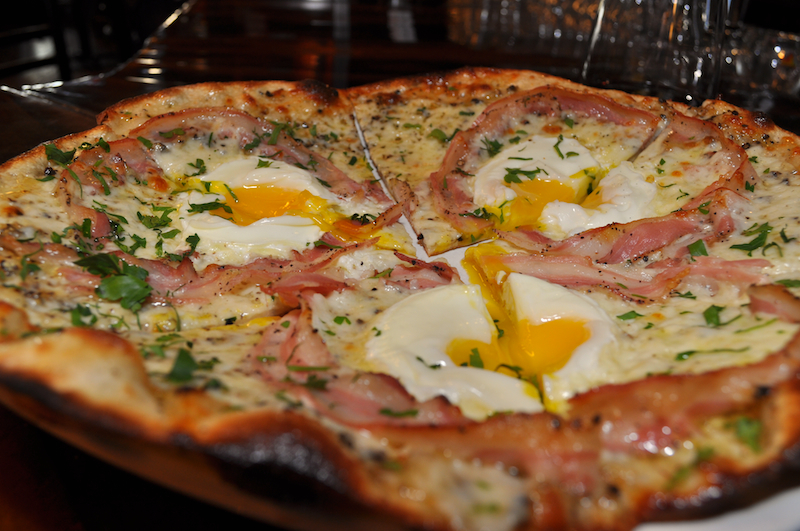 For those of you with late-night cravings, Bar Cento is open until 2:30am, 364 days a year.  GET THERE!
For dessert, we moseyed over to Sweet Moses Soda Fountain & Treat Shop.  After stuffing myself silly, I was not hungry at all, though I proceeded to order the largest thing on the menu (a giant brownie sundae made with their homemade small batch ice cream), later asking them to top my treat off with large quantities of their homemade peanut butter sauce.  Suffice it to say that I ate really 'healthy' that day.  My friend, who had more self-control than I did, ordered one of their pharmacy-era fountain sodas. We were in sugar-induced heaven.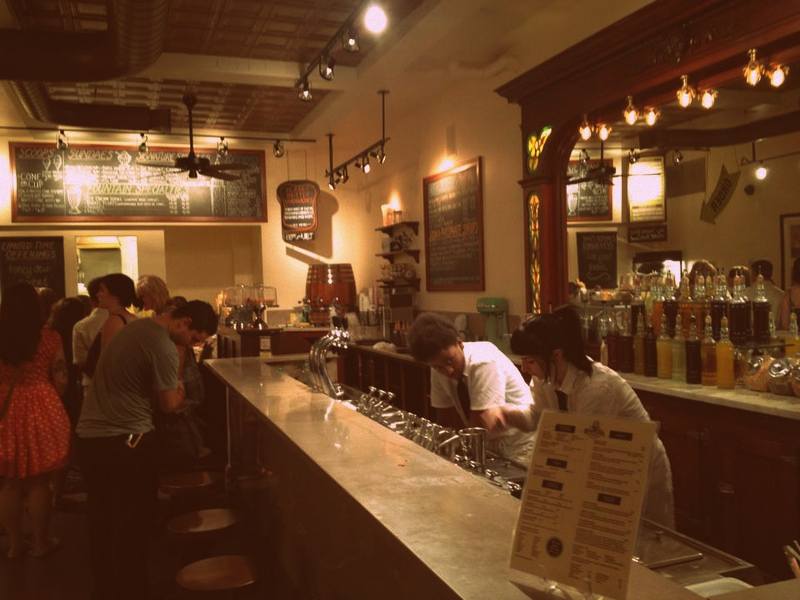 After all of our grazing, we needed a nice place to rest and digest.  We typically gravitate towards hotels with unique decor and offerings, and we love B&Bs.  We were invited to Stone Gables Bed and Breakfast, which is currently Cleveland's #1 B&B on TripAdvisor.  Stone Gables is a 5-bedroom B&B housed in a renovated Victorian-style mansion from the late 1800s.  The bedrooms have color themes, except for one, which is encased within a tent-sized mosquito net with a jungly mural on its walls.  We've been to Africa and slept amongst the wildlife, and this room still seemed uber-cool to us.
The owners are a couple who aim to make your stay in Cleveland as comfortable and enjoyable as possible.  Richard is a foodie like us, and he recommended so many restaurants that another Cleveland visit became a must for us.  We heard from other guests that he makes a killer French toast, which we're looking forward to trying next time because this time, we stuffed ourselves on those cold pizza leftovers.  Stone Gables is within walking distance of many restaurants that you'll want to try, and is only a couple of miles from most other major attractions, including The Rock and Roll Hall of Fame + Museum.  The mansion is so cozy and graciously-decorated that you'll have trouble leaving each morning, but Richard's descriptions of his city will make you want to get out and experience it for yourself.  We felt really at home in this place, and think you will too!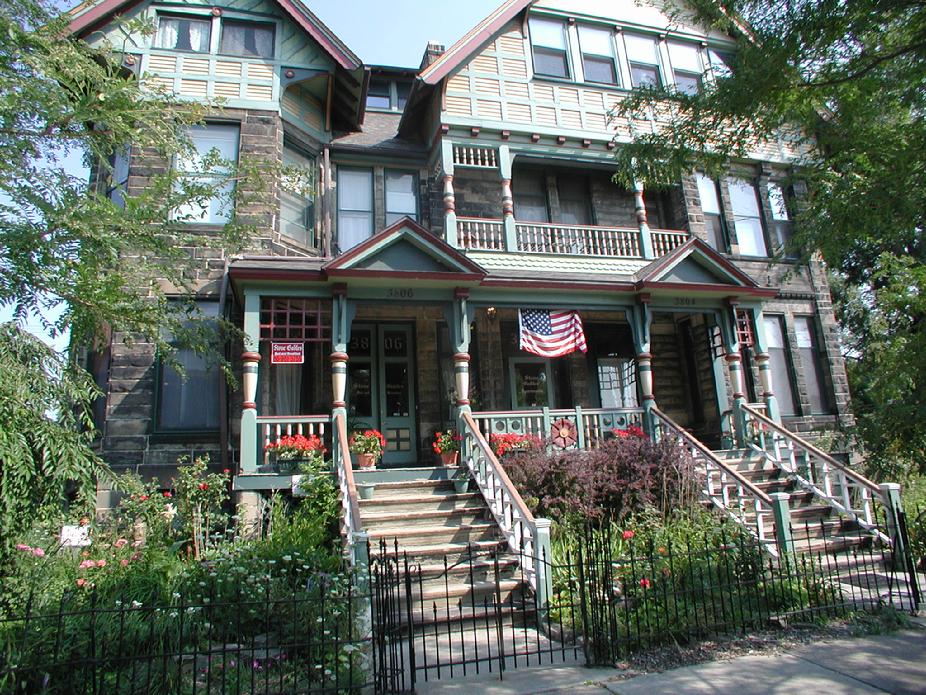 Visit Cleveland, even if just for a road trip stopover.  Don't be surprised, though, when you end up wanting to extend your stay just like us!
Next stop: Chicago.  See you there!