As multifarious flower blossoms blanket Pennsylvania and Mother's Day passes, I've got Lucy on my mind.  I know I'm not the only one.  My dad lost his mom Lucy in late March, and life seems wistfully still without her.  With her garden flourishing in her absence, it's a struggle to accept that she is truly gone.  My grandma was 91 when she passed away, but she possessed the mental agility and sprightly manner of a youngster.  Her vitality was a blessing, but it made it that much harder to see her go.
Death is a curious thing.  It simultaneously heavies our hearts and calls our attention to the simple nuances that make life worth living.  A self-proclaimed "plain girl," Lucy was all about life's small pleasures.  She enjoyed nothing more than indulging in warm meals with her family, watching birds flit about her garden, and nurturing her connection with God.  To me, she stood for integrity, stability, and unconditional love.  Her authenticity and purity in an age of clutter, complication, and pretenses were enviable.  Whereas many people aim to establish themselves as unique, Lucy was unique in her sheer disinterest in being just that.  I appreciated this irony immensely.
Lucy and her husband Carl impeccably raised seven children, one of which I am proud to call my dad, and six others that form my loving unit of aunts and uncles.  Originally from Tennessee, Lucy instilled in her children a strong sense of Southern hospitality and an even stronger moral compass.  Call me biased, but I think it would be a challenge to find a hipper bunch of hillbillies, and we have Lucy to thank for raising such a quality clan.
Just as Lucy stood for the luxury that can be gleaned from life's subtleties, I miss the subtle things that made her who she was.  I miss the letters she would write me while I was abroad, and the stories she would tell me while I was home.  I miss the meals she would effortlessly whip up on Sundays for our whole family, and the pink homemade applesauce she would churn each autumn.  I miss the beanbags she would heat up to warm my feet.  I miss her Scrabble and Rummy prowess.  I miss the predictability of seeing her with her legs up on the couch, watching Family Feud or Jeopardy on weeknights.  I miss how she never forgot anyone's birthday, and how she kept every minute detail of all of our lives straight.  I even miss how stubborn she was and how she sometimes refused to throw away expired food.  She was probably right when she said expiration dates weren't as serious as I always made them out to be.
Lucy's passing, for me, is also symbolic of an even greater loss, which is that of an entire generation.  As my only living grandparent, she embodied virtues that I rarely see in my own generation.  Her generation was resilient and resourceful through so many challenges and changes, whereas my generation regularly taints itself with constant complaints and our collective sense of entitlement.  My grandma knew the true meaning of hard work, did things with purpose, and was never frivolous or narcissistic enough to allow herself existential crises.  She knew herself well, and prided herself on being a principled person to those around her.  I am thankful that my generation has been given freedoms and opportunities that hers was never allowed, but I believe that many of them have served as distractions from grasping the true "meaning of life".  While I don't presume to know the meaning of life, I suspect it might be something along the lines of knowing ourselves, taking care of each other and the land that provides for us, and doing that which makes us happy.  Lucy stuck to the basics and achieved all of this.  Sometimes I feel as though my generation has become confused by the excess that we've been granted.  I can only hope that Lucy's spirit can continue guiding me towards what really matters, and I feel incredibly grateful to have known her for the time I did.
In her honor, I'd like to share some easy recipes that I associate with her.  Before that, though, I will share some of my favorite pictures of her.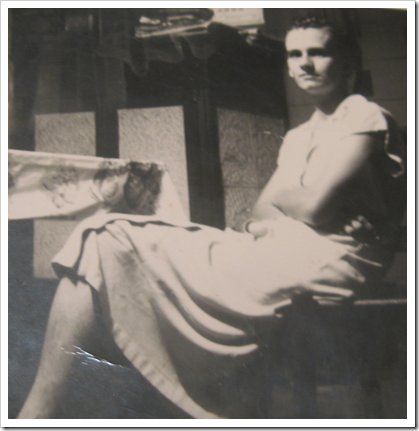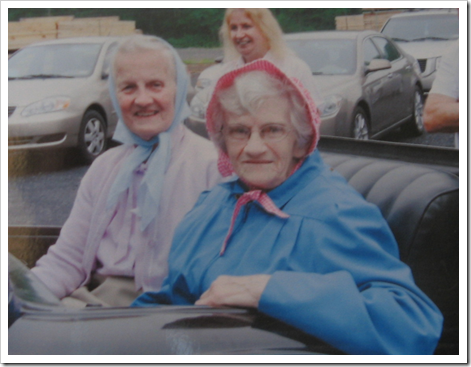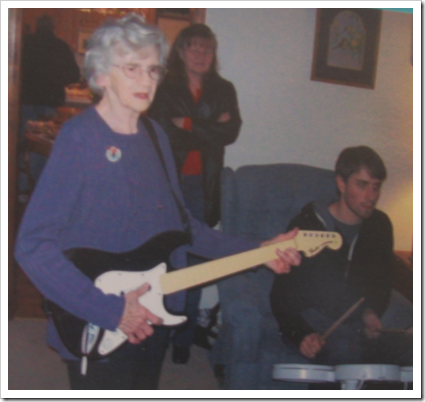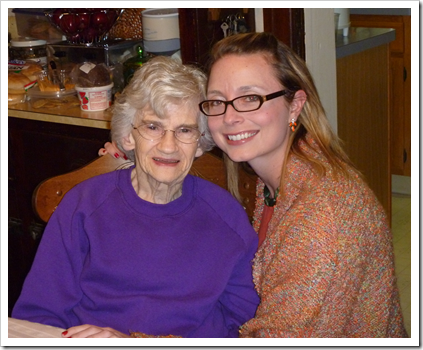 Crispy Bread and Butter Pickles– I could eat a whole jar of these in one sitting (read: this has already happened).
6 pounds medium-sized cucumbers (my grandma was very particular about choosing her cukes.  Look for skinny, knobby ones).  You can also use green zucchini with this recipe.
1 pound small white onions
2 large garlic cloves (put these on toothpicks for easy removal)
1/3 cup salt
2 trays ice cubes
4 cups sugar
3 cups white vinegar
1 1/2 teaspoons mixed pickling spices
1 teaspoon celery seed
2 teaspoons turmeric
Cut off both ends of cucumbers and discard.  Slice into 1/8th inch pieces and place in large bowl.
Put garlic cloves and salt over vegetables and mix well before covering vegetables with ice cubes.  Set aside for three hours.
Drain vegetables and pick out garlic.  In large pot, combine remaining ingredients and heat to boil.  Add sliced vegetables and heat over medium-high heat for five minutes.  Ladle into jars within half inch of jars' tops.

Golden Parmesan Potatoes– When my grandma made these for me for the first time, I told her I hated potatoes (this is true).  I then proceeded to eat them all (this is also true).
6 large peeled and quartered potatoes
1/8 teaspoon pepper
3/4 teaspoon salt
1/4 cup flour
1/4 cup parmesan cheese (shaky cheese works well)
1/3 cup butter
Combine flour, cheese, salt and pepper in a bag.  Moisten potatoes with water and shake them in the bag to coat them with mixture.
Melt butter in a 9×13 inch baking pan.  Place potatoes in single layer in pan.  Bake for an hour at 375 degrees.  Turn potatoes once halfway through cooking.

Lime Chiffon Dessert– My grandma pulled this recipe from her collection for us to make together a few weeks before she passed away, but we never got around to doing so.  While it doesn't look terribly healthy, I assume it's scrumptious.
1 1/2 cups crushed graham crackers

1/2 cup sugar

1/2 cup butter or margarine, melted

1 package lime Jell-O

1 cup boiling water

2 packages of cream cheese softened (one 8 oz. and one 3 oz.)

1 cup sugar

1 teaspoon vanilla

1 package frozen whipped topping (16 oz.), thawed
Combine the first three ingredients.  Set aside 2 tablespoons for topping.  Press remaining crumbs into the bottom of an ungreased 13x9x2 inch baking dish.  Set aside.

In a bowl, dissolve gelatin in boiling water and cool.

In a mixing bowl, beat cream cheese and sugar.  Add vanilla, and mix well.  Slowly add gelatin until combined.  Fold in whipped topping and spoon over crust. 

Sprinkle with reserved crumbs and cover and refrigerate for 3 hours or until set.