A French couple recently tried to engage me in an argument over American cuisine.  I almost took the conversational bait, but hesitated for three reasons:
I try to discourage people from talking out of their arses as I find it to be unbecoming.  Even less appealing is an obstinate Frenchie doing so.  After learning that the couple in question had never been to the U.S., I decided to moonwalk my way out of the discussion, as their opinions were bound to be uninformed.
I believe that food should serve as a unifying agent, not a divisive one.  Very few things are worth arguing about, and food definitely isn't one of those few (unless you make the cockamamie claim that Pat's or Geno's sell the best cheesesteaks in Philly.  <– Definite grounds for a quarrel.)
My French food foes were discussing how uninspired American food is, and when asked for examples, they gave the stereotypical response of hotdogs and hamburgers (as if North Americans have nothing more to offer the gastronomic arena).  Just as I was about to spout off other pleasing dishes that are native to my country, I paused.  Why should I be embarrassed when people associate the United States with hotdogs and hamburgers?  Only complete ignoramuses would deny the potential both of these foods have.  If you've ever sunken your teeth into a Blazin' Barn Burger at Good Stuff Eatery, or happily waited in a long line for a specialty dog at Pink's, you know what I'm talking about.  If not, it would be rather pigheaded of you to believe that hotdogs and hamburgers are simple slabs of meat sans novelty.
With that said, this entry is going to be a hodgepodge of hotdog and hamburger-related tidbits.  I happen to hold both of these foods close to my heart, so this will serve as a tribute of sorts.  Deal with it, French peeps.
It's only fitting to begin with a song I wrote with my dad when I was eight.  I may regret including this, as someone might steal these timeless lyrics and spin them into what would indubitably be a radio-worthy hit.


                 Lions and tigers and bears?  That's not really relevant, little Lindsay.
Have I sufficiently professed my love for hotdogs?  Good.  Now I will tell you how strict I am when it comes to my friend the frankfurter.  I believe there is slightly less room for experimentation with hotdogs than there is with burgers.  Why?  Well, you can add things to your hamburger meat while making your patties, and many times such amalgamations will have a pleasant effect.  In fact, I am a firm proponent of mixing different meats in my burgers, as I believe it makes the patties more tender.  This is not the case with hotdogs.  In my opinion, hotdogs should consist purely of beef, because when chicken or turkey or mystery meat is tossed into the mix, the links end up tasting chalky and too improvised.
Case in point: my recent experience at Supper, which is purportedly one of Philly's top 50 restaurants.  My friend ordered a bacon-wrapped pork shoulder hotdog, which we expected big things from given its drool-worthy description.  Unfortunately, we were so disenchanted by our overall experience at this restaurant that my friend offered to write the following restaurant review.  This is The Glutton's Digest's first guest entry, and it's an honor to give this title to Chad.  When we were kids, he introduced me to many of the foods I fancy to this day, and I trust his judgment enough to let him order for me each time we reunite.  For the aforementioned reasons, it's only appropriate that I feature his opinions on my blog.  You will soon come to learn, though, that his writing is not for virgin eyes;).
Supper For Brunch:

I personally believe that brunch is the best invention since blowjobs.  Now that's quite a claim.  The argument is simple; the only people I know that don't enjoy brunch are anorexics.  And anorexics don't have much experience with putting things in their mouths.  Ergo.  Brunch.  Blowjobs.  Swallowing.  Anorexics.  It's a completely flawed mixed metaphorical argument that just made you smile.  So grin, swallow it, and enjoy this review of a place that gave me an unforgettably bad brunch job.

Good things first.  Their Bloody Mary kicked like a horse, perfectly satisfying my definition of a Bloody Mary: horseradish, vodka, a little tomato juice, more vodka, and more horseradish.  This thing was so horsey, it could've satisfied Catherine the Great.

With an inappropriately wet whistle, I deployed my foolproof ordering theory.  When at a new restaurant, just order any item named after the restaurant.  No one would dare sully their restaurant's namesake with an unpalatable dish, so I ordered the Supper Dog, a bacon-wrapped-hot dog on a French-Texas Toast bun.  My brunch buddy (the creator of this blog) opened her world famous mouth for half orders of Red Velvet Waffles and Shoo Fly Pie French Toast.  The table was set, the booze was flowing, and good things were expected to come.

Sometimes in life, and through no one's fault, certain ingredients just don't have good chemistry.  But never before have three menu items in one meal all failed to satisfy. The French-Texas Toast bun tasted like it was imported directly from a dumpster in Paris, Texas.  I would never blame bacon for anything, so I suspect the hot dog was simply poorly packed resulting in a mealy texture.  And The Red Velvet Waffles and Shoe Fly Pie French Toast may have simply fallen victim to the tantalizing on menu, limp in mouth paradox.

Thinking back and blowjob metaphors aside, this isn't any one person's fault. My disappointment is enflamed by the kindling of expectations.  Cutely named restaurant.  Courageous chefs.  Curious customers.  We may have just gone for the wrong meal.  Everyone always wants breakfast for dinner, but no one in their right mind craves Supper for brunch.  But I will go back for a Bloody Mary.

Still Hungry For More,

Chad Brophy
Supper suckiness:
So there you have it- another case of a hotdog gone wrong, which I like to refer to as a "notdog."  When I was growing up, my dad and I spent many camping trips trying to determine the best store-bought hotdog.  We came across our fair share of notdogs, but finally established Hatfield, Ballpark, and Nathan's all-beef franks as the winners.  As Chad alluded to in his restaurant review, your bread choice is also of paramount importance.  My dad and I prefer Martin's potato rolls lined with American cheese and ketchup.  You really can't go wrong with that combo.
Now, onto hamburgers.  I'm always on the prowl for a good burger.  Sadly, I have yet to find one in the city I call home.  Recently, I checked out 500 Degrees, which is one of Philly's most beloved burger joints.  Yuck.  While the menu is small, it's interesting (apple-pie bacon shake, anyone?).  Lamentably, the burgers have no flavor, and therefore fall into the category of what I refer to as "shamburgers".  I would tell you to stay away from 500 Degrees entirely if it weren't for their truffle oil fries.  Despite my disliking mushrooms, these may be the best fries I've ever had.
The next place I am about to describe has been on my to-eat-at list for about a year.  I heard about their Krispy Kreme burgers topped with chocolate-dipped bacon and thought for sure that we were destined to be together.  My best friend recently visited from out of state, which I thought was a perfect opportunity to finally make a trip to PYT.  The restaurant is located in the hip Northern Liberties piazza.  Judging from the crowd we encountered, PYT seems to be a great place to cure a hangover.  If you don't have a hangover, it seems like an equally great place to acquire one.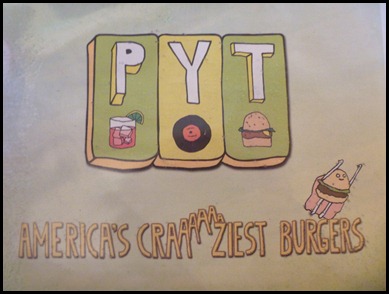 Before our visit, I had read terrible reviews about PYT, specifically criticizing its service.  In my opinion, the service couldn't have been better.  The hostess greeted us with a smile and danced entertainingly to old school jams while seating us.  The waitress patiently stood by as my friend and I attempted to choose from the 16 alcoholic milkshakes that piqued our interest.  We decided on the Birthday Cake Shake, a strawberry flavored shake made with vanilla ice cream and Pinnacle Cake Vodka, served with a Funfetti cupcake on top.  Another one that beckoned our attention was the John Toffey Crunch shake, which is a black and white shake blended with crushed Heath Bar, Kahlua, Three Olives Chocolate Vodka, and crushed pretzels.  Next time, John Toffey, next time.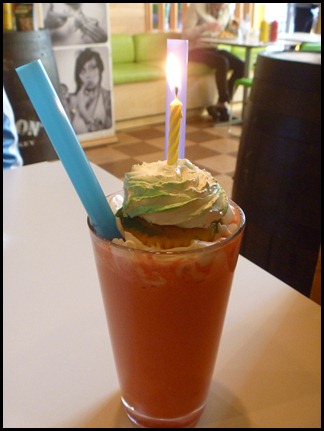 The cupcake atop the shake was delicious, but the flavor of the shake itself fell a bit flat.  Naturally, this didn't keep us from guzzling down the whole thing while we awaited our burgers.  We ordered some Krispy Kreme sliders for an appetizer, with a Pistachio-encrusted Lamb Burger as our main course.  I enjoyed the salty to sweet ratio of the sliders, but I was a little disappointed that the bacon wasn't chocolate-dipped as promised, but instead, had Hershey's syrup drizzled sloppily on top.  The lamburger was accompanied by grape tomato-onion salsa and zesty lemon aioli, which had an agreeable flavor, but was not terribly memorable.  I liked the relaxed ambiance of PYT and the inventiveness of their menu, but they should probably perfect the basics (like the quality of their burger) before inventing anything else.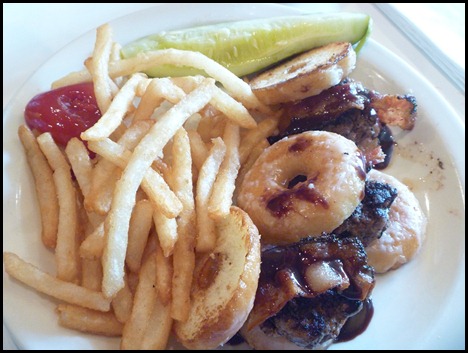 Burgers on donuts???  EWWWWW!  I'll take three, please. 
So yeah, I'm American, and yeah, I like a good hotdog, hamburger, or both at the same time because I'm a greedy little glutton.  With the amount of notdogs and shamburgers that exist in the world, I can understand how some might think that my affinity for hotdogs and hamburgers is unsophisticated.  However, it's always good to remember that some amazing things come in small, drab packages.  An unbiased belly never discriminates!
Tune in next time to learn how to make the best burger your chompers will ever masticate (ew…what?), and a special meat-related treat that's been entertaining me for the last 6 years.