Much time has elapsed since my last Costa Rica post, but I am finally sitting down to write the finale, which we shall deem "the caboose."  A month before I traveled to Costa Rica, I met a fantastic lass in Ecuador who re-ignited my curiosity about the Central American hotspot.  Prior to meeting her, I believed I had seen all there was to see there, a common misperception about the smaller countries in Latin America.  She reinforced my naiveté by reminiscing about the places she had visited, all locales I had ventured to years before.  At a certain point in the conversation, I inconsiderately zoned out to ponder my next snack.  It wasn't until she described her trip to a turtle nesting region that my attention was recaptured.  Her eyes lit up as she characterized this experience as one of the most mesmerizing and memorable she had ever had.  As she excitedly mimicked a sea turtle's flippers with her arms, a child-like fascination came over me.  In the words of Liz Lemon, all I could think was, "I want to go to there."  So I did, and this is the story of just that.
As I mentioned before, I went to Costa Rica to visit a friend.  As is true with all of my trips, I also went to eat.  My friend and I spent our first two weeks scavenging for scraps of food we could afford before giving up on eating entirely and redirecting our focus towards sightseeing.  I begged my friend to come to Tortuguero National Park with me, where we'd be able to witness the marine turtles nesting.  He tried his darnedest to play too cool for school, feigning disinterest in the gargantuan sea creatures who flail their bulbous bodies across the beach to give birth RIGHT BEFORE OUR VERY EYES.
You: "Who in their right minds WOULDN'T want to see that!?
Me: "EXACTLY!!!"
So off to Tortuguero we went.  Much to the annoyance of my friend, this was no effortless trip.  First of all, most of the online travel agents for this area seem rather sketchy.  Second of all, the directions listed to get there are extremely ambiguous.  After searching through our options, I found a nice German woman named Barbara who relocated to Tortuguero many years ago and now gives turtle tours there.  She not only helped us decipher how to arrive to Tortuguero, but also offered us free housing with her friend (!), and promised us an educational and affordable turtle tour our first night there.  We learned from Barbara that Tortuguero is inaccessible by land, and since flying wasn't an option for us, we'd be taking two buses and a boat to get there.  Our bus trips were long but uneventful, but the boat was apparently incapable of transporting fatties of our stature.
The tilt of this boat is the very reason we we were evicted and forced to wait for the next boat.  Judging from this picture, I, apparently, am completely undaunted by what a heifer I am.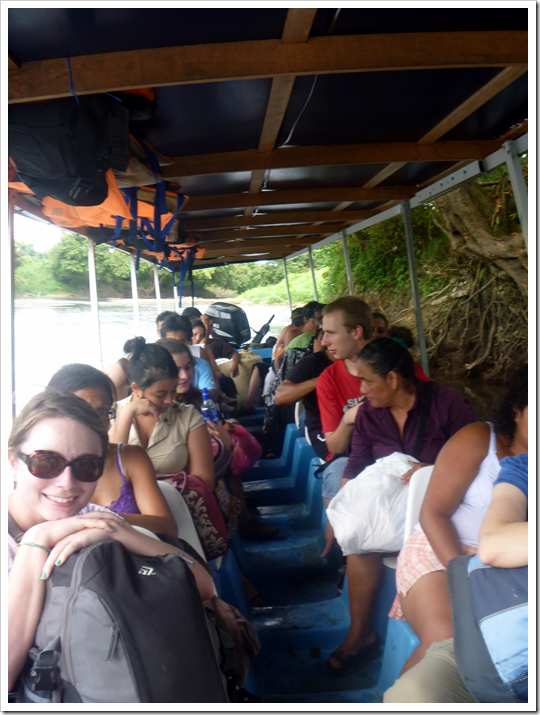 After our boat slowly weaved its way through the jungle waters, we finally arrived at Tortuguero's makeshift dock.  It is here that we found Barbara, a tall blonde in a sea of less-tall Costa Ricans, patiently awaiting our arrival as though she anticipated our being too fat to fit on the first boat.  She walked alongside her bicycle as she guided us to Viviana's house (the complimentary lodging she had arranged for us).  Both my friend and I were instantly charmed by the town.  It has the slow-paced friendly vibe of a Caribbean island, with unpaved paths connecting all of the quaint colorful houses and other paths leading to the sea.  There are no cars in the village, which makes for clean air and an uncluttered ambiance.  The town was alive with kids frolicking around palm trees (and others playing narco-trafficker), while different types of music blared out of open windows: classical, bachata, even Mexican mariachi.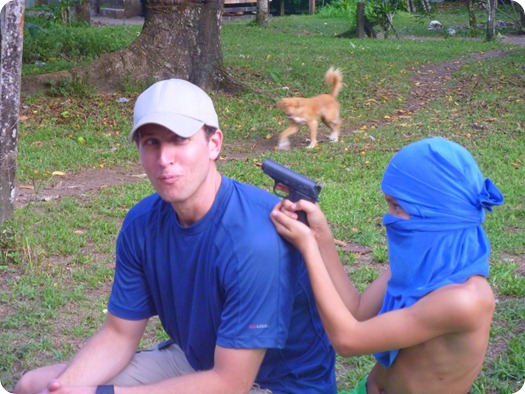 Exceptional acting, Brad.  I always giggle while being captured by narco-traffickers.
Viviana's house, where we'd be staying for a few days, was just steps away from the shoreline.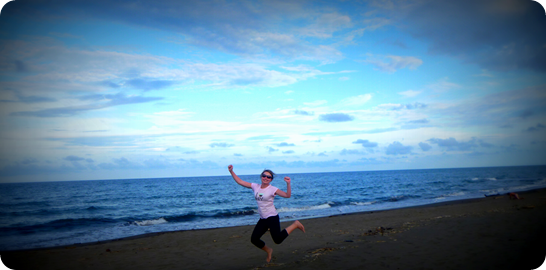 Fine, Viviana, I guess we'll stay here, but only because you're making us.
Viviana greeted us enthusiastically at her gate.  Her house is perfectly camouflaged with its lush surroundings, and we never imagined being invited by perfect strangers to stay somewhere so cozy.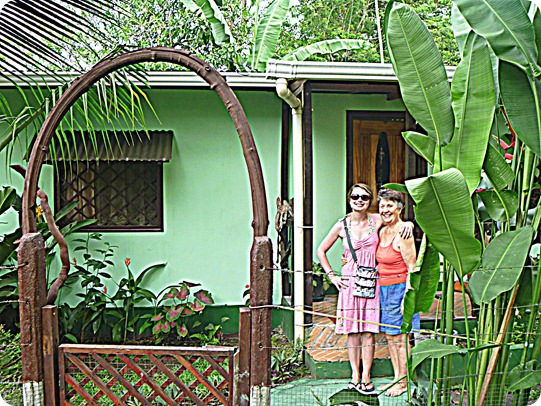 During our stay, Viviana wowed us with not only her hospitality and vivacity, but also her knack for story-telling.  After her family in the U.S. suggested a retirement home for her next step, she spontaneously put every penny she had towards a house in Tortuguero.  She courageously moved to Costa Rica five years ago (when she was 70), neither knowing a soul nor speaking a lick of Spanish, and has since become an esteemed part of the community.  On our first night there, she recalled feeling so sick the previous year that she thought she was dying, so she went out to sit by the ocean, where she expected to breathe her last breaths.  Her town, however, had different plans for her.  A neighbor rescued her and helped to transport her via boat and bus to the nearest hospital.  She miraculously survived the health scare, and her neighbors continue checking in on her daily.  She puts just as much effort and attention towards caring for them.  Viviana has spent the last five years getting to know her community members, and attempting to collaborate with them to resolve the town's issues.  She cites the poor conditions of the school in Tortuguero as a primary concern of the community.  Peace Corps helped to build the school, but no longer has volunteers in the area to help maintain it.  Since it is located in a national park, the Costa Rican government does not provide funding for its upkeep.  Every time a donation is made, it is stolen from the school's grounds.  All of this has resulted in teachers going on regular strikes, and parents losing faith in the education system.
Viviana's idea: Viviana loves food (and to think I had almost given up on good eats in Costa Rica!).  She also loves meeting new people.  She often invites foreigners to stay with her, and asks for one thing in return: a recipe that they cherish.  Since Tortuguero is a nice mix of locals and tourists who help keep the village afloat, Viviana is compiling a cookbook that combines Tortuguero's best local recipes with recipes from all over the world (provided by her foreign guests).  Once completed, she hopes to sell it and put all proceeds towards school repairs.  I loved the idea, and was even more fond of it when she let me flip through the recipes she has already collected.
Much of Viviana's inspiration came from Miss Junie, a local woman who owns a restaurant and hotel in Tortuguero.  Miss Junie befriended Viviana upon her arrival to Tortuguero, and has continued sharing the town's history AND her delicious food with Viviana.  Miss Junie belongs to one of the oldest families that still resides in Tortuguero, and she has worked hard all of her life to support her family through her phenomenal cooking.  Her hotel and gardens are one of the most beautiful (and successful) plots of land in the village, and Miss Junie has generously agreed to share her recipes with Viviana to include in her cookbook project.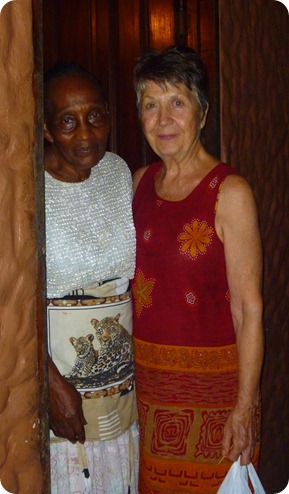 Fast friends, Miss Junie and Viviana
We were fortunate enough to meet Miss Junie and taste some of her food.  She specializes in dishes such as rundown (a coconut and fish stew) and jerk chicken.  Women like Ms. Junie help to keep Tortuguero's heritage alive and preserve the local flavor.  Women like Viviana are helping to document it all.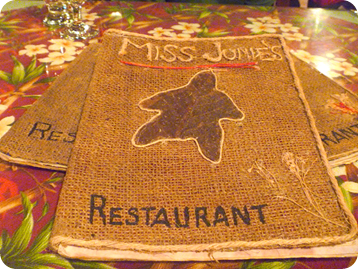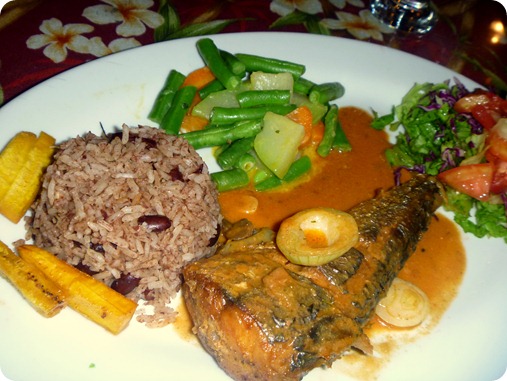 Coconut-curried fish with coconut rice and beans, salad, and fried plantains
So yes, we went to Tortuguero to see some green sea turtles nesting.  We woke up in the middle of the night two nights in a row, draped ourselves in black clothing, and accompanied Barbara in lurking on the shore to await turtle sightings.  It was every bit as cool as my friend in Ecuador suggested it would be.
This is EXACTLY what the turtles looked like while they were covering their eggs in a trance (we weren't allowed to take actual pictures because our flashes would wake/scare them):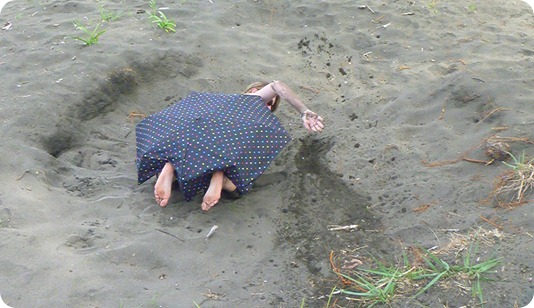 What was even  more enjoyable than the sea turtles was our unexpected time with Viviana.  She showed me that approaching "old age" is only scary and limiting if you treat it as such.  She impressed me with all of her questions about modern topics such as getting a Kindle and starting a blog.  I feel that many people lose the desire to be taught as they get older, because at a certain point we feel we've learned everything we need to know in order to get by.  Viviana is one of the most open and unassuming people I know, and I admire her ability to start over at her age, and to keep so active, informed, and inquisitive.  Curiosity may have killed the cat, but I feel that a lack of it is what prematurely ages humans.  So here's to a never-ending thirst for knowledge…and an even more eager hunger for food!
If you haven't yet been to Tortuguero, do go!  Contact Barbara (tinamon@racsa.co.cr) for all of your needs (including meeting Viviana).  You may want to refrain from mentioning my name, because Barbara might be scarred from the hissy fit my friend and I threw (okay, it was mostly me) when we didn't see any turtles during our first watch.  Viviana can also be found on www.couchsurfing.org.
I will leave you with a recipe from Miss Junie.  Her restaurant surprises each customer with a plate of homemade ginger coconut chews for dessert.  I dream of them often and my meals generally feel incomplete without them.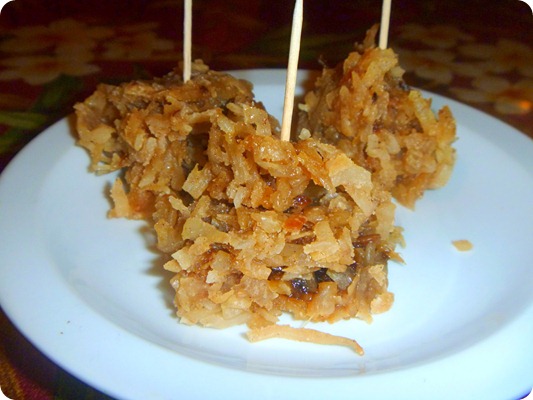 Miss Junie's Coconut Ginger Balls
shredded meat of 1 fresh coconut
1 finger of fresh ginger (grated)
splash of vanilla
3/4 cup – 1 cup brown sugar
powdered milk
chopped peanuts (optional)
Melt brown sugar in skillet over low heat until darker brown (but not burnt!).
Add coconut, ginger, and vanilla and stir over low heat until thickened.  If too moist, add powdered milk.
Pour into bowl to cool.  When still a bit warm, spoon mixture into balls and roll into chopped peanuts if desired.  Chill and serve, and as Costa Ricans say (perhaps a little too often, in my opinion), "pura vida!"