A small joint in Philly is causing major waves in the world of pipin' hot pizza pies.  Located in Fishtown, a hood that I would describe as shabby hip, Pizza Brain opened its doors just 6 months ago.  Since its inception, it has garnered praise from not only its fans, but major news agencies like NPR, BBC, and Associated Press (amongst others).  The restaurant identifies as a pizza museum, and was even certified by Guinness World Records as the "Worlds Largest Collection of Pizza Memorabilia."  Even more exciting (for me, at least) is that Isaiah Zagar (a famous mosaic artist who I've been obsessed with since childhood) is decorating Pizza Brain's courtyard with his magical touch of whimsy.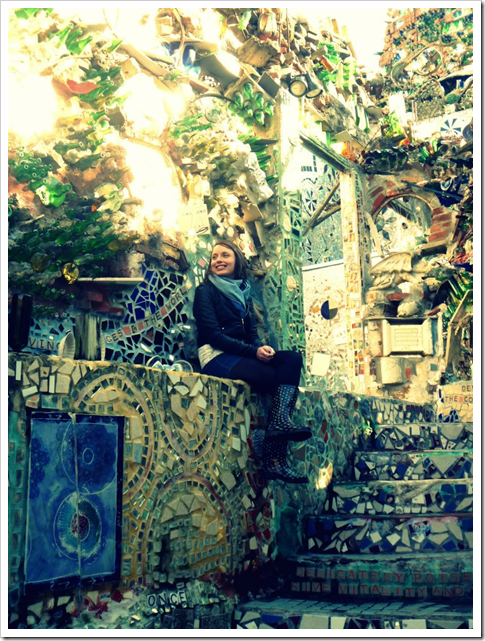 Some of Zagar's work at Magic Gardens (South Street, Philly)
Well geez, Pizza Brain, could you BE any cooler?
Apparently so.  My dad and I headed to the city on Wednesday to grab a bite and catch a flick.  We had our sights set on Little Baby's ice cream, with its promises of exotic flavors like Earl Grey Sriracha (Oooooooh), Honey Miso Chive (Ahhhhhhhh), and Balsamic Banana (yes please!).  Much to our disappointment, Little Baby's was closed (gosh-darned winter hours!), but Pizza Brain next-door was wide open, inviting us in with some bubbly Paul Simon tunes and that recognizable cheesy scent.  Evidently I've been living under a rock for the last six months, as I had no clue this place existed.  Boy am I glad that's changed!
The guys inside greeted us warmly, recognizing us as newbies and taking the time to explain the menu without our needing to ask.  They are a good-humored, friendly bunch, and it is clear that they are passionate about pizza.  The menu is not over-the-top creative, which I appreciated, as sometimes the best pizzas are those that are simplest.  My dad settled on the Forbes Waggensense with Fontina, Grana Padano, fresh basil, and smoked pepperoni.  I opted for the less-conventional special, which I think was called the Bruce.  It was topped with NY strip steak, herbed mashed potatoes, and asparagus.  Both slices were enjoyable, and the fresh crushed tomato sauce is a really nice touch.  The Bruce had a spicy kick to it, and the impeccably seasoned potatoes were a welcomed change from gobs of cheese.  Neither was greasy nor overly heavy, proving to be the perfect lunch.  I'll definitely be going back to try the other pies.
In addition to Pizza Brain's pizza, its ambience is pleasing.  The place might be small, but it's happy and exudes a sense of magnetic quirkiness.  My dad and I sat facing the wall on some stools, and while I stared at Michelangelo (of TMNT fame) and some other pizza-infused comics, I overheard the owner talking to a customer.  He seems like an inspired, humble guy who treats pizza as not just a food, but as an art and a means to community.  These aren't just the type of guys you want making your pizza.  They're the type of guys you'd like to hang out with.
So why not stop in sometime?  Be sure to wash your pizza down with a soda from their eclectic collection.  If you're as sweet on Mexico's green apple soda as I am, Pizza Brain is the place for you.  My dad and I branched out and tried Red Ribbon's Almond Cream Soda (Pizza Brain is the only place in Philly that sells it) and Levi's Champ Cherry Soda.  SO good, and not half bad if you mix the two, either!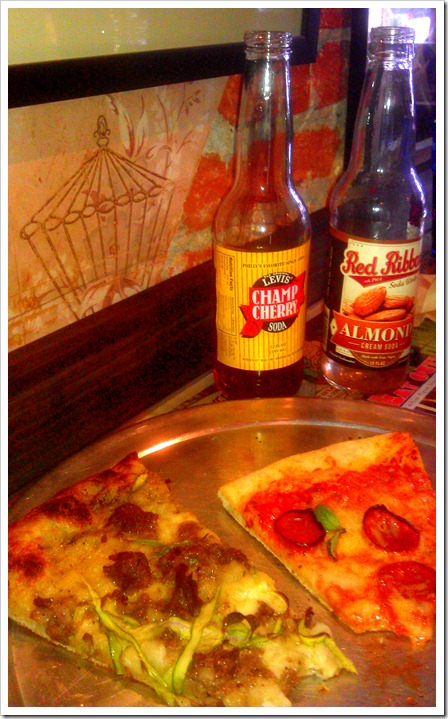 Please excuse the fact that we ate almost all of this before remembering to take a photo.
Happy pizza eating, my foodie friends!  Until next time.