We met Marrrakech towards the end of our cyclonic tour of Morocco.  For two weeks, my senses had kicked into overdrive, osmosing as much of the country's magic as possible.  So far, nothing about the place had proven ordinary, and if I had walked any slower to behold it all, inertia would have overtaken me.  I was (and still am) convinced that a single medina passageway could have engrossed me for a lifetime, so thankfully Luis was there to scurry me along to our subsequent destinations.  While in transit, I couldn't help but imagine that such places had inspired innovators (like Walt Disney, for example) to evoke a similar sense of whimsy and magnetism within their own environments.  While artistic trailblazers of the sort toil to create enchantment, Morocco innately exudes it.  I was rapt with wonder.
By the time we reached Marrakech, I felt fatigued from trying to see/taste/smell/touch/hear all in our path.  We lodged in private homes, hostels, riads, and even a palace, but despite my exhaustion, I couldn't seem to achieve a restful night of sleep.  My brain was constantly aflutter with all I still longed to see, and what I might miss if I closed my eyes for too long.  It wasn't until we were whisked away to La Palmeraie, a sprawling date palm grove 15 minutes removed from Marrakech's center, that I felt myself able to unwind.  I owe that relaxation to the unadulterated tranquility of the following boutique residence.

In a nutshell- 24 exquisitely-curated suites interspersed among three conjoined private estates, complete with five swimming pools, first-class dining, and covetable, functional gardens.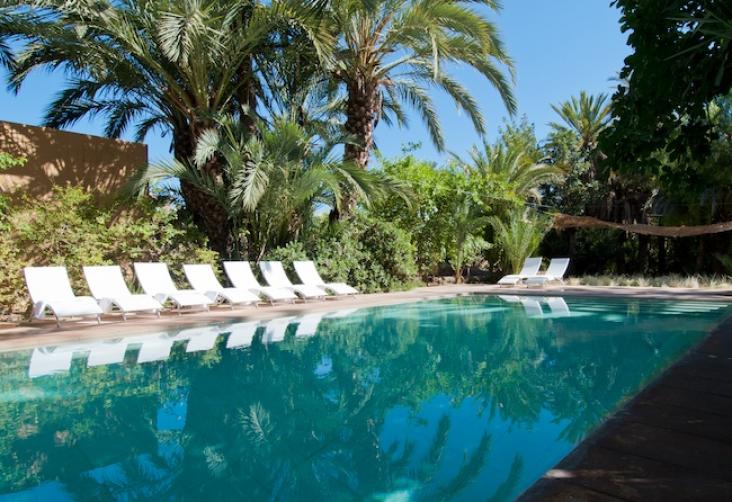 The full scoop- Jnane Tamsna is the place to stay if you want to luxuriate in Morocco's splendor without the common side effect of overstimulation.  The villas and their grounds were conceptualized by Meryanne Loum-Martin, a corporate lawyer-turned-hotelier and her ethnobotanist husband, Dr. Gary Martin.  Meryanne's love affair with Morocco began in the 1980's when she accompanied her parents to Marrakech, where they planned to construct a vacation home. She had always felt drawn to the city, citing Winston Churchill's unwavering affection towards it, along with his desire to capture its land's mystique in his paintings.  Meryanne found herself equally as enamored, and signed on to design her family's new home there.  The project came with a unique set of challenges, but she was smitten with the creative aspect of it.  She eventually left life and law practice in Paris to cultivate her architecture and design prowess alongside her husband in La Palmeraie.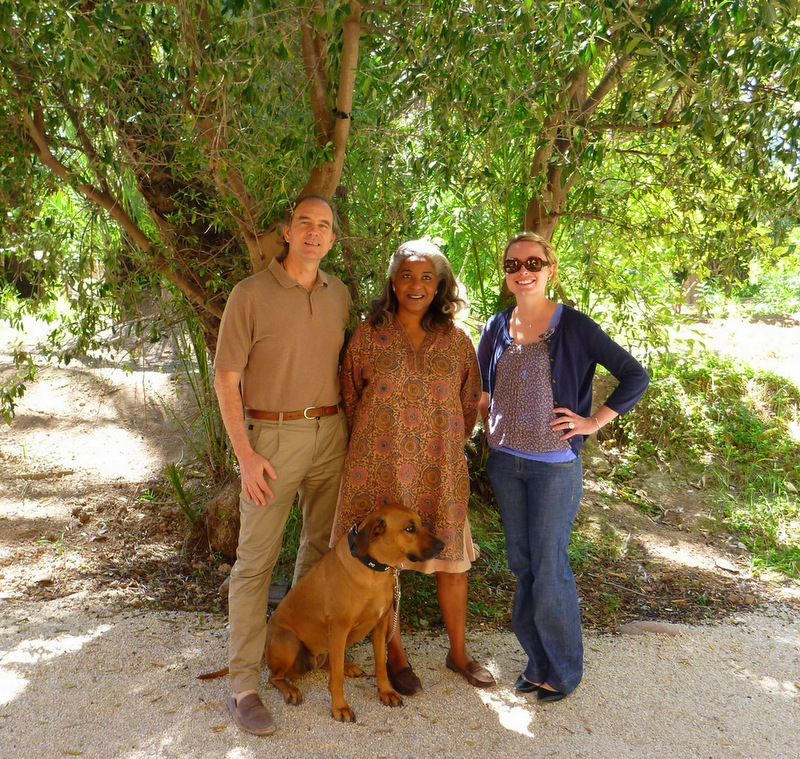 In 2001, after years of honing her craft while running luxury villas and synthesizing film-worthy soirees for famous and non-famous faces, Meryanne opened Jnane Tamsna with Gary.  Here, they preserved Moroccan tradition with structural choices like Moorish keyhole arches, along with décor touches such as richly-tinted Berber rugs, and the ubiquitous, but never passé brass lanterns. Rather than bombard guests with hypnotic zellige (classic Morrocan mosaics), Meryanne opted for neutrally-painted walls, mingled with textured drapery and furniture, like this wooden bureau with mother-of-pearl inlay (that I wanted to strap on my back and take home with me):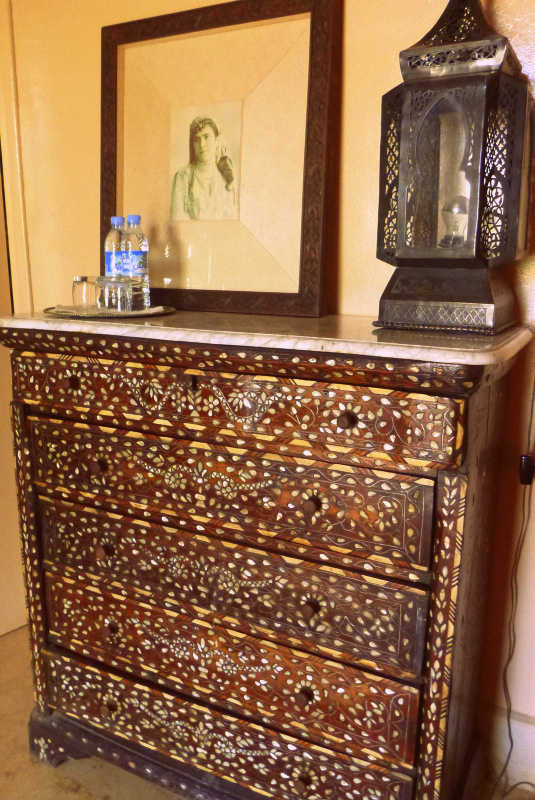 Throughout the villas, Meryanne expertly integrates the aforementioned style with pieces she envisioned and had made, along with artwork she's collected during her many travels.  All of it coalesces in sophistication without ostentation, radiating the ambiance of a friend's country home rather than a hotel.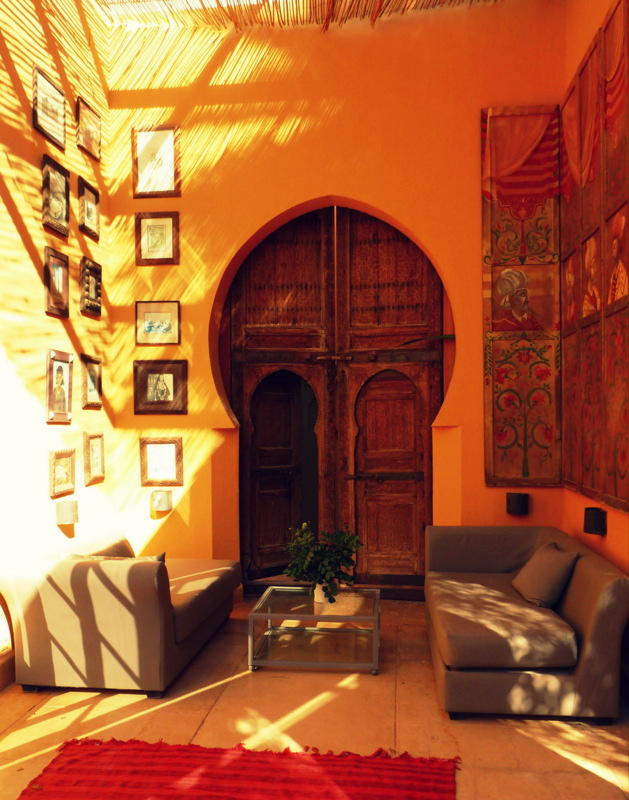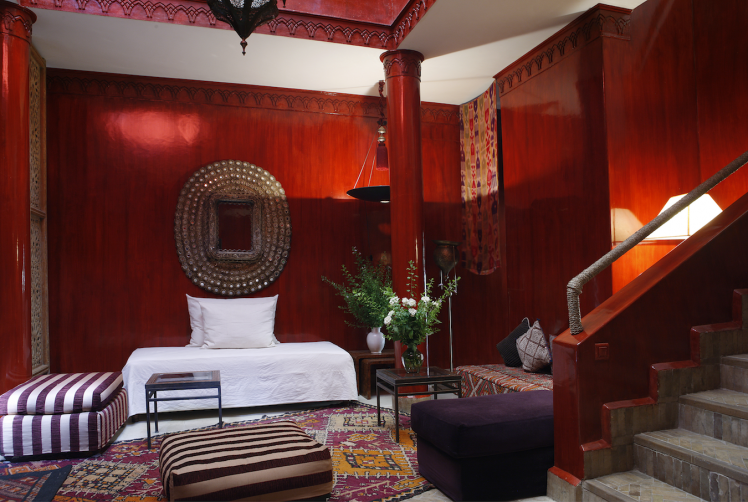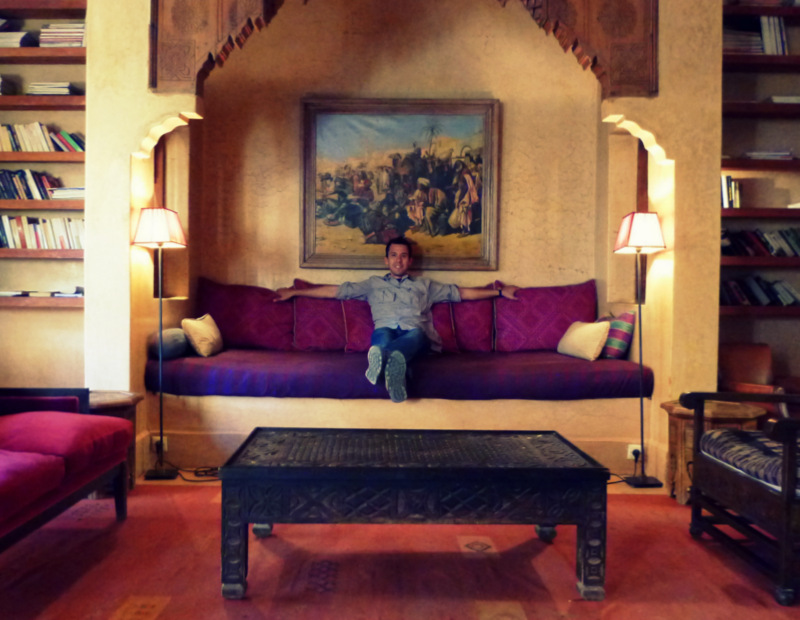 But what would a country home be without its gardens?  This is Gary's territory.  Outdoors, he's created what he refers to as an organic edible landscape, focusing on plants that are indigenous to the area (meaning you won't find any grass here).  You'll see no bushes pruned into fanciful designs, as his gardens are more pragmatic than primped, though this in no way subtracts from their beauty or the hard work they require.  Touring the gardens with Gary is a privilege, as his engagingly harmonious descriptions while you lose yourself in his lemongrass' ambrosia are enough to make a person consider a career change.  His gardens are the gift that keeps on giving, which you'll admire not only on your strolls around the property, but also while washing with the homemade herb-imbued soaps in your suite, or consuming the fruits of the land, scrupulously prepared by Chef Bahija.
Chilled Cucumber Soup, Sauteed Fish with Leeks and Garden Vegetables, and Crème Caramel with Orange: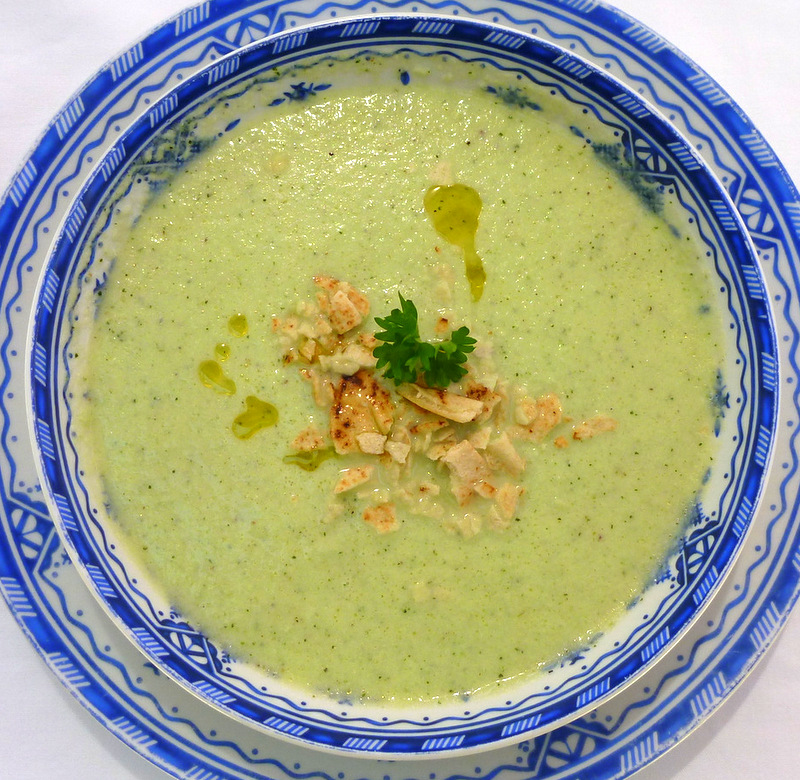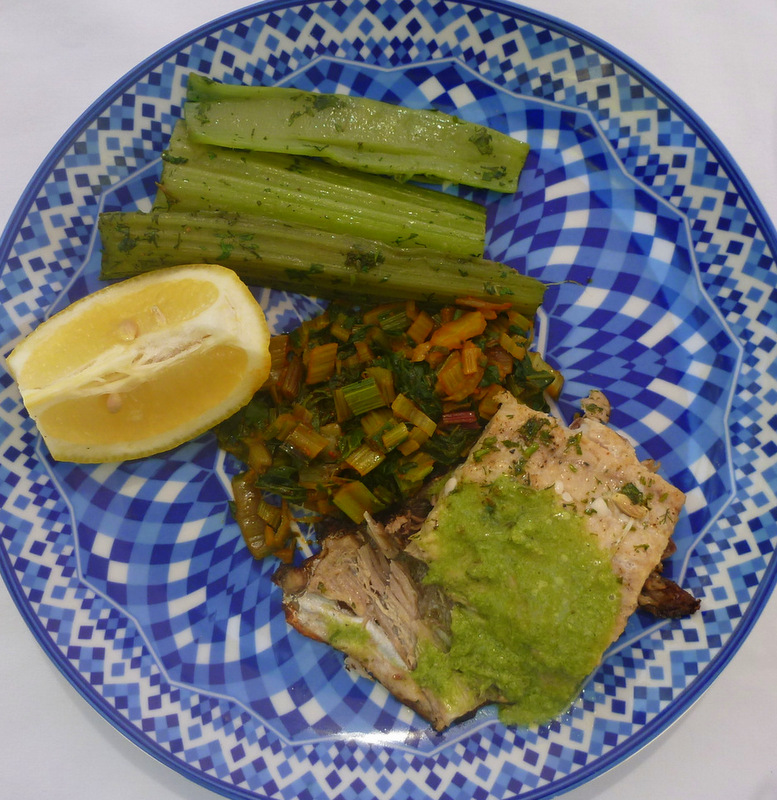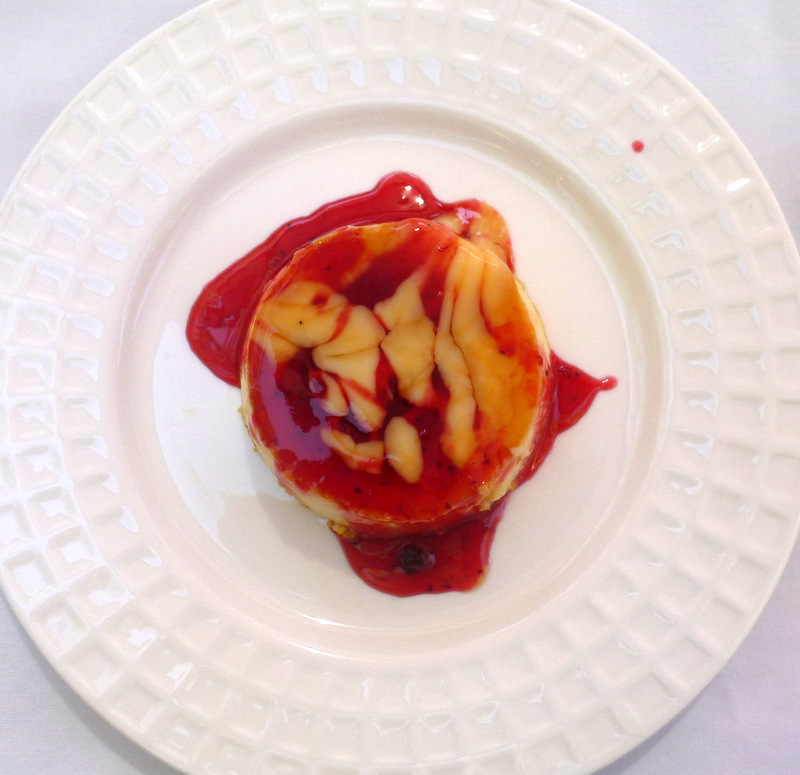 WOW factors-
It's obvious that Meryanne and Gary are exceptionally talented people, but they are also warm, extraordinary conversationalists. They reside on the estate and Meryanne personally welcomes each of her guests, showing a genuine interest in their backgrounds. Whether discussing art, literature, or a time that a snake in her path (not here, don't worry) nearly induced a heart attack, she's ever the ebullient hostess.
Jnane Tamsna not only offers cooking classes, but also hosts Peggy Markel's Culinary Adventures twice a year.  Peggy is a pioneer in the realm of food travel, and has been touring people around the world for the last 20 years, interactively illuminating the interconnectedness of life, culture, and food.  We spent an evening with Peggy and she's delightful.  Her India and Italy tours were promptly added to our bucketlist, where I also wrote being her, but that's an entirely different story;).
As an avid reader, it would be a challenge to find a more comfortable and secluded place to dive into a book.  Whether tucked into one of the architectural nooks in the many indoor and outdoor seating areas, or plopped down in the Secret Garden-esque setting surrounding the pools, this is a booklover's dream-come-true.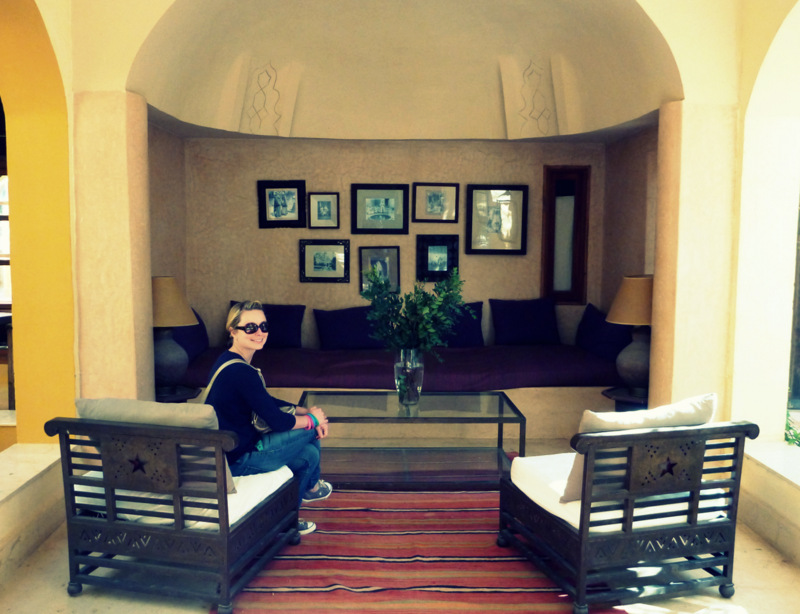 At Jnane Tamsna, Moroccan culture, class, and serenity coexist in a way that never disappoints, and I do hope you'll consider it for your next vacation.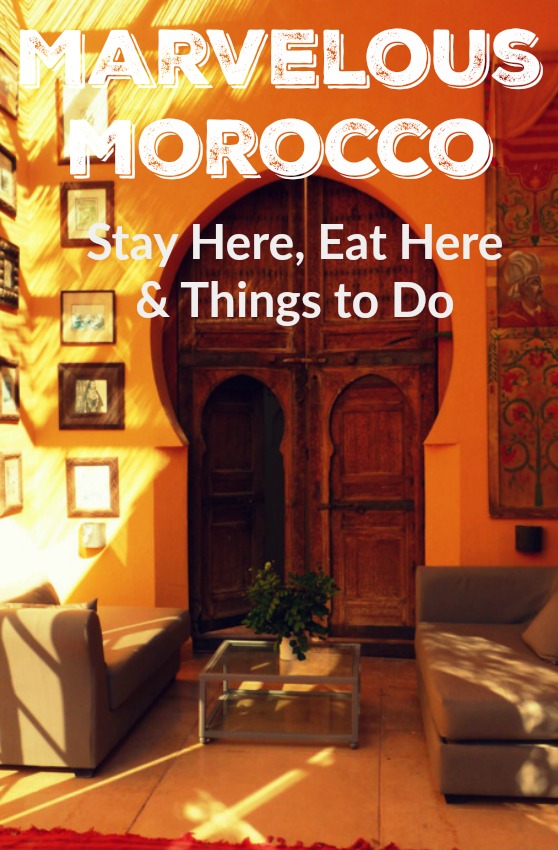 Header Image from: Jnane Tamsna Website