This is our fourth month cooking with A Taste of Thai's products.  As most of you probably know, I moved to Thailand six months ago.  At this point, I consider myself a seasoned Thai food critic. After what seems like zillions of meals consumed at street carts and nice restaurants alike here, A Taste of Thai still earns my firm stamp of approval.  This month, I took my first Thai cooking course in Chiang Mai, which further heightened my appreciation for A Taste of Thai, especially their prepared curries.  As I used my mortar and pestle to rather unsuccessfully pulverize my chili peppers, ginger, onion, and various other ingredients, I experienced a renewed sense of gratitude knowing I'd never have to exert so much elbow grease again!  Curry is such a staple in Thai cooking, and A Taste of Thai fortunately offers pouches of green, red, yellow, and panang curries, all of which have already been expertly blended into smooth and flavor-packed pastes.  Each packet yields approximately 7 meals for 4-6 people.  In other words, put your mortar and pestle on the shelf.  Call me lazy, but I always did think they were more decorative than practical.
While we're on the topic of curries, if you haven't done so yet, check out our personal faves here: Creamy Chickpea Curry and Mussels in Red Curry Sauce, both of which we've featured in prior posts.  And remember, these curry pastes don't have to be used just for Thai cooking.  I'm really looking forward to trying this Curried Eggs Benedict, an exotic take on what I consider the BEST breakfast food ever!
Enough currying around, though (at least for now).  This month we tried something a little different. Using A Taste of Thai's Pad Thai Sauce and Fish Sauce, we made Pad Thai BBQ Shrimp.  This recipe isn't traditionally Thai in that it calls for garam masala, which you may not have lying around your house.  This complex Indian spice plays off of the sweetness of the molasses and brown sugar, making for a pleasantly rich marinade.  Given that it's winter and your grill might be buried in snow, you could also cook your sauced-up shrimp in a skillet (which is what we did).  The leftover sauce is equally great on chicken and salmon.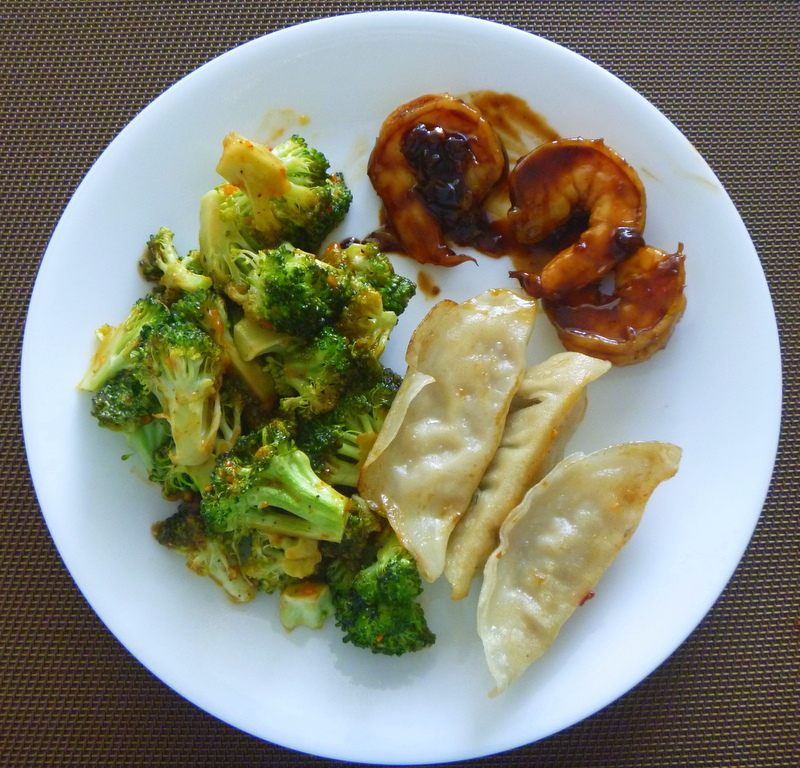 We partnered the BBQ shrimp with some pork & shrimp gyoza and broccoli, which brings me to my next point.  I'm a big fan of roasting my veggies in the oven with some olive oil, salt and pepper, and sometimes a little garlic.  Next to Thai BBQ, though, this broccoli can taste a bit uninspired, which is why I've revised my roasting recipe to include A Taste of Thai's Garlic Chili Pepper Sauce and Sweet Red Chili Sauce.  I started by just using one or the other, drizzled over the broccoli after I've added olive oil.  When I tried it with both sauces though, I found it tasted even better. Another simple variation is adding A Taste of Thai's Spicy Peanut Bake after the two sauces, and mixing it all together so that the broccoli is evenly coated.  It makes the vegetable taste like a side that you'd order at a restaurant.  Give it a try!
That's it for today.  Stay warm, head to the store to stock up on A Taste of Thai products, and BBQ your little hearts out like it's still summer!  If you're snowed in (or even if you're not), check back soon for a chance to win our next A Taste of Thai giveaway!