I really wanted to entitle this post "A Thai-ny Traipse" but a certain someone vetoed it because he loves raining on my pun parade.
Onward.  The beginning of January marked six months in Thailand, but we've taken our time diving into the place.  The majority of our days have been spent solving logistical issues, such as where to live, how to best undertake the language, and perhaps most importantly, in which part of town to find the cuddliest street cats.
That latter mission was accomplished when we spotted this rainbow-clad lovely straight chillaxing at one of Bangkok's busiest intersections. Care to join me in a collective "Awwwwwwwww!"?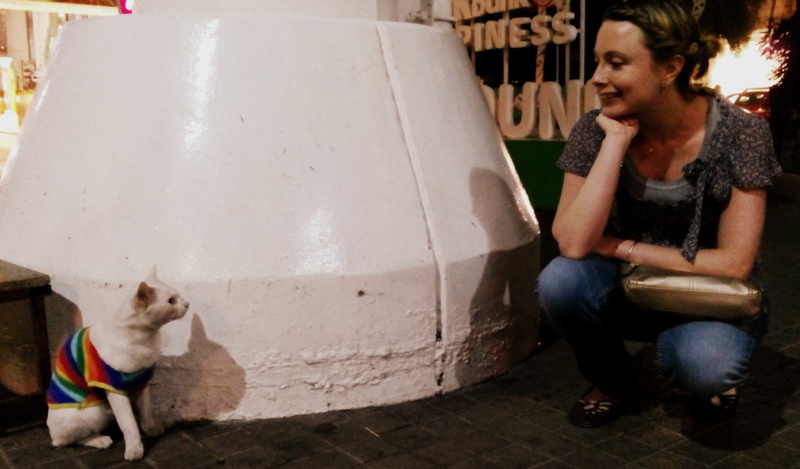 I'm not entirely sure she's not rabid, so I maintained my distance, but AWWW nonetheless.
Animals aside (but only for a moment), I can't believe it's been half a year since we settled ourselves here.  As a reminder of how far we've come, here's a picture of Luis when we were "homeless."  Clearly I found it entertaining enough to snap a pic, but it looks like I was alone in my amusement;).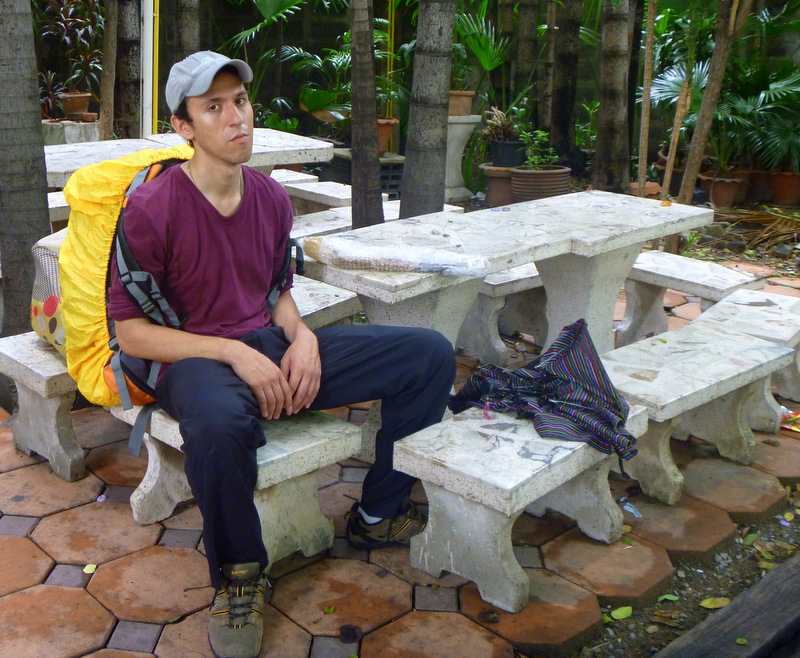 Now that we've established a routine here, Bangkok's really started to feel like home.  What better time, then, to welcome my first visitor?  Corinna and I met a few years ago when both of us were backpacking alone through Ecuador.  To honor the notion of safety in numbers, we joined forces to tackle the land, becoming fast friends in the process.  After weeks of laughter-filled shenanigans, we vowed to reassemble soon, a promise that came to fruition when she visited me in Thailand at the start of 2014.  Her company provided the perfect excuse to branch out and do some serious sight-seeing.  Corinna prefers a more active holiday than I do, but whenever we're together, she concedes to my belief that chewing is exercise.  It doesn't escape me what a doll she is to support my delusions.
Since my future posts are bound to be Thailand-heavy, I will try to keep this predominantly picture-oriented, with just the highlights of our trip.  By now you should know that "highlights" mostly mean "food."
Bangkok: Thailand's capital city is regularly regarded as one of the world's leading gastronomical meccas.  At the risk of sounding like an ignoramus, I'll admit that I've struggled to find a satisfying meal here.  Street carts abound, but their offerings are hit-or-miss, and many of their dishes are filled with sugar, oil, and sometimes, MSG.  I've missed simple and healthy meals in which I can easily identify all ingredients.  Adding to my disappointment is the fact that I rarely feel full after eating, proving that either portions are small, or I'm a fat-ass (or maybe both?).  To be fair, though, there's still so much of the city to see (with my mouth), and I'm looking forward to maneuvering my way through more of this list, which Mark of Migrationology compiled of Bangkok's must-eat dishes.
After many days of carb-bingeing, Corinna and I headed to Ethos Bakery Cafe for some vegetarian curries and homemade kombucha. We ordered the Panang curry, which was brimming with tofu, sugar snap peas, carrots, and baby corn.  It was flavorful and filling, and the Thai kombucha with lemongrass was a refreshing accompaniment.  Reasonably-priced vegetarian dishes (not to mention kombucha, which I've encountered nowhere else in Thailand) are a rarity, so Ethos delivers in more ways than one.  We appreciated the restaurant's relaxed atmosphere, with floor-seating atop pillows, as well as its proximity to Khao San road, which offered pleasing people-watching.
For a more indulgent meal, we chose Roast Coffee & Eatery.  I take coffee at a different cafe almost every day, and Roast consistently wins for best cappuccino.  After completing a coffee internship, and therefore knowing more than I do about beans and such, Corinna corroborates my opinion. Roast's food is a force to be reckoned with as well.  We recommend their Salmon Rosti or Pulled Pork Burger with cabbage, carrot, fennel, & yogurt slaw (a mouthful, figuratively and literally;). The buttery bun perfectly meets the barbecued tanginess of the pork, and it would be a challenge to find a better sandwich in Bangkok.  For dessert, try the strawberry waffle.  You can skip their seafood pasta dishes, as the seafood was overcooked in ours.  The small details at Roast, like their old-fashioned newspaper-styled menus, countryside mason jars, and gingham napkins successfully help you escape Bangkok's chaos.  Four thumbs up from us for this place.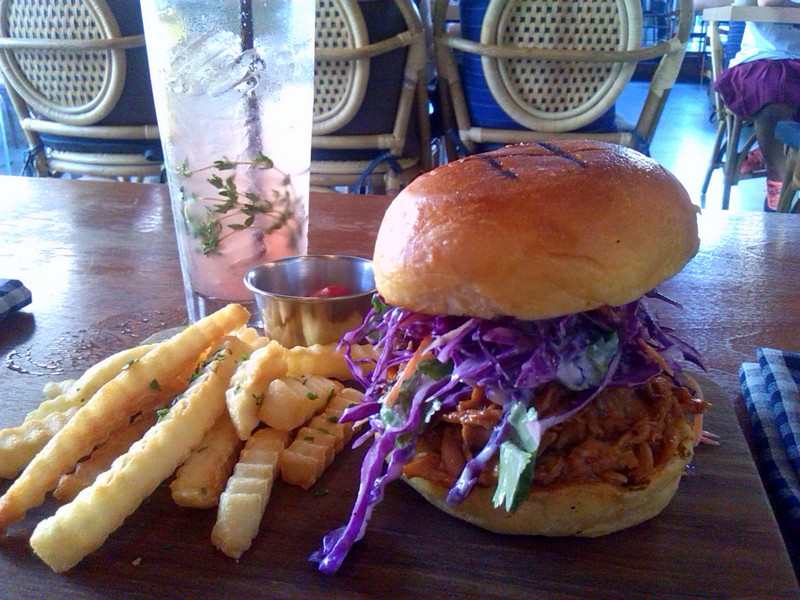 Pulled Pork Burger with Crinkle Cut Fries and Strawberry Thyme Lemonade
Chiang Mai: There are plenty of tourist traps in this Northern Thai province, many of which have loose interpretations of Thai food (one served us chicken floating in coconut cream and called it green curry).  Our friends pointed us towards 29 Cafe (across from Wat Pa Khao), and it became an instant favorite of ours. An airy restaurant with street-food prices, this eatery masters classic Thai dishes and has an extensive list of fresh fruit smoothies and yogurt lassies (you can't go wrong with mango anything).  We loved this Glass Noodle Pad Thai with Chicken: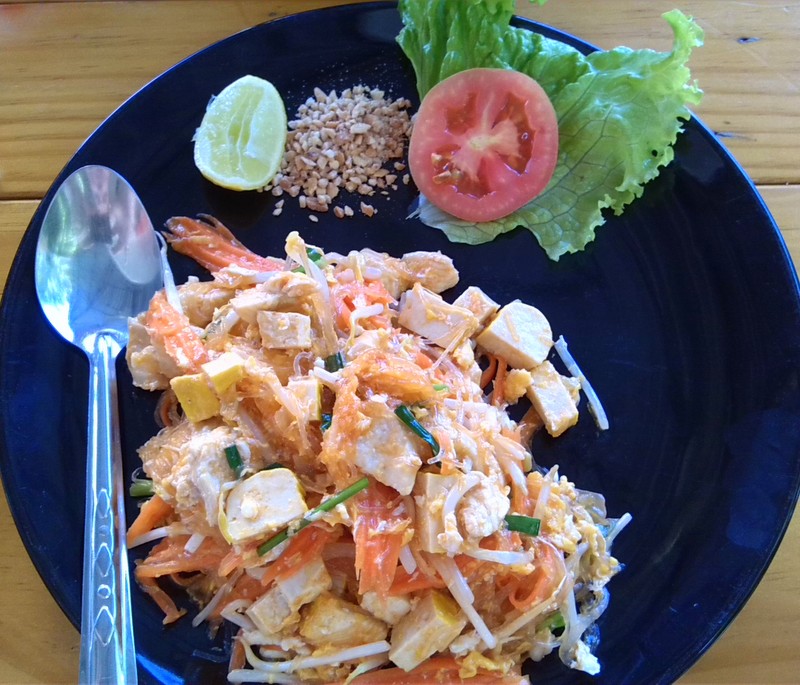 If you've had enough Thai food, New Delhi on Ratchawithee Road has truly impressive Indian food if you don't mind the restaurant's austere ambiance and not-so-clean bathroom.
A great place to taste-test a smorgasbord of Thai treats is the Saturday night market on Wua Lai Road.  Get there early to beat the crowds and try anything you haven't seen elsewhere- the unique eats sell out fast.  The handicraft section can be skipped, as it's all the same.  We liked the dim sum and coconut ice cream.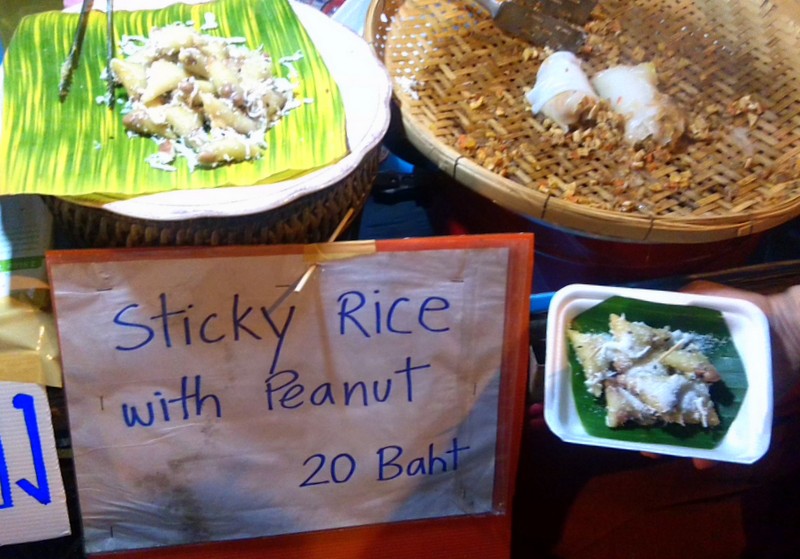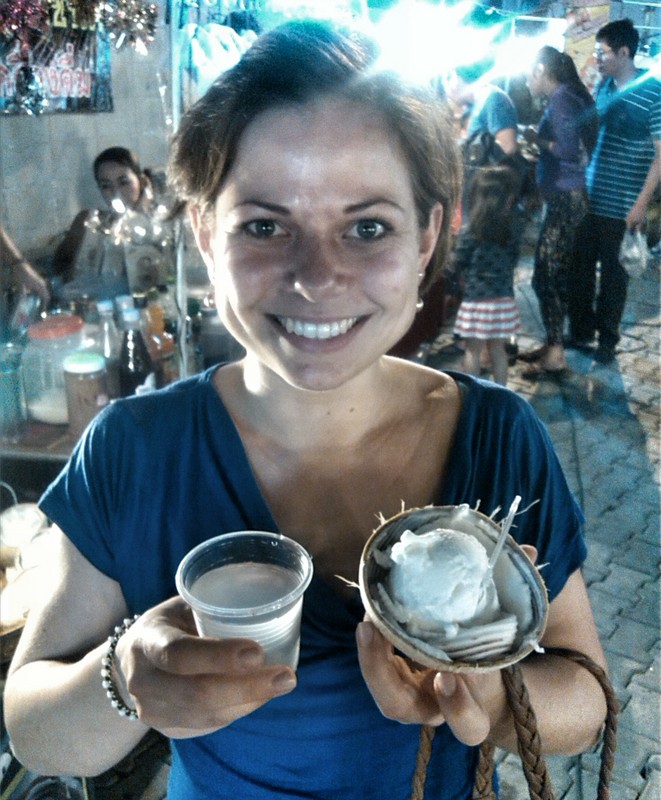 Towards the end of the market, the road forks.  If you veer to the right, you'll find the most beautiful temple I've seen thus far.  Wat Sri Suphan's exterior is made entirely of hammered silver, and is an especially spectacular sight at night.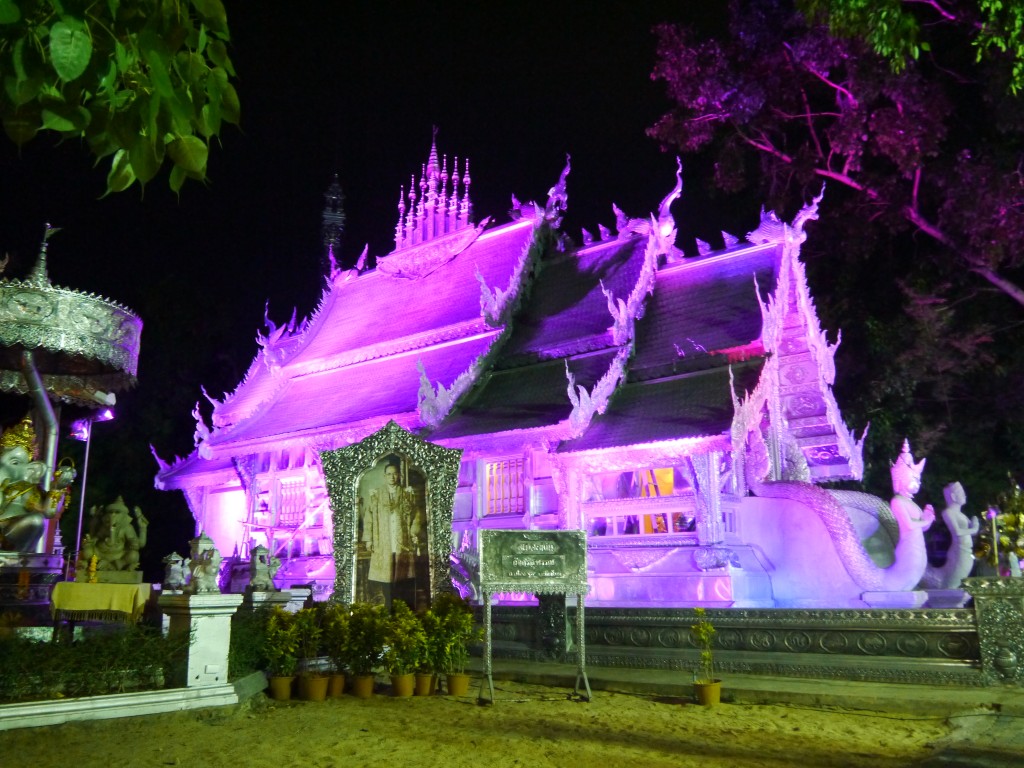 If you find yourself within one of Chiang Mai's indoor markets, you should try Sai Oua, a type of sausage specific to the North of Thailand.  It's seasoned with fresh lemongrass, Thai ginger, kaffir lime leaves, and red curry paste.  Corinna is German, and it's not a stereotype to suggest that she knows her sausage.  Sai Oua got her enthusiastic stamp of approval, so I think it's safe to say that it shouldn't be missed.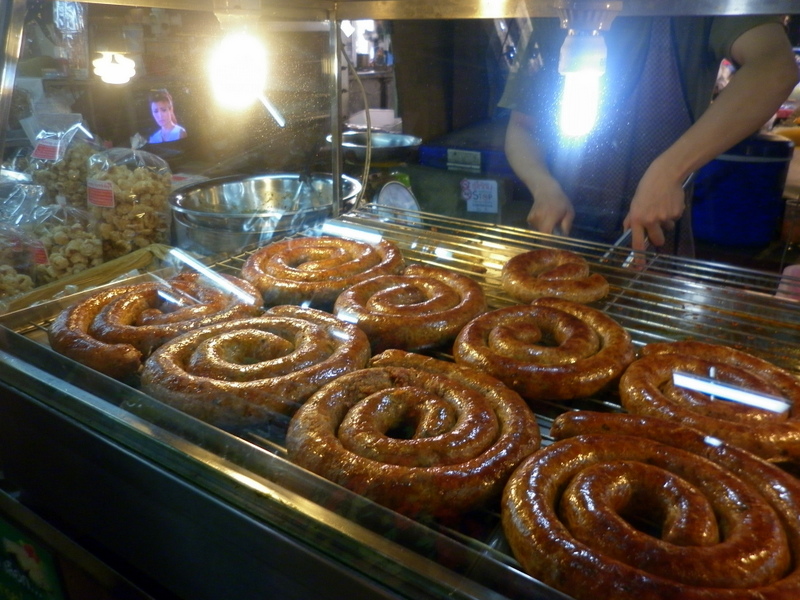 Corinna and I tried our own hands at Thai cooking at Siam Rice Thai Cookery School.  We completed the evening course, where each of us was able to pick five different dishes to prepare.  The pros of this course were its small classes, a take-home recipe book with all of the school's recipes, and friendly staff that taught us within their own home.  The cons were that the course was a bit basic, and servings were small despite advertising that there would be enough food for us to take home. The winning dishes of the evening were Tom Ka Gai (coconut chicken soup), Pad Kee Mao (Thai drunken noodles), and Red Curry with Pineapple.  For someone who wants a quick introduction to Thai cooking, this is the way to go.  For those who want more in-depth lessons, it might be worth checking out the classes at organic farms outside of the city.  Personally, I considered the class a success for introducing me to a mushroom I actually like.  I think it was a purple wood mushroom, which I'll probably never be able to find by myself, but its texture was quite agreeable (somewhere between a thick spinach and calamari).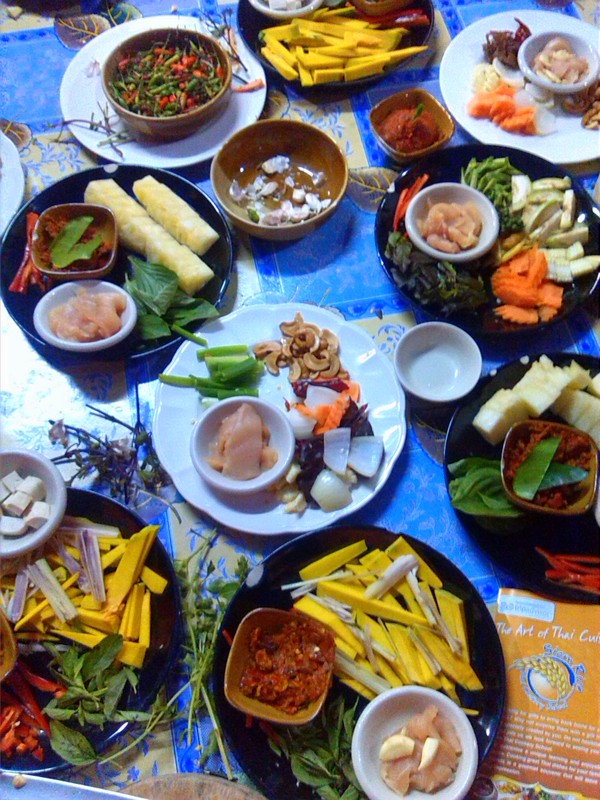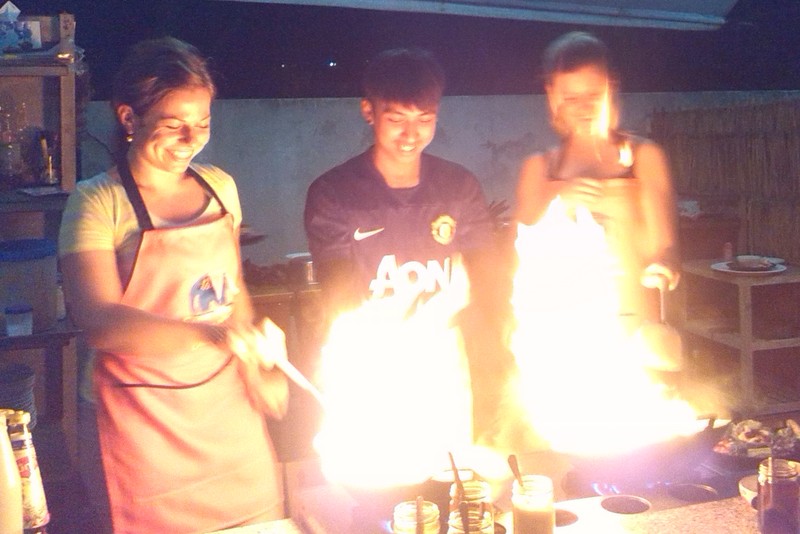 Perhaps more interesting than what we ate in Chiang Mai is what our elephant friends ate, which was EVERYTHING.  Even pineapple rinds!  We spent a day at Ran-Tong Save & Rescue Elephant Centre observing, riding, and bathing the coolest creatures ever.  Seeing a baby elephant playfully splash around in the river while nudging the elder elephants to join her will forever be one of my best travel memories.  We specifically researched centers that don't have a reputation for abusing their elephants or making them do unnatural tricks, like painting.  Generally I got a good feeling from Ran-Tong while we were there.  While its grounds are a bit rustic, the trainers seemed to care for their elephants and the animals showed no signs of distress (swaying or pacing).  The trainers offer to take pictures for you while you're atop your elephant, and ours took hundreds, though in 99% of them, he cut off our elephant.  The business wasn't entirely transparent or professional in that we were picked up 45 minutes late, and given no notion throughout the day of where the elephants came from or who owned them.  When we were bathing the animals, our guides were obsessively taking pictures of themselves, which was not the most appropriate decorum.  However, the elephants made up for the business' shortcomings, and perhaps all of these things were flukes given that the company has very high ratings online.  Pros were hotel pick-up and drop-off, a guide who spoke English well, an included lunch, and an outfit to wear in the water.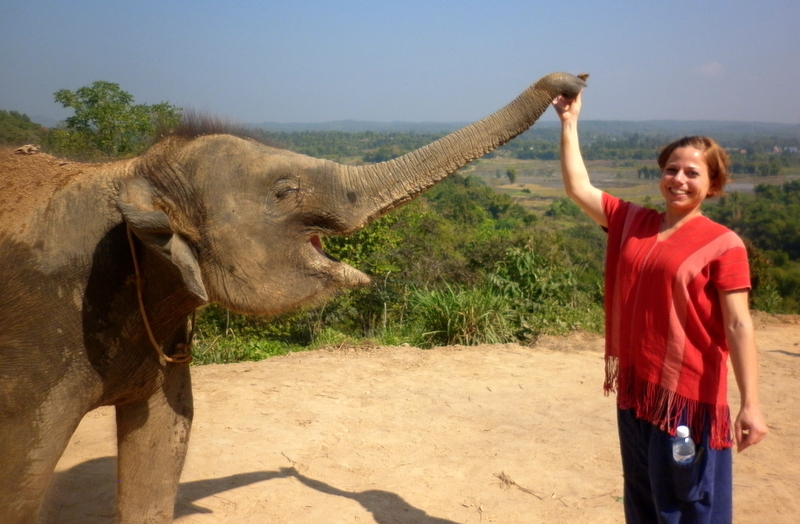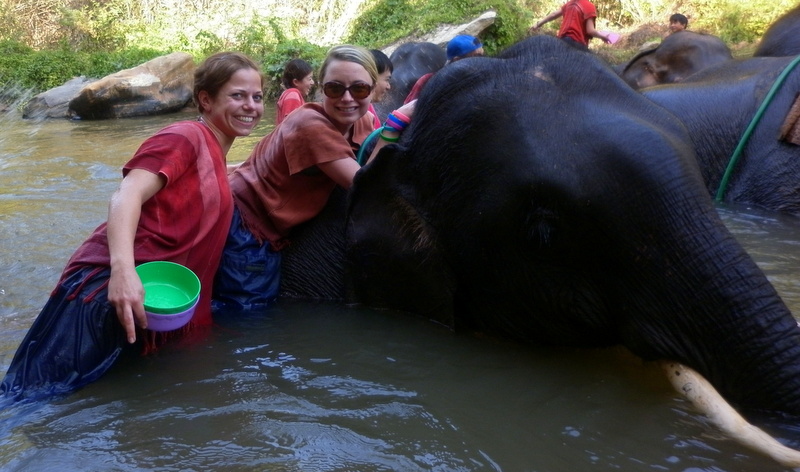 Krabi and Its Surrounding Beaches: Since The Beach was filmed in Ko Phi Phi in 2000, these beaches have become overrun with tourists.  Following the subsequent tsunami, they've also become a hotspot for the Thai mafia, who incidentally hijacked our trip (more about that at another time).  To avoid problems, I recommend flying into Krabi (as opposed to taking the train or a bus). We didn't have much time down there, but during our short stay it was apparent that good food is hard to come by.  Things are pricy, since everything needs to be imported to the islands.  Also, if you choose to stay at a more remote hotel to avoid the party crowds, you often have no other choice than to eat at your hotel.  One interesting thing I found at a beach barbecue was a lobster-sized prawn, but since they cost 20 American dollars per prawn, I resisted.  Instead, Corinna and I sucked on a boatload of fresh coconuts, which sustained us during our brief stay.  When I go back, I will rent an apartment and buy my own fish at the market to cook.  Expect things to be marked up 2-6x here.  The beaches, though, are undeniably gorgeous.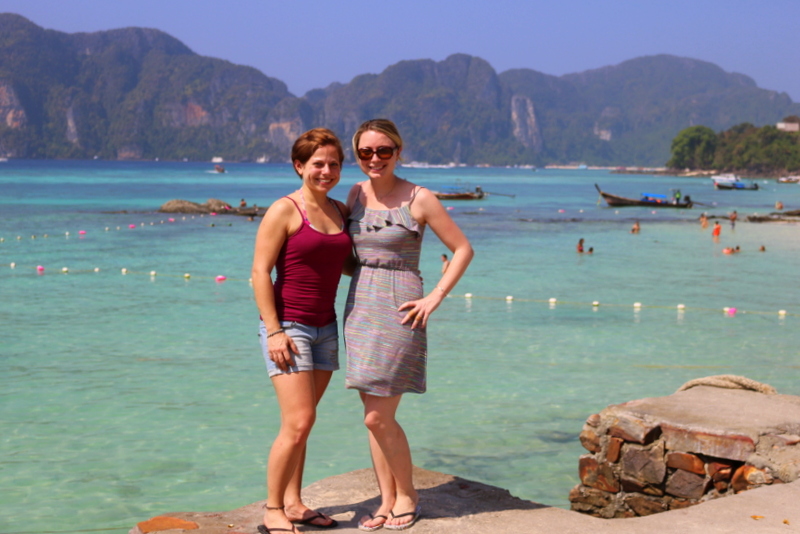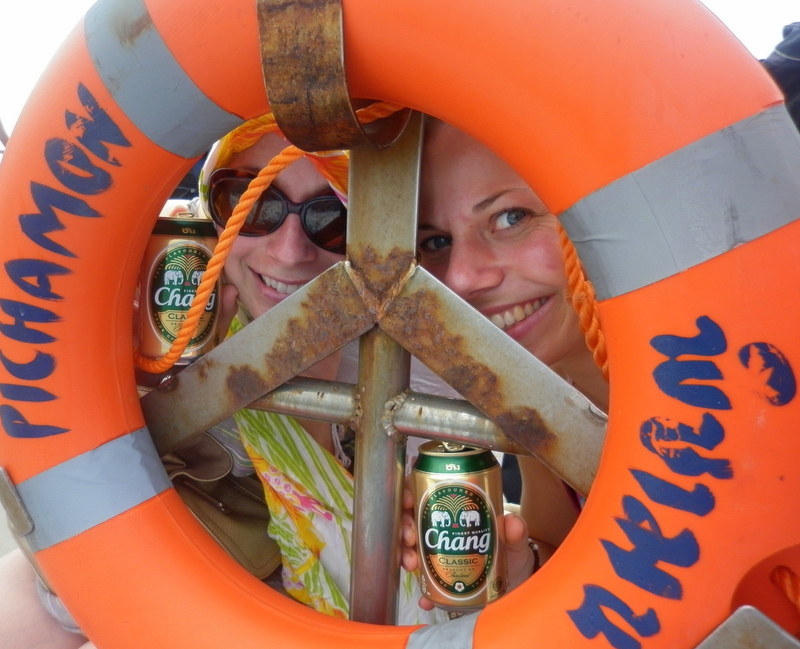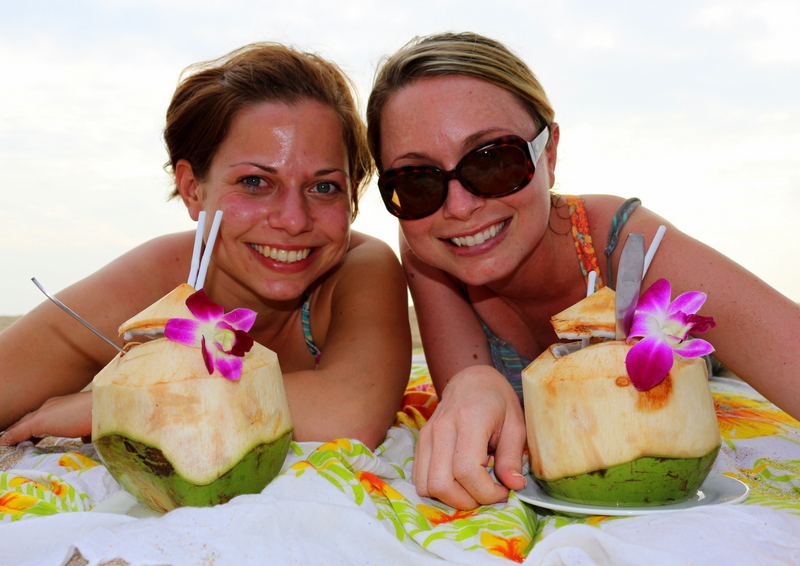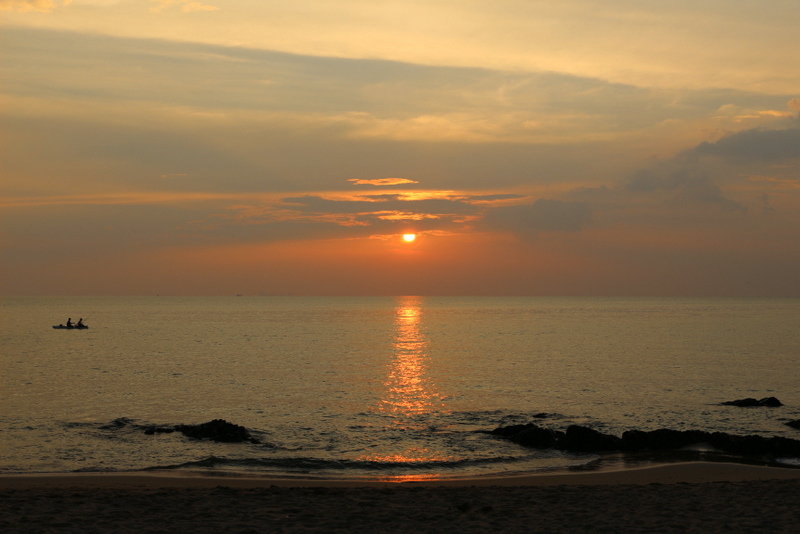 Well, that about sums it up.  Thanks to Corinna for being a good sport during a very "interesting" vacation;).  As for the rest of you, stay tuned as I continue tearing up Bangkok for its best eats!