It's now our fifth month experimenting with A Taste of Thai's products.  Oh how time flies when you're eating Thai!
We're still living in Bangkok, attempting to eat somewhere different every day.  We initially thought that food directly from Thailand's culinary capital would surpass that of A Taste of Thai, but we continue to find that our assumptions, for the most part, were misguided.  We've had enjoyable meals here, but if you've ever been to Thailand, you know that street food dominates the eatery scene.  The issue with street food is that MSG is often used, along with heaps of sugar (in both sweet and savory dishes).  I find that both of the aforementioned ingredients negate the positive effect of the food's freshness, leaving me preferring A Taste of Thai for not just its flavor, but its adherence to quality ingredients (all of which are gluten and GMO-free).  I also appreciate the transparency involved in making my own Thai food with A Taste of Thai's products.  Since many Thai recipes are complex in their preparation, it's hard to know exactly what you are consuming in Thailand or at your neighborhood Thai restaurant.  Give A Taste of Thai a try, and I think you just might find yourself frequenting your local restaurant less.
The dish we are featuring today was recently written up in Real Simple magazine as the best-flavored Thai rice on the market.  Aside from being famous, it's also incredibly easy to make.  We're referring to Yellow Curry Rice.  Everything you need (aside from water and oil) comes right in the box.  Put away your measuring spoons and cups, because the jasmine rice and Thai spices are ready to be tossed in a pot as is.  In twenty minutes you'll be eating something that tastes inspired (even though you may feel less than inspired to cook;).  This is a great side dish for fish or chicken, or you can add shrimp and prepare it as your main course like we did.  As soon as you taste it, you'll find that while it's a quick meal, it is unique enough to hold its own as a dinner party dish.  It's not too spicy, but it has enough kick to summon visions of faraway lands.  Since Thailand's a realllllllllly long flight away, why not get carried away on this dish instead;).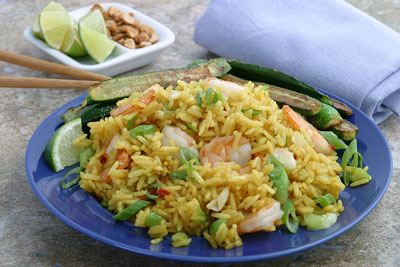 If you have a little more time on your hands and want to try something more involved, may I suggest Yellow Rice and Spinach Stuffed Flounder or Curried Rice with Turkey and Edamame?  Any way you slice it, this yellow curry rice is enTHAIcing.
See what I did there?
Time to sign off, as my humor is clearly deteriorating.  Give the above dishes a whirl, and stay tuned for our accompanying giveaway!