After hitting up Pittsburgh and Cleveland, we swung through Chicago for a quick blip.  The windy city merits years of food exploration, making our three short stints there feel like a tasty tease. This time, to cover more ground, we ignored the temptation to return to our tried and true favorites (Moto and Goosefoot).  Instead, we offhandedly let the city's wind take us where it may, and we were thankfully rewarded for our spontaneity.  
We were invited to 312 Chicago for lunch, and we weren't sure what to expect.  The two of us combined have spent considerable time eating our way through Italy, after which not many Italian restaurants in the U.S. measure up.  Not to sound pompous, it's just that so many dishes served here are such loose interpretations of their Italian counterparts that we prefer to preserve our memories of true Italian dining by favoring other cuisines in the States.  Well, that probably still sounded conceited, but I'm sure that anyone who has been to Italy can relate.  312 Chicago's Executive Chef Luca Corazzina seems to share our appreciation for authentically-prepared Italian dishes, which was a pleasant surprise for us.  Luca was born and raised in Padova to a chef mother, and it almost seems as though his cooking is innate rather than learned.  He walked us through his menu and humored our desire to reminisce about Italy.  Most of his menu items are directly inspired by his upbringing and regular trips back to his hometown, and while he adds a contemporary touch to all he cooks, he's very careful not to dilute traditional dishes.
As an appetizer, we ordered the Fava salad from the Menu di Pranzo.  While simplistic in its composition, the fava beans added a unique texture to the mix, and the lemon Tuscan olive oil and shaved pecorino offered a welcome zing of flavor.  It had all of the elements necessary for a memorable summer salad.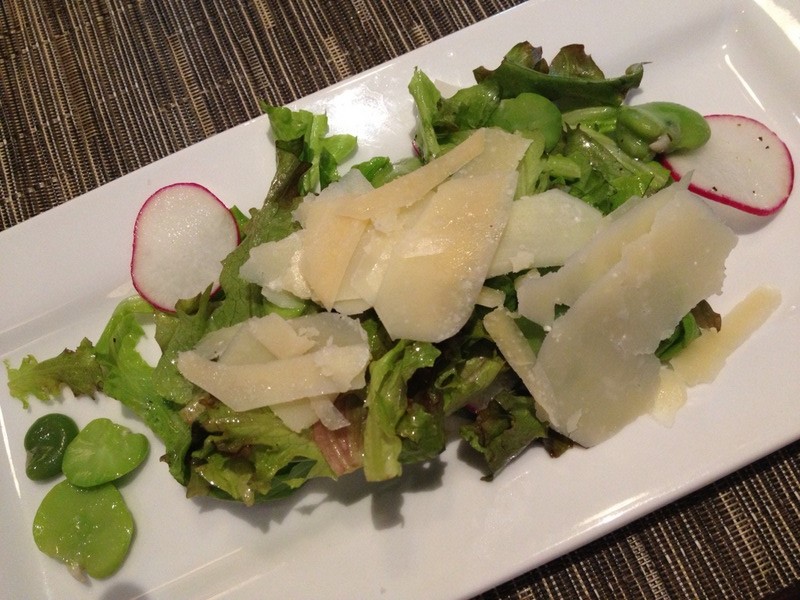 For our main course, we tried the Calamari, which was grilled with radicchio, endive, arugula, and grape tomatoes, all tossed in a lemon chive oil, and the Ippoglosso (roasted Alaskan halibut with cauliflower, red onion, fava beans, and pancetta).  We appreciated the inclusion of fresh, local veggies in both dishes, paired with seafood that was equally fresh and cooked to perfection.  Chef Luca and his team make their own pastas and sausages, which we'll be trying next time, but this time, we gratefully gobbled some lighter, yet filling fare.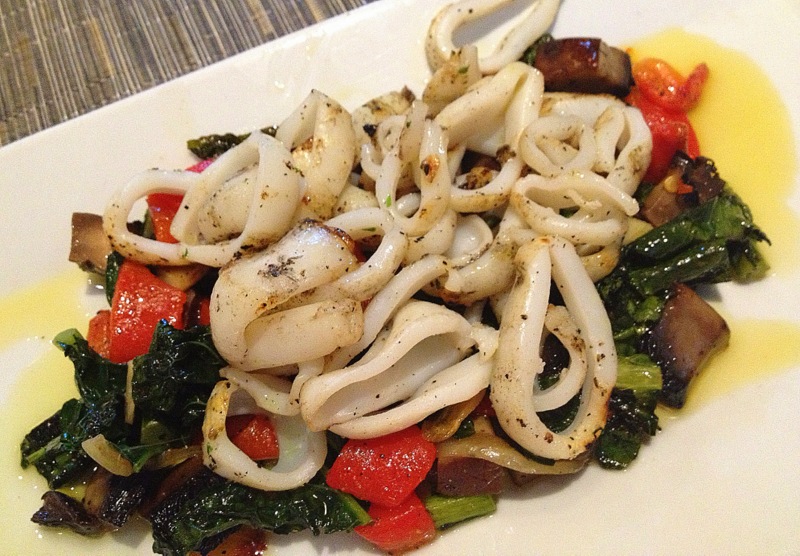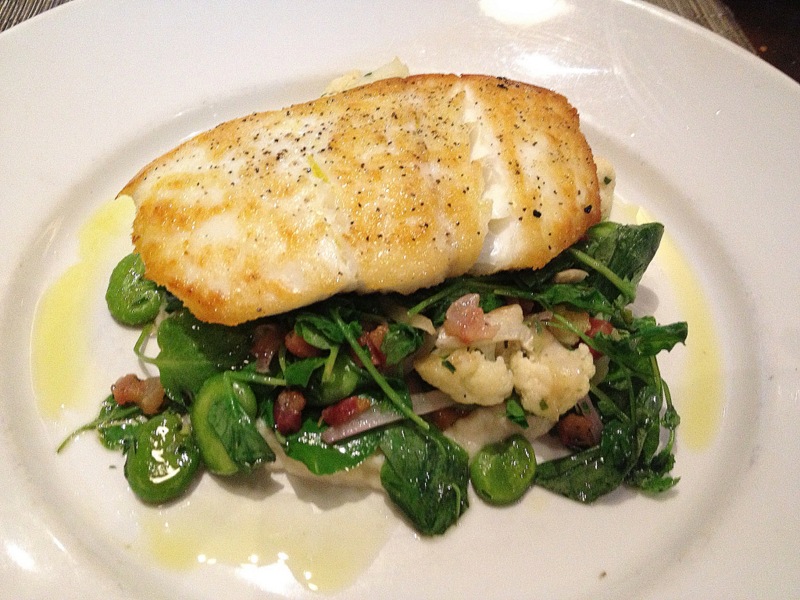 Why go light?  To save room for dessert, of course!  While Chef Luca is well-known for his bread pudding, chocolate beckoned us into ordering the torta di cioccolato, a flourless chocolate cake with fresh berries.  It was sinfully scrumptious – definitely one of those desserts for which you'd shamelessly drive across the city, just to satiate your sweet tooth.

In conclusion, 312 Chicago is more than worthy of your patronage.  As usual, we've mostly focused on the food, but the restaurant possesses other noteworthy components as well.  Its ambiance is sophisticated, but not pretentiously so, making it fitting for any occasion whether it be a date night or a business lunch (given its central location in the Chicago Loop commercial district). 312's service is attentive, and on-point in terms of the waiters' familiarity with the menu, and we'd be remiss to end this post without mention of the restaurant's extensive wine and cocktail menu.  An added bonus of 312 Chicago is Scuola 312, a seasonal cooking course with Chef Luca, in which he teaches fellow foodies how to prepare his favorite dishes, which the class subsequently enjoys along with his homemade limoncello.  Last we checked, flights to Chicago were much more affordable than those to Italy, so why not sign up for a class or two?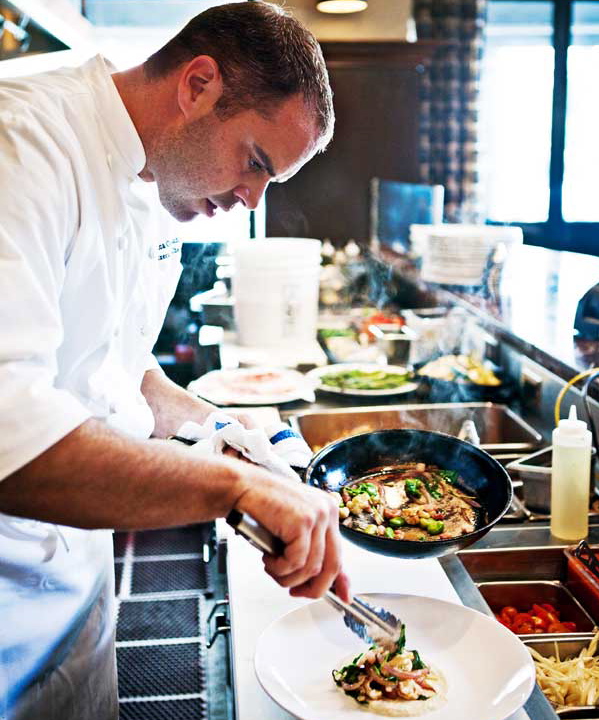 Now, before we scurry off to our next snack, let me briefly mention two other places we like for more casual, quick meals.  On our way out of Chicago we were feeling a bit peckish, so we stopped by Hot Doug's for a hot dog and Antique Taco for some Mexican bites.  We tried a bacon mac and cheese dog at Hot Doug's, where affordable gourmet dogs and sausages are served from a menu that changes daily.  I didn't find the mac and cheese to be especially flavorful (I prefer more cheese), but the hot dog and its poppy seed bun were perfection, and our visit was pleasing enough for me to recommend getting to Hot Doug's before they close permanently in October.  At Antique Taco, the mushroom taco with cilantro cream was a standout item.  I wasn't a fan of their horchata milkshake, which seemed a little watered-down, but I'd for sure frequent the place for tacos if I were a Chicago resident.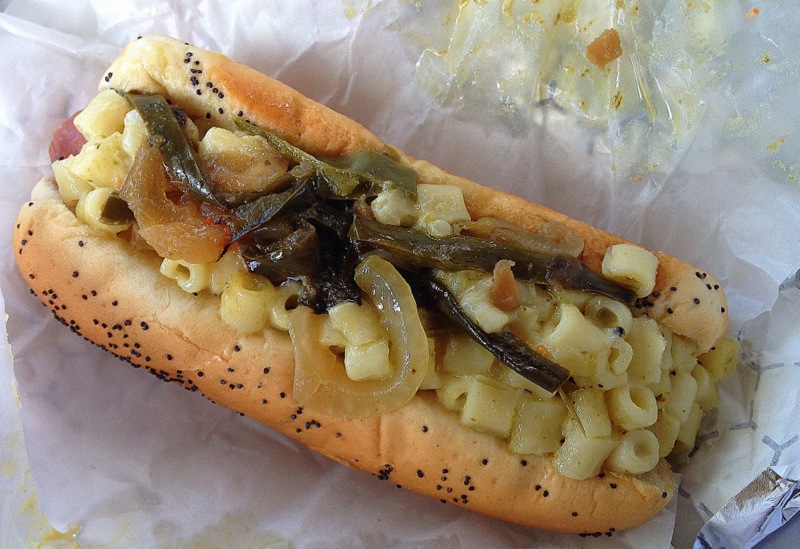 Thanks again for the hearty welcome, Chicago!  We'll be back for you sometime soon, as we know we've barely scratched your surface.  Next stop: Knoxville, TN!
*Special thanks to Michelle for organizing our 312 Chicago visit, and for patiently awaiting our review.