Yesterday, we got cracking on a compilation of our favorite nutritious snacks.  These products were the best of many that we tried, and we were grateful for their sustenance during our recent 2-month road trip.  We easily embraced their new place in our lives because they challenge the notion that eating healthy involves depriving yourself.  Today we will complete yesterday's list, and hopefully you can keep your eyes peeled this weekend for these products so you can join us in our guilt-free snacking.  Thanks to these companies, you'll soon realize that tweaking your current snacking habits is simple rather than a sacrifice.
In case you missed this from the last post, this list is in no particular order (we really did love everything equally), especially considering it's impossible to compare things that are as different as nuts, fruits, and chocolates.
6. Nuts.com: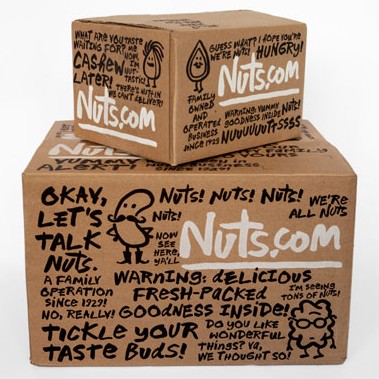 This company started as a stand in a Newark open-air market in the 1920's, and is still going strong as an online retailer 3/4 of a century later.  The business has been kept in the same family all these years, and from the looks of their history, products, and quirky packaging, they're some pretty cool cats.  If we woke up tomorrow and Nuts.com were the only functioning website, I'm confident we'd all be able to survive off of their 2,000-some products.  From coffee to chocolate to dried fruit to nuts (duh), Nuts.com has something to satiate us all.  They roast their nuts the day they send them out to you, so their freshness and quality really can't be beat.  It's probably clear by now that I want all of my healthy snacks to taste like chewy fudge brownies, and Nuts.com's Organic Raw Cacao Goji Energy Squares come pretty darn close!  Full of organic raw seeds, fruits, goji powder and shredded coconut (or what I like to call 'nature's candy'), these little bars are a sweet tooth's dream come true.  Their Acai Blueberry Superfood Cereal brings me right back to Brazil, where I lived off of fresh Acai smoothies sprinkled with granola.  Unlike other granolas that are packed with sugar, this cereal is flavored with a bunch of exotic fruits, like camu camu, my absolute fave antioxidant-packed Amazon jungle fruit!  Now I don't have to travel nearly as far to eat it!
7. Crispy Green and Nature's All Foods: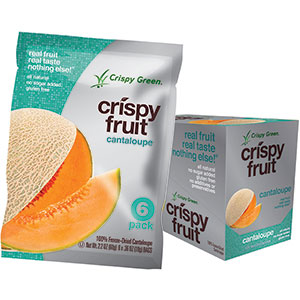 I find cantaloupe to be tasty and refreshing, but am I going to cart around a bunch of melons on my road trip?  No.  The concept of freeze-dried fruit solves the problem of fruit that's not so portable, and Nature's All and Crispy Green know what they're doing in this department.  In fact, since I manage to drool all over myself every time I'm eating fresh fruit, I think I favor freeze-dried fruit to fresh fruit any day.  Why?  Well, these companies do all the work for you.  They pick the fruit when it's at its ripest, clean it, remove its seeds and cores, and suck out its water with a freezing vacuum.  No longer do you have to worry about your bananas ripening too quickly, or discovering that you accidentally picked a completely bruised peach.  Freeze-dried fruit is fresh for a year, and with only water removed from it, it maintains all of its nutrients.  The added bonus is that it's crunch is reminiscent of astronaut ice cream (remember eating that as a kid?).  Since this might be the closest you and I get to space, I think we should stock up on our freeze-dried fruits!  Wait until you taste how cool the texture is, and how eerily similar its flavor is to fresh fruit.
We loved Crispy Green's Tangerines, Asian Pears, and Cantaloupe.
Nature's All left us longing for more of their Organic Bananas & Strawberries and Organic Tropical Fruits Mix.  Last year, they also started freeze-drying vegetables, and we can't wait to try their Organic Pumpkins & Cinnamon (YUM!!!!) and Organic Roasted Corn.  Why go through all of the trouble of gutting a pumpkin or shucking some corn when you can opt for a nice, contained bag of freeze-dried veggies from Nature's All?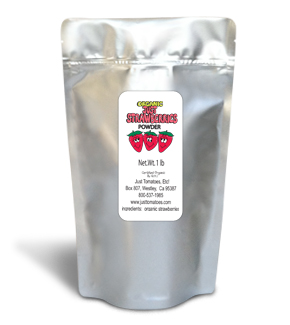 This company's name is a bit deceiving, as they do SO much more than just tomatoes.  Like the previous two companies, Just Tomatoes Etc! specializes in freeze-dried fruits and veggies (they actually freeze-dry our favorite strawberries).  Many of their products are grown on their family farm or neighboring farms in California.  What I like most about this company is that they offer freeze-dried fruit powders of all sorts.  Since we travel with our blender (weird, I know) we're often making smoothies, but we don't like leaving fresh fruit in our hot car, nor can we bring along frozen berries to add to the mix.  These fruit powders are a great alternative not just for smoothies, but for adding to oatmeal/cereal, sprinkling on buttered toast and ice cream, or just eating out of the bag Fun-Dip style (okay, that might be weird too, but don't knock it until you've tried it!).
9. Pure: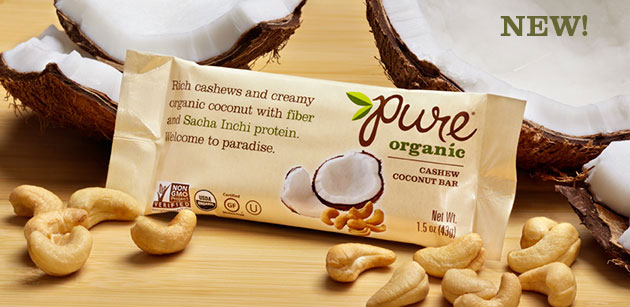 First of all, how could you not want to stand behind a company that's mission is "satisfying stretches, sunlit hikes, belly laughs, and muddy hands"?
If you appreciate alternating endless spoonfuls of Nutella and peanut butter into your mouth (a typical Mon-Thurs night for me), Pure's Peanut Butter Chocolate Ancient Grains Bar might just be your new best friend.  Like me, you'll feel much better about the ingredients in the latter than the former.  Having lived in the Peruvian Andes for so long, we also love Pure's use of superfoods like quinoa and sacha inchi.  Their bars are gluten-free, 95% organic, and non-GMO, and their entire company and website are devoted to helping customers become more conscientious about what they put in their bodies.  Veronica, Pure's founder, started the company after her 6-year old daughter decided that she didn't want to eat meat after a zoo visit.  Pure's products are the result of many hours spent experimenting in the kitchen to create snacks for her family using organic, chemical-free fruits, nuts, unrefined sugars, and other real, minimally-processed ingredients.  Be sure to give Pure's Fruit Sandwiches a try as well. More filling than a fruit leather, but less filling than an actual sandwich, this is the perfect snack to hold you over between meals.
10. Enjoy Life: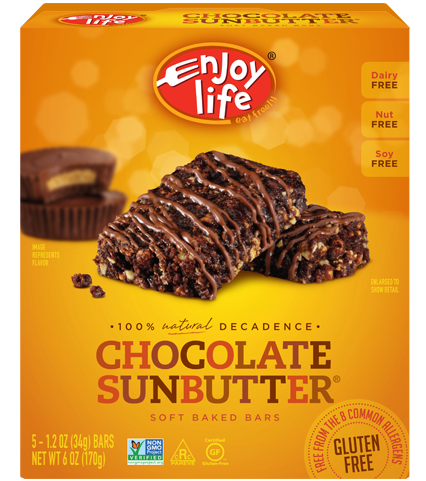 Many of Enjoy Life's healthy snacks have a dessert quality to them, which I am certainly NOT complaining about.  Their products are gluten-free, and don't include artificial ingredients OR any of the 8 most common allergens.  The majority of our breakfasts on the road were replaced with Enjoy Life's Decadent Bars.  Chocolate Sunbutter was my preferred flavor (because I obviously can't survive a meal without chocolate), whereas Jill LOVED the Cherry Cobbler Bars, and couldn't stop telling me how much they tasted EXACTLY like cherry cobbler.  Now you know!  We really want to try their Soft Baked Cookies and their Lentil Chips, which we're sure are as spectacular as their other products.  We really admire Enjoy Life's commitment to eliminating ingredients that are difficult for our bodies to process, while still creating crave-worthy treats.
That concludes our Top Ten Healthy Snacks list.  As we mentioned yesterday, these products aren't just an excellent inclusion in your road trip snackpacks.  You could pack them in lunches for you or your kids, slip them in a care package for a loved one, and even eat them as replacements for some of your favorite desserts.  So many of these companies started making their products for their own personal consumption in their desire to eat cleaner, so they are trustworthy sources for nourishing, carefully created foods.  Find out on their websites (linked above) where they're sold near you, and we hope you relish in their goodness as much as we have!
May all of your adventures this weekend be healthy and fun.  Join us next week for a chance to win snacks from the featured companies!