Shall we continue with our U.S. Road Trip Series?  So far, we've covered Pittsburgh dining and accommodation, an accomplishment I feel should be rewarded here with a snack (or ten).  When we were planning our cross-country trip, my imagination was gleefully awash with visions of sinking my chompers into Nathan's hot dogs and Cinnabon's sticky buns at every rest-stop.  Because that's how I (and heart disease) roll.  This was foiled by my PR Director and trusty travel companion, Jill, who envisioned our trip unfolding differently.  She had stocked our car with all sorts of wholesome, healthy, gluten-free snacks, some of which I recognized and some I didn't, but none looked or smelled as tempting as a hot dog or cinnamon bun.  I was leery, but over the course of our two months of travel, I succumbed to her snackpack, for some of its contents were real winners.
While many of the 100-some snacks we tried on the road tasted like seasoned styrofoam, ten of them stood out as not just acceptable, but awesome.  I realized almost immediately after eating them that I felt less peckish than I would have had I grabbed a rest-stop snack, and there was a marked difference in my mood and energy level as well.  I will continue buying, devouring, and favoring them to junk food (most of the time, anyway;).  But first, I'll tell you about them, and soon, you'll have a chance to win goodies from each of the companies we're featuring on this list.  Trust me when I say you'll want to experience first-hand what all the hype is about!
This list is in no particular order (we really did love everything equally), especially considering it's impossible to compare things that are as different as nuts, fruits, and chocolates. Here are our recommendations for healthy, gluten-free snacks for the entire family.
1.  Sahale Snacks: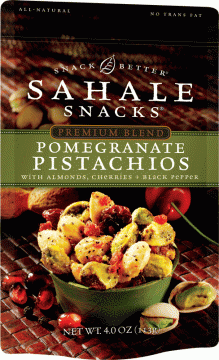 Think about how good nuts like cashews and pistachios are by themselves.  Then imagine mixing in preservative-free dried fruits, organic fruit juices and sugar, and exotic spices and herbs like Madagascar vanilla and lemongrass.  Sahale uses only the highest quality ingredients in their products, and it shows.  Their nut blends taste homemade, like something your overachieving friend (who you love dearly) would make and bring for you to share on a hike (when you would barely remember a water bottle).  In fact, Sahale's founders conceptualized their company while climbing a mountain, realizing how much more fulfilling their hike would be with some good, nutritious snacks in tow.  They one-up the concept of healthy snacking by experimenting with globally-inspired flavor combos that are anything but boring.  Living in Thailand, I was drawn to the Sing Buri Cashews, which are soy-glazed, and like so many of the dishes I love here, include pineapple, peanuts, lemongrass, and chili.  Then there's the bag of Pomegranate Pistachios (with cherries and black pepper, how different and delightful!) that we downed in one sitting while waiting for AAA to come revive our broken-down car.  Some people are inspired to snack while hiking a mountain, and others while listlessly sitting on their rumps.  Whichever category you fall into, do yourself a favor and try Sahale snacks.
2. The Good Bean: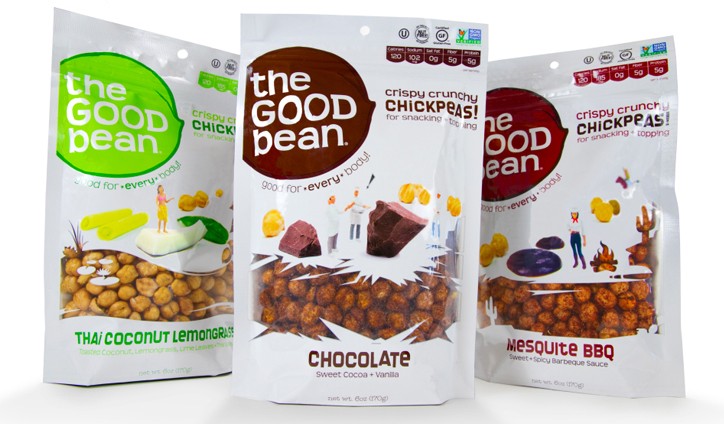 Are you as gaga for garbanzos as I am?  If so, you'll appreciate this company.  Their snacks are made with roasted chickpeas, which have all of the crunch (if not more) of a potato chip, but more protein and fiber and way less fat and cholesterol.  Their products are also gluten-free, and having many friends who can't digest gluten, I understand how challenging it is to find satisfying snack options.  The chickpeas can be enjoyed alone, in The Good Bean's flavored snack bags, or mixed with fruit in their Fruit & No Nut Bars (which have 40-60% less fat than other popular nut bars). Like Sahale, The Good Bean is committed to using the best, most minimally-processed ingredients.  If you take a look at their website, you'll notice their bend towards simplicity and transparency, which is reflected in both their ingredients and how they choose to present their products.  We loved their Sweet Cinnamon Chickpeas (I guess I just found my Cinnabon substitute!) and their Cracked Pepper variety.  Their crunch reminded me of a corn nut, but since these chickpea snacks aren't deep-fried, they're obviously the smarter choice.  We were impressed with how much flavor they packed for such a small surface.  The Good Bean's products are addictive (as are most good snacks), but they differ from unhealthy snacks by being a treat you can finish off in one sitting sans feeling guilty!  I can't wait to get my hands on their new flavors, especially the Chocolate and Thai Coconut Lemongrass.
3. Crunchmaster and Mary's Gone Crackers: In the cracker category, we have a tie.  I'm not a big bread fan, but I like my crackers to possess the complexity of a hearty wholegrain bread. Crackers are great road trip companions given that you never know how many cheese shops you'll encounter while cruising through farmland (like Grandpa's Cheese Barn in Ohio, for instance.  SO. MUCH. CHEESE!).  While good cheese is abundant at these places, crackers there aren't always up to par.  So we brought our own, and the following two won our taste test by a landslide.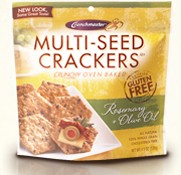 Crunchmaster's Multi-Seed Crackers taste like a mix between thin Japanese rice crackers and the sesame sticks (AKA the best part) of Oriental snack mix.  If that doesn't sound as good to you as it does to me, I'm not adequately describing them.  These crackers are thin and light, but fill you up since they are brimming with sesame, flax, quinoa and amaranth seeds.  All of Crunchmaster's products are also gluten-free, as well as cholesterol-free and trans fat-free.  Our favorites were the Rosemary & Olive Oil Multi-Seed Crackers and the 7 Ancient Grain Crackers with a Hint of Sea Salt, both of which were great by themselves and/or topped with cheese.  I can't wait to try their Popped Edamame Chips now!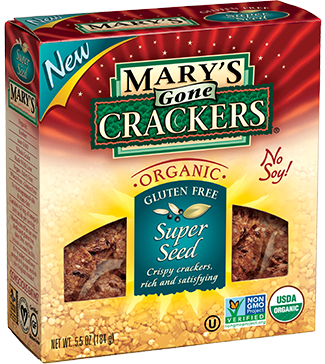 In addition to having a playful and memorable name, Mary's Gone Crackers makes a mighty memorable cracker!  Mary (a former psychotherapist) discovered in her forties that she had Celiac Disease (a severe gluten intolerance).  While experimenting within her own kitchen to create things she actually could digest, she made a cracker with which she and her friends (even those without Celiac Disease) fell in love.  It wasn't long before she and her husband left their jobs to manufacture Mary's crackers on a larger scale.  They make products that Mary hopes will nourish people as much as changing her diet post-Celiac diagnosis nourished her.  Along with being gluten-free, Mary's Gone Crackers products are vegan and are made with minimally-processed, organic ingredients.  We especially like her Super Seed Crackers and Chipotle Tomato Pretzels.  The former recently sustained me on an 11-hour layover, during which I would have regularly consumed at least five snacks.
4. LÄRABAR: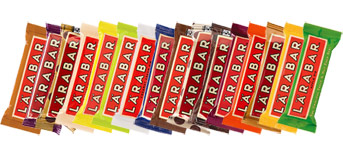 Those of you who have had a LÄRABAR know that its inclusion on this list is a no-brainer.  With decadent flavors like Coconut Cream Pie and Chocolate Chip Brownie, how could you not contemplate substituting all of your desserts with these bars?  With fewer than nine ingredients (my favorite only has two ingredients!), LÄRABARS are made entirely of whole foods like unsweetened fruits, spices, and nuts (and they're also gluten-free).  I really don't know how they do the nutritious voodoo they do, but I'm considering adding their bars to the list of five things I'd need to survive on a deserted island (in order to transform it to a desserted island.  Sorry, I couldn't resist). Cashew Cookie would be my first choice- so chewy and satisfying that replacing a cookie or brownie with one of these doesn't even feel like a sacrifice!
5. R.A.W.- Real and Wonderful: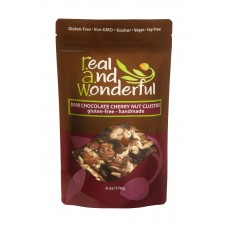 While on the topic of dessert alternatives that don't feel like sacrifices, we'd be remiss to exclude R.A.W.-Real and Wonderful's sweets from this post.  R.A.W. was started by two Moms interested in the raw food movement, experimenting with nutritious snacks to feed themselves and their families.  They started selling their products at local farmers markets, and the community response was so overwhelming that the company blossomed (and continues to do so).  Their products are also gluten-free, and dehydrated (as opposed to heated to high temperatures), which preserves their nutrients.  My friend is addicted to their Vanilla Macaroons, whereas I can't get enough of their Dark Chocolate Cherry Nut Bars.  Have you tried the chocolate-covered Bing cherries from Trader Joe's?  I have, by the bucket-full, because they're that good.  However, they are by no stretch of the imagination good for you.  R.A.W.'s Dark Chocolate Cherry Nut Bars are comparable in flavor, and have the added bonus of raw cashews, almonds, and macadamia nuts mixed in with their homemade dark chocolate.  Denying yourself of chocolate is just plain silly, but eating the right type of chocolate is smart.  I know I'm achieving the latter when I eat R.A.W.'s products.
So there you have it- our take on the best healthy snacks out there, all of which are perfect for road-tripping, filling candy/cracker dishes at parties, or bringing to work as an antidote to your 2pm hankering for mountains of Cheetos and Snickers (geez, I'm just highlighting ALL of my vices in this post!).  Stay tuned tomorrow for the second half of this list, and next week, for our exciting giveaway.
I wish you happy (and healthful) snacking in the meantime!