Today marks the final day in our Savannah Bee Company series.  I would be mourning this end if I didn't plan on continuing to drizzle their honey all over every single food I eat.  Since it's Friday, we will kick back with some honey cocktails.  Since spring has arrived, this entry will also include a honey grill recipe.  Let's get right to it, so we can all frolic off to enjoy our weekends.
The Royal Bee
Last Christmas, my close friend (who is a recipe rockstar), gave out her homemade simple syrups as holiday gifts.  For this recipe, you will first need to make her Rosemary Lemon Simple Syrup.
Pour honey into a saucepan with water and bring to a boil.  Reduce heat to a simmer and stir until the honey is dissolved.  Remove from heat.
Destalk rosemary and stir leaves and lemon slices into the warm honey water.  Let sit for 20 minutes before removing rosemary and lemon.
Refrigerate simple syrup in a tight, clean jar for up to a month and use in your cocktail creations.
Now, to make the cocktail, you will need:
From here, it's easy peasy.  Mix equal parts whiskey and simple syrup, and pour over ice before adding a splash of sparkling water.
(Please forgive the poor quality of the pics in this post, as they were taken with a phone.)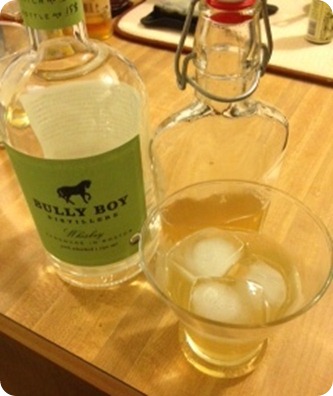 The Green Tea Rumblebee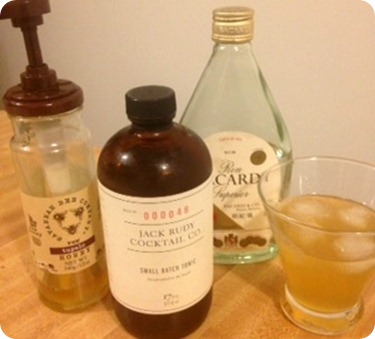 Dissolve honey in warm tea, and let cool completely.  Shake tea with rum and pour over ice.  Add a few drops of bitters and a splash of tonic, and stir.  This is my new favorite drink!  I tend to like lower calorie drinks that aren't made with soda or fruit juice, so this is a perfect alternative.  Green tea and honey both have multiple health benefits, so I can't really imagine a better blend!

Spicy Honey Chicken
Mix all spices together and set aside.
In another bowl, mix honey and cider vinegar and add to the spice bowl.  Blend well.
Flatten chicken thighs and cover both sides in mixture.  Let marinate in fridge for 24 hours, mixing occasionally to be sure all chicken is covered.
Grill or broil for about 5 minutes on each side, or until chicken is cooked all the way through.  We served ours over spinach and added some mushrooms.  It was tender and perfectly flavored, and made for a great salad.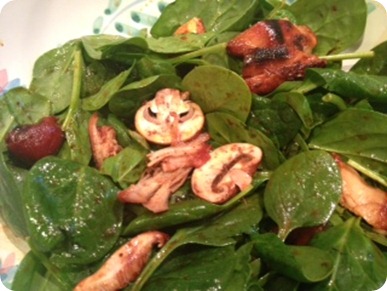 If you learned one thing this week, we hope it's that you MUST invest in Savannah Bee Company's products.  They sell something for everyone, and their honey is un-bee-table and can be incorporated into so many recipes!  Buy it online, or better yet, take a trip down south to see for yourself all they are up to.
Here's to a happy, honey-filled weekend to all of my foodie friends!
Header Photo: "Tenue de soirée..." by alpha du centaure