Welcome back for Part 2 of two posts we're devoting to our absolute favorite dining experiences in Cape Town.  If you travel often, you know that it's pretty common for memories of places seen, meals eaten, and adventures had to blend together or fade away with time.  Heck, even if you aren't big on traveling, it's still difficult to keep accurate tabs on the past.  We were in Cape Town for a month and a half and we ate out for almost every meal.  That means we visited over 100 different eateries (my bank account just started sobbing after acknowledging that breakdown).  I'm confident that the six restaurants that we've featured in this spotlight series will continue resounding with us though, their uniqueness battling our faulty memory to withstand the test of time.  While my descriptions are aimed at capturing their true essence, I do hope you'll try these places for yourself if your travels find you in Cape Town.  We'd love to hear what you think, and by "think", I mostly mean "eat." 

If you missed the entry that precedes and introduces this one, you can read it here.  Then we can delve into our final three gastronomic gems.
This Thai restaurant is unexpectedly nestled in the small fishing village of Hout Bay, residing within an old Cape Dutch farmhouse from the 1600s.  Our visit fell on a night where I wasn't sure anything could content me, as we had just completed the most challenging hike I'd ever agreed to, and just lifting my limbs to walk felt cumbersome.  However, upon stepping into the restaurant, we were immediately transported to a different time and place, all elements successfully conspiring to distract me from my aching muscles.  The gold-imbued wallpaper, richly-hued draperies, and dark hardwood floors make Kitima feel fit-for-royalty.  Its hospitable management (down to the charming parking attendant with the contagious smile), warm lighting and color combinations, and Arcadian architecture make it feel perfectly fit-for-the-rest-of-us.  Kitima's team does a masterful job fusing South African and Asian cultures, which is evident in certain menu items like their satay and Paad Ka Phrao (in which beef and chicken are replaced with ostrich).  Also, while Kitima's interior design is predominantly Thai, there is a respectful adherence to the building's history in both its maintained framework and some of the restaurant's customs.  My initial interest in Kitima stemmed from having heard that it's haunted.  We learned while we were dining there that a Dutch colonel and his family lived in the house in the 1800s, and it is believed that the ghost of his daughter Elsa still lingers, having died of a broken heart after her father forbade her to marry her love (a British soldier, who hung himself over the ordeal).  In true Thai fashion of venerating the dead, a full table is set each evening with silver, flowers, and food for Elsa and her lost love.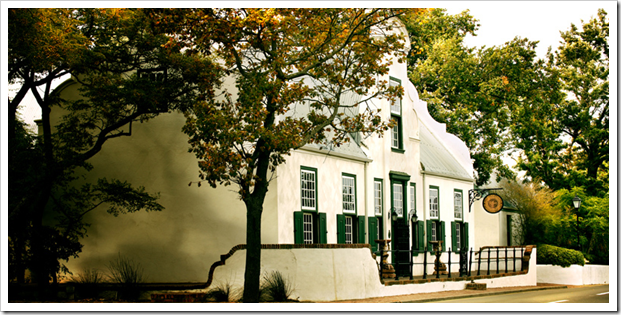 We started our evening in Kitima's Raya Lounge, where we sank into pillowy chairs and tipped back a couple of apéritifs.  With approximately 100 specialty cocktails, we found this bar's menu (and the quality of its drinks) to eclipse (by a long shot) that of every other bar we visited in Africa.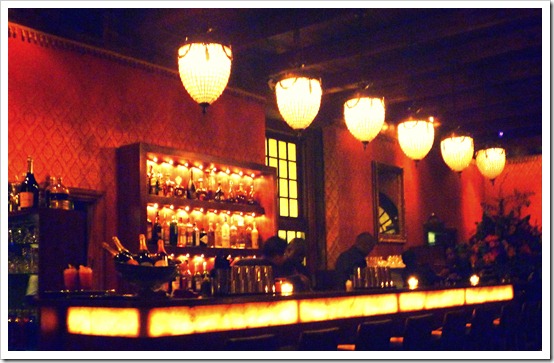 A Mixed Berry Mojito, butternut and spicy prawn crisps, and a Strawberry Rose Martini (made with basil-infused vodka and clove-infused ice):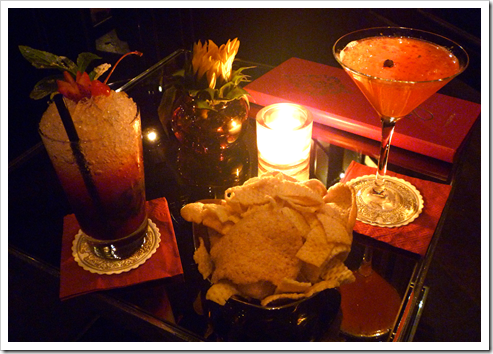 When we moved into Kitima's cozy dining area, we were greeted with a menu just as impressively extensive as that of Raya Lounge.  Chef Kuan Lai joined our table to guide us through the different dishes that Kitima offers.  He shared with us that the herbs used at the restaurant are grown organically on the estate, ensuring the freshness of each dish they serve their guests.
Kitima Starter Platter: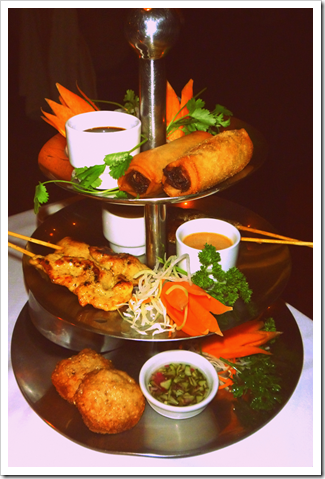 Chocolate buns à la mode with vanilla sauce:
Our top Kitima picks:
Siu mai (steamed dumplings of minced prawn and pork)- the best dim sum that either of us have ever tasted.  Perhaps it's worth mentioning that we live in Asia, and Kitima's dim sum still takes the cake!
Tom Yum Goong- piquant and authentic.
Red curry lamb shank- this was slow-cooked and fell right off the bone.  The flavor and texture couldn't have been more divine.
Kitima's attention to finer details, and refusal to cut corners in any of their functions translates to a comprehensively pleasurable dining experience.  This place comes highly recommended.
The name of this restaurant drew me in, as I've always found savoy cabbage to be most curious in its crinkled composition.  We chose to eat our first nice meal in Cape Town here, and despite its interesting architecture and alluring menu, we found its staff members to be a bit lacking in their social graces.  There were also some peculiarities in the restaurant's presentation, such as the fact that our waitress told us that their team "didn't believe in music," leaving us to digest our gourmet meal to the distracting buzz of the downstairs refrigerator.  For many reasons, I wasn't primed to enjoy this meal, as the experience lacked continuity and ease in many respects.  Much to our surprise, though, we were blown away by every single dish brought to us.  South Africans love their meat, and Savoy Cabbage offered us a distinct take on three meats that were new to us.  While I would much prefer a well-rounded restaurant visit, the talent of Savoy Cabbage's chef is indisputable and the restaurant is worth visiting for the food alone.
Sugar-cured wildebeest with egg noodles and a pineapple prickly pear salsa.  The sweet, tropical salsa was a nice counterpart to the salty meat, which had the consistency of a thicker prosciutto: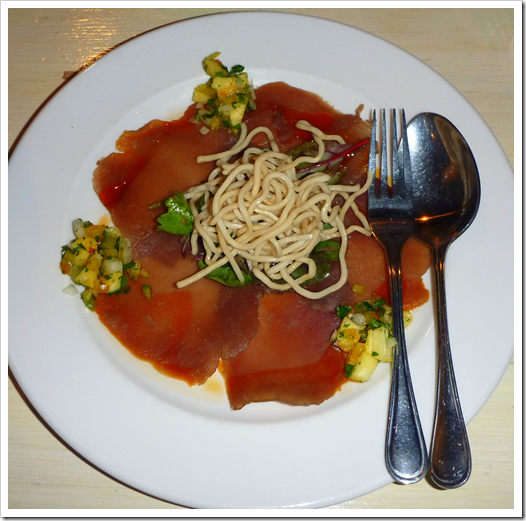 Rare impala loin with spaetzle and red cabbage in a spiced port sauce.  Impala is a light meat, but interestingly has all the flavor of a fattier meat.  Its texture was that of a seared ahi tuna steak, and it nicely absorbed its accompanying flavors: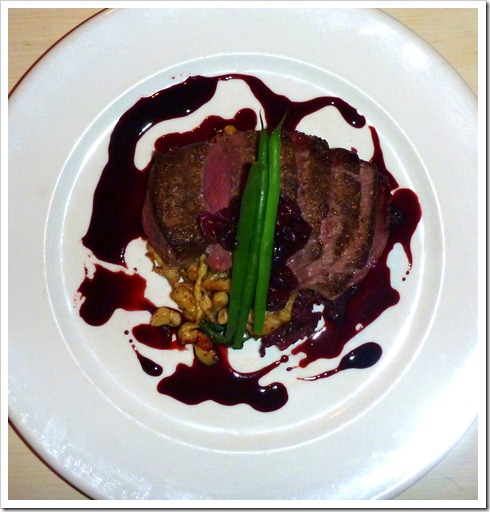 Fennel dusted warthog on bashed neeps and tatties (I think this means turnips and taters?) with red onion marmalade and sour fig syrup.  Could warthog be my new favorite meat?  I think so, though springbok makes a good case for itself.  The texture of the warthog was unlike anything I've ever tasted, sort of springy but not at all tough, with its flavor between a tender pork chop and a cured ham.  This plate was perfection: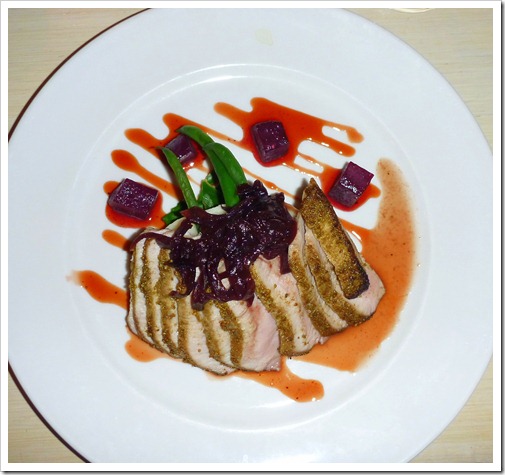 All the cabbage accessories were a nice touch, as well: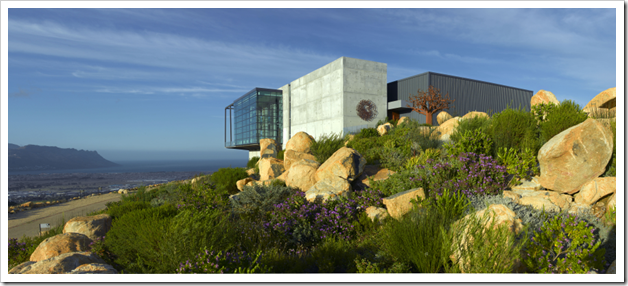 How do I find the words to befittingly describe this jaw-droppingly gorgeous setting?  Waterkloof's angular, yet elegant architecture combined with its wine and world-class dining make a visit here a true treat for all of your senses.  This estate is the result of a ten-year search for the prime environment in which to produce balanced grapes, and Waterkloof possesses the distinction of being one of only a few biodynamic vineyards in South Africa.  Upon purchasing the plot of land, Paul Boutinot (Waterkloof's custodian) removed all alien vegetation to ensure the purity of the vineyard's ecosystem.  Waterkloof's team believes that this, combined with a minimalistic, organic approach to cultivating their grapes segues into wines that have a true sense of place.  Waterkloof itself means water ravine, which is fitting given that the land centers around a natural water source, further reinforcing the vineyard's use of ingredients innate to the area.  The restaurant even serves complimentary purified water and sparkling water from its own property.
Waterkloof's restaurant wasn't part of the initial plan when the vineyard was founded.  When the land proved fruitful and the tasting room was up and running, the team realized that instead of merely suggesting foods that paired well with their wines, they could be creating such dishes themselves.  In designing the restaurant and menu, careful attention was given to preserving and continuing to highlight the vineyard's purpose, which is to produce fine, vibrant wines.  The open floor and glass walls of the restaurant provide guests with a view of the vineyards, tasting room, and kitchen, which promotes honesty and transparency in all aspects of the business (values that were originally manifested in Waterkloof's wine).  Whereas most restaurants put food first and wine pairings second, Waterkloof's menu is based around their wines which prevents their initial focus from being muddled.  While the restaurant is nothing short of sophisticated, it is apparent that it was built with a backbone of simplicity, and any contradictions that exist within its exterior or menu (like its modern architecture vs. its back-to-basics, yet original food) are purposeful as opposed to confusing.

The food, while most definitely gourmet in quality, is refreshingly affordable and has a farm-to-table flavor that speaks to the chef's using as many ingredients from the vineyard's garden as possible.  I think these pictures do the dishes more justice than my descriptions ever could.
Camembert crème brûlée with a walnut crumble and a curry oil-drizzled shaved celery salad: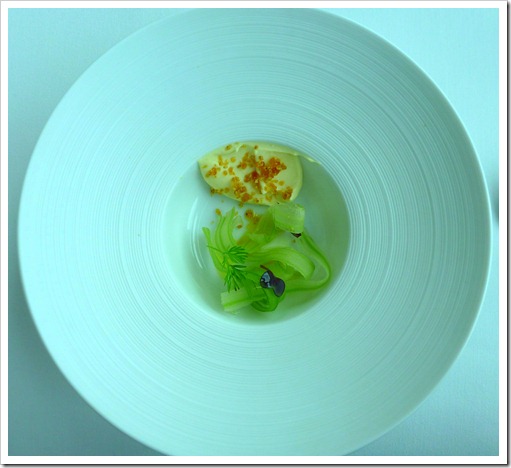 Dry aged springbok in Jägermeister jus with butternut purée, dried apricot tarte tartin, and buchu salt popcorn salad with mebos (dried fruit) and biltong (South African jerky).  If you can get past the somewhat wild aroma of this meat, it will be some of the best you ever eat: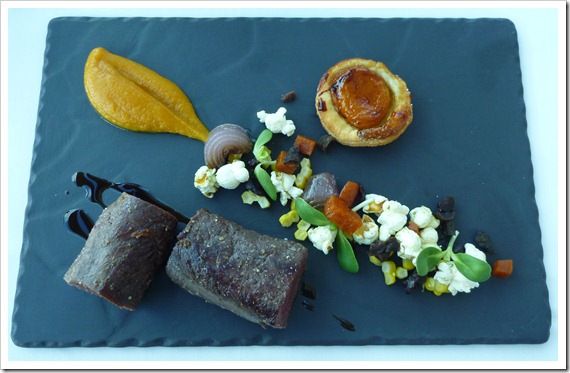 Jasmine pound cake with coriander merengue, jasmine gel, mango sorbet, and fresh mango: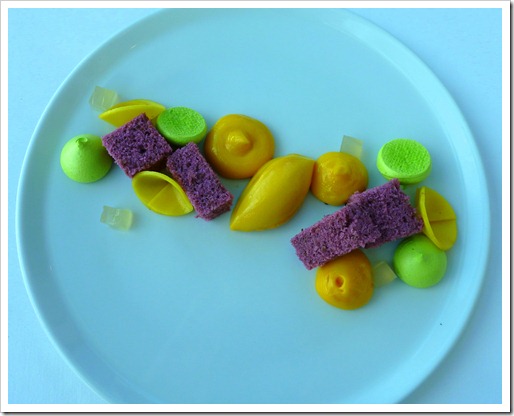 Chocolate prepared in six different textures, joined by passion fruit gel and white chocolate marshmallows.  I'm obsessed with this dessert and regret that other chocolate confections fail to measure up to it: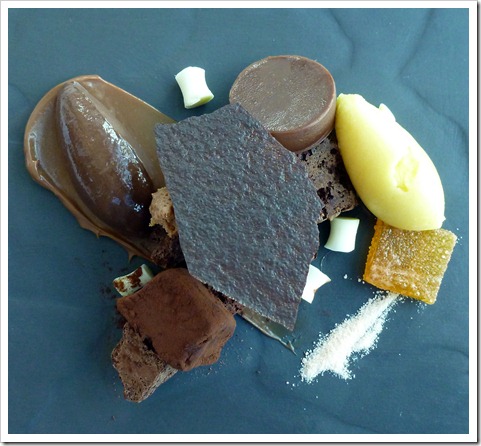 South Africa's wine scene should not be ignored, and a perfect day would be spent wining, dining, and touring Waterkloof's estate.  Three different tour packages are available to explore the vineyard (including a horseback riding option!), and we highly encourage a visit.  You'll soon see for yourself that your sense of awe towards this place will extend far past its magnificent vistas.
**Many thanks to Leanne Sutherland for planning our day at Waterkloof and providing us with some of the above photography of the estate, and to Claudia Young-Kelly for teaching us about the estate's philosophy and practices and infusing her passion for wine, her job, and her team into our discussion.