Those of you familiar with me and my daffy ways know that I have a termination problem.  If a destination even remotely piques my interest, I cling to it until all of my curiosities are sated.  This usually comes in the form of my "needing" to try every restaurant on my wish list, which seldom amounts to fewer than 200 spots in any given city.  As you can imagine, this oftentimes leads to vacations/short stays blossoming into full-blown settlements, particularly since I know I won't likely return to most of the places I visit.  In my mind, the aphorism "quit while you're ahead" is ousted by "don't quit while you're being fed."  Cape Town's flourishing food scene continuously stuffed me silly, therefore contributing to my inability to extract myself from its gracious grip.  South Africa's fault, not mine.
What does this all mean for you, dear reader?  Well basically, I have a boatload of recommendations for you.  Given that many of you may not be planning a trip to South Africa, we are going to intersperse these Cape Town posts amongst other topics we're working on.  Right now, I'm going to challenge the notion of saving the best for last by starting with our all-time favorite Cape Town dining experiences (split into two posts).  In the future, we'll address breakfast spots, cafes, bars, and activities (we're not eating ALL the time, after all…or are we?) that rocked our world in this lively city.
To animate myself for the mammoth task of organizing 1.5 months in Cape Town into manageable posts, please join me in reliving the crème de la crème, which I've listed below in alphabetical order.
This Vredehoek establishment has been a hit amongst locals for the last decade.  Two brothers bought a floundering bikers haunt and revamped it into this sophisticated, yet unrefined (oxymoron?  Maybe, but you'll relate once you experience it for yourself) Italian eatery.  Carlyles is a small, dimly-lit burnt sienna space with a chalkboard menu gracing its wall, reminiscent of the no-frills family-run restaurants in NYC's and Philly's Little Italies.  What Carlyle's lacks in ornamentation, though, it compensates for with its superb service, dinner party-esque ambiance, and carefully-executed, authentic dishes.  I'm all about communal experiences (showers excluded, folks), and Rob and Murray (the owners) excel at socializing with their guests while encouraging a certain fellowship amongst all who enter into their cozy world.  Near the bar, there are backgammon sets awaiting guests craving an ice-breaker, and all factors within Carlyles combine to make it feel like the Cheers of the restaurant world.  Rob joined our table for a bit and enthralled us with his humor-infused stories about homemaking pasta with his dad when he was younger, his previous business blunders, and his take on astrology.  He and our TERRIFIC waitress Dawn even gave us a colloquial Afrikaans lesson.  Carlyles is the embodiment of good vibes, and between the wine, food, and exceptional company, I completely forgot I was working!
It's challenging for me to reminisce about our meal at Carlyles without developing food envy of my past self (poor me).  Let's quickly run through the dishes we enjoyed most before I slither away to devour everything in sight.
This. Ridiculous. Calamari.  In a white wine cream sauce tossed with artichokes and a hint of fish spice.  For crying out loud, Carlyles, why are you so far away from me?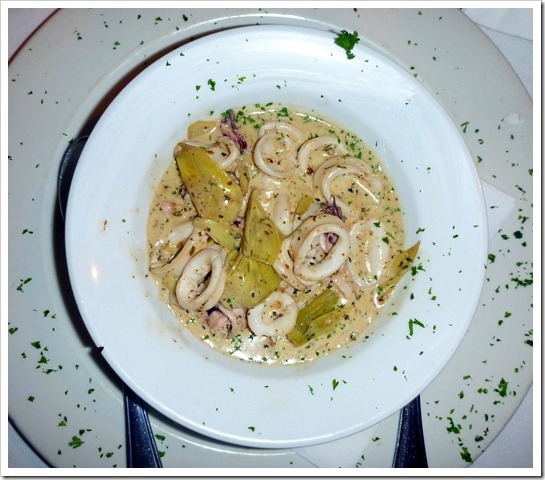 Let me preface this next dish by telling you that I've eaten more meatballs than the Italian nonna we wish we all had.  I've traveled to different cities specifically to taste meatballs that were voted that city's best.  Truth be told, I've even formed an explicit agreement with a former boss that if his business were to go bankrupt, he could substitute my paychecks with bowlfuls of his wife's meatballs.  All facts aside, I have encountered only three perfect meatballs in my life.  One was cooked for me by a farmer's wife in rural Argentina, the other was made by my Aunt Sue in rural Pennsylvania, and the final one (and the only one you can actually try, unless you know my Aunt Sue.  Do you?), is Carlyles'.  Rob and Murray worked with a local butcher to consummate the sausage they add to this meatball.  The house-made pasta and gravy are worth writing home about as well!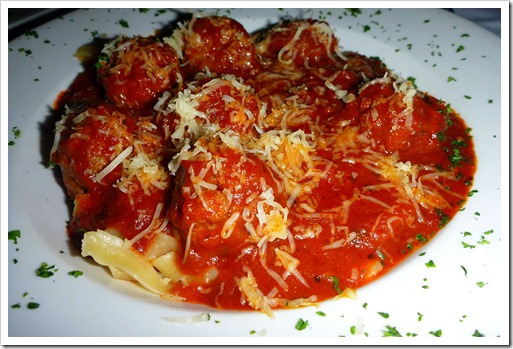 And here we have the most uniquely decadent tiramisu your lips will ever meet.  The secret?  Bakers Coconut Tennis Biscuits (instead of traditional ladyfingers) dipped in Captain Morgan's Spiced Rum, with espresso folded into the cream and mascarpone cheese.  Need I say more?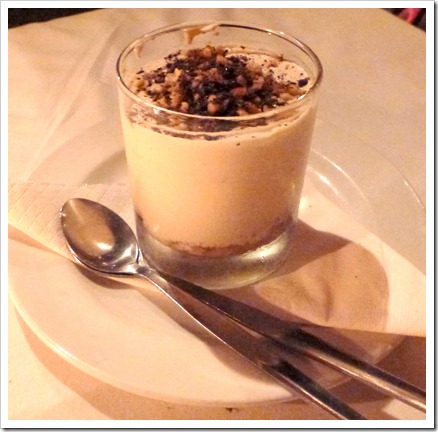 Well now that I've had to stop writing three times for snacks that were likely larger than your average meal, why don't we move onto our next discoveries?  Incidentally, the following two experiences were events that the below restaurants regularly hold.
Dear Me itself is a breakfast and lunch brasserie with a strong lean towards cleaner eating.  It is also home to an impressive pantry of homemade jams, oils, butters, and just about everything else that small batch buffs rhapsodize about.  We dined there for lunch, and I enjoyed my chai banana smoothie, but my yellowfin tuna tartare salad was a little too simplistic for my liking.  Dear Me opens its doors once a week (on Thursdays) for their White Room Dinner (reserve your seat here), which unfolds upstairs in this whitewashed, whimsy-kissed room: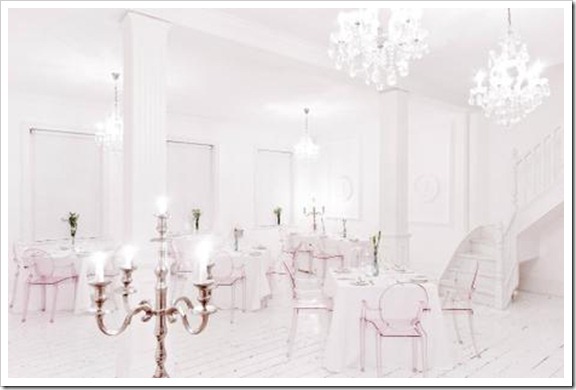 I'm a sucker for creative concepts like this, but I find that the innovation doesn't always carry over to the menu.  Dear Me's White Room Dinner offers the full monty.  There were so many factors that awed me about this 9-course meal.  Unfortunately, Luis' note-taking skills were not one of those factors ("Weird squishy olive in a spoon.  Felt like eating an eyeball.  #newexperience").  What I'm sure he meant to jot down was "molecular olive sphere inspired by the Adrià brothers of elBulli fame." Back to the things I adored: everything's a question mark here.  The menu is seasonal and can't be found online (I'll try not to spoil too many surprises).  As someone who often goes cross-eyed trying to figure out what to order off of a menu, I loved that the White Room's team decided my feast for me.  I really did feel like a queen, until the company of this goon snapped me back to reality: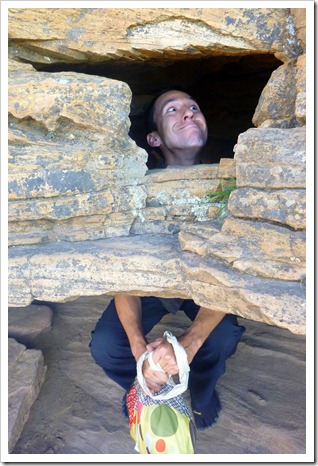 Before he goes and retaliates for that, I'll post this uber-flattering pic he took of me in the White Room as a peace offering.  Regrettably, this is what I look like 95% of the time.
Can I get a, "True that!"?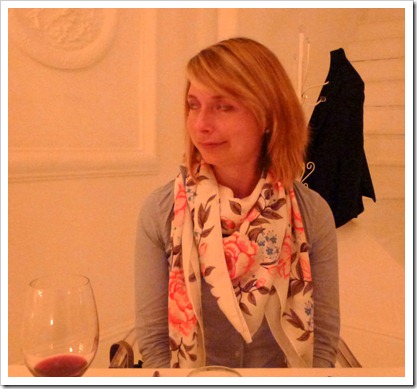 As I said, I don't want to be a spoilsport, so I won't divulge a ton of detail here about the food.  But lemme just walk you through a few things to tickle your senses.
How 'bout this greenhouse salad topped with an edible orange flower bursting with sweet nectar?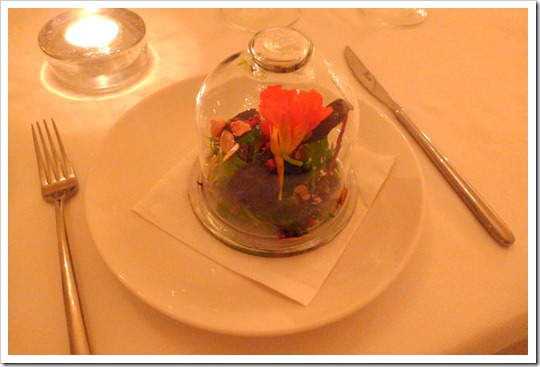 An instructional booklet was placed on each table to guide us through our courses, which was helpful since many of them were interactive.  For example, we used this mortar and pestle to smash sesame seeds for our dusky kob and broth soup.  Clearly from my murderous pose, I KILLED this assignment!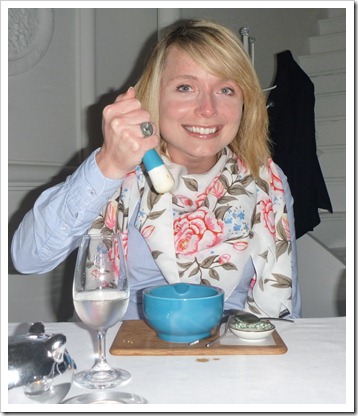 Served atop a crushed tonic can, isn't this palate-cleansing grapefruit and tonic sorbet just darling?
I'll close with a pic of my most savored dish of the evening, which was a modern interpretation of steak and eggs, with a truffled hollandaise sauce.
UGHHHHHHH FEED ME NOW!!!!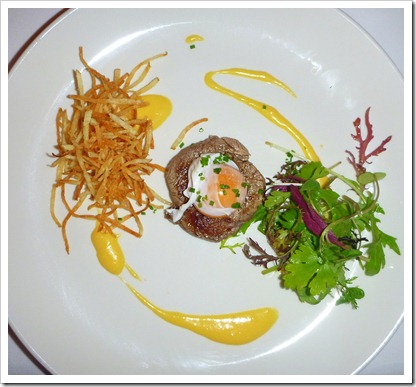 Many thanks to Graham Rose-Innes and his team for elaborating this notion and welcoming us for a memorable night of imaginative, experiential gastronomy paired with sumptuous wines from nearby vineyards!
Perhaps you recall our post on Cape Town lodging, in which we spotlighted Hout Bay Manor.  Pure is the restaurant associated with (and attached to) this 5-star hotel.  We were fortunate enough to be staying at the hotel when Pure's Head Chef, Philip Arno Botes cooked up a 5-course carousal of sorts for one of the Manor's Wine and Dine events (visit Pure's Facebook page here for information on upcoming events).  Our meal was exquisitely paired with local wines and accompanied by live music and the company of enchanting people from near and far (we even rubbed elbows with some local celebrities!).  Each dish was thoughtful and polished, as I hope you'll be able to gather from the following photos and descriptions.
Smoked crocodile carpaccio accompanied by citrus pineapple and chili gel, crowned with gooseberry and micro herb salad and drizzled with a lime poppy seed dressing: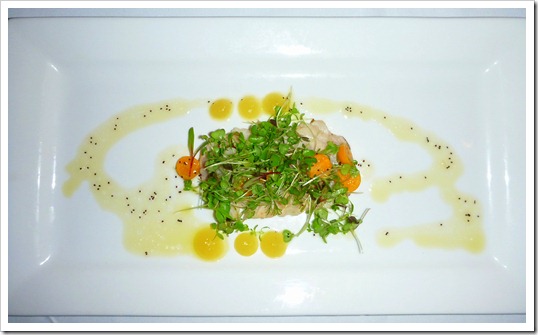 If you've tasted croc, you know it can be a bit on the chewy side, similar to fried calamari.  This version was just the opposite, and it nicely absorbed the flavors of its toppings, especially that of the spicy chili and tangy gooseberry.
A refreshing apple, sage, and cinnamon sorbet that preceded our main course: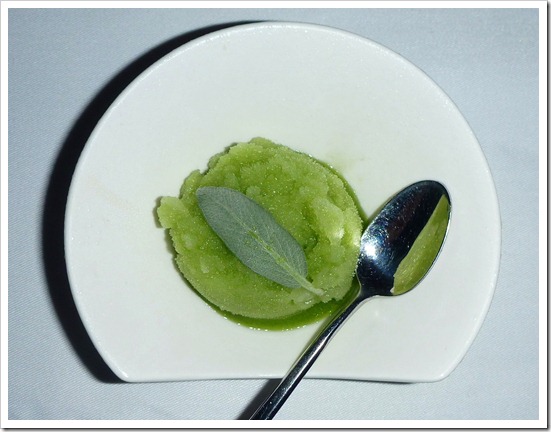 Medallions of flame-grilled zebra (eek, please don't judge me, for my head already hangs in shame) with a cauliflower and anise puree, junipered baby carrots, and shimeji mushrooms, accompanied with a coffee molasses jus.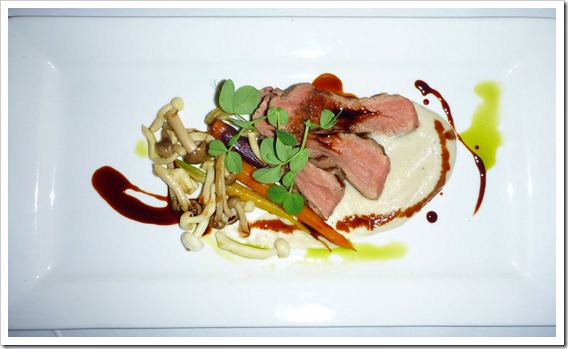 For a red meat, zebra's flavor is light, but it still maintains a steak-like consistency (though a bit juicier, I would say).  I liked the playfulness of the textures on this plate, and it's one of only a few dishes in which I've been able to endure (and even appreciate) mushrooms.
This final dish may not be the prettiest (if you really must know, a completely sober Luis spilled an entire glass of Merlot on my dessert, so this is a pic of his half-eaten plate) but in my opinion, it stole the show.
Honey-roasted plums on top of hazelnut pastry, served with spiced mascarpone ice cream and golden burnt nougat:
The richness of the ice cream offered a complementary contrast to the sweet plums and pastry.  And who would've thought I would leave Pure wanting my wedding cake to be made entirely of golden burnt nougat?  What a heavenly food union!
Philip, you are a gastronomic genius with whom we were thrilled to spend an evening!  Bravo!
I could honestly (and obviously) spend the rest of the day applauding these restaurants, but I'll leave something to the imagination by truncating this post here.  We'll wrap this topic up next time, and then it's your turn to go let Cape Town capture your heart (by way of your stomach, I hope!).