Me: Blah blah blah Lima, blah blah blah Peru, blah blah blah lemme tell you about all the food I eat.
You: Please shut up.
I realize that it may seem obsessive when I continuously gush about Peru, but sheesh, it's not my fault that this country is so cool.  Last entry, we addressed the best appetizers, ceviche, sandwiches, and anticuchos that can be found in Lima.  Today, I will piggyback on that theme by apprising you of the best main dishes, desserts, and beverages I have encountered here (as promised).  I am also adding the category of "Best Breakfast" to honor all of the Moms in the world who insist that b-fast is the most important meal of the day (Yo, I totally agree!).  Instead of including "Best Overall Dining Experiences" here, I have decided to give this topic its own post, especially after the mind-blowing experience I had last night (stay tuned for that!).  After these next two posts, I promise I will talk about something other than Peru.
Don't kill me if I break that promise.
Before we get started, I have an update.  Since writing about the "Best Anticucho," I have shopped around and located another gem.  Matalache (Benavides 4215, Surco) serves a mean anticucho that rivals those of Del Carajo.  Matalache's servings are bigger and juicier, while Del Carajo's anticuchos have the stronger flavor.  Both are worth ordering and scarfing down.
Best Breakfast: It's difficult to find a hearty breakfast in Peru, since lunch is the most cherished meal of the day here.  I used to frequent international hotels for their continental breakfast buffets before I stumbled upon La Folie Café (Avenida Primavera 1070, Surco).  This whimsical two-story café offers great coffee, fruit salads, desserts, and breakfast specialties like French toast and eggs benedict (which is unheard of in Peru).  They also have top-notch service (which is also almost unheard of here, unfortunately).  Aside from their myriad breakfast treats, my favorite thing at La Folie is their te de jardin de la abuela, which is a giant fruit-infused iced tea with round orange slices floating atop it.  La Folie's décor and atmosphere are quirky vintage, and out of all of the cafes I've visited in Lima, this one is the most creatively adorned.  I love their attention to detail- wait until you see their cushioned turquoise menus!  I'll meet you there!
Best Main Dish: In order to try as many foods as possible at restaurants, I usually shy away from ordering main dishes, and opt for multiple appetizers and desserts instead.  The two that I have been most fond of though were actually featured at Mistura, Lima's annual food fair, which should probably be renamed to "The best thing that's ever happened to me." El Grifo (Avenida Elmer Faucett 2121, Callao) makes a fettucini a la Huancaína con lomo that is to die for.  Huancaína sauce originated in Huancayo, a region located southeast of Lima.  It is a cheesy hot pepper sauce that is traditionally served over potatoes, but in El Grifo's case, is mixed with pasta and tender beef strips.  This dish was one of the top sellers at Mistura, which means that Lima and I both have really good taste and probably belong together.  The other main dish that strikes my fancy is risotto al pato al culantro from Restaurant Huaca Pucllana.  This is a delectable risotto dish seasoned with cilantro and served with succulent duck.  The added bonus is that you can eat it while overlooking occasional archaeological digs at one of Lima's most fascinating ruins.  I am not a big pasta fan, so the fact that both of my favorite main dishes contain this ingredient speaks to just how delicious they actually are.  If you are going to be in Lima in September, be sure to go to Mistura this year!  I really wish I had pictures of all of the food I ate there last year, but I foolishly left my boyfriend in charge of the camera, and this is the only picture he took.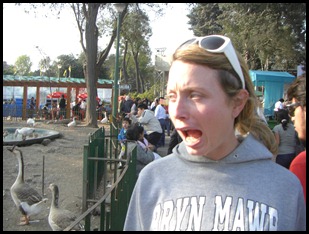 At Mistura, I spent four hours eating, and one minute communicating with the geese.  Clearly he only captured the latter.
Best Dessert: This category requires a bit of background information.  On average, I eat 3-6 desserts a day.  You know that girl who is like, "Geez, why am I gaining so much weight when I barely eat anything at all?"  She is me, until I awake to the fact that, A. I consume at least 6,000 calories a day, and B. I am currently gobbling up my fourth dessert of the day.  Duh!  Mystery solved, now onto my next dessert.  Desserts have been borderline abusive towards me, so I am not really sure why I continue to hold them in such high regard.  At age 25, Peruvian sweets gave me my first cavity ever.  I cried when I realized that my dentist at home would no longer give me a "You are special" sticker for having a flawless mouth.  I almost cancelled Christmas over it, because I envisioned evil sugar plum fairies gnawing at my molars and causing disgusting tooth rot.  My pity party ended two hours later, and I celebrated its departure by devouring an entire batch of brownies.  Now let me tell you about my favorite desserts in Lima.
Suspiro a la Limeña is a traditional dessert here that I absolutely detested up until recently.  Its base is a pudding-like substance made out of manjar blanco (Peru's caramel which consists of egg whites, milk, vanilla, sugar, and sometimes almond essence), topped with merengue.  When I first tried it, all I tasted was sugar, probably because that is its primary ingredient.  Eating it gave me a headache, and I had trouble figuring out why Lima folk loved it so much.  Then I tried Huaca Pucllana's suspiro de chocolate.  Chocolate (instead of sugar) was the predominant flavor, which added much more depth to the dessert.  Another great suspiro can be found at La Maga.  Try their suspiro de mango or any of their other desserts, as this place aims to please.  It is small and cramped, but their desserts are unbeatable.  Madam Tusan (Santa Cruz 858, Miraflores) serves a divine green tea cheesecake.  Cream cheese is very expensive here, so it is difficult to find an authentic cheesecake.  Usually, Peruvian cheesecake is light and airy and tastes like mousse, which is hugely disappointing for those of us who love cheesecake.  Madam Tusan's is traditional in its richness while unique in its flavor.  It is sprinkled with toasted sesame seeds and doesn't look all that delicious (since it is green), but trust me, it's a winner. 
This last recommendation might be fairly obvious to those who live in Lima, but La Trattoria di Mambrino (Calle Bonilla 106, Miraflores) serves superb desserts.  Four years ago, I went to this restaurant and ordered homemade gnocchi, and was served 12 miniscule potato dumplings.  I ended the meal so famished that I went to Burger King and inhaled a massive cheeseburger combo a mere ten minutes after my first dinner.  I vowed never to visit La Trattoria again, as I felt it was a waste of money.  However, over the last few years, I have heard multiple praises of Sandra Plevisani (La Trattoria's owner and pastry chef), so last week I revisited the restaurant for dessert.  It was phenomenal, and the coffee and service were equally pleasing (our waiter brought us two plates of complimentary truffles!).  I can't remember the name of what we ordered, but one dessert involved coffee and halva flavored ice cream served in a phyllo dough shell, and the other was panna cotta with a fresh raspberry drizzle.  We licked the plates.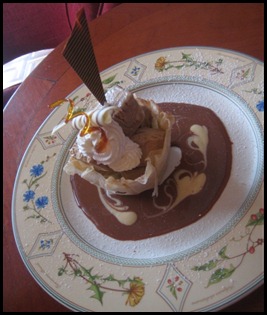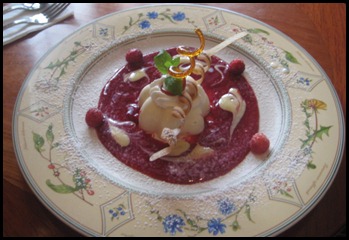 Best Beverages: For non-alchoholic beverages, go to Paisaje Los Pinos 118 (across from the Ripley on Parque Kennedy).  There is a hole in the wall bubble tea place that serves spectacular tea, juice, and smoothie combinations with or without tapioca bubbles.  This was the first bubble tea place in Lima, and it continues to be the best and most reasonably priced.  If you want a cold drink, order the strawberry smoothie with lemon and bubbles, or the green tea with mango and bubbles.  If you prefer a warm drink, order assam tea with milk, coconut, and bubbles, or invent your own as the owners are always open to suggestions.  They are extremely affable people who never fail to greet you with a smile.  If you are ever confused about where I am, I am probably hanging out with them, drinking my third bubble tea of the day.  El Enano (Chiclayo 699, Miraflores) also serves great juices with every type of fruit you can imagine.
My favorite alcoholic beverage can be found at Chala.  This comes with an anecdote.  Last year, I went to this restaurant for the first time an ordered a Fusion to drink.  Its description intrigued me in that it mentioned an apple and peach cocktail accompanied by false yolks filled with passion fruit.  False yolks?  I'll have that!  I usually fail when it comes to picking alcoholic drinks, but this ended my streak of bad luck.  It indeed appeared that false egg yolks were floating in my drink, which may seem a little gross, but the taste was indescribably perfect.  I have babbled on about this drink for the past year, only to finally convince a friend to come with me a couple of weeks ago for a Fusion (it's a little expensive in Peruvian standards, so people were reluctant).  First the waiter said they might not have the chemical to make the yolks (Chemical?  I'm even more intrigued!).  Then he said they did (YESSSS!).  Then he returned five minutes later to say they didn't (NOOOOOOOOOOOOOO!).  My heart dropped, as my friend was only in town for that night.  It wasn't fair for that waiter to tug on my heart strings like that, and I suppose that my face adequately expressed my disappointment because the manager came over and offered to call us when the chemical was in, and to treat us to three Fusiones on the house!  Now this sort of thing happens all the time in the U.S., as our country is a nation that values customer service.  Peru is not like that at all (as I briefly mentioned above).  If you complain about your food, you usually still have to pay for it, and complimentary drinks/food are very rare.  Waiters are often impossible to locate when you want your check, and it is not uncommon for them to be rude (as tipping is not obligatory here).  For these reasons, Chala knocked my socks off with its awesome service.  I highly recommend that you visit to throw back a Fusion or two.  Bottoms up!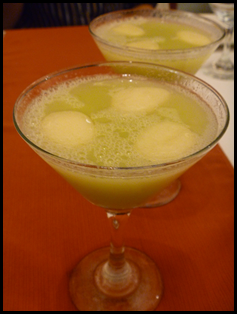 Well, I hope these last couple of posts have convinced you of just how extraordinary Peruvian cuisine is.  If not, I have one more entry to change your mind!  See you soon, foodie friends!