When I was a little girl, I read about a Moroccan town enshrouded in hues of blue.  Since blue was my favorite color at the time, I fervently scribbled the town on my bucket list.  I finally made my way to Morocco a few months back, and since my travel criteria hasn't matured over the years, seeing that blue-rinsed town remained top priority.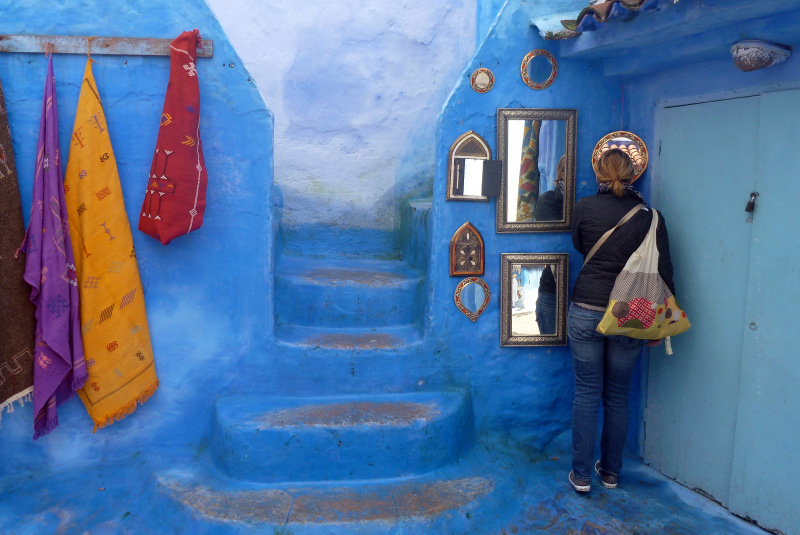 It didn't disappoint, nor did the rest of the country.
Below is a map of the route we forged.  I admittedly butchered it in Microsoft Paint, but let's pretend it's a helpful visual aid to avoid scrapping the hour I squandered on it.  The stars denote the places we stopped, whereas the hearts mark the places I especially fancied.  Today, I'll focus on the northern leg of our tour with the following photo log, which I'll pepper with occasional commentary.  Food deserves a post of its own, which we'll recap later.
Brace yourself for the realization that I've found my calling in cartography: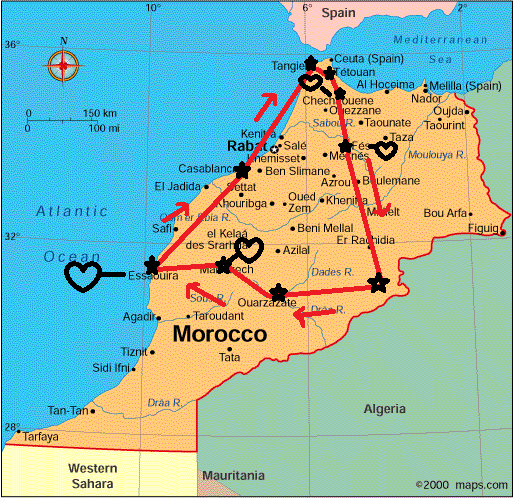 Some people travel to learn, some to eat, some to meet new people and see new things.  My motive is a conglomerate of those reasons, but what sustains me on my trips is the feeling of interconnectedness that strikes me in certain places.  While I agree that people are people no matter where you go, some places speak to your soul more than others, and Morocco falls into this category for me.  I don't speak Arabic or French, but the kindred association I felt with many Moroccans made me feel as though language was inconsequential.  One Moroccan woman hand-washed our laundry, refusing compensation and accepting only a hug in return.  Another drove us across the entire country in his personal vehicle, unyieldingly declining our gas money.  At every turn, we were met with an almost startling kindness, and I can't imagine a more gracious country in which to be hosted.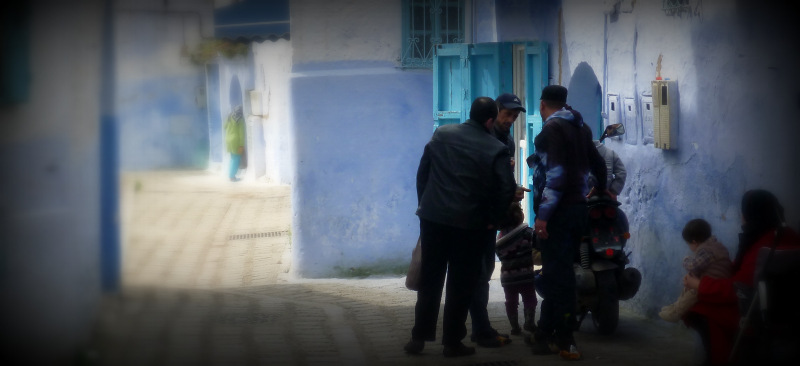 I liken Morocco to a giant treasure chest through which I could have spent my entire life sifting.  The colors, aromas, vistas, and sounds came together so enticingly that extracting ourselves from the action at the end of each day was a challenge.  We steered clear of most guided tours, preferring to weave our own way through the maze-like medinas (the walled Arab quarters within many Moroccan cities).  We walked for four or five hours daily, our senses eagerly devouring all we encountered.  We visited many of the country's most famous mosques, and all were undeniably majestic in their architecture and tile work.  However, the guards' inconsistent instructions on where we could and couldn't enter made us feel as though we were being culturally insensitive and intrusive.  We opted instead to talk to willing Moroccans about their culture and religion.  One of my favorite conversations was with Mohammed (a new friend), who explained to us the five pillars of Islam, along with other topics like the practice of polygyny within some families (his own included).  He emphasized one pillar (zakat), which is an obligatory donation of a certain percentage of your wealth to the needy.  Mohammed told us that most Moroccan parents raise their children to go beyond the generosity that's religiously expected of them.  Our interactions across the country reinforced this above and beyond-ness of which he spoke.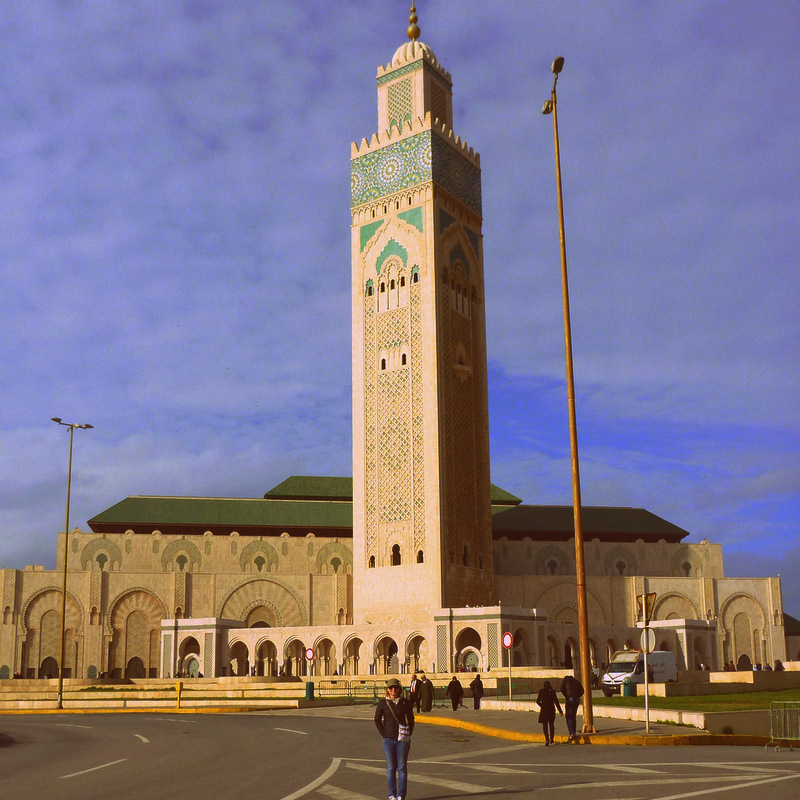 We were fortunate to have met Mohammed, as cracking into Moroccan culture otherwise is no small task.  I consider myself a Latin Americanist in the most superficial sense, in that I adore Latin cultures for their openness, spontaneity, and warmth.  I can't tell you how many times Latin American strangers have invited me into their homes for a snack or impromptu dance party.  Since my life is comprised mainly of snacks and impromptu dance parties, there really isn't a more effective way of winning me over.  While Moroccans are exuberantly kind, they are more conservative and guarded about their private spaces.  Being a foodie, I can usually glean information from restaurants I visit and the national dishes I'm served.  The restaurant culture in Morocco is developed more for tourists than for Moroccans themselves, and we sensed that many of the defining components of the culture were likely taking place behind closed doors.  Cafes are ever-present, but cater to mostly men (females aren't even kept on staff).  Fortunately, I was warmly (though curiously) welcomed, which helped support my burgeoning Morrocan mint tea habit.  Few things are more soothing or palate-cleansing than mint-infused, sweetened gunpowder green tea. We were told that it is offensive to decline a glass of this.  Personally, I was offended if I wasn't offered at least 5 glasses of it a day;).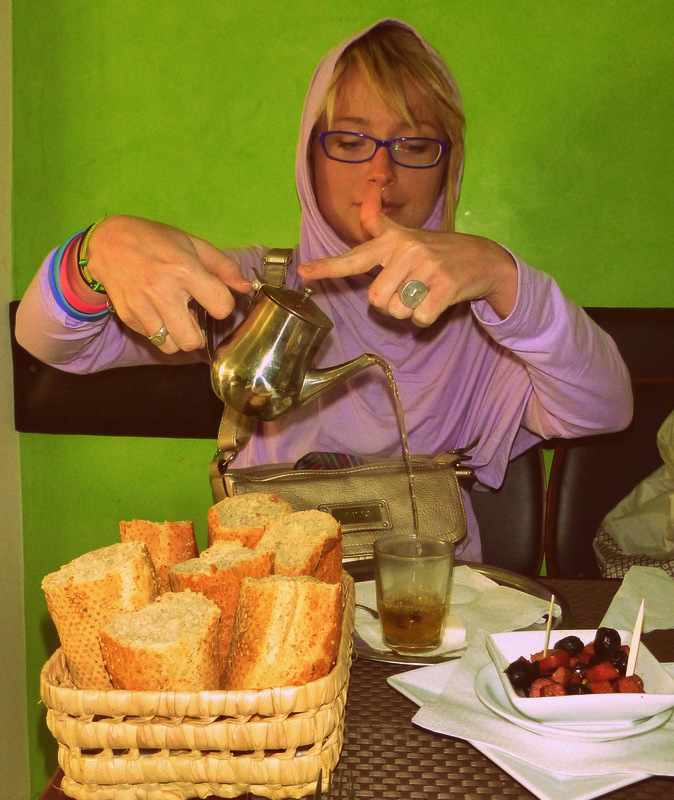 Now, back to exploring the treasure trove that is Morocco.  We walked ourselves silly down narrow, dark alleys that in other countries would only invite trouble.  We passed by barbers, butchers, apothecaries, jewelers, blacksmiths, opulent riads tucked behind nondescript doors, and just about everything else our imaginations could conjure.  We delighted in entering small boticas that were awash with handmade soaps, tinctures, and trinkets just beckoning our fingers and nostrils. Just as our senses would start to dull, something unexpected would pop up, like a jovial bearded man whistling Bob Marley and selling colossal, colorful clown shoes.  Even the regular shoes (see below) were attention-grabbing.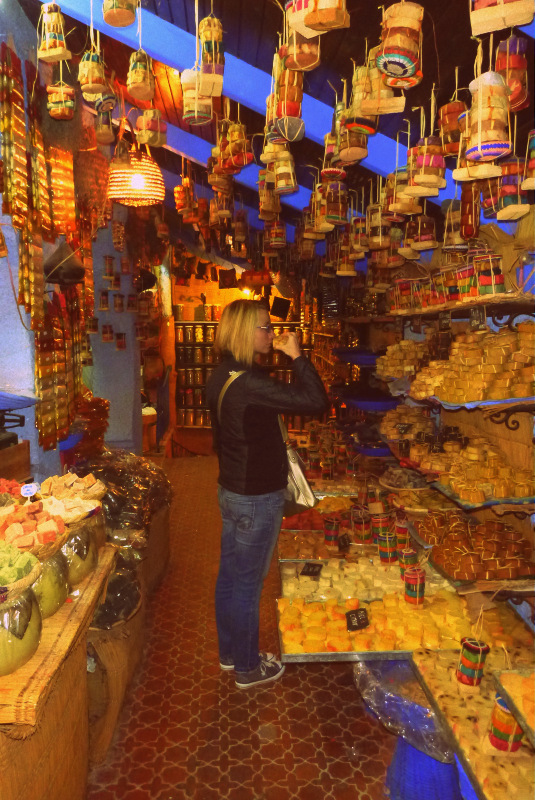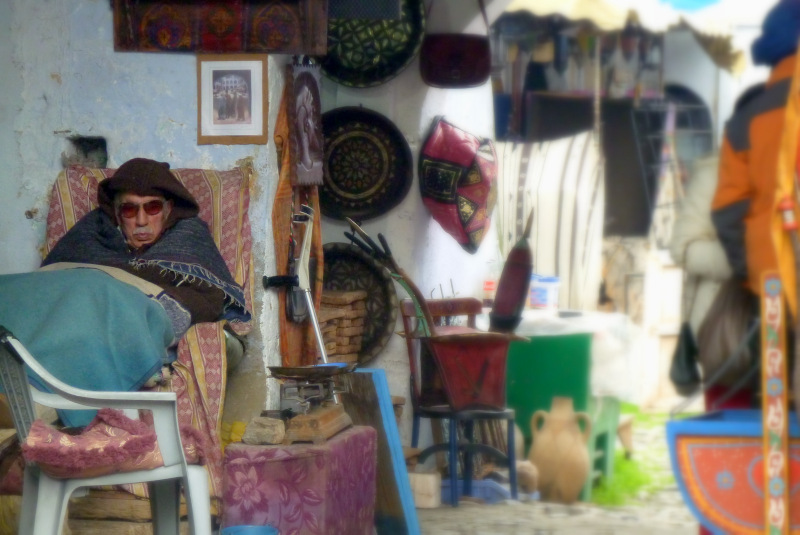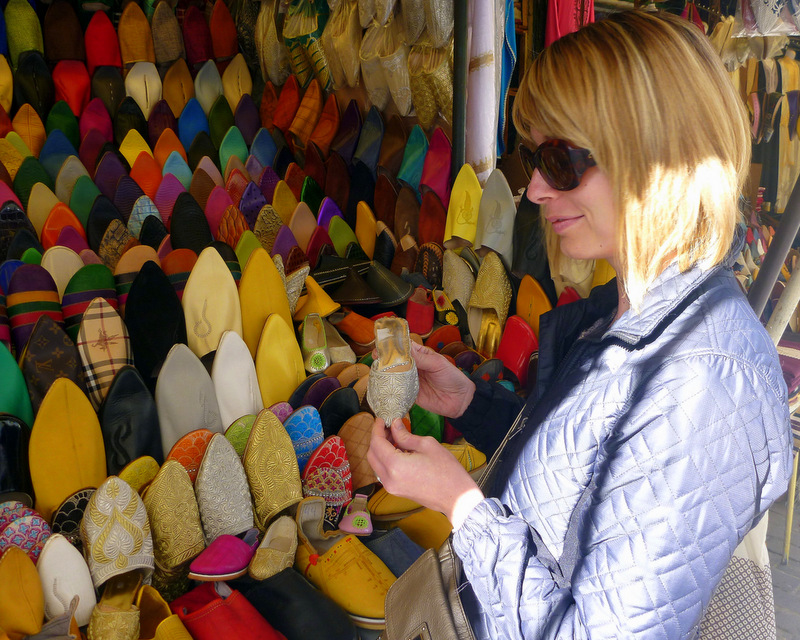 Like any country, Morocco has its fool's gold.  I wish I could say that we didn't fall prey to it, but Luis, having never before visited a country where he doesn't speak the language, had a bit of a…shall we say, adjustment period?  "But Lindsay, why didn't you warn him?"  Oh, I did, as did every single guide book we skimmed before arriving.  He heeded no man's advice and learned his lesson the hard way, which will at least provide a humorous anecdote in our next post.  Most shadesters we happened upon were luckily harmless, and even entertaining.  One man, in an attempt to lure us into his store, said, "Smile Spice Girls, lovey dovey."  I have no idea what he thought that meant, but it made me smile AND he incorporated a band responsible for inspiring a good 3/4 of my choreographed dances.  I chuckled as I walked away, but you know who didn't saunter away with me?  Luis freaking Tenorio.  Next thing I know, he's trying on every djellaba in sight, and we're being pressured to buy half of the (read: every) store's contents.
Ah…this brings back "great" memories;).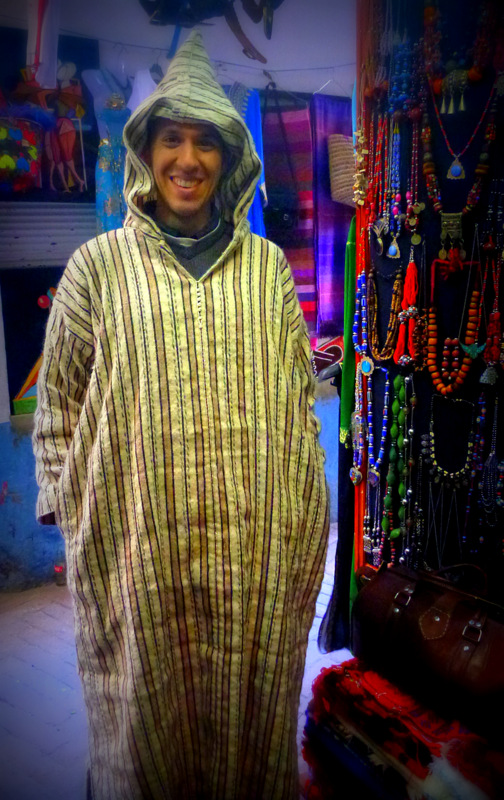 Before Luis starts blushing (don't worry, he's given me permission to share the truth of our travels), let's go through some northern city highlights.
Casablanca- the starting and end point of our trip.  While many consider it Morocco's unsung jewel, we didn't find it to have a ton of personality.  The mosque picture at the start of this post was taken at the Hassan II Mosque, which I appreciated most out of those we visited.  It is the largest in the country, and its seaside location is unbeatable.  We visited the new and old medinas (meh), and ordered a couple of cocktails at Rick's Café (the simulated piano bar from Casablanca, the film).  It is set within an epicurean mansion within the old medina, but its drinks were weak and overpriced.  In other words, it's not worth a visit.  Dissatisfying experiences of the sort made it so I felt perfectly content spending my days staring at the gorgeous offspring of our French friends (who are Casablanca residents).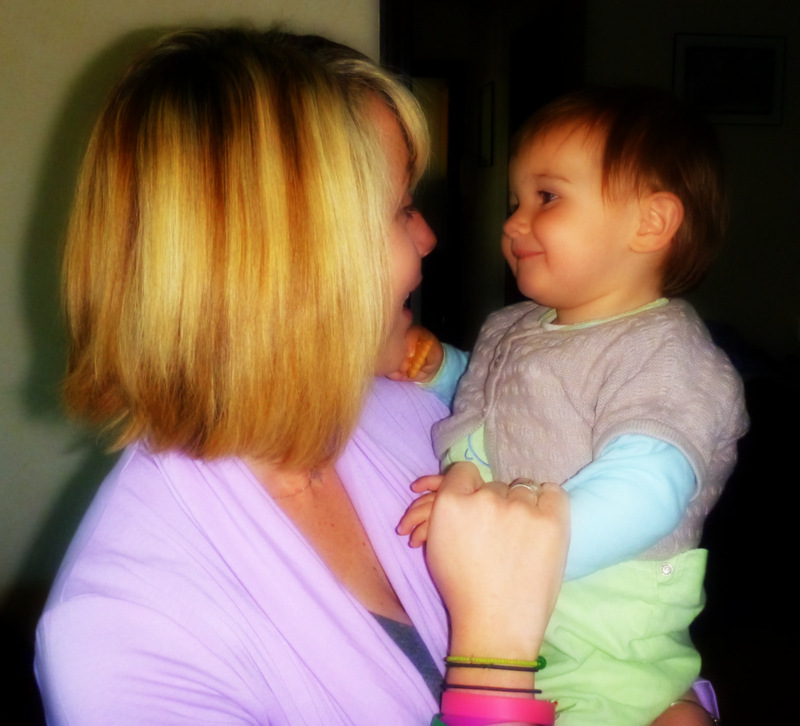 Tangier- As a result of its location on the Straight of Gibraltar, this city is a cultural melting pot, and one of the few places where our Spanish was understood.  Morocco as a whole feels very safe, but in Tangier, we experienced a few questionable moments.  The most memorable thing that happened here was my discovery that most of Morocco's bathrooms are squat toilets (holes in the ground).  Since I vowed never to use one again after the Peace Corps, Luis took various pictures of me relieving myself…elsewhere.  TMI?  Alright, I won't include the photos here, then;).  Here's a pic of Hotel Continental's interior instead: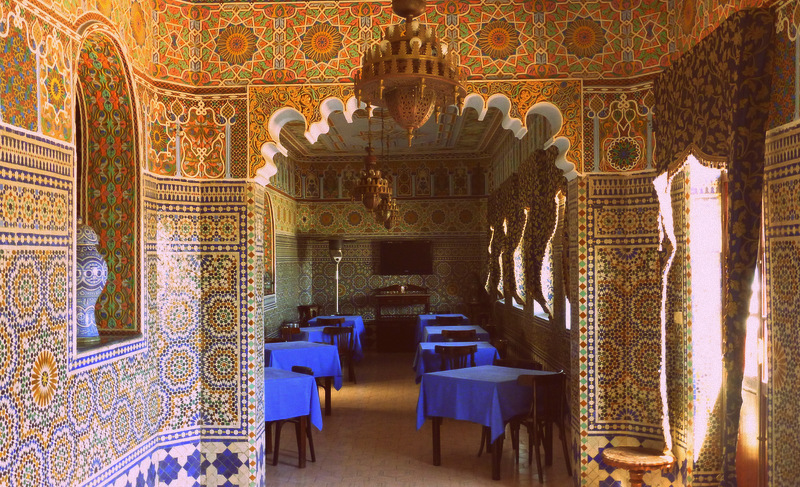 Chefchaouen- My beloved blue city, which can be seen in some of the above photos.  Chefchaouen is one of Morocco's leading marijuana producers, made obvious to us by the haggler that swooped in right as we disembarked our bus.  He followed us for hours insisting that we buy his pot or pay him simply to leave us alone.  I laughed in his face while Luis entertained the latter notion (whatever shall I do with this kid?).  We finally escaped him to meander through the medina, taking in more shades of blue than we thought existed.  We were told by many residents that they paint their houses blue to ward off mosquitoes, but we later learned that the color's presence stems from early Jewish settlers who used the color for its sacred significance in their religion.  We visited the Kasbah (and rocked it, hence this entry's title), along with its many gardens, which offered a welcomed respite from the dizzying medina.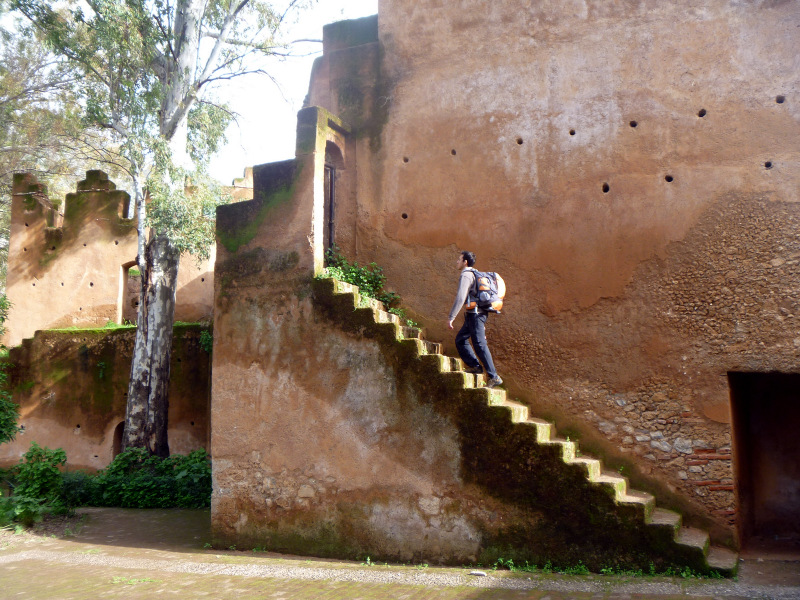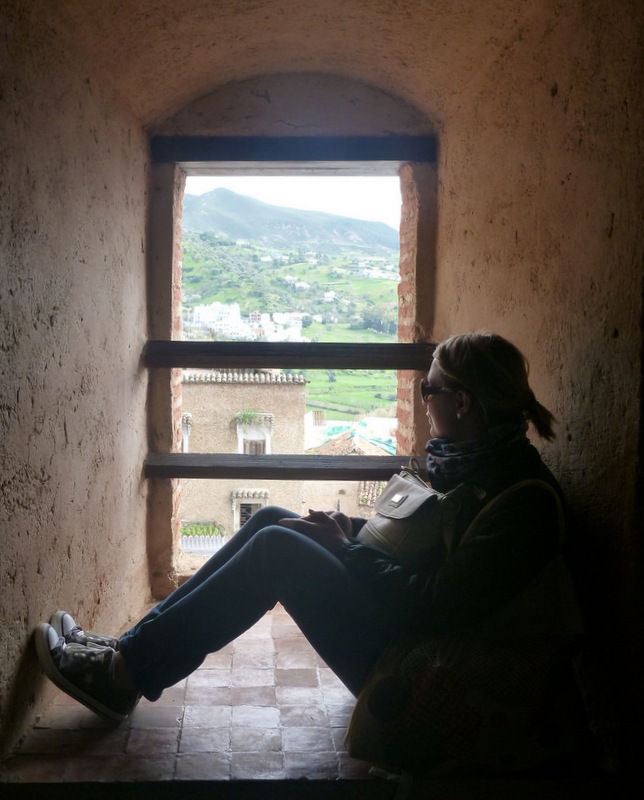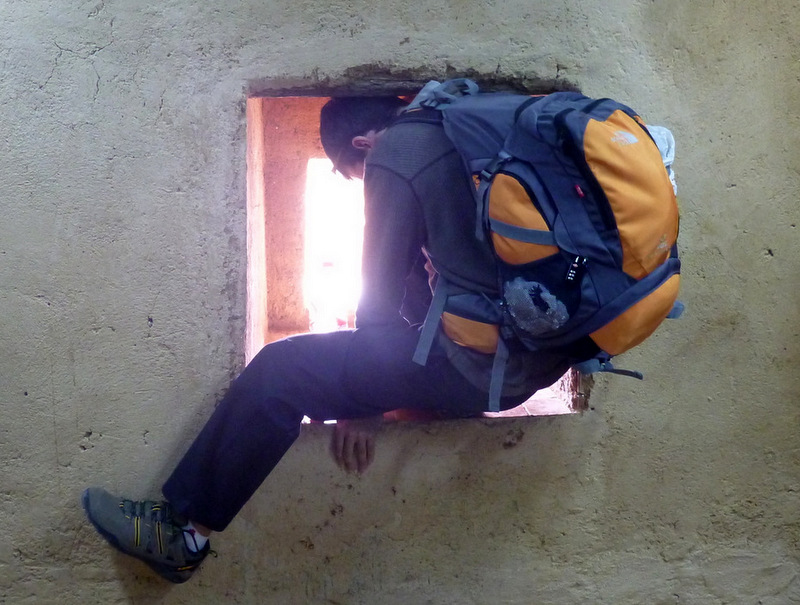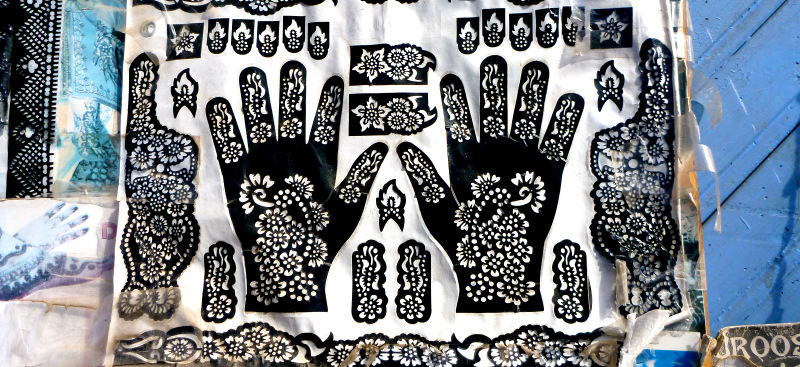 My most cherished Chefchaouen memory came when Luis followed a man who offered us a "free" glass of tea deep into his cavernous boutique.  For an hour, he provided detailed (and unsolicited) descriptions of all of the herbs he had jarred on his wall.  When bored with that, he pointed at me, gesturing towards Luis, "Queen woman, very expensive, why not put baby inside?"  Oh the laughs we shared!  When we attempted to leave after multiple glasses of "free tea," our new friend turned hostile and insisted we buy something from his store.  We managed to prove to him that our backpack had no space for his bulky wares, though we somehow walked away with a lifetime supply of cinnamon.  I literally carted a bag of cinnamon across all of Africa, which at least made everything smell pleasant, along with providing a tangible reminder to Luis (or so I thought) that he not be so gullible.
It should come as no surprise at this point that Luis ended up wearing this man's djellaba.  To this day, Luis seriously refers to this chatty charlatan as his friend.  Denial at its finest;).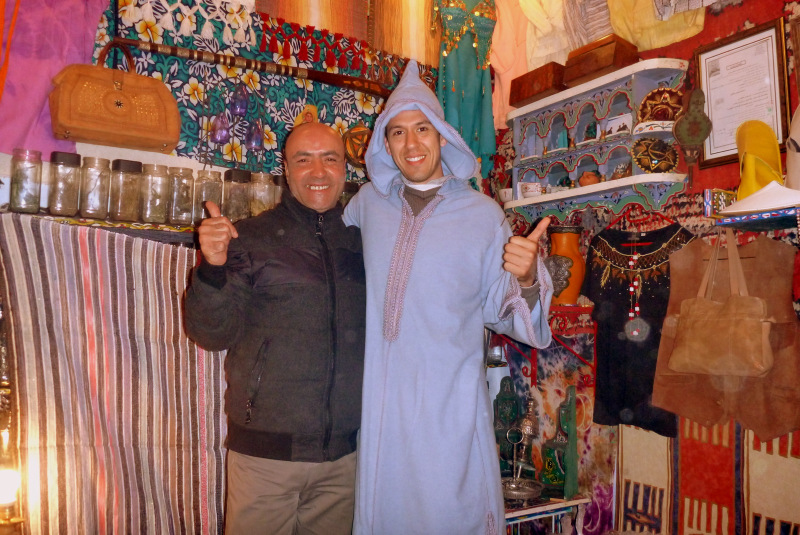 Fes- One of this city's medinas (Fes el-Bali) houses the largest car-free urban zone in the world.  Despite its mass, it felt like the most manageable of all the medinas we visited, as its souk (marketplace) organization is comprehensible if you devote just a few minutes to orienting yourself.  I found Fes to be a balanced mix of old and new, and greenery vs. buildings.  It takes a definite alertness to dodge donkeys, motorcycles, and children within any of Morocco's labyrinths, but Fes somehow seemed more relaxed than other cities.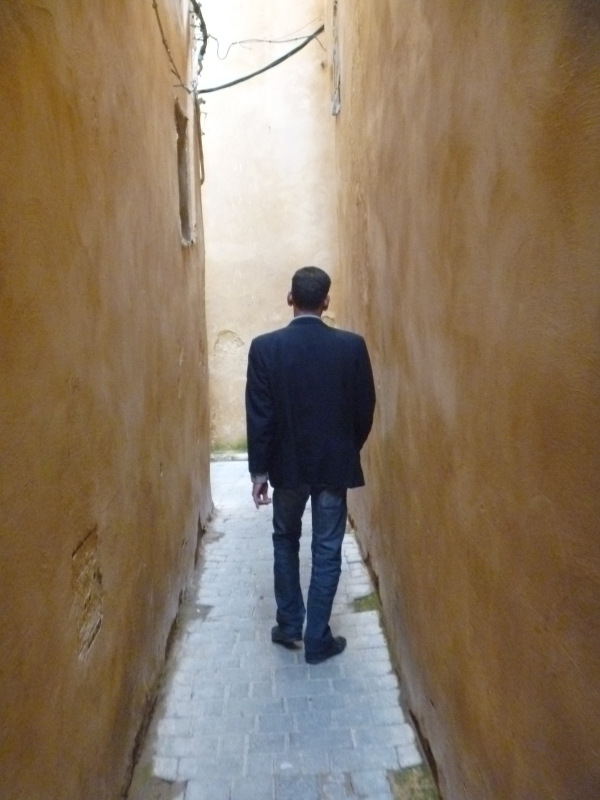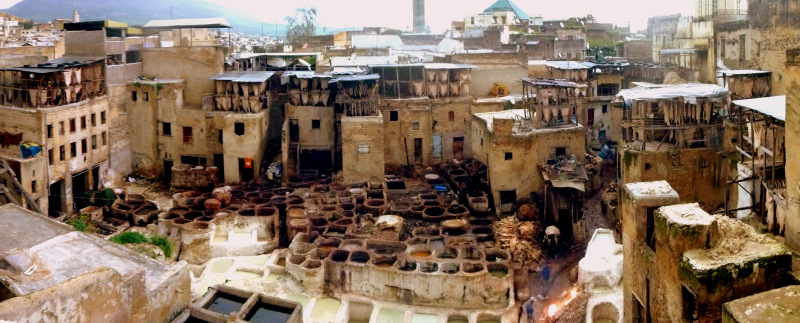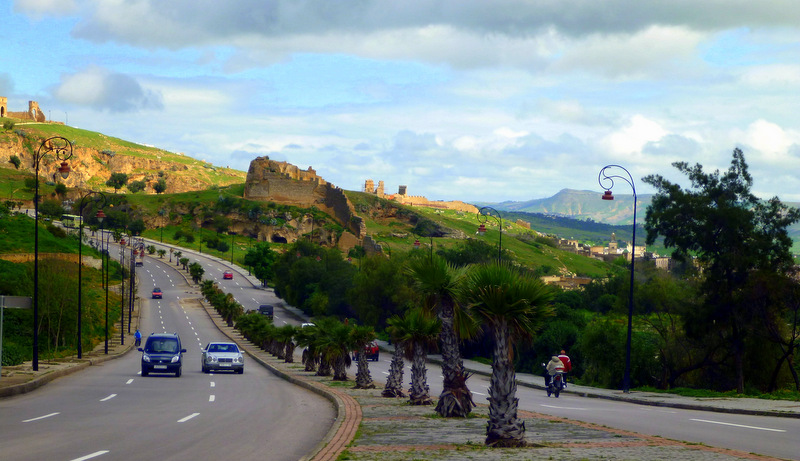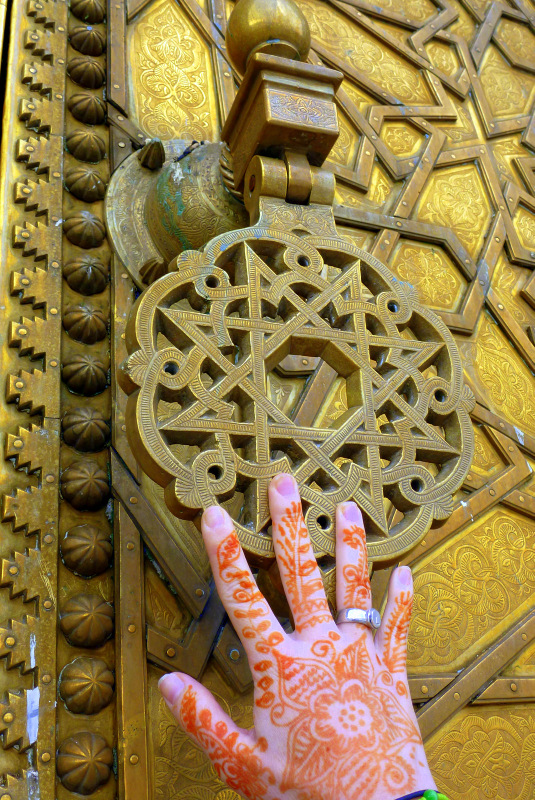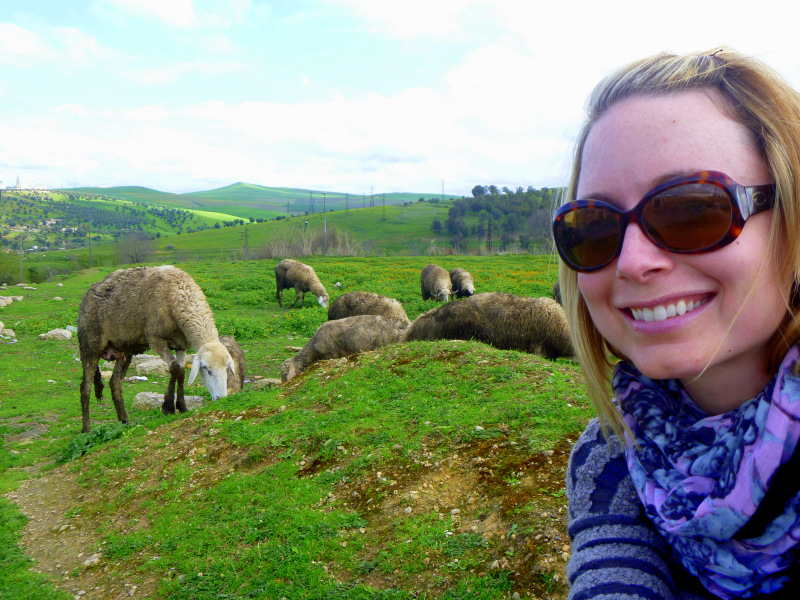 Join us next time for tales of sass and swindle in the south of Morocco!