Yesterday, we introduced our new partnership with A Taste of Thai.  As promised in that post, we're showcasing our first few recipes today!  I figure that Pad Thai is a good springboard, as it was a theme throughout our last entry, and it's a dish with which most people are familiar.  I was interested to gauge A Taste of Thai's Pad Thai against all others I've tried, and I invited my aunts and uncles over to be my guinea pigs.
If you click on the above recipe, you'll see that you're essentially mixing A Taste of Thai's Rice Noodles with their Pad Thai Sauce and five other ingredients (as opposed to almost triple that number in the recipe I previously prepared).  I found the directions to be straightforward and very easy to adjust. The tamarind juice and shallots are prominent flavors in the Pad Thai Sauce (as they should be!), and you'll notice a definite, though not overwhelming kick of chili at the end.  For those who crave more spiciness, I suggest adding a bit of A Taste of Thai's Garlic Chili Pepper Sauce (Be warned, it's bound to become your new condiment of choice!).  Pam Simmons (Andre Prost, Inc.'s Director of Recipe Development) has been kindly guiding us in all things Thai, and offered some additional recommendations for cooking A Taste of Thai's Pad Thai.  Right before serving her Pad Thai, she dissolves 1 Tbsp. dark brown sugar into 1-2 Tbsp. fresh lime juice, and stir-fries the mixture in with the rest of the ingredients.  She also grows her own Thai basil and adds it to the dish, as she likes the slight licorice flavor it possesses.  When low on that, she uses cilantro instead and adds a bit of smashed anise to the stir-fry.  She makes her Pad Thai with 1/2 ground pork and 1/2 shrimp, as the pork coats the noodles and gives the dish a more complex flavor.
I made a mixed chicken and prawn Pad Thai, and my audience seemed pleased with the results.  As you'll see below, one of my uncles literally shoveled it into his mouth;).  Personally, I can honestly say that this beat all of the Pad Thai I've tried in Thailand.  I was shocked!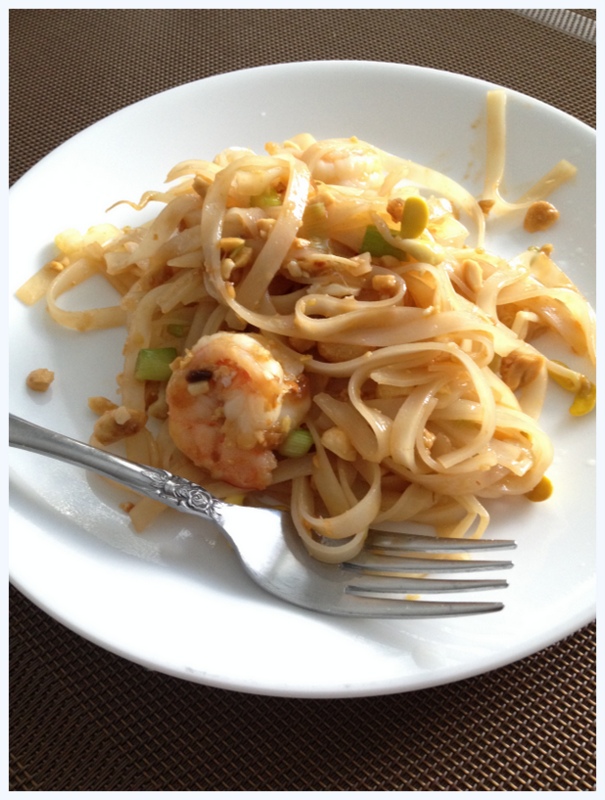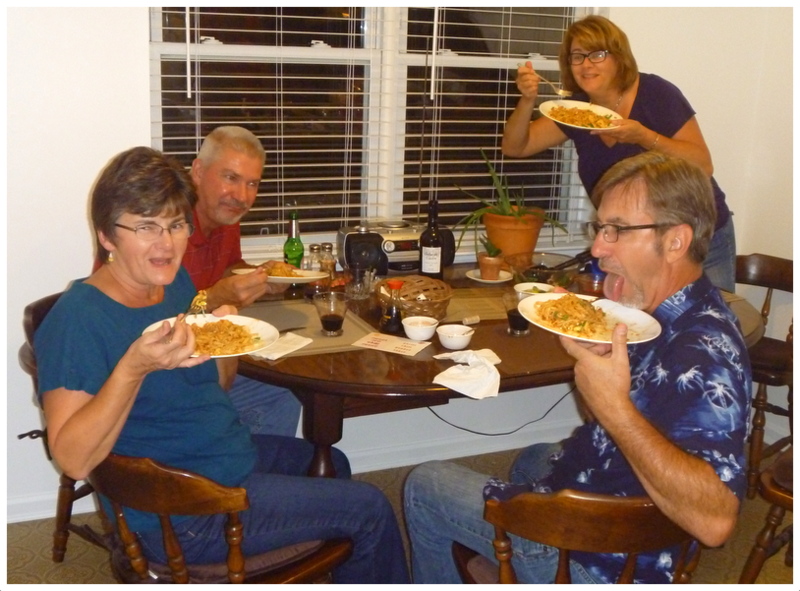 For dessert, I made A Taste of Thai's Sticky Rice with Mango.  I'm a chocolate cake/brownie type of girl, but mango and sticky rice has always been my go-to fruity dessert.  Nothing beats a ripe mango EXCEPT for one served with sweetened sticky rice.  Traditionally, this recipe calls for glutinous pudding rice, but A Taste of Thai substitutes that with their jasmine rice, which is both aromatic and convenient (given that it doesn't need to be soaked overnight like pudding rice).  While this version lacks the chewier, mochi-like texture of its predecessor, I feel that the jasmine rice better absorbs the coconut milk's flavor.  If you prefer a wetter sticky rice, Pam recommends topping it with this coconut syrup.  We added all sorts of fruit to our rice, and for those of you who appreciate salty-sweet combos, we ate our leftovers with fried eggs the next morning.  My new life goal is to convince restaurants in Bangkok to add sticky rice omelets to their menus.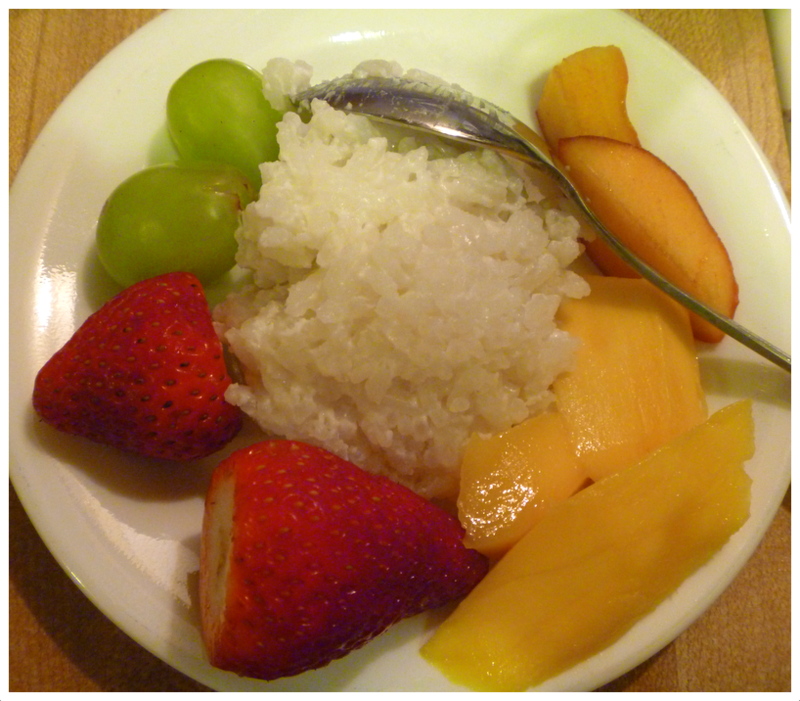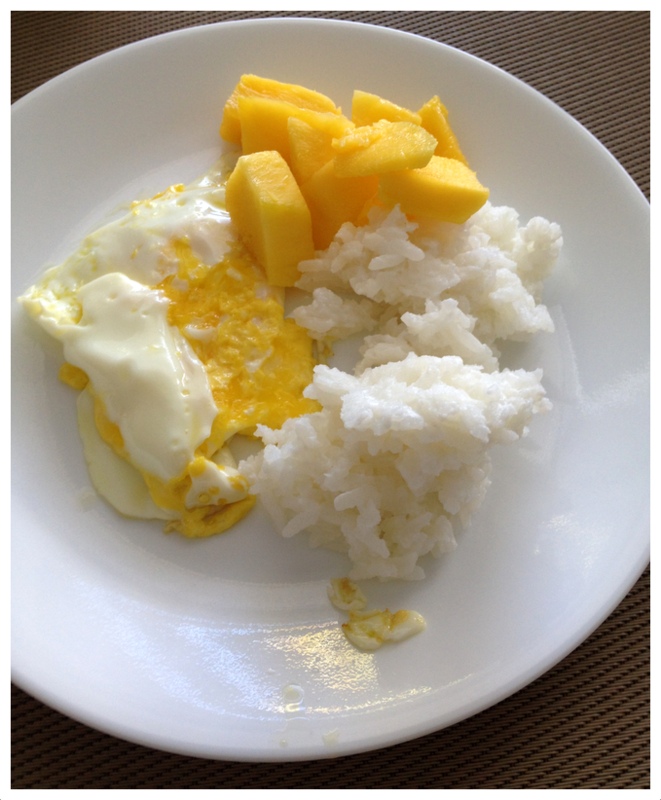 Now, onto more experimental topics.  We enjoyed A Taste of Thai's Pad Thai so much that we decided to use a couple of that recipe's ingredients in an attempt to recreate a snack we tried a few months ago.  Perhaps you've noticed how trendy flavored popcorn is becoming as an appetizer in restaurants and bars.  At The Gin joint in Charleston, SC we tried a Pad Thai Popcorn that blew our minds and left us regretting how one-dimensional movie popcorn is.  Since we live nowhere near The Gin Joint, we wanted to take a shot at their recipe in our own kitchen.  It was a tricky enterprise since so many of Pad Thai's ingredients are wet, which could (and did) lead to soggy popcorn.  I wish I had photographically captured my friend eating our first batch, which was essentially popcorn soup (though apparently too tasty for her to throw away).  Our second trial was more successful.  Certain bites tasted like Pad Thai, whereas others tasted like a pleasant and different caramel-chili mix.  It would obviously be preferable to find a way to evenly distribute all flavors throughout the popcorn, and I'm hoping Pam can add her expertise in interpreting this recipe.  I'd also like to experiment using palm sugar instead of the brown sugar I used below.  In the meantime, give this a try!
Pad Thai Popcorn (AKA Don't hate me if this doesn't taste exactly like Pad Thai because at least it still tastes good)
Vegetable oil (enough to lightly coat the bottom of your popcorn pot)
1/3 cup unpopped popcorn
3/4 cup peanuts, chopped
1/2 cup brown sugar
1/4 cup vegetable oil
1/4 cup corn syrup
3 teaspoons lime juice
1 1/2 tablespoons Taste of Thai Fish Sauce
1 tablespoon Taste of Thai Garlic Chili Pepper Sauce
1 tablespoon grated lime zest
1/3 cup chopped cilantro
Preheat oven to 250 degrees F.  Lightly spray cookie sheet with cooking spray.
Pop popcorn in vegetable oil, and place in large bowl once cooled.  Add peanuts to bowl and mix.
In a sauce pot on low heat, mix brown sugar, vegetable oil, corn syrup, lime juice, and fish sauce.  Bring to a boil and stir until thickened.
Remove from heat and stir in Garlic Chili Pepper Sauce and lime zest.  Pour over popcorn and mix gently until popcorn is coated.
Transfer to cookie sheet and bake for 30 minutes, shifting popcorn around with spatula every ten minutes.
Allow popcorn to cool and sprinkle with cilantro before serving.
Honestly, this was not really comparable to The Gin Joint's popcorn (theirs wasn't baked, nor was it as sweet), but it was still good in its own right.  Until they decide to share their secret with us, this'll have to hold us over!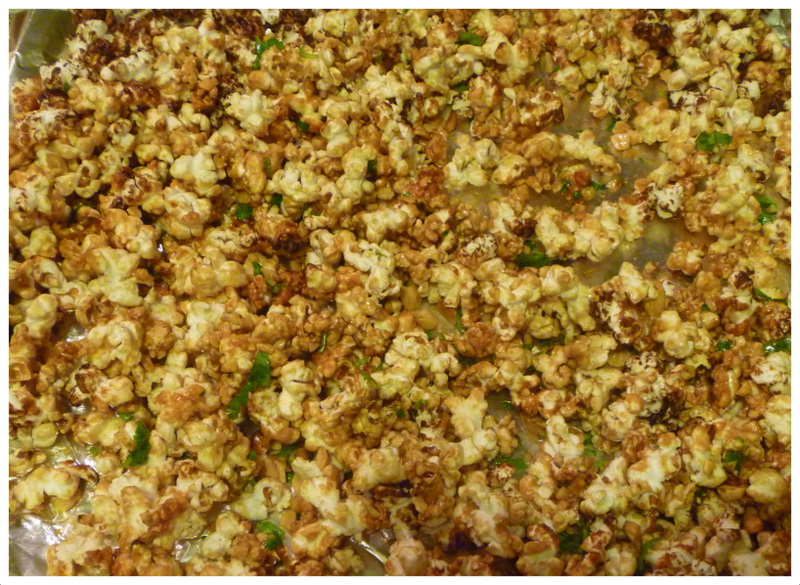 That wraps up today's post.  Pop over to our Facebook page soon for further info regarding our A Taste of Thai monthly giveaway, and early next month, we'll share some more recipes.  Look for A Taste of Thai products in your local grocery, and let us know how they compare to Thai food you've tried elsewhere!  Happy testing and feasting!
Header photo: From A Taste of Thai's website