The Glutton's Digest is thrilled to feature this guest post written by the one and only Erin Homiak, that lovely lady below (on the left).  I dare you to finish this post without a hankering for Mozambican food!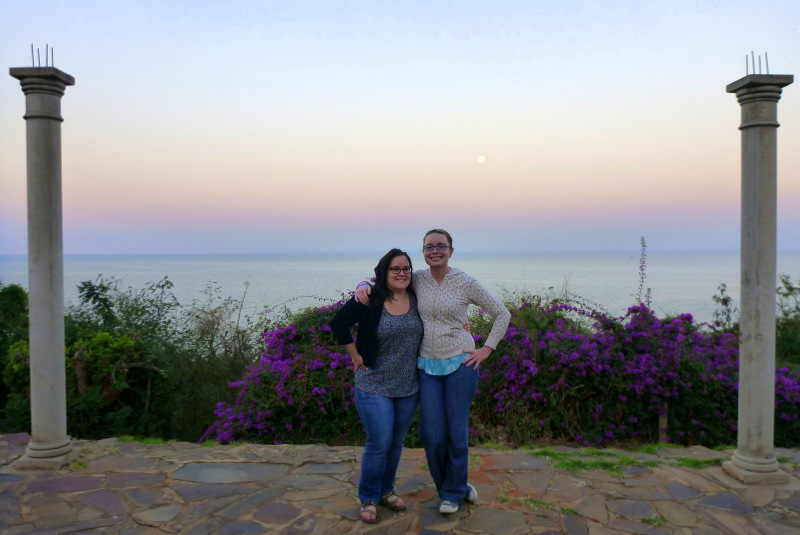 ---
As Lindsay promised, I'm here to follow up on her Mozambican Morsels post. Here are some additional insights into what are arguably the best restaurants in Maputo, along with a list of dishes you may not be able to find at your average eatery. You already know that I spent over 7 months in Maputo and—as a 'foodie'—made it my job (outside of my actual job) to find the best food joints Maputo has to offer.
Mozambique—or "Moz" as some call it—is located in Southern Africa, situated on the Indian Ocean. Its cuisine, like that of any nation, includes ethnic and cultural influences that reflect a history of European, Asian and other regional African contacts. In fact, Mozambican gastronomy is best characterized as a mixture of African, Portuguese and Indian food traditions. Maputo has adopted South Africa's Indian braii tradition, including its delicious piri-piri grilled chicken. Like many countries in Africa, Moz is home to a large part of the Indian diaspora. This diasporic influence derives from the fact that the Portuguese colonized the Indian city of Goa, giving rise to maritime links and cultural exchanges with the east coast of Africa. There is, in fact, a long tradition of Indian merchants traveling between India and Africa with many settling in Mozambique decades ago. This accounts for the integration of Indian food into everyday Mozambican cuisine. Things like chamussas, rissóis, biryani, and bajia are easily accessible and routinely created in the Mozambican kitchen.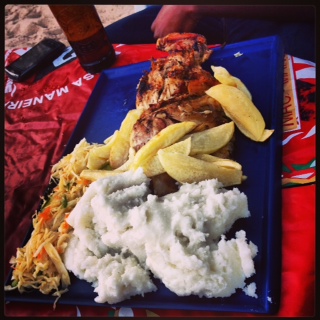 Grilled piri-piri chicken with xima, fries, and a salad made from cabbage and carrots. The best place to find this is at the beach in Maputo, Costa do Sol.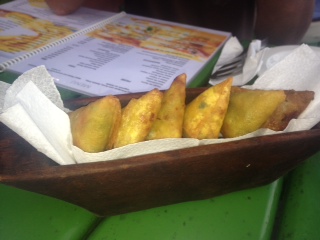 Chamussas stuffed with ground beef.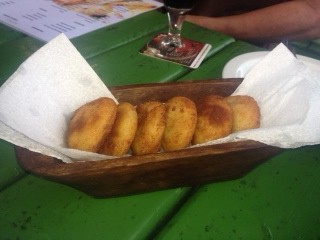 Rissóis de Camarão (shrimp croquettes).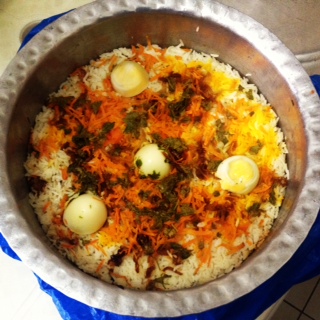 And to save the best for last, my all time favorite, biryani de galinha (I order this from a woman who cooks and sells food from her house – the small pot lasted me the week).
All of this is general background. Now let me tell you about some restaurants and ex-pat spots in the capital. Maputo is, all things considered, relatively small. And most of these spots can be found in the city center where you'll also encounter architecture that is reminiscent of the Cold War Communist era. As a former communist country, Mozambique had—and still maintains—strong ties with Cuba, all of which is reflected in Maputo's cityscape.
As a former Portuguese colony, Mozambique has benefited from the great culinary contributions that Portugal gave to the world. Every morning on my way to work I'd stop at Café Royale for a coffee. Early on, my ritual became fixed: I ordered a double espresso, a side of milk, and a glass full of ice and I'd make myself an iced coffee. This started my days off on the right foot. Mozambique doesn't have a notable coffee culture—morning tea breaks are the norm here—but I was sure glad I had access to Café Royale. I also came to appreciate the lunchtime offerings here and would strongly recommend trying the francesinha. Just make sure you have spare time afterwards to go into a food coma. Francesinha is a sandwich that hails from Porto, Portugal—one piled high with meats and drenched in a tomato and beer sauce which might be the best part of it all. Not only will you have access to coffee, Portuguese pastries and hot baked bread on the daily in Maputo, but you can also find things like sushi, Thai food, Greek food and, not surprisingly, Brazilian pão de queijo (cheesy bread), coxinhas de frango (chicken croquettes) and espetadas de frango (fried chicken skewers). I can't remember the name of the Brazilian bakery, there's only one – so ask around. It won't be hard to find.
The francesinha sandwich from Café Royale.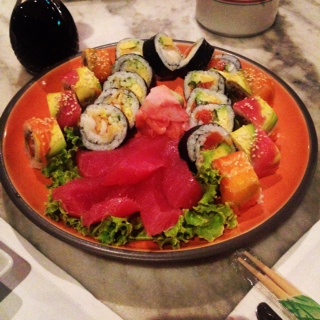 Sushi from Polana Hotel's sushi bar.
Mozambique has over 200 miles of coastline, which means an abundance and diverse selection of delicious seafood. Above all, Moz is known for its prawns. My best seafood experiences were in Inhambane province (Terra da boa gente). If you find yourself in this part of the country be sure to patronize Bistro Pescador. It's impossible to go wrong if you order the prawns or red snapper.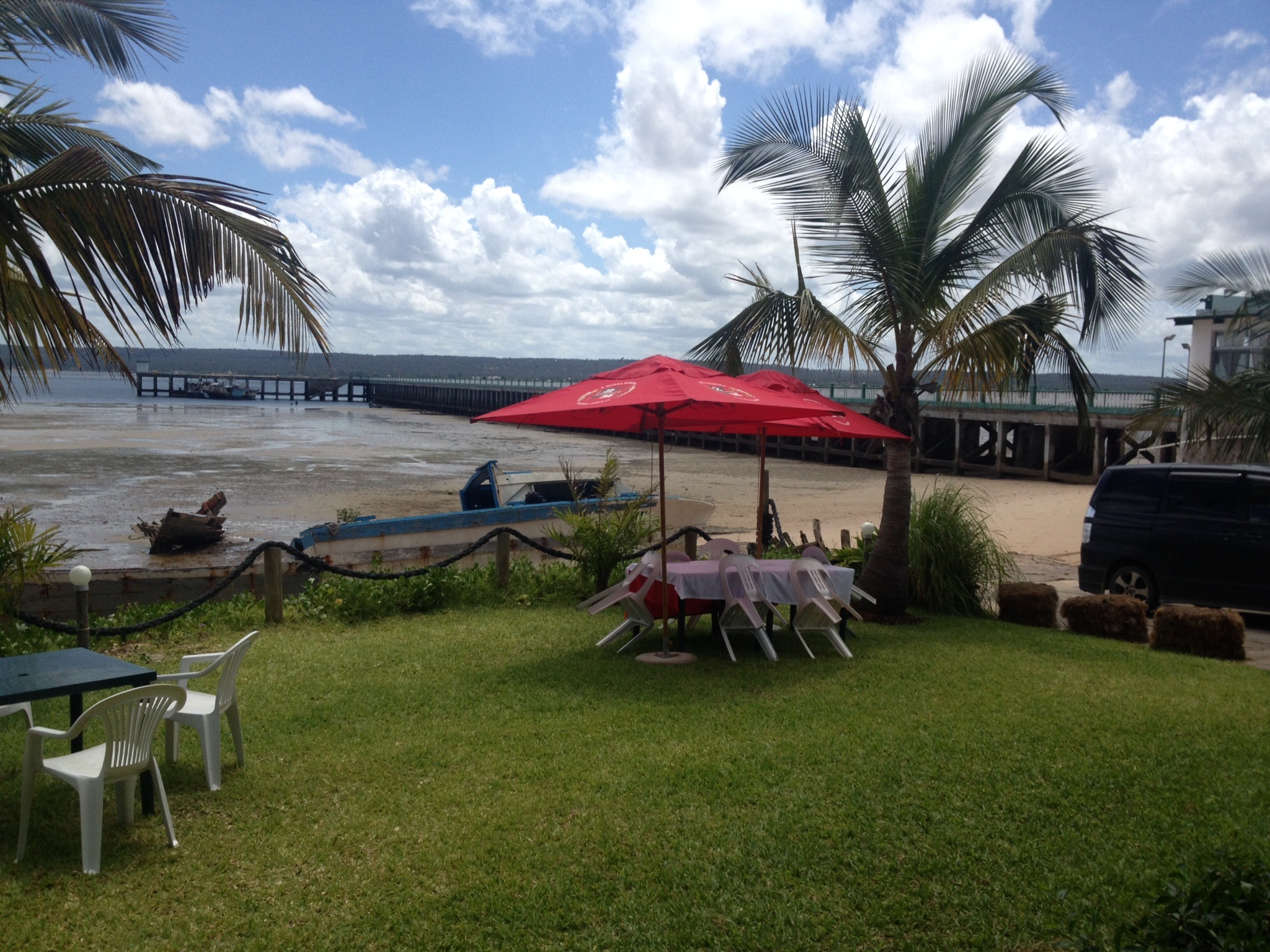 Enjoy this beautiful view while eating delicious red snapper or prawns at the Bistro Pescador.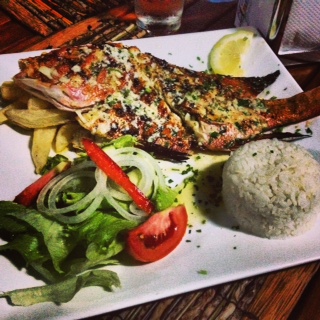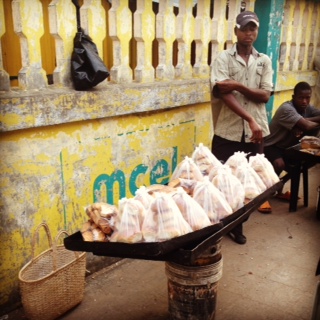 If you go to Inhambane province make sure to pick up some pão de sura (coconut sweet bread). If you've had any Caribbean version of this you may be disappointed, but it's worth trying!
Here are some of my recommendations for Maputo restaurants:
Dhow Café: The most unique item on the menu is their chamussas de queijo e mel, a Greek spin on the traditional chamussa that is usually made with ground beef, chicken and sometimes shrimp. Their caipirinhas are legit too! Best to go around 4:30pm and check out the sunset. You won't be disappointed—they're often stunningly beautiful and it's got to be the best view in the city.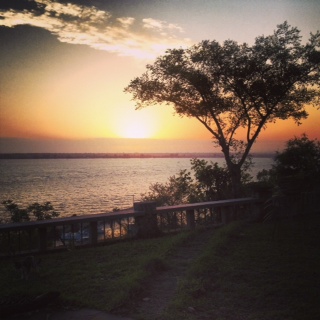 Check out that sunset and the view looking over at Catembe.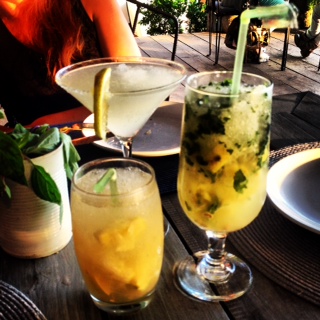 Cocktails, including a caipirinha on the right.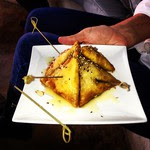 Chamussas stuffed with cheese and drizzled with honey. Enjoy!
Taverna: Both a restaurant and café located side-by-side. The café has an amazing assortment of pastries (be sure to try the pastel de natas). They go all out around Christmas time and make all the traditional Portuguese desserts. You can't go wrong here. It's also great to sit and have coffee with a friend there. Their restaurant has great meat options including their famous porco preto (below) straight from Portugal.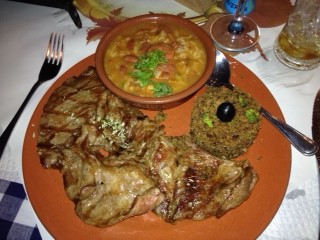 Cristal: Another restaurant that offers traditional Portuguese food. I recommend the açorda de camarão, which is a typical dish with mashed bread, olive oil, garlic and shrimp. Yummers!
Monte Alentejano: Also has typical Portuguese food. The porco alentejana is delicious. It's marinated pork with fried potatoes and clams. They also have really great Brazilian feijoada on Sundays.
As Mozambique is one of the poorest countries in the world it should come as no surprise that the majority of Mozambicans aren't frequenting the restaurants I mentioned here. Nor are they eating the types of food served at these establishments. During my time in Mozambique I had the pleasure of living with a host family. Through them, my coworkers and friends I think I had a full immersion into "traditional" Mozambican foodways typical of the southern part of the country. If there is one traditional staple it is xima (think white polenta with a finer grind). Made from corn meal, it is customarily served with a plant-based dish, usually in a sauce form and poured over the xima. Things like okra, couve and matapa (leaves from the yucca plant) are what you can expect to find alongside your xima. These greens are usually mixed with coconut milk and ground peanuts. They might not look like much in the pictures, but they are super tasty. In most households meat is reserved for special occasions like birthdays, weddings or religious celebrations. Check out my pictures below: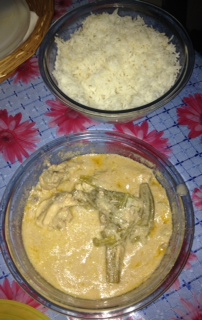 Okra in a coconut and peanut sauce over rice!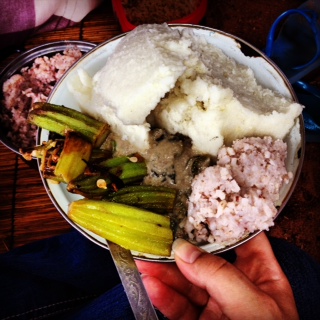 Roast okra with xima and rice.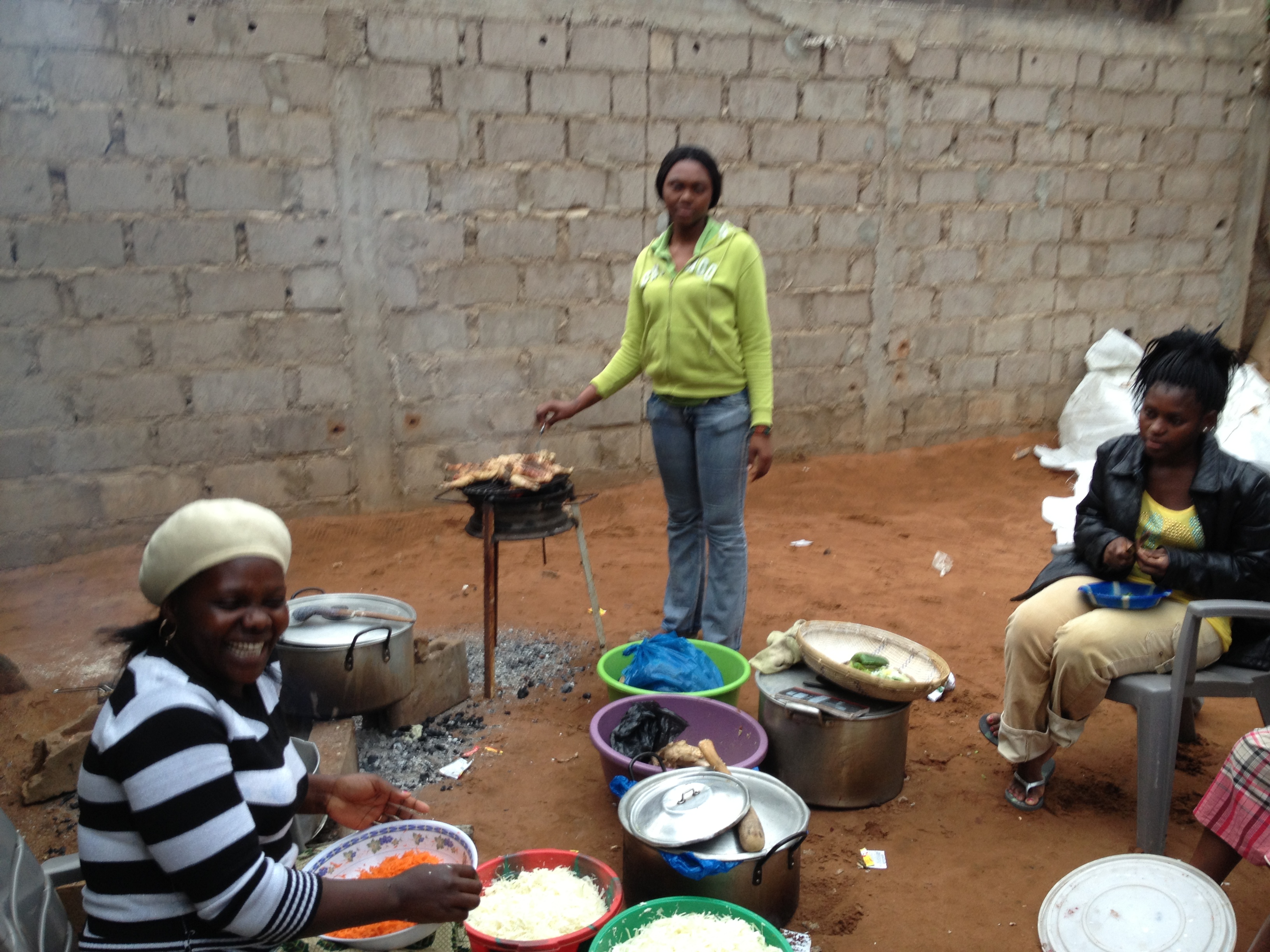 Mozambican women hard at work making the deliciousness that you see in the below picture.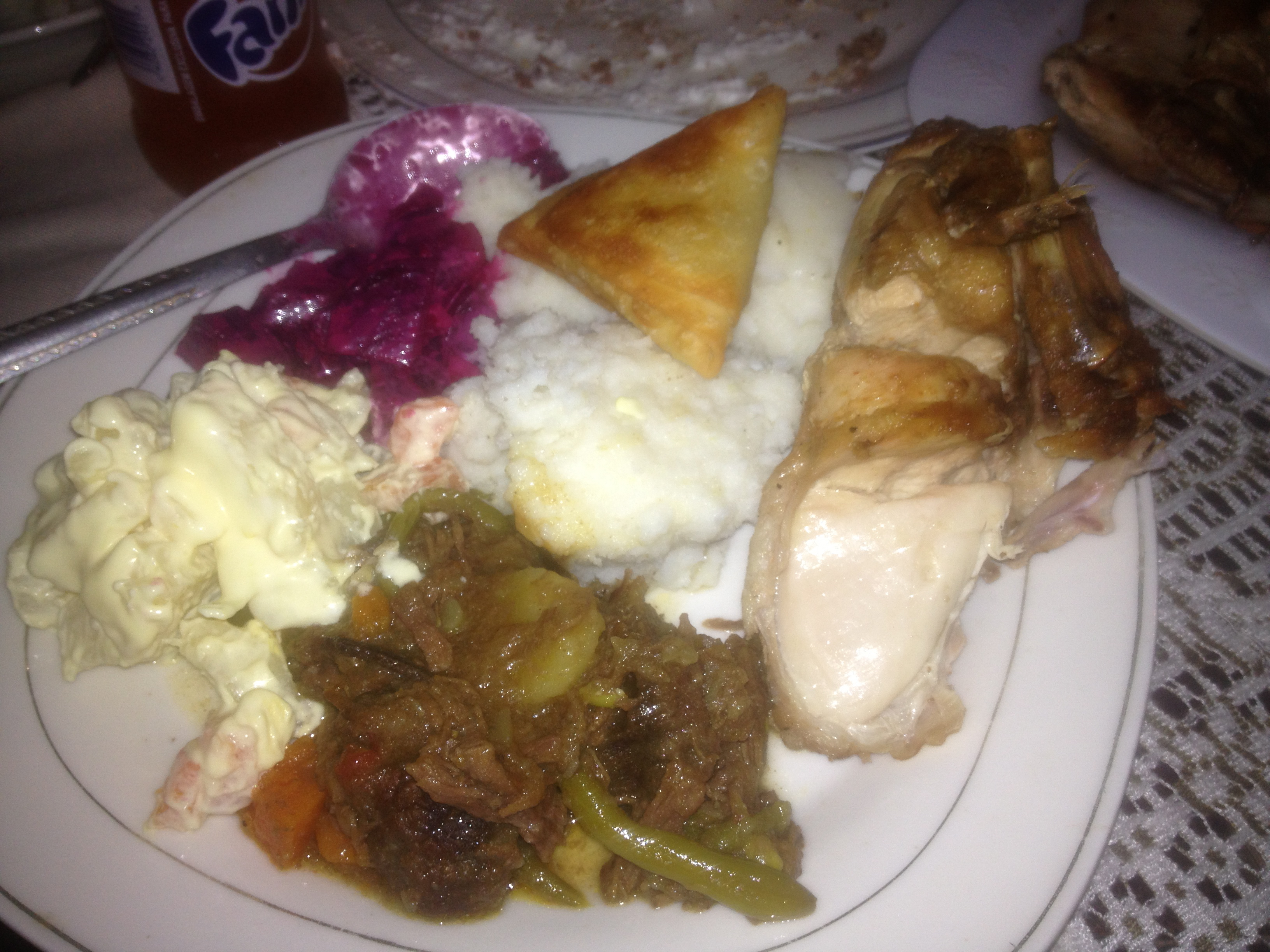 I found myself in a room with 12 people and a goat one evening a couple miles outside Maputo with my friend. I quickly learned that this experience was much more representative of traditional Mozambique. We were all sitting on the ground participating in a religious ceremony. The goat—as I expected—was sacrificed as part of the ceremony. (Check it out in the back green bucket covered in its own skin.) Its meat was stewed and we consumed it the next morning (sorry I don't have that picture). We ate it with fried dough shown in the last picture below. The dough is reminiscent of Caribbean johnnycakes, solid staples that you can find being sold in the street.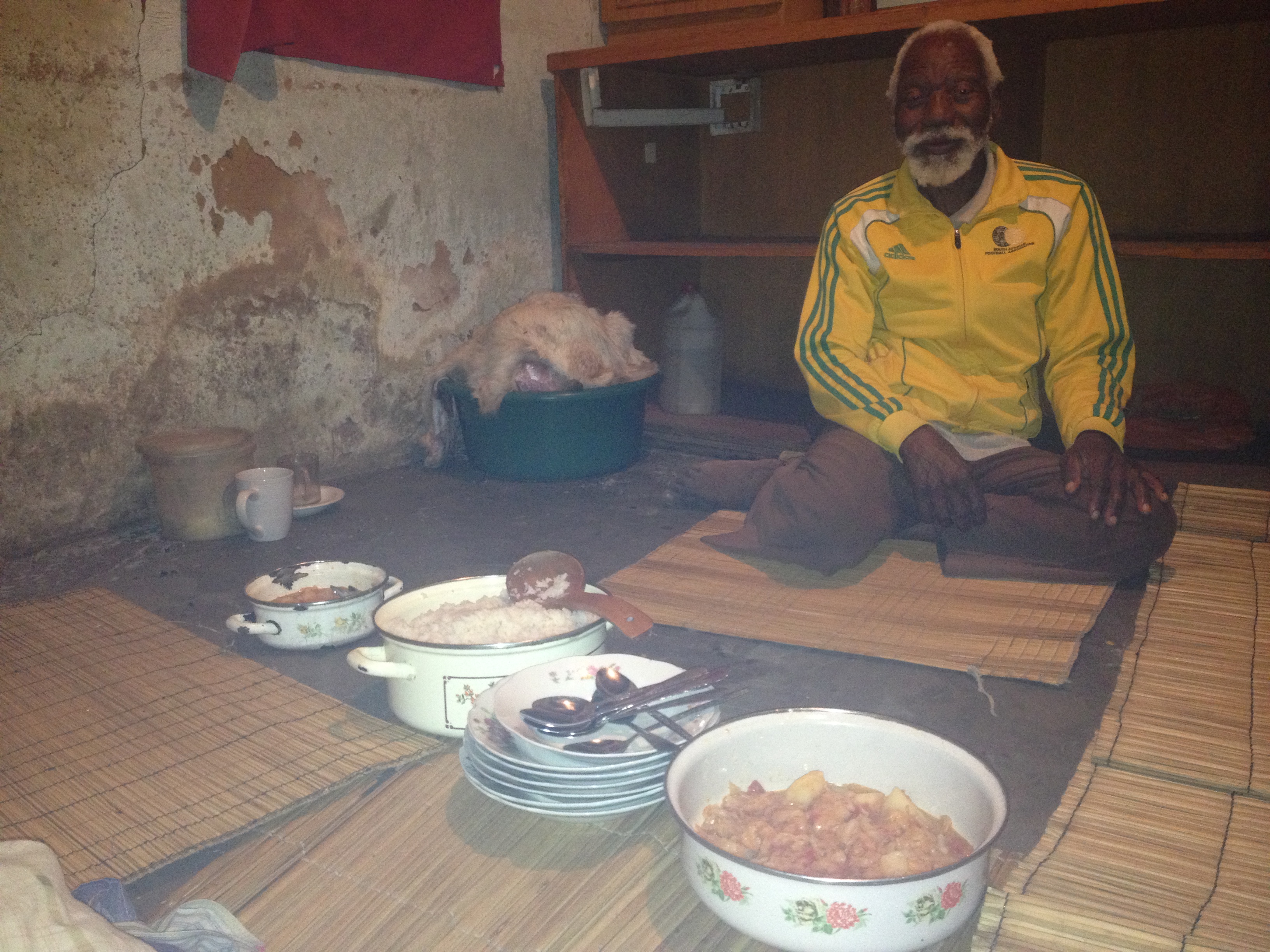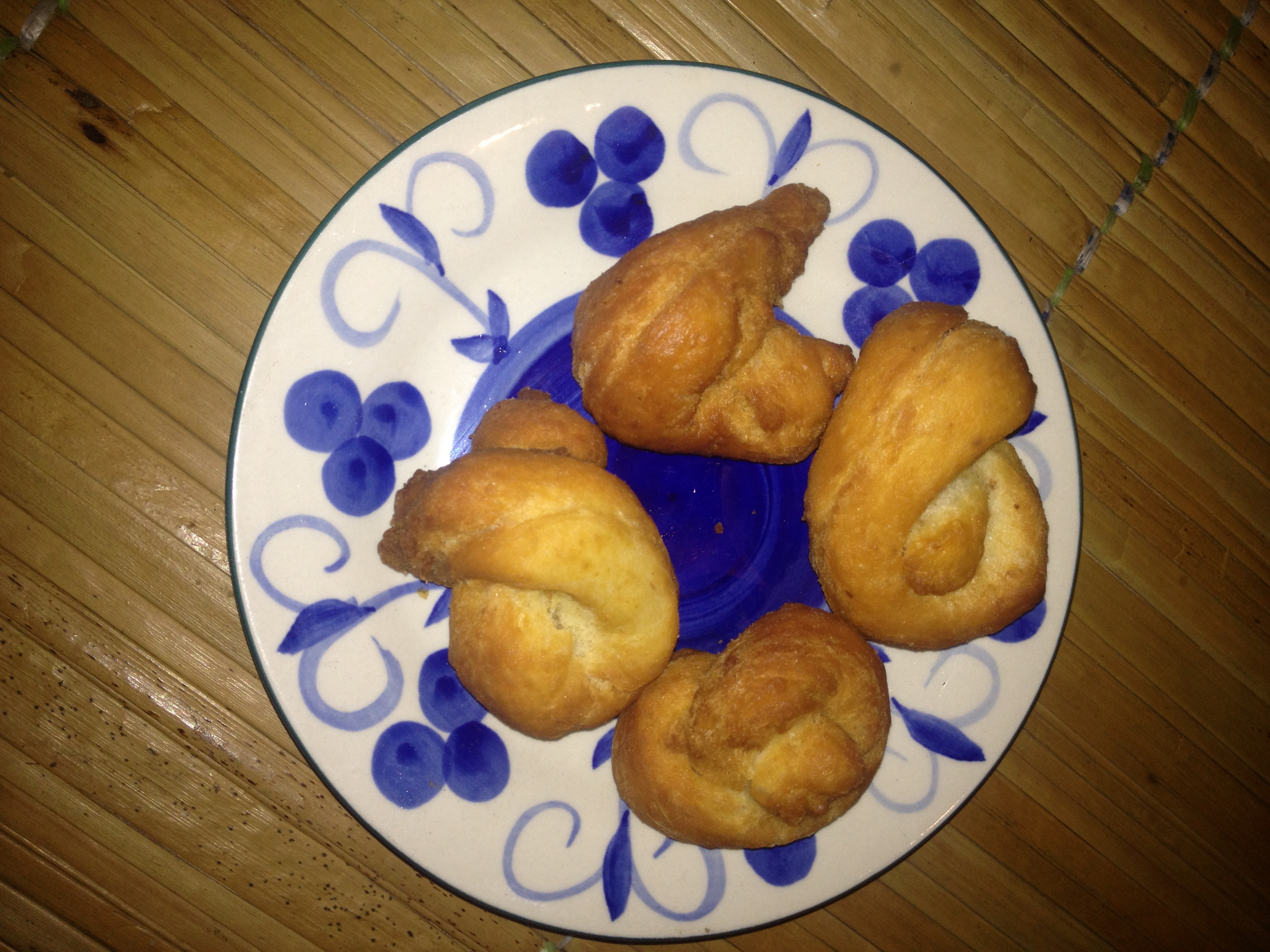 From the hybrid cuisine of Maputo's best restaurants to the staples of local customary fare, Mozambique has something for everyone's palate. Personally, being able to go back-and-forth between places like the Dhow Café and my host family's table was one of the best things about my time there. Whether you're an adventurous eater or someone with fixed tastes, Moz has something for everyone!