Perhaps you recall the healthy snack spotlight we wrote earlier this year as part of our Wheelin' and Mealin' Road Trip series?  At the top of our snack list ranked Sahale Snacks, a company that specializes in nut and fruit blends that will knock your socks off.  As we mentioned then, Sahale nut blends were the first thing we reached for while distressed on the road, like the time it occurred to us just as our car broke down in the middle of nowhere that we hadn't renewed our AAA.  I suppose it's fair to say that Sahale Snacks became our go-to comfort food, which, lucky for us was worlds healthier than our other usual choices (mac n cheese, Cheetos, Gushers, or (insert your favorite junk food here).
Imagine our surprise when we returned home from our most recent road trip to find a package from Sahale on our doorstep!*  Included were some of their newer products into which we couldn't wait to dig.  While we're no longer stranded on the side of the road binge eating their pomegranate pistachios (what a difference a few months can make!), we've continued purchasing, using, and recommending Sahale's many products.  This time around, we were eager to sample Sahale Crunchers: Cherries, Apples, + Maple, Valdosta Pecans, and Maple Pecans.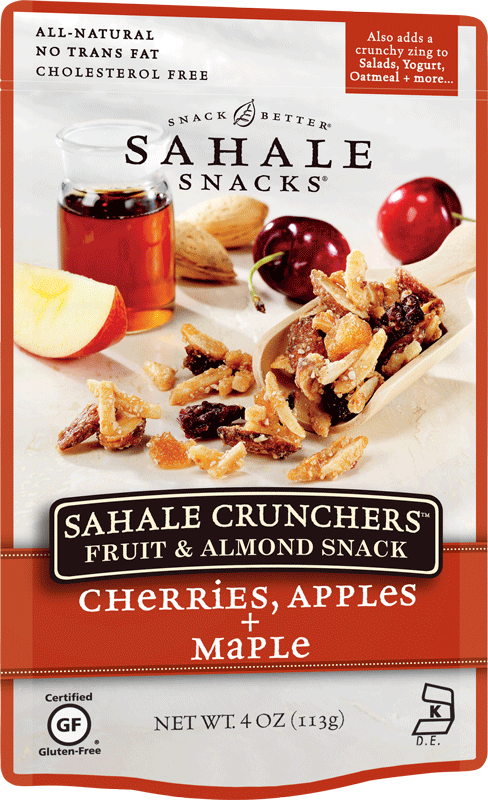 I really enjoyed both of the pecan blends, particularly the Valdosta Pecans with cranberries, black pepper, and orange zest.  The spices and orange in this mix really reminded me of mulled wine (not a bad thing to reminisce about!), and the pepper perfectly complemented the natural sweetness of the pecans and dried fruits.  I really want to try this blend on vanilla bean ice cream with a bit of balsamic vinegar drizzled on top, which is a craving I had after I finished the whole bag;).  I'm not too keen on maple, but it isn't at all overpowering in Sahale's Maple Pecans.  This blend, for me, is reminiscent of a stuffed French toast that I used to repetitively order at a little breakfast spot in Boulder, CO.  Just like Sahale's Maple Pecans, the French toast was full of cinnamon, dried cherries, and walnuts.  I have yet to recreate that breakfast with these Maple Pecans, but I'm positive it would be a successful experiment.  As for the Sahale Crunchers, the flavor was superb, with a nice touch of maple just like the Maple Pecans.  I think I prefer the blends that have whole nuts in them, though, instead of almond pieces like this one. They're just a bit more manageable for snacking purposes.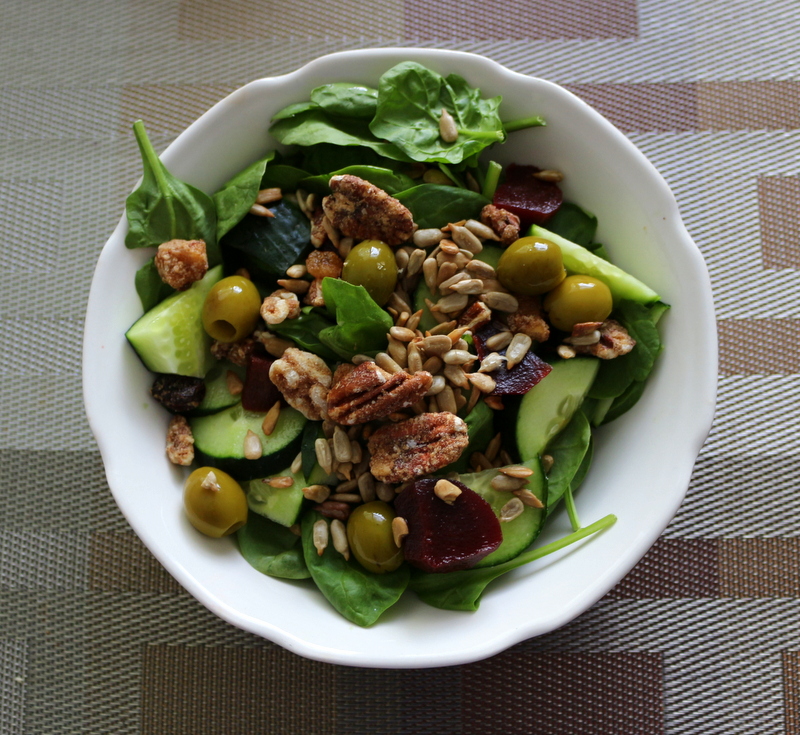 So what have we been doing with all of our Sahale favorites?  When we're not dumping them by the bag-full into our mouths, we're using them as salad toppers.  Every so often (read: every night), I feel a little burdened by having to wash and cut a bunch of stuff for our salads.  Adding Sahale's nut and fruit blends make it taste like I've added many ingredients, when I'm actually just opening one bag of Sahale's deliciousness and liberally sprinkling it onto our salad.  I love how chewy, yet never dry, their dried fruit is and how each nut seems equally coated with spices.  I also like how globally-inspired their flavors are, and how they're regularly introducing new products as not to bore their customers.  If you haven't done so yet, check out their products online or in your local market and let us know what you think.  We won't be surprised when you can't get enough of 'em!
*While these products were received free of charge, this post (just like all posts we write) represents our true opinions, as we feature only products that we 100% love.