Sorry that my honey infatuation has resulted in my working "bee" into every possible word.  Actually, I'm not sorry, as it's entertaining me more than it probably should.  Yesterday, we featured Savannah Bee Company for not only their show-stopping honey, but their hospitality in hosting us and teaching us a thing or two (or a hundred, in my case).  I didn't want to intimidate anyone during our tour with my prodigious knack for honeybee wordplay, but there's no stopping me now.  I'm a beest!
Wow, that last one just made me cringe.  Maybe it's time we get to the true point of this post, which is sharing our first honey recipe.  Inspired by our Savannah Bee Company visit, The Glutton's Digest spent a week experimenting with the company's honey.  A ton of honey was consumed, and we're still not sick of it!  Each day this week will be accompanied with a blog post sharing our favorite honey creations.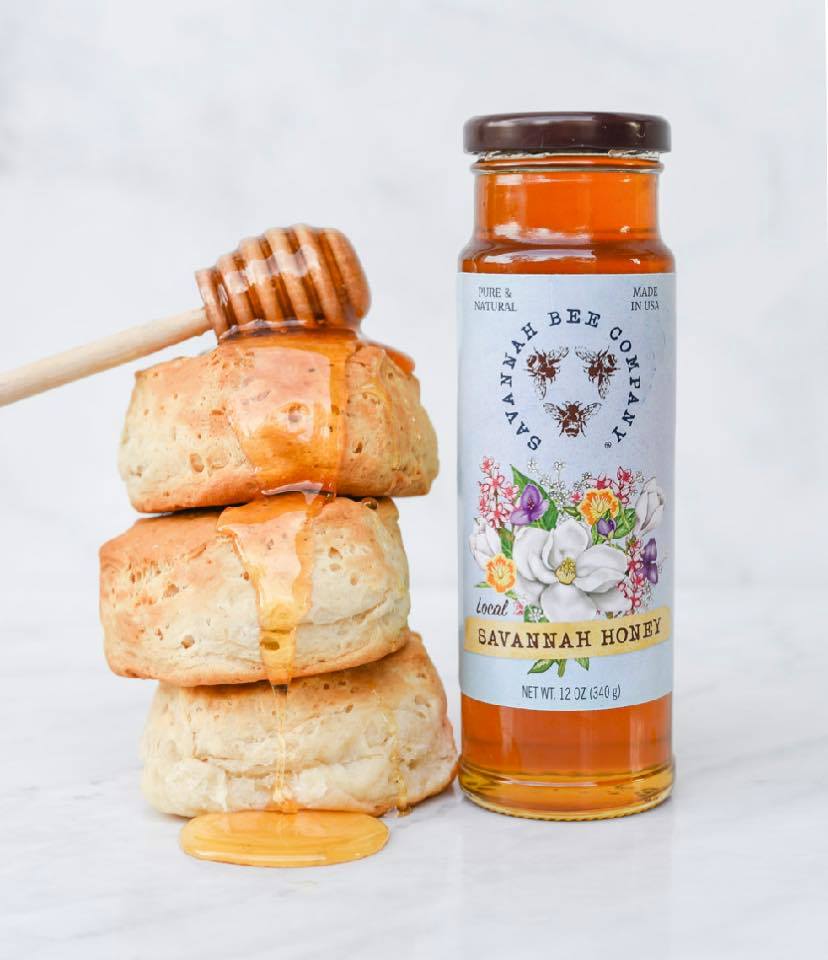 Breakfast seems like a logical place to start.  Being from the South, biscuits are a staple food in our household.  My dad whipped up some of his beloved biscuits to serve as the base for this recipe.  We kept the rest pretty simple in order to fully appreciate the quality of the products used.  When Jennifer Johnson, Director of Marketing at Olli Salumeria, found out what we were doing, she overnighted us a generous portion of a prosciutto that she felt would complement honey well.  She was not mistaken.  The prosciutto was perfectly salted and melted in our mouths.  My friend is Italian and has traveled extensively around Italy, sampling her fair share of prosciutto.  After one bite, she didn't hesitate in establishing that Olli Salumeria's was the best she's ever tasted.  We've both been dreaming about it since.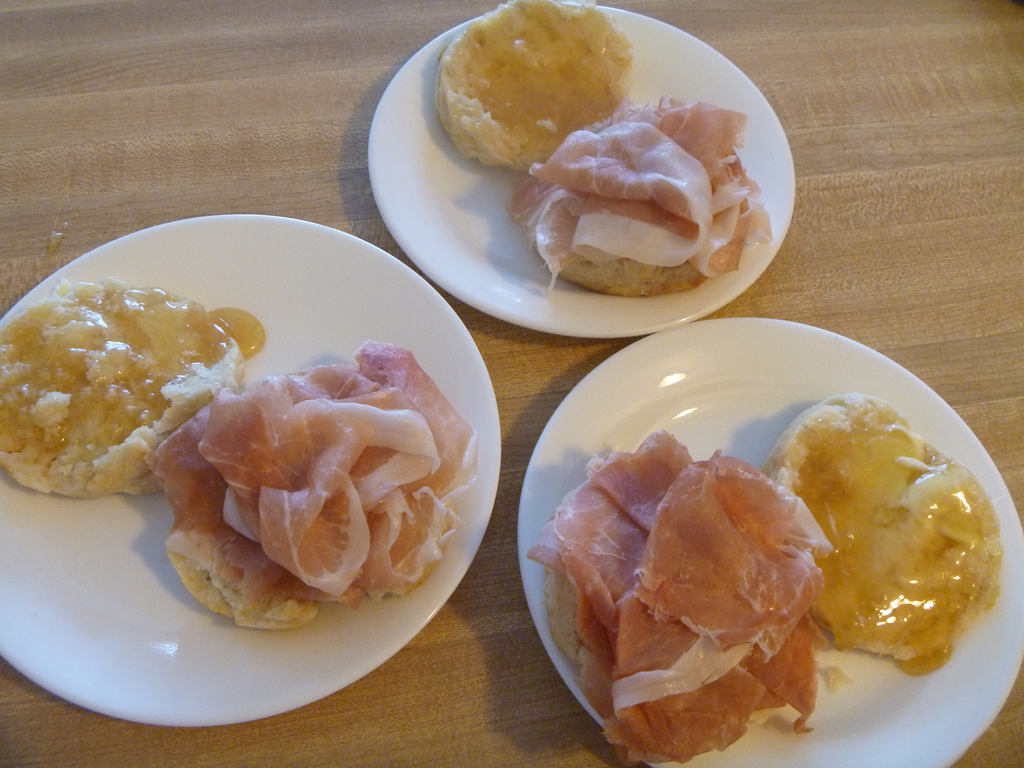 Prosciutto Breakfast Biscuits
Heat oven to 450 degrees.
Combine flour, baking powder, baking soda, and salt in a large bowl.  Cut in shortening and butter.  Make a well in the center of the dry ingredients and pour in buttermilk.  With a wooden spoon, blend dry ingredients into the buttermilk until mixture clumps together.
Transfer dough to lightly floured surface.  Flatten mixture to a circle that is 8 inches in diameter and 1/2 inch thick.  Using a 2 1/2 – 3 inch biscuit/cookie cutter, cut 12 biscuits and place on an ungreased baking sheet.  Bake on center rack for 10-12 minutes, or until tops are lightly browned.
Cut biscuits in half while still warm, and fill with two pieces of prosciutto and desired amount of honey.
I won't even tell you to enjoy them, because that's a given.  My stomach is growling just reminiscing about them!