For today's honey recipe, we experimented with Savannah Bee Company's raw honeycomb.  This is the most healthy form of honey available, but I always shied away from it because I thought the texture would be too waxy for my liking.  Clearly, judging from how much is missing from this box, its waxiness was not an issue for me.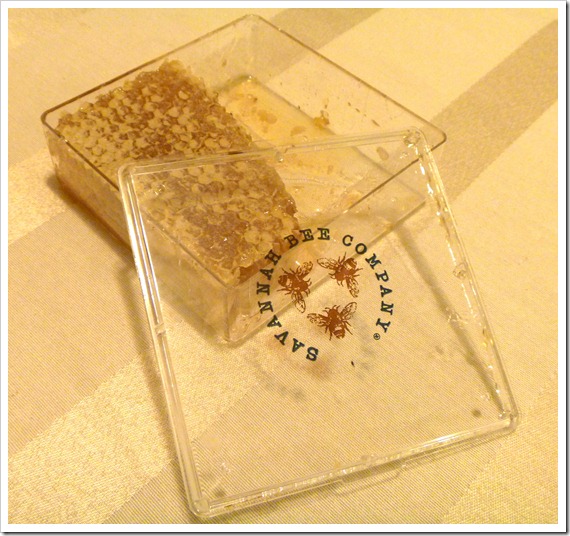 For our appetizers' base, we used a cracker that we're in love with (Betty Mills' Original Sea Salt Mediterranean Crackers).  These crackers are thin, but dense, so they didn't crumble under the weight of our other ingredients.  They are flavored with olive oil, which gives them a perfect, buttery texture.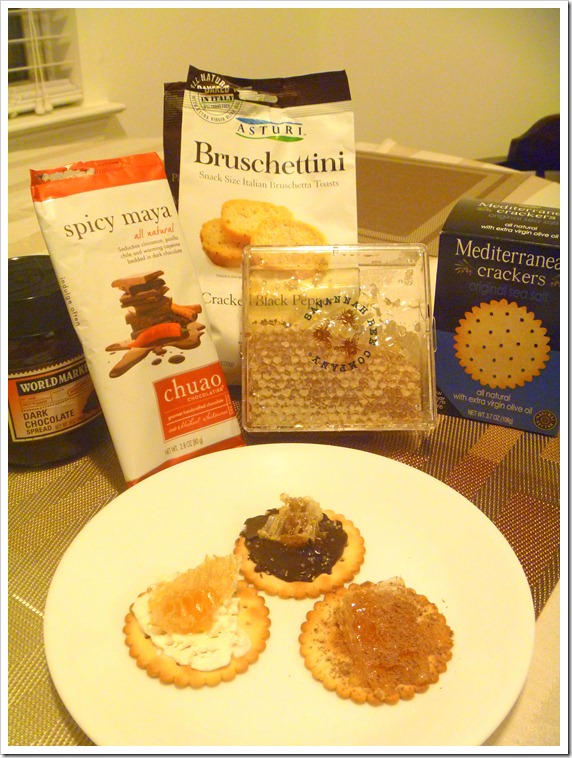 Out of all the toppings we tried, we favored these three combinations:
1. President Fresh Goat Cheese (the creamy & mild variety), topped with Savannah Bee Company's Raw Honeycomb
2. World Market's Dark Chocolate Spread, topped with the honeycomb and sea salt (these fixings are also good on Asturi's Cracked Black Pepper Bruschettini)
3. Honeycomb topped with grated Spicy Maya Chuao Chocolate (ALL of their bars are worth indulging in, especially the firecracker bar, which has Pop Rocks mixed with its chocolate)
Whatever you decide to eat it with, you won't regret incorporating this honeycomb into your recipes.  After all, how many other sweets are so good for you?