I seem to have my sassypants on, so you'll have to excuse the boorish title.  It really does apply to our theme today, though.  Stick with me, and you'll see what I mean.
Speaking of (stick)ing with me, I must admit that I'm a big fan of food on sticks.  It's so darned practical and self-contained.  As a compulsive hand-washer, a stick is oftentimes the only thing standing between a highly satisfying snack and my face of extreme discomfort (the result of sticky, soiled hands).
What does that face look like?  A little like this, if you really must know: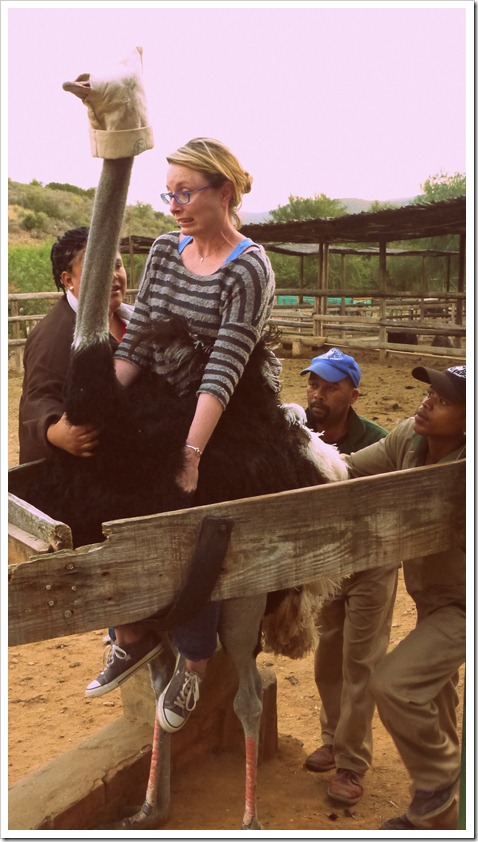 So yeah, food on sticks.  Shish-kebabs, Chupa Chups, pickles-on-a-stick…I love 'em all!  I've even been known to impale especially slippery sashimi with one chopstick (gasp!  It's already dead, folks) and pop it into my mouth when I'm sick of scissoring my sticks.  Call me culturally-insensitive, but those fishy buggers can be slimy!  And nothing's more convenient than food on the end of a stick.
Think about it.  What's more perfect than say…a POPSICLE?  (Ladies and gentlemen, we've just arrived at today's theme!)  Sometimes I wish I could regrow my tonsils, just to get them out again so I could eat popsicles for every meal.  And I'm not talking about the one-fruit variety (I'd rather just munch on an apple) or the twin pop (though those things WERE pretty bomb back in the day).    I prefer heartier assortments, like some of the gourmet pops I've been sucking on lately.
For our last post, we interviewed Sascha Berolsky, who owns a bunch of restaurants in Cape Town, South Africa.  At his Mexican restaurant, El Burro, the homemade paletas (Latin American ice-pops) were the first menu item to catch my attention.
Me: I will have two of those, ASAP.

Luis: I actually don't want one, Lindsay.

Waitress:  Uhhhhhh…

Me: Two please, they're both for me.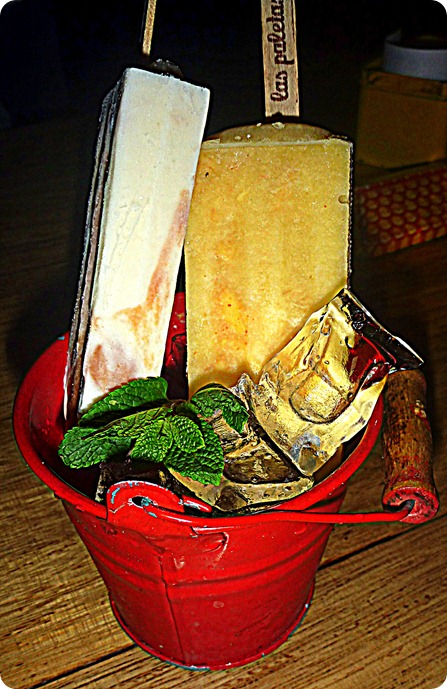 Guava Cheesecake and Pineapple & Chili.  YES and YES!  What a lovely way to end a meal. 
A few weeks after our visit to El Burro, I met a girl from Texas who relocated to Cape Town a few years back.  She seemed underwhelmed by many of Cape Town's eateries, but she raved about a Colombian woman who makes and sells her own popsicles locally.  Could this same woman be responsible for the paletas at El Burro?  Being the regular gumshoe I am, I got to the bottom of this mystery to discover that WHY, YES SHE IS!  Diana Chavarro and her husband Jason are the owners of Las Paletas (aptly-named, no?), a company specializing in small-batch artisan popsicles.  Their pops (or "lollies" as they call them) are sold in different locations across the city, and Diana and Jason even have a retro ice cream cart full of their products available for rent.  Starting at 65 dollars, you can hire the cart and one staff member for four hours.  I can't tell you how much restraint it took not to appoint one of these to follow me around the city while I traipsed from one site to another.  One more cool thing about this couple (aside from their products) is that they'll accommodate any new flavor ideas you have if you're interested in ordering their pops for an event (they'll even personalize the sticks with your name, date, etc.).  Sometimes, they hold "Do us a flavour" competitions where the most inventive applicant is rewarded 100 free popsicles.  If you check out their website though, you'll see that their flavors are plenty, and will please palates of all persuasions.  Spiced Mango Lassi?  Roasted Peaches & Coconut?  Diana and Jason, if you're in the market for professional taste-testers, we're here for you.  Always remember that.
It would be unfair to close this post without mention of my other favorite artisan popsicles, which are made by King of Pops and the Big Gay Ice Cream Shop.*  The former was founded by two brothers in Atlanta, one of whom graduated law school with a close friend of mine.  I'm not sure that any other popsicle company possesses such an exhaustive flavor list.  Cereal Milk, Thai Tea, Sweet Potato Pie?  You must check out their offerings and drool along with me!  Their story is an inspirational one of pursuing your dreams regardless of your education, and their website is fun and comprehensive, so I find it very easy to stand behind their company.  The founders are down-to-earth guys that can still be spotted pushing their popsicle carts around Atlanta.  Trying their Chocolate Sea Salt and Tangerine Basil pops sealed the deal for me, and they deliver (in bulk), so there is no reason you can't taste their icy treats for yourself!
Onto the Big Gay Ice Cream Shop.  These guys started as a truck and grew into a store, and my best friends and I stumbled upon their location in the East Village (NYC) not too long ago.  There was a line out the door, which included grown men that were almost as giddy about their ice cream as I typically am.  Basically, I felt right at home.   We heard whispers of a "Salty Pimp" and a "Mexican Affo'gay'to," and we couldn't wait to step inside to place our order.  I tried their cucumber pop, which was dipped in Tajin, a Mexican spice made of chilies, salt, and lime.*  I honestly can't envision anything more refreshing.  A perfect day for me would involve ordering a bucket of these and slurping them down while watching the colorful people of NYC roll past me.  While they don't have many popsicle flavors, the ones they do offer are LEGIT.  And frankly, it is worth visiting their store for their ice cream toppings alone (wasabi pea dust, key lime curd, olive oil & sea salt, etc.)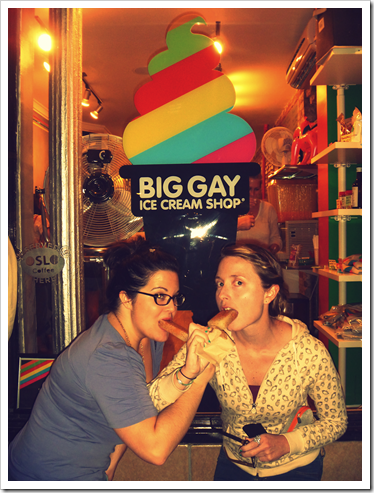 So there ya have it, my take on the best pops around the globe.  As all of the above companies reference in their stories, there's nothing quite like fresh paletas from Latin American street vendors.  Luckily for you, Las Paletas, King of Pops, and Big Gay Ice Cream Shop bring the magic of Latin America to you!  So get out there, pop it like it's hot, and let us know what your paleta preference is.
*We stand corrected!  We just got word from Big Gay Ice Cream Shop that the mastermind behind their pops is Fany Gerson of La Newyorkina.  She is a chef from Mexico who sells her Latin-inspired pops all over the city (GREAT!  Yet another reason to scour NYC!).  Fany makes her rainbow paletas exclusively for Big Gay Ice Cream Shop.  After checking her out online, we're dying to try her roasted apricot pistachio, avocado, and pink limeade pops.